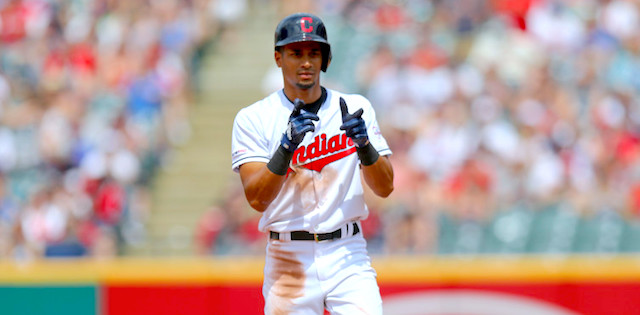 Welcome back to the NL-only and AL-only pickups column. Each week, I'll look at five players who are under 15% rostered in Yahoo! leagues and who can be considered as options to add in deep-league formats, such as 15-teamers or AL or NL-only leagues.
I'll also include a recommendation for what to do with each player on your roster. And lastly, I'll take a look at some of my picks from the previous week to see how they're performing.
Without further ado, let's get into it.
Featured Promo: Get any full-season MLB and DFS Premium Pass for 50% off. Exclusive access to our Team Sync platform, Premium articles, daily Matchup Rating projections, 15 lineup tools, DFS cheat sheets, Research Stations, Lineup Optimizers and much more!
Sign Up Now!
6% rostered
Recommended move: Add for this week
Taylor got off to a hot start to the season which initially got a lot of people's attention, but he has cooled off significantly in the months since, with his overall line sitting at .245/.306/.363. However, he has been playing much better in July, with a .297/.395/.432 slash line (132 wRC+), which has seen him get back on the fantasy radar.
This hot stretch for Taylor is keeping him in the Royals' lineup on an everyday basis, and with that being said, the Royals face the Tigers' poor pitching staff this weekend, so he should be a good bet to continue his hot hitting.
This looks to be a pure streaming pick for this weekend though, as Taylor's Statcast metrics, even during this hot stretch, still do leave a lot to be desired, so this performance likely isn't all that sustainable. To make the decision a little more obvious too, the Royals face off against the White Sox after their series with Detroit, and that is not a favorable matchup at all. Still, Taylor should be a good hitter to stream this weekend in deep formats.
3% rostered
Recommended move: Add for the long haul 
Bader missed about a month with a rib injury that took away from what was, to that point, an up-and-down season for him. He had a 120 wRC+ through May 15, but slumped big-time in the run-up to the injury, to the point where that wRC+ shrunk to just 80 by the time he was placed on the injured list. That poor stretch combined with the injury led many fantasy managers to drop him and forget about him, which didn't seem all that unfair.
Since being activated on July 1 though, Bader has been hitting very well, with a .304/.373/.478 slash line. Additionally, the strikeout rate gains he made pre-injury have also come back with him off the injured list, as he has a strikeout rate of just 13.7% since returning, which is right in line with his 14.9% mark for the season.
Overall, Bader looks to be a solid hitter, and should contribute pretty much everywhere for fantasy purposes, with a decent enough batting average, and modest power, while also being a good stolen base threat with his outstanding speed. He hits eighth in the order, which isn't the best place to rack up steals, but he does have two steals and three attempts this month, so while he may not be an overwhelming stolen base threat, he should net a few each month. Additionally, Bader should remain the Cardinals' everyday centerfielder going forward, so playing time isn't an issue.
3% rostered
Recommended move: Add for this week 
Many remember Mercado from his strong 2019 season, in which he burst onto the fantasy scene with 15 home runs and 15 stolen bases in just 115 games. He wasn't able to maintain those gains in 2020 though, as he was one of the worst hitters in the game when he did play, and he was rightfully, off the fantasy radar pretty much everywhere coming into the year.
After spending much of the season in Triple-A, he is now back up with the big league club due to Cleveland's outfield issues. It doesn't look like he's in a straight platoon, but rather splitting time with Daniel Johnson, as he started two of the last four games against righties. He has, however, started every game against a lefty starter, and has generally done well against them in a limited sample, with a .308/.438/.462 triple slash (152 wRC+) compared to a .185/.214/.370 (52 wRC+) mark against righties. That's significant for this week because Cleveland is projected to face four straight lefty starters in their series against the Rays starting on Thursday. Mercado should be in the lineup for each of those games and should be expected to do well, and he may even swipe a bag or two in those games, making it an even more intriguing stream for this week. He may not be the overall hitter he was in 2019 that made many excited, but Mercado should a good candidate for consideration in deep leagues when the matchups favor him, such as this week.
3% rostered
Recommended move: Add for a few weeks 
Lopez has been recommended here before, but as was the case for the previously mentioned Taylor, Lopez gets a bump this week due to a favorable matchup against the Tigers. And it's not as if Lopez isn't playing well, either. Since June 1, he's hitting .330/.407/.367 (121 wRC+), and even though it's a pretty empty slash line, with not much power at all, that high batting average would surely be useful in a lot of fantasy teams, to the point where it's sort of surprising he's rostered at just three percent right now.
While fantasy managers would likely prefer a more well-rounded profile, Lopez should still be a good roster stabilizer in the average category to help offset some potentially poor batting average hitters elsewhere. While Lopez does have good speed, there haven't been as many stolen bases as maybe would have been expected from him, with just one attempt this month, he has eight total on the season, which is still solid. It's perhaps not a profile that would work on every fantasy team, but if you're in need of someone to help in the batting average category, Lopez should be a good option. Plus, he has dual eligibility at second base and a favorable matchup this weekend as an added benefit.
2% rostered
Recommended move: Add for this week 
Here with Wade, we have one final hitter-streaming option for this week. The Giants love to play their platoons, and while they face the tough Dodgers this week, they get a break this weekend with a matchup against the Pirates, and importantly for Wade, with three projected right-handed starters set to take the mound, which means that not only should Wade be in the lineup for each of those three matchups, but also at the top of it, as he's been their leadoff hitter against righties lately.
Wade is pretty much as close to a true platoon player as you can get, as he has just fifteen plate appearances against left-handed pitchers all season, and for good reason, as he hasn't recorded a single hit against them. Even in his still limited sample as a major leaguer, Wade hasn't recorded a hit against a lefty, so it definitely seems wise to keep him out against lefties as much as possible.
Against righties though, Wade rakes, with a career 131 wRC+ against them, and a 151 mark this season. That should definitely be expected to play well against the Pirates staff this weekend, and helping out those fantasy managers in need of a stream and some potentially cheap results for a short period.
Reviewing Last Week's Picks
At the end of each week's post, I'll review what happened with last week's picks and offer a suggestion for them in the future.
Kole Calhoun (OF, ARI) 
Last week: 10% rostered. This week: 10% rostered. 
Calhoun didn't do well last week, with just two hits recorded, but the track record still seems strong enough that he should still be rostered for the time being. It depends on each manager's situation, as some may prefer to pick up a hotter hitter or stream a hitter to take advantage of some good matchups, but most managers held onto him even after the poor week last week, which makes sense considering what we have seen from him throughout his career.
Current recommendation: Hold. 
Brian Goodwin (OF, CHW) 
Last week: 2% rostered. This week: 2% rostered. 
Goodwin also didn't do much last week, getting just three hits in 19 tries. He does remain the team's cleanup hitter against righty starters, and similar to Calhoun, the track record here suggests that he should still be solid going forward. Again, it's situation-dependent, but I think he's been hitting too well over the whole season to drop him after one rough week. Goodwin is still a good deep-league option, at least until the trade deadline.
Current recommendation: Hold. 
Orlando Arcia (SS/OF, ATL) 
Last week: 2% rostered. This week: 2% rostered. 
Arcia has been a playing time beneficiary with Ronald Acuna Jr.'s (knee) injury, and even with the team adding Joc Pederson, Arcia has remained in the starting lineup. Unfortunately, he didn't play well last week, getting just three hits after what was a solid first few games after being called up. The Braves figure to still be hunting for an outfielder, which would push Arcia back to the bench, and this probably isn't worth rostering anymore.
Current recommendation: Drop. 
John Nogowski (1B, PIT) 
Last week: 1% rostered. This week: 4% rostered. 
Nogowski made some headlines last weekend against the Mets and did back it up with generally strong play, as he went .310/.333/.414 last week as he continues to hit well for the Pirates. Since being called up on July 5, he's hit .422/.469/.511 (171 wRC+). It's not the most complete profile, but he's probably one of the better deep-league first base options right now. Hold him.
Current recommendation: Hold.  
Ramon Urias (2B/SS, BAL) 
Last week: 1% rostered. This week: 2% rostered. 
Urias didn't have the best week last week, with just a 66 wRC+, but he is still hitting well since being called back up to the Orioles on June 27 with a .323/.373/.468 line in that span. The Orioles will keep running him out there every day, and while it's not a complete profile with little power or speed, it can still be a useful one in deeper formats. I'd give him some more time on your roster if you can afford it.
Current recommendation: Hold. 
Download Our Free News & Alerts Mobile App
Like what you see? Download our updated fantasy baseball app for
iPhone
and
Android
with 24x7 player news, injury alerts, sleepers, prospects & more. All free!
More Fantasy Baseball Advice