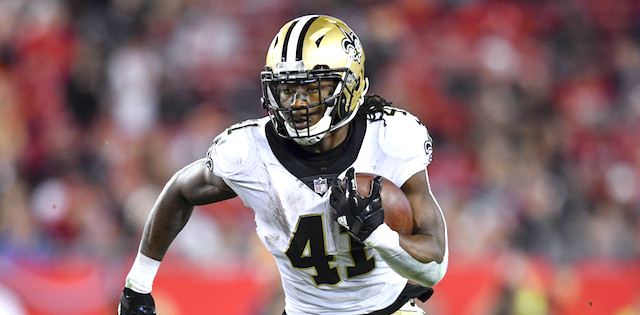 The natural inclination after Week One of the NFL season is to react to the on-field information that was presented by the first games of the season.
The challenge for statistical evaluation is that one game is a small sample any way you slice it. For example, how much weight to you put to the huge production of wide receivers Sammy Watkins and John Ross? Maybe this signals a new role for a new season but it also might be just one game so don't get carried away.
Keep that in mind when examining some angles for Sunday's action when playing props on Monkey Knife Fight.
L.A. CHARGERS-DETROIT
OVER/UNDERS
Philip Rivers UNDER 289.5 PASSING YARDS – This is a substantial number to cover even for a prolific passer like Rivers. The 37-year-old did throw for 333 yards in Week One but last season he finished under 260 yards passing in seven of the last 11 games (including playoffs). The Lions' pass defense was average last season and was having some success until fading late against Arizona in Week One.
Matthew Stafford UNDER 255.5 PASSING YARDS – As much as it's wonderful that Stafford put up 385 passing yards with an extra quarter of overtime play in a tie against Arizona in Week One, he finished with fewer than 250 passing yards in six of the last seven games last season.
INDIANAPOLIS-TENNESSEE
OVER/UNDERS
Jacoby Brissett OVER 221.5 PASSING YARDS – Even though the Colts lost in Week One, and Brissett threw for just 190 yards, he was very accurate, completing 77.8% of his passes and the Titans did give up 285 passing yards to Baker Mayfield in a blowout win against Cleveland in Week One.
RAPID FIRE
T.Y. Hilton -1.5 receptions vs. Delanie Walker – Two very productive players for their positions but Hilton tends to see more looks on a regular basis. He averaged 5.4 receptions per game last season and caught eight nine passes sent his way in Week One. Walker has typically averaged about 4.4 receptions per game in previous seasons and had five catches on six targets in Week One, so he's solid but Hilton has a higher ceiling because he's likely to be targeted more frequently.
DALLAS-WASHINGTON
OVER/UNDERS
Dak Prescott UNDER 259.5 PASSING YARDS – After erupting for 405 passing yards in Week One, it would be easy to assume that the Cowboys passing attack will be formidable but the game plan could shift somewhat with a more prepared Ezekiel Elliott in the backfield.
Case Keenum OVER 247.5 PASSING YARDS – The Washington passing game was surprising in Week One, and Keenum threw for 380 yards with a no-name crew of wide receivers led by Terry McLaurin, Paul Richardson and Trey Quinn. He still has the same no-name receiving crew and is capable of throwing for 250 yards.
SEATTLE-PITTSBURGH
OVER/UNDERS
Ben Roethlisberger UNDER 303.5 PASSING YARDS – With questions about the Steelers' receiving corps, it might be a tad presumptuous to expect Big Ben to throw for at least 304 yards. In a blowout loss to New England in Week One, he passed for 276 yards but it didn't do much to shake the feeling that the offense isn't the same without Antonio Brown.
Russell Wilson UNDER 238.5 PASSING YARDS – The issue isn't so much that Wilson can't throw but that the Seahawks don't turn him loose very often. In his past 11 games, going back to last season, he has thrown for 238 yards or fewer in nine of those games.
James Conner OVER 17.5 FANTASY POINTS – Naturally, with the Steelers getting blown out, Conner did not have a big role against the Patriots but he might be the best option for Pittsburgh's offense as both a running and receiving threat. His ability to catch the ball does work in his favor when it comes to Monkey Knife Fight's PPR fantasy scoring system.
MINNESOTA-GREEN BAY
OVER/UNDERS
Aaron Rodgers OVER 260.5 PASSING YARDS – Although he looked pedestrian against the Bears in the first game of the season, Rodgers passed for 261 yards or more in 10 of the 15 full games that he played last season. The Vikings should be able to move the ball, too, which may require Rodgers to throw the ball more to keep pace.
RAPID FIRE
Adam Thielen +0.5 receptions vs. Davante Adams – A pair of significant receivers for their respective teams that didn't have big roles in Week One, as Adams had four catches for 36 yards and Thielen caught three passes for 43 yards. Last season, Adams averaged 7.4 receptions per game, while Thielen averaged 7.1 per game, and while that gives Adams a slight edge it's not enough to like him minus the half reception in this case.
BUFFALO-N.Y. GIANTS
OVER/UNDERS
Eli Manning OVER 230.5 PASSING YARDS – The Giants are not a good team but losing a lot presents plenty of opportunities to throw the ball and Eli has thrown for at least 231 yards in 12 of his past 17 games. The Bills had an outstanding pass defense in 2018, so that does present challenges, but props aren't guarantees, you know.
Josh Allen OVER 215.5 PASSING YARDS – The Bills quarterback has been moving the right direction in terms of passing yards, throwing for at least 200 yards in each of his past six games, including four games in which he's passed for at least 216 yards. He threw for a career-high 254 yards in Week One and going against a suspect Giants team should allow Allen to air it out.
RAPID FIRE
Devin Singletary +45.5 rushing yards vs. Saquon Barkley – Let's assume that the Bills are more inclined to give Singletary carries this week after he gained 70 yards on four carries in his first NFL game last week. Barkley is hugely productive but some of his production is typically tied to the passing game which gives Singletary a chance to stay within the 45.5-yard margin here.
JACKSONVILLE-HOUSTON
OVER/UNDERS
Deshaun Watson UNDER 260.5 PASSING YARDS – A last-minute surge against New Orleans boosted Watson to 268 passing yards in Week One but he's tended towards fewer than 260 passing yards in general and faces a Jaguars secondary that may have struggled against Kansas City but was one of the league's best last season.
Gardner Minshew OVER 209.5 PASSING YARDS – It's going to be hard to follow up the debut for the sixth-round pick out of Washingon State who connected on 22 of 25 passes for 275 yards when stepping in for an injured Nick Foles against Kansas City. At the same time, he's a fantastic story and it's not unreasonable to think that Minshew can pass for at least 210 yards.
Duke Johnson OVER 13.5 FANTASY POINTS – Because he's such a threat as a receiver, Duke is a reasonable pick to cover this number in a PPR-style scoring format like the one used on Monkey Knife Fight.
Dede Westbrook OVER 10.5 FANTASY POINTS – One of the prime breakthrough candidates at wide receiver, Westbrook had just five catches for 30 yards against Kansas City but if Minshew is going to be reasonably productive in his first start, using Westbrook should be a part of it.
ARIZONA-BALTIMORE
RAPID FIRE
Lamar Jackson +14.5 passing yards vs. Kyler Murray – A late comeback effort in his first start gave Murray 308 passing yards against Detroit so he has the capability to produce but after Jackson's shredding of the Dolphins Defense, throwing for 324 yards and five touchdowns, it's hard to dismiss Jackson's passing acumen.
Larry Fitzgerald -0.5 receptions vs. Christian Kirk – The tried-and-true veteran against the up-and-comer on the same receiving corps, it's still natural to side with Fitzgerald, who caught eight passes on 13 targets (!) in Week One. Kirk was targeted 12 times but only had four catches.
SAN FRANCISCO-CINCINNATI
OVER/UNDERS
Jimmy Garoppolo UNDER 263.5 PASSING YARDS – After bursting onto the scene with the 49ers in late 2017, Jimmy G has not been hugely productive in more recent starts, throwing for less than 263 yards in five of his past six starts.
Andy Dalton UNDER 260.5 PASSING YARDS – After a monster 418-yard performance in Week One, Dalton does have a capable receiving corps, especially if A.J. Green is active this week. Nevertheless, he was held under 260 passing yards in six of his last seven games last season.
John Ross UNDER 11.5 FANTASY POINTS – It's possible that the third-year Bengals wide receiver is ready for his breakthrough season, and his performance at Seattle (seven catches for 158 yards and two touchdowns) was easily the best of his career to this point. Can he do it again? For a second straight game? It's not unreasonable to think maybe not.
NEW ENGLAND-MIAMI
OVER/UNDERS
Tom Brady UNDER 287.5 PASSING YARDS – This is a little difficult because the Patriots are such massive favorites that they may not need to throw the ball too much. You know, if a team jumps out to a three touchdown lead early in the second quarter they may not be throwing a whole lot for the rest of the game. Essentially, this is a nod towards expecting the Patriots to have this game in hand early so the Patriots may take their foot off the gas.
KANSAS CITY-OAKLAND
OVER/UNDERS
Patrick Mahomes UNDER 304.5 PASSING YARDS – As great as Mahomes is, and he may be the most dangerous quarterback in the game these days, he has thrown for 305 or more yards in nine of 20 games (including playoffs) in his career.
RAPID FIRE
Travis Kelce -4.5 receiving yards vs. Sammy Watkins – Watkins' ceiling may be higher, as he just had 198 receiving yards in Week One but Kelce is the more consistent threat, averaging 84 receiving yards per game since the start of last season, compared to Watkins who was averaging about 52 yards per game before last week's monster performance.
CHICAGO-DENVER
OVER/UNDERS
Mitchell Trubisky UNDER 238.5 PASSING YARDS – He struggled in Week One, throwing for 228 yards in a loss to Green Bay, and Trubisky passed for at least 239 yards only five times in 14 games last season.
Joe Flacco OVER 225.5 PASSING YARDS – The Bears Defense will be a handful but even when Flacco didn't look terribly impressive against Oakland, he still threw for 268 yards. This number respects the Chicago defense but also makes it reasonable for Flacco to hit that threshold.
PITTSBURGH-NEW ENGLAND
OVER/UNDERS
Drew Brees UNDER 296.5 PASSING YARDS – Despite opening the season with 370 passing yards against Houston, the 40-year-old quarterback is still a risky play for big passing yardage totals. In five of his last seven games last season, including playoffs, Brees was held under 250 passing yards, so banking on 297 or more against a quality opponent is difficult.
Jared Goff UNDER 279.5 PASSING YARDS – Goff had 297 passing yards against the Saints in last season's playoff game but managed 186 passing yards in the season opener and his production faded late last season.
Alvin Kamara OVER 23.5 FANTASY POINTS – It says something about what a game-breaking talent Kamara is when he put up 23.9 fantasy points in Week One without scoring a touchdown. His ability to catch the ball out of the backfield makes him a constant threat.
Todd Gurley UNDER 16.5 FANTASY POINTS – For all the talk of the arthritis in Gurley's knee, he still rushed for 97 yards on 14 carries in Week One. The challenge is that he wasn't the Rams' primary ball carrier in the red zone; that role was filled by Malcolm Brown. Until Gurley is getting the more likely touchdown opportunities it's a big ask for him to produce at least 17 fantasy points.
PHILADELPHIA-ATLANTA
OVER/UNDERS
Matt Ryan UNDER 299.5 PASSING YARDS – It's certainly possible that Ryan could throw for 300 yards against the Eagles but it was a 50-50 proposition last season (eight of 16 games overall, four of eight at home) and the Eagles Defense should be better than average.
Julio Jones UNDER 21.5 FANTASY POINTS – An elite wide receiver who led the league with 104.8 receiving yards per game last season, Jones does not score touchdowns as often as one might expect and is dealing with a wrist injury right now, so maybe banking on 22 or more fantasy points would be asking a lot.

More Weekly DFS Analysis