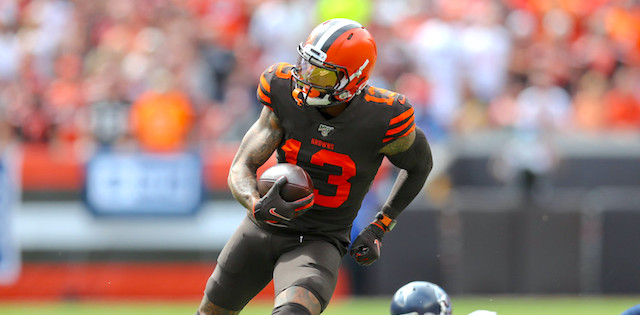 When playing props, the most fun tends to come with taking the overs and cheering on production. It can sometimes feel like you're a killjoy if you're on the other side, always hoping for a player's production to be kept under wraps.
However, as we approach the midpoint of the season, some teams have just established a defensive track record that makes it hard to bank on production from their opponents. Consider the New England Patriots, for example. Not only are the Patriots undefeated but they shut down both the running game (74.7 rushing yards against per game) and the passing game (148.4 passing yards against per game).
From a team that has a comfortable lead most weeks, a situation in which many teams allow some empty calorie yardage against, the Patriots don't let up. They shut teams down from start to finish. So, heads up this week, Cleveland. It could be a long day.
As good as the Patriots Defense has been, the San Francisco 49ers have been just as effective. That means a tough matchup for Carolina this week. The Buffalo Bills (vs. Philadelphia) and Chicago Bears (vs. L.A. Chargers) are a couple more teams with defenses making a difference this season.
When it comes to facing those teams, the under can start to look a little more appealing.
Keep that in mind when making your Week Eight prop picks on Monkey Knife Fight.
Editor's Note: Here's a great special offer for all RotoBaller readers from our Monkey Knife Fight friends: New AND Existing Player Bonus. All players receive a 100% matched signup or reload bonus up to $50 with code 'RBNFL19'. Sign up and deposit, and use our prop picks to get off on a winning foot! 
STAR SHOOTOUT - EARLY GAMES
OVER/UNDERS
Jameis Winston OVER 284.5 PASSING YARDS – In three of the past four games, Winston has thrown for at least 380 yards and he has one of the best receiving tandems in the league in Chris Godwin and Mike Evans. He is facing a Titans Defense that is above average against the pass, surrendering 232.9 passing yards per game, and 7.1 yards per attempt, but the Bucs' offense can push that defense back on its heels.
Philip Rivers OVER 275.5 PASSING YARDS – The Bears Defense is a handful, a top-10 unit against the pass, but Rivers has been held under 290 yards just once in seven games. With the Chargers more likely to be trailing, that's all the more reason for Rivers – who is averaging 39.3 passes per game – to keep airing it out.
Russell Wilson OVER 270.5 PASSING YARDS – This is not a small number to cover and Wilson has thrown for more than 270 yards three times in seven games this season but he's also going up against a Falcons Defense that is giving up 274 passing yards per game, which ranks 28th in the league. That's vulnerable enough for Wilson to get loose against them.
Andy Dalton UNDER 253.5 PASSING YARDS – As the Bengals' season circles the drain, their quarterback has struggled, particularly in the past five weeks when he's averaging 238.8 passing yards one 38.6 pass attempts per game in the past five. Going up against a Rams Defense that has bolstered their secondary with the addition of Jalen Ramsey adds to the challenge.
Gardner Minshew OVER 244.5 PASSING YARDS – The results have been mixed for the Jaguars rookie and that includes completing less than half of his passes in each of the past two games. However, Minshew is facing a Jets team that is allowing 260 passing yards per game, which should give the Jaguars some room to move in the passing game.
RAPID FIRE
Matthew Stafford +0.5 passing yards vs. Jared Goff – Even as the Lions are struggling, Stafford is putting up numbers, averaging 291.8 passing yards per contest, and he's facing a Giants team that allows 8.9 yards per pass attempt – only the Dolphins are worse by that measure – so it's reasonable to expect Stafford to push for 300 passing yards. Goff has not been as consistently productive, basically erupting in Weeks Four and Five but not delivering a whole lot in the other five weeks of the season. What works in Goff's favor is that he faces the Cincinnati Bengals, a team with a subpar pass defense albeit one that has allowed 241.9 passing yards per game because, well, the opponents are running out the clock every week.
Michael Thomas -1.5 receptions vs. Chris Godwin – It hasn't mattered which quarterback is playing for New Orleans, at least when it comes to Thomas' productivity. He has recorded at least eight catches in six of seven weeks and has double-digit targets in five of seven weeks. Godwin is a big-play threat who would be the favorite if this category was based on yardage but since it's total receptions, Thomas is the more reliable option.
Mike Evans +3.5 receiving yards vs. Julio Jones – Aside from bizarre Week Five, when he had zero catches on three targets, Evans has been typically productive for the Bucs. The primary reason to like him in this matchup, though, is that the Falcons quarterback situation is shaky. Matt Ryan is questionable and if he can't go that would leave 38-year-old Matt Schaub to start at quarterback and that's not ideal for Jones' production.
Kyler Murray -0.5 fantasy points vs. Jacoby Brissett – A pair of quarterbacks coming off games at the opposite ends of the spectrum. Murray threw for just 104 yards in last week's win at the Giants while Brissett passed for a season-high 326 yards and four touchdowns in a win over Houston. However, Murray typically passes for more yardage and has had double-digit carries for three straight games. That leaves Brissett needing touchdowns to keep pace and he could get them but chasing touchdowns can be a risky play.
STAR SHOOTOUT - LATE GAMES
OVER/UNDERS
Deshaun Watson OVER 285.5 PASSING YARDS – That's a big number to cover for Watson, who is averaging 278.9 passing yards per game this season but he's facing a Raiders team that has allowed 289.8 passing yards per game, which ranks 31st in the league.
Tom Brady UNDER 268.5 PASSING YARDS – It's not like Brady couldn't throw for more yards but the Patriots haven't needed him to pass a ton this season and he's still averaging 284.6 passing yards per game, but the Browns Defense is allowing 219.3 passing yards per game in part because the Browns have been losing and that the most likely outcome of this game, too.
Baker Mayfield UNDER 239.5 PASSING YARDS – Even though Mayfield has had three games this season with at least 280 passing yards, he's also been shut down at times, held under 200 yards twice, and the Patriots defense is allowing a meagre 148.1 passing yards per game so it could be a long night for the Browns passing game.
Kyle Allen UNDER 230.5 PASSING YARDS – The Panthers quarterback is averaging 225.3 passing yards per game and he is going up against a 49ers team that is stifling defensively, allowing just 133.5 passing yards per game.
Derek Carr UNDER 263.5 PASSING YARDS – The Texans Defense is vulnerable in the secondary, allowing 275.6 passing yards per game but Carr is averaging 235.0 passing yards per game and doesn't have a lot of weapons at his disposal for the passing attack.
Jimmy Garoppolo UNDER 240.5 PASSING YARDS – With the 49ers cruising to a 6-0 record, they haven't needed Jimmy G to throw that much, and he's averaged a modest 219.0 passing yards per game. Pair that with an opponent (Carolina) that has allowed 225.0 passing yards per game and Garoppolo looks like he is more likely to slide under.
RAPID FIRE
Julian Edelman +0.5 receptions vs. DeAndre Hopkins – While Hopkins does hold an edge on the season, that gap has been tightening as Edelman has 24 catches on 36 targets in the past three games. If he continues that pace, it's possible that Hopkins exceeds that production but that sets a high bar.
Sony Michel +10.5 rushing yards vs. Christian McCaffrey – Even though Michel has been inconsistent he gets carries because the Patriots are usually winning and, when it comes to this matchup, McCaffrey goes against a Niners team that is more sturdy against the run than the Browns team that Michel will face.

More Weekly DFS Analysis