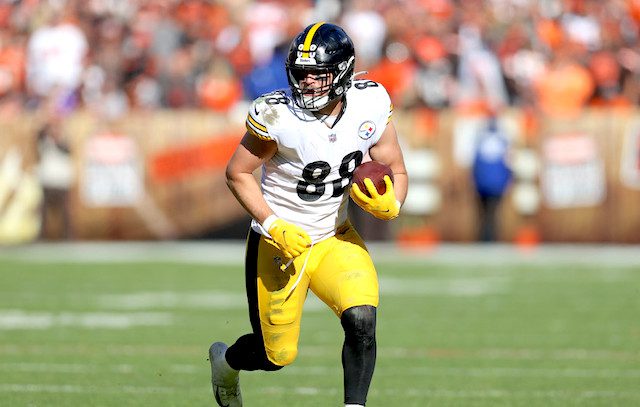 We are now two and a half months into the 2022 NFL Season and have approached Week 10. This week the Baltimore Ravens, Cincinnati Bengals, New England Patriots, and New York Jets all head into a bye in Week 10. The Sunday slate will be an interesting one as Josh Allen's status for Sunday's contest is up in the air and quarterbacks like Lamar Jackson and Joe Burrow will be on their team's bye week.
Some of the player values (listed below) that we have been able to ride at such discounted prices are now gone. The market has now caught up to Justin Fields (who was in the low 5k range for weeks) and has now priced him at a hefty $6,500 on DraftKings. One of the hardest things to do in DFS is to continually spot market inefficiencies before they correct themselves. We will have to dig a little deeper this week to find some new values, but the window of opportunity on some of the players below sure was fun while they lasted. Last week was another good week as far as DFS values were concerned. Some of whom were suggested in the previous week's article: Justin Fields (QB1), Kenneth Walker III (RB2), Travis Etienne Jr. (RB3), Christian Kirk (WR5), Joshua Palmer (WR11), and Rondale Moore (WR21) all had some epic performances for our lineups.
This article will run every week throughout the regular season. It won't include the obvious choices but instead players who appear to be undervalued in current DFS formats. If you didn't catch my Week 1 article that included some DFS tips and tricks, it can be found here. As the values currently sit, players will qualify as a value in DFS for this article if they are a quarterback in the 5k range, running backs who are 6k or less, wide receivers at 5.5k and under, and 4k or less for tight ends based on DraftKings salaries. When it comes to tournaments, stacking our quarterback with one of their pass catchers is a must and we should be looking for players with higher guaranteed floors (and consistency) to get us over the 50/50 hump in cash games. No matter which one you decide to play this week, here are some bargain players with potential in Week 10. Now let's get to those picks already!
Quarterback NFL DFS Value Plays - Week 10
Jared Goff, DET at CHI | DK: $5,500, FD: $7,200
The Chicago Bears trading away Robert Quinn and Roquan Smith will likely be the perfect storm for fantasy purposes the rest of the season. The Bears' offense seems to have figured out how to move the ball effectively with Justin Fields, but their defense will likely not be good enough to stop anyone, resulting in a fair amount of shootouts. In steps Goff and the Detroit Lions who will look to get back on track against a struggling Bears unit.
Jared Goff disappointed for fantasy purposes last week, but has most of his top weapons for fantasy back in D'Andre Swift and the Sun God himself: Amon-Ra St. Brown. Detroit's offense has been one of the better units for fantasy when healthy this season and like Chicago, their defense hasn't been able to stop anyone. Quietly Goff is having a solid season with 2,041 passing yards and 14 TDs to just 7 INTs in eight games.
At 2-6, Goff needs to have a big second half of the season and get the Lions winning if he is going to remain the starting quarterback beyond the 2022 season. Should Detroit struggle it seems inevitable they will draft a quarterback in next year's NFL Draft. The Bears' defense has been middle-of-the-road in points given up to fantasy quarterbacks, but has struggled of late giving up 81 points over the last two games.
As mentioned above, the days of getting Justin Fields at obvious arbitrage are over. For now, if we want to spend down at quarterback so we can use our funds elsewhere Goff is a worthy choice. The Vegas Sportsbooks have the Over-Under for Sunday's matchup at 48.5 as well making it one of the highest on the Sunday slate.
Trevor Lawrence, JAX at KC | DK: $5,400, FD: $7,000
Lawrence has been inconsistent for much of the season but has finished as a QB1 in five of his nine starts on the year for fantasy purposes. Last week against the Las Vegas Raiders, Lawrence was 25 of 31 for 235 yards and a TD while also rushing for 53 yards on the ground as the Jaguars snapped a five-game losing streak to get to 3-6 on the year.
So far on the season, Lawrence has quietly thrown for 2,075 yards with 11 TDs and 6 INTs while adding 152 yards and 3 TDs on the ground. With the Jaguars heading into a bye during Week 11, could we expect a strong second-half performance from Lawrence the rest of the way? It's possible. This week the Jaguars face the Kansas City Chiefs at Arrowhead where they are 9.5-point underdogs. The Over-Under for the contest also sits at 50.5 points, the highest of the week.
The Chiefs' defense has been allowing the eighth-most fantasy points to opposing quarterbacks this season at 19.9 per game. While Lawrence has only thrown for over 300 yards in just one game so far this season, this does appear to be a favorable matchup for the Jaguars' offense which has some emerging weapons in Travis Etienne and Christian Kirk. If you want to take advantage of matchups this week and bargain hunt at quarterback you can certainly do a lot worse than Lawrence, who adds some underrated rushing upside of his own for Sunday's contest.
Running Back NFL DFS Value Plays - Week 10
Jamaal Williams, DET at CHI | DK: $5,900, FD: $7,400
D'Andre Swift has had a very difficult time staying healthy, which has paved the way for Williams to be able to step up and have a bigger role in the offense. The Hard Knocks star has rushed 126 times for 545 yards and 8 TDs (4.3 AVG) along with 9 receptions for 57 yards. While it's been clear that the passing work has belonged to Swift, Williams has been an absolute force in the red zone this season.
The Lions play the Chicago Bears this week who are allowing the fourth-most fantasy points to running backs this season at 24.6 per game! The Las Vegas Sportsbooks have the Over-Under for Sunday's affair between the two NFC North rivals at 48.5 points, so we should be expecting a lot of scoring in this one. While head coach Dan Campbell has made it clear he'd like to start getting Swift more involved in the offense, it is going to be difficult until he can return to 100% full strength healthwise.
In a game that is expected to see plenty of points as well as Williams continuing to play at a high level and see snaps, he feels like a great DFS value this week. Williams played 61 percent of the team's offensive snaps last week and the hope in Detroit is that the maligned coaching staff can put together another victory. As mentioned above, Chicago trading two of their best players away on defense makes them even more enticing to play against in fantasy for the rest of the season.
Jeff Wilson Jr., MIA at CLE | DK: $5,500, FD: $6,500
Wilson's arrival in Miami should be considered a bad thing for Raheem Mostert's fantasy value for the rest of the season. After spending the last 3 1/2 seasons in San Francisco, Wilson was reunited with Dolphins head coach Mike McDaniel in Miami who runs a very similar offense scheme to Kyle Shanahan. This helps to make Wilson's transition nearly seamless and he should be expected to step in and contribute right away.
Last week against the Chicago Bears in this Miami debut, Wilson rushed 9 times for 51 yards while catching 3 passes for 21 yards and a TD. He also played 49 percent of the team's offensive snaps. This week against the Cleveland Browns the Miami offense gets another great matchup for fantasy as the Browns are tied with the Bears for the fourth-worst defense against fantasy running backs allowing 24.6 points per game.
In another contest that is predicted to have a fair amount of scoring (Over-Under 48.5), Wilson feels like a solid play against a struggling Cleveland defense. If Miami also gets a lead in a game they are favored in we should expect to see a healthy dosage of Wilson in the second half. While Mostert will be sure to see his own fair share of carries, Wilson feels like a great value this week for our lineups.
Kareem Hunt, CLE vs MIA | DK: $5,300, FD: $5,800
While he has largely disappointed for fantasy so far this season as Nick Chubb has gone nuclear, we shouldn't forget that Hunt is still a very talented running back going against a not-so-great defense in the Dolphins this week. Coming off the bye week Hunt should have fresh legs and has been used in the passing game more than Chubb has.
Hunt has 77 carries for 305 yards and 3 TDs to go along with 19 receptions for 117 yards and a TD. Should the Browns fall behind in Sunday's contest they will have no choice but to take to the air where the negative game-scripts tend to favor Hunt much more than they do Chubb. The Browns didn't end up trading him before the trade deadline several weeks back, so we can expect for him to continue to be involved in the offenses.
If you want a running back with some upside while paying a discounted price, Hunt feels like a solid RB2 option for your lineups this week.
Wide Receiver NFL DFS Value Plays - Week 10
Darnell Mooney, CHI vs DET | DK: $5,500, FD: $6,200
Back from the dead like a character on Halloween, Darnell Mooney has re-emerged as the top target on the Chicago Bears who have seemingly figured out their offense after a dreadful first month. In the last 4 games, Mooney has seen 31 targets where he's had 22 receptions for 234 yards and a TD. In what should be another great matchup at the Lions defense, the talented third-year wideout could have himself a day on Sunday.
Currently, the Chicago Bears are giving up the fifth-most fantasy points to wide receivers on the season at 31.9 per game! If you are trying to go for some correlation this week in a high-scoring game, having players on both sides of the Lions and Bears could be the way to go. Detroit's defense largely has been unable to stop anyone this season and Vegas is expecting Sunday's game to be a high-scoring affair.
One of the most important abilities for fantasy and for DFS is to constantly adjust your rankings and let go of the past. Many fantasy players have been unable to get the image of the terrible Bears offense to start the season out of their heads and they missed the golden opportunity to cash in on Justin Fields at his basement price. Credit to offensive coordinator Luke Getsy for making the needed adjustments to the Bears' offense and having his quarterback looking like a bona fide superstar. Time to stay in the flames with Darnell Mooney.
Rondale Moore, ARI vs SEA | DK: $5,200, FD: $5,800
After finally getting healthy from missing almost the first month of the season, Rondale has been on a terror of late and has been one of the largest beneficiaries of DeAndre Hopkins return. Until D-Hop came back in Week 7, Moore was largely playing on the outside as a receiver which is not what he does best. Here's looking at you, Kliff Kingsbury. Luckily since Hopkins returned Moore is back in the slot doing what he does best.
Rondale is better for full PPR than half PPR formats due to him catching a lot of passes near the line of scrimmage, but he is a dynamic playmaker who can go the distance in open space with the ball. Over the last four games, Moore has seen a total of 30 targets and has had  15 receptions over the last two weeks. The Rams defense is middle-of-the-road when it comes to fantasy points allowed to opposing wideouts this season, but Moore at a very affordable price feels like a slam dunk this week.
Per wide receivers with a minimum of 15 targets, Moore is near the top in the NFL in yards after the catch. He is a fast, explosive player who can do some magical things with the ball in his hands. Now that the Cardinals' offense is starting to click with Hopkins in the lineup, Rondale feels like another solid value for fantasy this Sunday.
Zay Jones, JAX at KC | DK: $4,400, FD: $5,500
Opposing teams need to score a lot of points if they are going to beat the Kansas City Chiefs and Sunday for the Jaguars will be no exception as it has the highest projected Over-Under of all the games on the Sunday slate at 50.5 points. The Kansas City defense is also allowing the ninth-most fantasy points to wide receivers on the season at 30.0 points per game, which sets the stage for the Jaguars to score some points that could benefit Zay Jones.
While he has only found the end zone once this season, Zay Jones is second on the team with 55 targets on the season where he has 39 receptions for 349 yards and a TD on the season. Quarterback Trevor Lawrence has been improving as the season has gone on and we know that opposing teams have been able to move the ball on the Chiefs' defense this season.
Jones' best game of the season game in Week 3 against the Houston Texans where he had 10 receptions for 85 yards and a TD. If you are looking for a discounted player with upside, Jones fits that category quite well this week. By going cheap on Jones as your WR3 or Flex for the Sunday Slate it will free up plenty of salary for you to spend up elsewhere, which is often one of my favorite strategies in DFS.
Tight End NFL DFS Value Plays - Week 10
Pat Freiermuth, PIT vs NO | DK: $4,200, FD: $5,600
One of the most underrated players in all of the NFL, The Muth is quietly having a solid season. In 7 games he has seen 48 targets which he has turned into 32 receptions for 367 yards and a TD. The Steelers' offense has been one of the worst in the NFL this season as it has been held back by some terrible quarterback play via Mitch Trubisky and Kenny Pickett.
The tight end position has been a difficult one so far this season. The strategy of spending big early or wait till late has been a good one as Kelce and Andrews have thrived this year, but there hasn't been much else to rave about from the tight end spot. This week is no exception as we would like to be as conservative as possible at the position so that we can use our resources to load up elsewhere.
Freiermuth is a player that we can expect to see some positive touchdown regression from the rest of the way and is it possible he could find the end zone this Sunday against the Saints? So far New Orleans has been one of the better defenses against tight ends this season, but at such an affordable price on DFS this week Freiermuth still feels like a good play for your lineups.
Greg Dulcich, DEN at TEN | DK: $3,400, FD: $5,900
A player who has looked anything like a rookie in his limited playing time so far in 2022, the man with arguably the greatest short shorts, hair, and mustache has put on an absolute clinic when he's been on the field. After missing the first month of the season on Injured Reserve, Dulcich has seen 17 targets with 12 receptions for 182 yards and a TD in the three games he's played. A tight end averaging over 15.0 yards per reception at such a discounted price is a must-start for fantasy.
Dulcich is an athletic tight end who can stretch the field, but he moves like a seasoned veteran in how he can get open. He already has two receptions for 38 and 39 yards in his limited time and is one of the few tight ends in the NFL who can get vertical in his routes. We know that Russell Wilson loves to throw to his tight end and Dulcich now emerging could be a big boost for the struggling Broncos' offense.
Courtland Sutton has been struggling in recent weeks and it might be reasonable to expect that Dulcich could become a top 1-2 option in the passing game for the rest of the season. We know that the bye week is typically a good time for the coaching staff to make tweaks to their offensive game plans and start to get rookies more involved in the offense. Dulcich feels like an absolute slam dunk the rest of the way if he stays at such a low price.
Thank you for reading my weekly article. Please send me a message on Twitter if you have any more DFS or Start/Sit questions. Best of luck this week!
Download Our Free News & Alerts Mobile App
Like what you see? Download our updated fantasy football app for
iPhone
and
Android
with 24x7 player news, injury alerts, rankings, starts/sits & more. All free!
Win Big With RotoBaller
Be sure to also check out all of our other daily
fantasy football articles
and analysis to help you set those winning lineups, including this new RotoBaller YouTube video:
More Weekly DFS Analysis