Playoff basketball is in full effect right now and it offers great prop play opportunities on Monkey Knife Fight.
Thursday's schedule has three games and each series is tied 1-1 going back to the lower seed's home arena.
Philadelphia was stunned by Brooklyn in Game One but responded with 145 points as they ran away from the Nets in Game Two. After losing Game One at home against San Antonio, the Denver Nuggets rode a hot Jamal Murray to victory in Game Two.
After a blowout win in Game One, the Golden State Warriors had a 31-point lead in Game Two, but coughed it up, allowing the Clippers to even the series.
With three tied series, the edge would seem to be with the underdogs, who now have home court advantage, at least until the next game has been played.
Consider some of these angles before making your picks for Thursday night.
Editor's Note: Our friends at Monkey Knife Fight have released the best, most fun, fastest growing DFS props game! It's super simple to play and win real money. Just choose your NBA, NHL, MLB or PGA game, and make your picks! Get a 100% instant deposit bonus up to $50 using promo code: BALLER. That's $50 for free - don't miss out!
PHILADELPHIA-BROOKLYN
OVER/UNDERS
Tobias Harris UNDER 18.5 POINTS – Although the late-season acquisition did put up 19 points in Game Two against Brooklyn, he had gone for 18 or fewer points in 10 of the previous 16 games.
Spencer Dinwiddie UNDER 15.5 POINTS – Even though Dinwiddie has scored 18 and 19 points, respectively, in the first two games of the series, he finished the regular season with seven consecutive games of 15 or fewer points.
RAPID FIRE
Ben Simmons +2.5 points vs. Jimmy Butler – Butler erupted for 36 points in Game One but has scored 16 or fewer in six of his past seven games.
DENVER-SAN ANTONIO
OVER/UNDERS
DeMar DeRozan UNDER 21.5 POINTS – He busted out for 31 points in Game Two, but DeRozan had been held to 19 or fewer points in five straight before that performance.
Jamal Murray OVER 18.5 POINTS – This is moving more towards recent production, as Murray has scored at least 19 points in six of the past 11 games, but also in six of the past 17. But, after his impressive showing in Game Two, Murray should be feeling it for Game Three.
RAPID FIRE
Jamal Murray +0.5 threes vs. Bryn Forbes – While Forbes, the Spurs guard is the more productive three-point shooter, making just a hair over two per game at home this season, Murray is averaging 1.8 per game on the road, which is enough to take him as the underdog in this match-up.
GOLDEN STATE-L.A. CLIPPERS
RAPID FIRE
Steph Curry -2.5 threes vs. Landry Shamet – This is closer than one might expect, as Shamet averaged 2.4 three-pointers per game at home this season, but Steph is dropping more than five three-pointers per game on the road and, considering his central role in the Warriors offense, it makes more sense to side with Curry here.
OVER/UNDERS
Kevin Durant UNDER 23.5 POINTS – That seems like a very achievable number for Durant, and it is, but he has also gone nine straight games with 23 or fewer points.
Danilo Gallinari OVER 20.5 POINTS – A consistent scoring threat down the stretch, the Clippers' sharp-shooter has scored 21 or more in 11 of the past 16 games.
Hit all six of these for a 21x payout:
Steph Curry OVER 26.5 POINTS – Steph has dropped 67 points on the Clippers in the first two games of the series and has at least 27 points in four of the past five games, with the one exception being when he played just nine minutes in New Orleans late in the regular season.
Lou Williams OVER 5.5 ASSISTS – In the first two games of the series, Williams has 20 assists and has at least six assists in nine of the past 12 games.
Klay Thompson UNDER 3.5 THREE-POINTERS – Klay has gone seven straight games with three or fewer three-pointers, including making one in each of the first two games of the series against the Clippers.
Draymond Green UNDER 7.5 REBOUNDS – Draymond has the potential to go for double digit rebounds but hasn't in the first two games against the Clippers and has seven rebounds or fewer in 10 of 15 games over the past month.
Andre Iguodala UNDER 1.5 STEALS + BLOCKS – Close to a toss-up, Iguodala has multiple steals plus blocks in eight of 16 games since the beginning of March.
Danilo Gallinari OVER 1.5 STEALS + BLOCKS – The odds are probably not in favor, but Gallinari has multiple steals plus blocks in three of the past four games.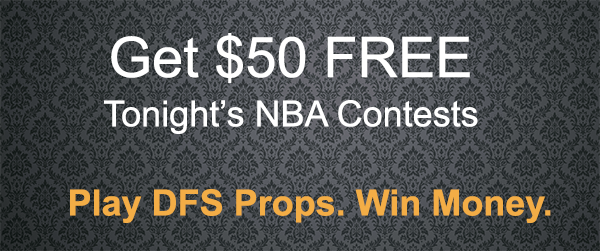 More Fantasy Basketball Analysis