The final month of the baseball season offers interesting angles for prop players. Some games remain critically important for the teams involved as they jockey for playoff position.
For others, the final month is about players auditioning for next season and that can present opportunities for pitchers that have not been big-name performers during the season.
Looking at today's schedule, that can include veterans like Adam Wainwright and Jordan Zimmermann, aces like Gerrit Cole and Walker Buehler, or up-and-coming starters like Cal Quantrill and Aaron Civale. There's a little something for everyone when seeking strikeout value.
Here are some angles to consider for Monday's baseball schedule on Monkey Knife Fight.
Editor's Note: Our friends at Monkey Knife Fight have released the best, most fun, fastest growing DFS props game! It's super simple to play and win real money. Just choose your MLB, NBA, NHL or PGA game, and make your picks! Get a 100% instant deposit bonus up to $50 using promo code: BALLER. That's $50 for free - don't miss out!
N.Y. METS-WASHINGTON
OVER/UNDERS
Juan Soto OVER 1.5 HITS + WALKS – The Nationals' young star outfielder has been a consistent on-base threat all season and that includes a .400 on-base percentage on the road and .399 against right-handed starters. The right-handed starter in this case is Noah Syndergaard, coming off the worst start of his career against the Cubs, when he allowed 10 runs in three innings against the Cubs.
TEXAS-N.Y. YANKEES
RAPID FIRE
Mike Minor +0.5 strikeouts vs. Masahiro Tanaka – The Rangers do have the highest road strikeout rate in baseball (27.9%) but Minor is putting up 6.5 strikeouts per road start compared to Tanaka's 5.3 strikeouts per home start.
MINNESOTA-DETROIT
OVER/UNDERS
Jordan Zimmermann OVER 3.5 STRIKEOUTS – While he's been getting hit hard for most of the season, the veteran Tigers starter has been much better lately, with a 3.27 ERA and 21 strikeouts in 22 innings over the four starts that he made in August.
BALTIMORE-TAMPA BAY
OVER/UNDERS
Ryan Yarbrough OVER 5.5 STRIKEOUTS – The Rays right-hander has recorded at least six strikeouts in just two home starts this season but he has 28 strikeouts in 25 1/3 innings over his past four starts. Facing the Orioles lineup doesn't hurt his chances, either.
TORONTO-ATLANTA
OVER/UNDERS
Mike Soroka OVER 4.5 STRIKEOUTS – The Canadian rookie has had a tremendous season for the Braves but this is a relatively close call. Soroka is averaging 4.6 strikeouts per home start and managed just one strikeout at Toronto in his last start though he is going to face a Blue Jays lineup that was just no-hit while striking out 14 times against Justin Verlander on Sunday.
PHILADELPHIA-CINCINNATI
RAPID FIRE
Drew Smyly +1.5 strikeouts vs. Anthony DeSclafani – The safer side of this prop is DeSclafani, who has averaged 5.7 strikeouts per home start and has been a regular in the Reds' rotation this season but Smyly has been coming around since joining the Phillies, averaging 5.3 strikeouts per road start while striking out 38 hitters in 38 innings since landing in Philadelphia.
SAN FRANCISCO-ST. LOUIS
OVER/UNDERS
Adam Wainwright OVER 4.5 STRIKEOUTS – The former Cardinals ace can still get it done, especially at home, where he has averaged 5.8 strikeouts per start, finishing with at least five strikeouts in eight of 12 starts.
SEATTLE-CHICAGO CUBS
OVER/UNDERS
Justus Sheffield UNDER 4.5 STRIKEOUTS – The former star prospect is still just 23-years-old and is trying to make a good late-season impression on the Mariners. He has eight strikeouts in two starts for Seattle, which is not enough to like his chances when facing the Cubs at Wrigley.
SAN DIEGO-ARIZONA
OVER/UNDERS
Cal Quantrill -0.5 strikeouts vs. Mike Leake – The Padres rookie has been solid and is averaging 8.5 K/9 on the road. The veteran Leake has struggled since joining the Diamondbacks, posting a 6.59 ERA in five starts while recording just 3.5 K/9.
HOUSTON-MILWAUKEE
OVER/UNDERS
Gerrit Cole OVER 8.5 STRIKEOUTS – Cole is more dominant at home, yet has still managed to post nine strikeouts or more in six of his 12 road starts; he's also hit that threshold in eight of his past 10 starts overall.
CHICAGO WHITE SOX-CLEVELAND
OVER/UNDERS
Aaron Civale OVER 4.5 STRIKEOUTS – The Indians rookie has put up at least five strikeouts in four of his six starts and gets a shot at a White Sox lineup that struggles to make contact, with a 25.6% road strikeout rate.
COLORADO-LOS ANGELES
OVER/UNDERS
Walker Buehler OVER 7.5 STRIKEOUTS – The Rockies show their mortality away from Coors Field, with the highest road strikeout rate in the National League (26.6%), and Buehler has at least eight strikeouts in six straight home starts.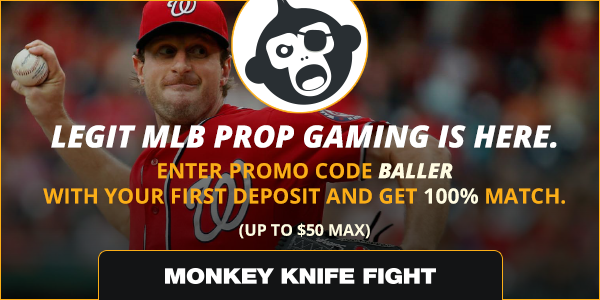 More 2019 Fantasy Baseball Advice