As much as I have touted overs on pitcher strikeouts, with some justification, it's not something to accept blindly.
Sometimes the number is just too big to bank on for that day, or maybe it's a pitcher who doesn't – even in this environment – pick up a lot of Ks.
With a full slate of games on Wednesday, of course there will be pitchers who rack up strikeouts, but keep an eye on some that might have a hard time getting to the over. For me, Jason Vargas against the Yankees, Adam Wainwright in Seattle and Walker Buehler against the Diamondbacks are three that look like they could have a hard time getting to their respective overs.
On the other hand, I do like Stephen Strasburg, Yu Darvish, and Sonny Gray.
Here are some more angles to consider for Wednesday's baseball action.
Editor's Note: Our friends at Monkey Knife Fight have released the best, most fun, fastest growing DFS props game! It's super simple to play and win real money. Just choose your MLB, NBA, NHL or PGA game, and make your picks! Get a 100% instant deposit bonus up to $50 using promo code: BALLER. That's $50 for free - don't miss out!
DETROIT-CHICAGO WHITE SOX
OVER/UNDERS
Nick Castellanos OVER 1.5 TOTAL BASES – The play is here taking a shot at Tigers hitters against highly-touted White Sox rookie pitcher Dylan Cease, who has skills, but also had a 1.57 WHIP in 15 starts at Triple-A. Castellanos is slugging .449 against right-handed pitching and .538 on the road, so four at-bats with those percentages should give him a good shot at a couple of bases.
MIAMI-WASHINGTON
OVER/UNDERS
Stephen Strasburg OVER 6.5 STRIKEOUTS – The Nationals starter has recorded at least seven strikeouts in 10 of 17 starts overall, five of eight at home. The Marlins are about average in terms of strikeout rate (23.3%) on the road and Strasburg has struck out 11 and four Marlins, respectively, in his two starts at Miami this season.
CHICAGO CUBS-PITTSBURGH
OVER/UNDERS
Yu Darvish OVER 5.5 STRIKEOUTS – The Cubs right-hander has picked up six strikeouts in 10 of 17 starts, including five of eight on the road. He only struck out four Pirates in early April and the Bucs do have the lowest home strikeout rate (18.8%) in the National League.
BOSTON-TORONTO
OVER/UNDERS
Rafael Devers OVER 1.5 TOTAL BASES – The Red Sox third baseman is slugging .548 for the season, which is very good, but after hitting two bombs against the Blue Jays Tuesday, is slugging .818 in his past 16 games, which is ridiculous. Mix in the Blue Jays going with rookie starter Jacob Waguespack, who had a 1.56 WHIP in a dozen games at Triple-A, and Devers should stay hot.
MILWAUKEE-CINCINNATI
RAPID FIRE
Sonny Gray -1.5 strikeouts vs. Jhoulys Chacin – Gray is averaging 9.9 K/9 both overall and at home, while Chacin is averaging 7.2 K/9 on the road. That gets close to the differential here but Gray has a better chance to work deeper in the game – Chacin has pitched more than five innings once in his past eight starts.
N.Y. YANKEES-N.Y. METS
OVER/UNDERS
Jason Vargas UNDER 4.5 STRIKEOUTS – While he's recently threatened to knock out a reporter, the Mets lefty has managed five or more strikeouts just five times in 14 starts, though he did have a season-high 10 in his last start. Three weeks ago, against the Yankees, Vargas struck out three in six innings.
BALTIMORE-TAMPA BAY
OVER/UNDERS
Trey Mancini OVER 1.5 TOTAL BASES – The Orioles are naturally underdogs at Tampa Bay, but there is still room for Mancini to get his. He's slugging .570 on the road this year and that plays favorably for a couple of bags in four at-bats.
PHILADELPHIA-ATLANTA
RAPID FIRE
Ronald Acuna Jr. +0.5 runs + RBI vs. Bryce Harper – Harper is a good player but averaging 1.24 runs plus RBI per road contest while Acuna Jr. is putting up 1.43 runs plus RBI per home game, making it easy to side with underdog Acuna Jr. plus the half.
L.A. ANGELS-TEXAS
OVER/UNDERS
Joey Gallo UNDER 1.5 TOTAL BASES – This play is due to Angels rookie starter Griffin Canning, who is better at home than on the road, yet his road WHIP is still 1.10. He just needs to keep Gallo in the park and he's had more than two total bases in five of his past 15 games.
HOUSTON-COLORADO
RAPID FIRE
Trevor Story +0.5 runs + RBI vs. Alex Bregman – Even though Story, like most Rockies, is better at home, this is a category that closes the gap. Bregman is averaging 1.14 runs plus RBI per home game, very slightly better than Story's road average of 1.11 per game, so getting the extra half run with Story is the play.
CLEVELAND-KANSAS CITY
RAPID FIRE
Jordan Luplow +0.5 total bases vs. Francisco Lindor – Luplow, the rookie first baseman, is slugging .492 on the road and .705 against left-handed pitching (LHP Danny Duffy starts for the Royals). Lindor is slugging .433 on the road and .398 against lefties. Lindor has the brand name, so he's favored, but getting Luplow plus a half base is a gift.
MINNESOTA-OAKLAND
OVER/UNDERS
Matt Olson UNDER 1.5 HITS + WALKS – Oakland's first baseman is much better on the road, and his home OBP (.282) is awful. He has a .329 OBP against right-handers, which isn't enough to expect him to reach base multiple times.
ARIZONA-L.A. DODGERS
OVER/UNDERS
Walker Buehler UNDER 7.5 STRIKEOUTS – As good as Buehler is, that's a big number and he's had eight strikeouts in just five of 16 starts. He did strike out 11 Diamondbacks a month ago, but that's not enough reason to go against the odds here.
SAN FRANCISCO-SAN DIEGO
OVER/UNDERS
Hunter Renfroe OVER 1.5 TOTAL BASES – Slugging .562 at home and .530 against right-handed pitching, the Padres outfielder has a good chance to pick up a couple of bags.
ST. LOUIS-SEATTLE
OVER/UNDERS
Adam Wainwright UNDER 5.5 STRIKEOUTS – Even though the Mariners have the highest home strikeout rate (26.5%) in baseball, Wainwright has recorded six strikeouts just once in seven road starts this year and has a road ERA of 6.56 with a 1.51 WHIP, so he may not last long enough to get half a dozen strikeouts.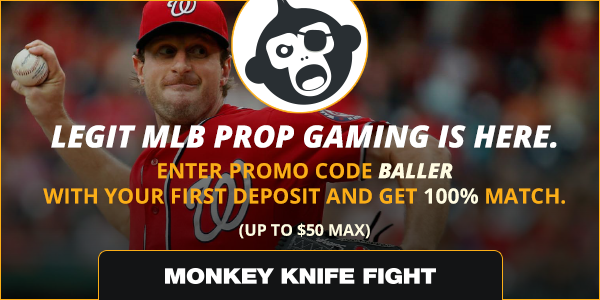 More 2019 Fantasy Baseball Advice