There are a couple of trends that come to mind when looking at Monday's MLB props on Monkey Knife Fight.
The first is that young rising stars offer potential value. Tyler O'Neill is getting a chance to play for St. Louis. Juan Soto is mashing for Washington. Teoscar Hernandez and Alex Dickerson are putting up some numbers lately too.
The second point is that some pitchers are resurrecting their careers this season. Sonny Gray washed out in the Bronx, but is back to where he used to be, this time for Cincinnati.
Speaking of the Reds, Homer Bailey has been hindered by injuries and ineffectiveness for most of the past five years, but some positive signs in Kansas City landed him a trade to Oakland. Tonight's start at Houston will be Bailey's 20th of the season; the last time he started more games in a season was 2014, when he started 23 for the Reds.
Here are some more angles to consider for Monday's MLB schedule.
Editor's Note: Our friends at Monkey Knife Fight have released the best, most fun, fastest growing DFS props game! It's super simple to play and win real money. Just choose your MLB, NBA, NHL or PGA game, and make your picks! Get a 100% instant deposit bonus up to $50 using promo code: BALLER. That's $50 for free - don't miss out!
ST. LOUIS-PITTSBURGH
RAPID FIRE
Tyler O'Neill -0.5 total bases vs. Jung-Ho Kang – Taking a shot on the red-hot O'Neill even though he's slugging just .333 on the road this season in a small sample of 14 games. He's been a regular in the Cardinals' lineup with Marcell Ozuna out and is slugging .614 in the past 15 games.
COLORADO-WASHINGTON
OVER/UNDERS
Juan Soto OVER 1.5 HITS + WALKS – The rising star in the Nationals outfield has a .418 on-base percentage at home this season and Rockies starting pitcher Peter Lambert is making his eighth career start, posting a 6.06 ERA and 1.40 WHIP in his first seven.
CLEVELAND-TORONTO
OVER/UNDERS
Teoscar Hernandez OVER 1.5 TOTAL BASES – He's slugging a modest .409 for the season but catch the wave for the Blue Jays outfielder who has multiple bases in five of the past six games.
BOSTON-TAMPA BAY
OVER/UNDERS
Eduardo Rodriguez UNDER 7.5 STRIKEOUTS – Although Rodriguez is averaging better than a strikeout per inning this is still a big ask to hit the over. He has recorded eight or more strikeouts twice in his past 11 starts and once in 10 road starts this season.
CINCINNATI-MILWAUKEE
RAPID FIRE
Sonny Gray -1.5 strikeouts vs. Chase Anderson – While Anderson does have a decent strikeout rate at home (9.9 K/9) it still comes to 5.3 per home start this season while Gray is averaging 6.7 strikeouts per road start. Anderson has eight strikeouts in two starts against the Reds this season while Gray has whiffed 27 in three starts against the Brewers.
MIAMI-CHICAGO WHITE SOX
RAPID FIRE
Jose Abreu +0.5 runs + RBI vs. Harold Ramirez – Giving the advantage to Ramirez seems more heavily weighted towards the starting pitching matchup, as Miami starter Trevor Richards holds an edge over White Sox starter Ivan Nova, but Abreu is the consistently more productive hitter so getting him plus a half in a tightly-contested category is worth the play.
N.Y. YANKEES-MINNESOTA
RAPID FIRE
Edwin Encarnacion +0.5 runs + RBI vs. Aaron Judge – As good as Judge is against left-handed pitching, posting a 1.176 OPS in a dozen games against lefty starters, he has played more than two-thirds of his games at home this season and Encarnacion is no slouch against left-handers, with a .962 OPS against left-handed starters this season. Beware, Martin Perez!
OAKLAND-HOUSTON
RAPID FIRE
Homer Bailey +6.5 strikeouts vs. Gerrit Cole – I'm here for this if only to see how daunting the task is for Cole to cover that number. He's recorded double-digit strikeouts in 11 of 21 starts, but Bailey has at least five strikeouts in five of his past six starts. If he does that, Cole will need to hit 12, maybe 13, strikeouts to cover.
BALTIMORE-ARIZONA
OVER/UNDERS
Anthony Santander UNDER 1.5 TOTAL BASES – The Orioles rookie has fared okay against left-handed starters, slugging .458, but not so great away from Camden Yards, slugging .355, and Diamondbacks starting pitcher Robbie Ray is better than the average southpaw.
CHICAGO CUBS-SAN FRANCISCO
RAPID FIRE
Alex Dickerson -0.5 runs + RBI vs. Anthony Rizzo – Rizzo, the Cubs' veteran first baseman, is a steady, consistent offensive performer. Dickerson, the Giants outfielder, is a starburst right now, slugging .795 in 24 games since joining San Francisco; he has also put up 40 combined runs plus RBI in 82 plate appearances with the Giants.
TEXAS-SEATTLE
RAPID FIRE
Nomar Mazara +0.5 runs + RBI vs. Daniel Vogelbach – Taking Mazara as the underdog is more about getting the extra half run plus RBI in a tight category than it is about liking what Mazara is doing offensively. He has a .674 OPS on the road, as well as a .510 OPS overall in the past four weeks.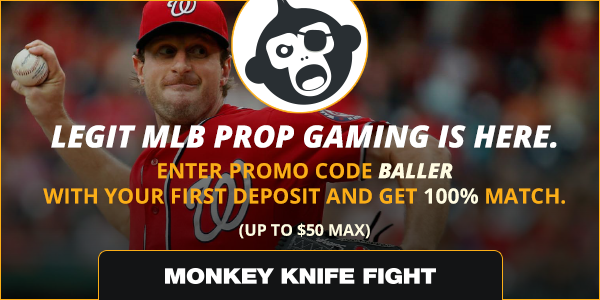 More 2019 Fantasy Baseball Advice