Easter Sunday brings afternoon baseball, lots of it, so let's take a spin around the major leagues to check on some angles to play for Monkey Knife Fight.
It's obviously still early but starting pitchers have made three or four starts each and some trends start to emerge.
For example, Tigers starting pitcher Matthew Boyd is throwing more sliders and getting more strikeouts. Over the course of his career, he has allowed a contact rate of 78.9% and in four starts this year, he sits at 65.7%. There's probably some regression due, but he's been effective enough to like the over on his strikeouts against a suspect Chicago White Sox lineup.
A more proven arm to consider is Dodgers ace Clayton Kershaw, who returned from injury early in the week and had a solid first start of the season, but it might be asking a lot for him to record at least seven strikeouts in Milwaukee today.
Here are some more angles to consider for Sunday's baseball action.
Editor's Note: Our friends at Monkey Knife Fight have released the best, most fun, fastest growing DFS props game! It's super simple to play and win real money. Just choose your MLB, NBA, NHL or PGA game, and make your picks! Get a 100% instant deposit bonus up to $50 using promo code: BALLER. That's $50 for free - don't miss out!
KANSAS CITY-N.Y. YANKEES
RAPID FIRE
Aaron Judge +0.5 total bases vs. Luke Voit – Even though Voit is a solid hitter, averaging 1.50 total bases per game, he's not as productive as Judge (1.90 per game) and Judge is the underdog in this match-up. Take that extra half bag and run with it.
WASHINGTON-MIAMI
OVER/UNDERS
Anthony Rendon OVER 1.5 TOTAL BASES – He did leave Saturday's game with a bruised elbow, but Rendon is putting up three total bases per game and Jose Urena starting for the Marlins isn't enough reason – or any reason at all – to think that Rendon will be held in check.
WHITE SOX-DETROIT
OVER/UNDERS
Matthew Boyd OVER 6.5 STRIKEOUTS – The Tigers lefty has been outstanding in four starts, striking out 36 in 24 1/3 innings, recording at least seven strikeouts in three of his four starts.
SAN FRANCISCO-PITTSBURGH
RAPID FIRE
Brandon Belt +0.5 total bases vs. Buster Posey – Posey is off to a slow start, hitting .210 with less than one total base per game. Belt is averaging 1.55 total bases per game and, as the 'dog, gets and extra half base to play with.
BOSTON-TAMPA BAY
OVER/UNDERS
Avisail Garcia OVER 1.5 TOTAL BASES – It's not the easiest pitching match-up, with David Price on the hill for the Red Sox, but Garcia has been on a tear and, historically, has been better against left-handed pitchers.
L.A. DODGERS-MILWAUKEE
OVER/UNDER
Clayton Kershaw UNDER 6.5 STRIKEOUTS – Making his second start of the season, the Dodgers ace was effective in his first start of the campaign but whiffed six in seven innings of work.
N.Y. METS-ST. LOUIS
OVER/UNDERS
Noah Syndergaard OVER 6.5 STRIKEOUTS – Even if Thor has been inconsistent in the early going, he still has the power to strike out hitters, with 29 Ks in 24 innings through four starts.
ARIZONA-CUBS
OVER/UNDERS
Robbie Ray UNDER 6.5 STRIKEOUTS – Although Ray has high-end strikeout potential and has struck out 29 in 24 innings so far this year, he's also notoriously out of games relatively early because his pitch counts tend to climb.
HOUSTON-TEXAS
RAPID FIRE
Jose Altuve +0.5 total bases vs. Alex Bregman – Altuve has 50 total bases in 20 games, 2.5 per game, and that makes him an unlikely underdog against Bregman, who is playing well, but averaging 1.7 total bases per game.
PHILADELPHIA-COLORADO
OVER/UNDERS
Bryce Harper OVER 1.5 RUNS + RBI – The Phillies' new star is averaging 1.4 runs plus RBI per game, but a visit to Colorado is reason enough to push the over and he has done so in two of the first three games of the series.
SEATTLE-L.A. ANGELS
OVER/UNDERS
Edwin Encarnacion +0.5 runs + RBI vs. Mike Trout – Two sluggers, both averaging 1.5 runs plus RBI per game, so might as well take the home underdog who gets the benefit of an extra half on his side.
TORONTO-OAKLAND
RAPID FIRE
Aaron Sanchez -1.5 strikeouts vs. Brett Anderson – Neither starting pitcher has logged big innings, but Sanchez is nearly at a strikeout per inning and has 5.5 per game through four starts while Anderson has managed 3.5 per game through his first four starts.
CINCINNATI-SAN DIEGO
OVER/UNDERS
Tyler Mahle OVER 4.5 STRIKEOUTS – He got hit a bit in his last start, but the Reds' right-hander has been effective early in the season, striking out 15 in 17 innings on his way to a 2.65 ERA and 3.57 FIP.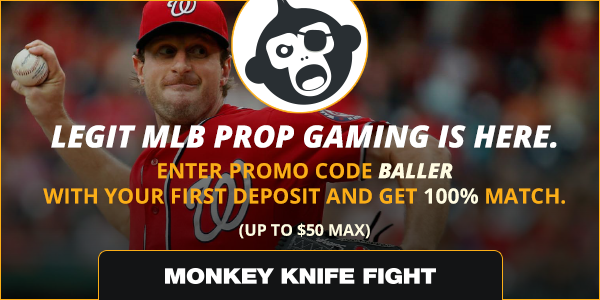 More 2019 Fantasy Baseball Advice