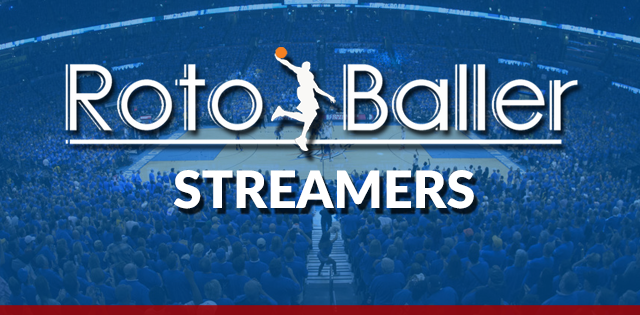 With only one game tonight (Detroit vs. Dallas) there simply aren't many guys worth streaming just for today, but we do have 11 games on Friday night and a fairly even split of games on the weekend with 7 on Saturday and 8 on Sunday.
Most leagues limit how many adds you can make each week in daily leagues. If your league only allows three moves per week, you need to be very efficient with your moves and grab players who will help you maximize your games played and help you win an extra category or two of counting stats.
The goal of this article each Thursday morning will be to help you plan out your roster moves for the remainder of the week. By this point of the week, you should start to get an idea of what categories you may need help with and where your weekly opponent is the strongest and weakest (in H2H formats). If you're playing roto, you don't have to gameplan quite as much, but you'll still want to maximize the stats your team can accumulate during the week. All the rostered percentages used in this article are from Yahoo. Let's see who can help us finish the week strong.
Editor's Note: Our incredible team of writers received five total writing awards and 13 award nominations by the Fantasy Sports Writers Association, tops in the industry! Congrats to all the award winners and nominees including NBA Writer of the Year, Best NFL Series, MLB Series, PGA Writer and Player Notes writer of the year. Be sure to follow their analysis, rankings and advice all year long, and win big with RotoBaller!
Read More!
Weekly Schedule: Friday to Sunday
Teams that play only one game (AVOID): Atlanta, LA Clippers, Miami, Minnesota, Philadelphia
Teams that play three games (TARGET): NONE
Teams that play back-to-back days (Fri/Sat or Sat/Sun) (TARGET): Charlotte, Golden State, Houston, Milwaukee, NY Knicks, Orlando, Utah, Toronto, Portland, Sacramento
Shallow League Streaming Options
Markelle Fultz - PG/SG (41%)
Fultz finally made his 2022 season debut last night and was pretty solid in very limited minutes (only 17 minutes and he will be eased back in slowly I am sure). But 8-1-4 with 2 steals and a block is a starting point and even though this Orlando backcourt could get messy when all three of Suggs, Anthony, and Fultz are healthy, there's still reason to believe that all three can maintain a useable level of productivity. So Fultz is less of a streamer this week and more of a speculative add, as you're hoping he can stay healthy and continue to get cleared for more minutes each week.
Malik Monk - SG (39%)
We are on the upswing of the Monk rollercoaster once again, but the peaks are well worth hanging around for through the tougher days. He has 50 points in his last two games to go along with 14 assists! He's emerged as the best talent off the bench for Sacto and they've shown the willingness to play him solid minutes, especially on nights when his shot is falling. He's worth adding in any size of league in my opinion and is probably worth holding, too.
Justise Winslow - SF/PF (27%)
Winslow's rostership is still surprisingly low, but rapidly on the rise. The Blazers don't know when they'll get Damien Lillard back, but in his absence, Winslow is functioning as the point guard and has been piling up stats with the first unit. He had 21 points (a season-high) last night in the loss to the Lakers and is averaging 9 boards and 5 assists over his last four games since moving into the starting lineup. With a nice back-to-back against Utah and Indiana coming up on Saturday and Sunday, he's definitely worth an add as Lillard's earliest return is slated for Sunday's game against Indiana, but I also have my doubts as to whether or not that actually happens. You'll at least get one game of Winslow starting and if he shifts back to the bench for Sunday, he can still post some useable numbers in that role.
Zach Collins - PF/C (22%)
Collins was killing it this season on a per-minute basis but missed most of November with an injury. He returned to action at the right time, however, as the Spurs have been without starting center Jakob Poeltl and power forward Jeremy Sochan. Collins has posted two nice stat lines in a row now and is a guy who can contribute across the board in nearly every category. The latest updates on Poeltl and Sochan had them "out about a week" on Tuesday, which leads me to believe that we won't see either of them this weekend.
Deep Leagues Streaming Options
T.J. Warren - SF/PF (23%)
Warren is set to make his season debut tomorrow night for Brooklyn and it's reasonable to think he slots right into a "bench scorer" role for the Nets as they need one of those pretty badly. Ben Simmons is still going to be out for a while and there are going to be minutes available. How many minutes Warren plays and how effective he will be on the court remains to be seen, but "TJ Buckets" has never had a problem scoring in his career and he could end up with a relatively high usage role right out of the gates. The Nets have a rest day in between games, which could be a good thing, too, since Warren could be rested on back-t0-backs after not playing in such a long time.
Jaylen Nowell - PG/SG (16%)
I know Minnesota only plays once this weekend, but it's a matchup with OKC that could be a very lucrative one for fantasy stats. Nowell is officially on a heater with 16, 23, and 24 points in his last three games. He's stepped up in a big way off the bench to help fill the scoring void left behind by Karl-Anthony Towns. He's a bit of a shallow player who only offers points, threes, and a handful of assists and steals, but he's definitely worth an add while we see how the Wolves adjust to life after KAT.
Jose Alvarado - PG (12%)
The Pelicans continue to battle injuries to their starting backcourt, which has allowed Alvarado to step into the starting lineup. He was outplayed by Dyson Daniels last night (14-8-9 in 31 minutes) but Jose still has the starting job for as long as McCollum is out and is a valued reserve when CJM returns. If you can get past the lack of scoring, he can offer some nice assists and steals with relatively few turnovers.
Austin Reaves - SG/SF (17%)
Reaves season-long numbers of 11-3-2 on 54% from the floor and 91% from the line are good enough to put him inside the top 150 so far this year. Now, I know he's played a lot more than we expected due to an extended absence for LeBron James and injuries to multiple other Laker guards, but the kid has proven that he is a solid rotational player in the NBA. He doesn't offer all that many threes (1.2) or stocks (just .9 combined steals and blocks), but the scoring, percentages, and low turnovers are nice if you value efficiency. Over his last nine games, Reaves has averaged 15.7 points and yet he's still widely available.
Specialist Streaming Options
THREES
Joe Harris - SG/SF (9%)
Don't look now but Harris has played 36 and 37 minutes in the Nets' last two games and he drilled six triples in those contests combined. Harris has had an uneven start to the year after coming back from a major injury and his role on this team has been kind of up in the air, but he's still managed 1.8 threes per contest this season in 25 minutes per game. TJ Warren is returning, but there should still be minutes and shots for Harris in this offense. He's worth a stream this weekend until we see how the Nets' rotations shake out.
STEALS
TJ McConnell - PG (11%)
TJM is a thief and still one of the better assist guys in the NBA on a per-minute basis. His minutes really fluctuate a lot, but he's managed to maintain a pretty steady level of productivity now for the last 10 days. Over his last six games, he's averaged 9 points, 6 assists, and 1.8 steals. He's available in most leagues and not likely to let you down if you need some dimes and steals this weekend.
BLOCKS
Nick Richards - C (18%)
It's pretty slim pickings for blocks on the wire - always! Richards does average 0.9 blocks per game, however, and Charlotte has a nice back-to-back against Washington and Milwaukee on Friday-Saturday. He's locked into a timeshare at center with Mason Plumlee, but he's managed to be relatively productive with his 19 minutes a night. He had three straight double-doubles last week and can often feed on lesser big men on opposing second units.
Download Our Free News & Alerts Mobile App
Like what you see? Download our updated fantasy basketball mobile app for
iPhone
and
Android
with 24x7 player news, injury alerts, lineup notifications & DFS articles. All free!
More Fantasy Basketball Analysis