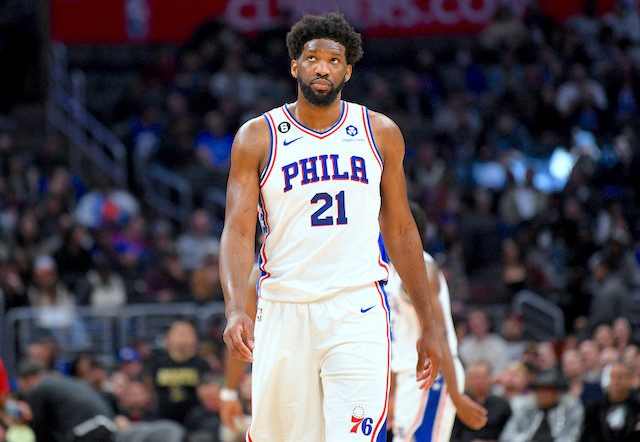 NBA fans waited all year long for the start of the free agency period, and they were not disappointed. While next year's class has arguably more talent, a fair amount of impactful moves still went down this summer.
And just like every year, there were a lot of winners and losers. Some teams improved considerably with solid signings, while others lost important contributors or overpaid for their new acquisitions.
With that in mind, this article will look at some of the losers from the 2023 NBA free agency period. If you are looking for the "Winners of NBA free agency" article you can find that here. Keep in mind that this list is in no particular order and is entirely subjective.
Editor's Note: Our incredible team of writers received five total writing awards and 13 award nominations by the Fantasy Sports Writers Association, tops in the industry! Congrats to all the award winners and nominees including NBA Writer of the Year, Best NFL Series, MLB Series, PGA Writer and Player Notes writer of the year. Be sure to follow their analysis, rankings and advice all year long, and win big with RotoBaller!
Read More!
#5. Toronto Raptors
The Raptors have not been the same ever since Kawhi Leonard decided to leave them weeks after leading the franchise to their only NBA championship. They managed to have a pretty good 2019-2020 season immediately after Leonard left, losing just once in their last 12 games. They were one win away from the conference finals, but they fell off hard in the next season, going through many losing streaks.
The 2021-2022 season looked like the beginning of the resurgence of the Raptors. They had rookie Scottie Barnes, alongside Gary Trent Jr., Fred VanVleet Sr., and Pascal Siakam. Once again, they fell off in the 2022-2023 season proving that this team is inconsistent. Now they're stuck in "No Man's Land".
Although VanVleet's departure isn't as damaging as some might think, the Raptors could have traded him last season but chose not to. They could have easily gotten young players and some future picks from interested teams like the Pelicans, Heat, Clippers, and Magic. Instead, they lost him for nothing.
Siakam and OG Anunoby are disgruntled and both could leave the team as free agents after this season (Anunoby has a player option). This team is set for another 41-41 season unless they can find a trade for these two stars. They also need to be focusing on the development of Barnes, Trent Jr., Gradey Dick, and their new head coordinator Darko Rajaković. Rajaković has a fantastic history of working with young teams.
A lot of people thought that the Nuggets were losers in free agency due to the loss of Bruce Brown. Although Brown is an amazing player who will be missed by the Nuggets, they still have the best duo in basketball, Nikola Jokić, and Jamal Murray. They also have many great players like Michael Porter Jr. and Aaron Gordon.
The Nuggets will be just fine, unlike their finals opponent the Miami Heat, who made a lot of moves this season. These moves have been net losses as the poor moves outweigh the good ones. Now, this whole section will become irrelevant if the team manages to reach a deal with the Blazers to bring Damian Lillard Sr. to south beach. However, that has not happened yet.
They lost two of their undrafted heroes in Gabe Vincent and Max Strus. These two were integral to the Heat's unlikely finals run last season. They also lost Victor Oladipo. Although Oladipo fell out of favor with the team, he has proven to be a star when healthy, and he is still a valuable perimeter defender. Also, Omer Yurtseven can surprise a lot of people in Utah.
As for the additions, Thomas Bryant was great for the Lakers but only played 29 seconds throughout the Nuggets' title run. Josh Richardson hasn't been the same since leaving the Heat in 2019, as he's suited up for five different teams since then. He will look to revive his career with the team that drafted him in 2015.
Poor Joel Embiid just wants to win. As a youngster, Embiid had no interest in basketball. Ever since moving to the US at the age of 16 with the help of Luc Mbah a Moute, Embiid has been obsessed with the sport.  According to his trainer Drew Hanlen Embiid's work ethic is unbelievable.
"He has literally watched every single made field goal of Kobe Bryant, Michael Jordan, Shaquille O'Neal, Hakeem Olajuwon, and Tim Duncan".
Yet somehow, he is still disrespected by NBA fans even after winning NBA MVP in the 2022-2023 season. He has been called a "playoff choker" for what feels like an eternity now. Time is running out for Embiid, as he will turn 30 next season.
For Embiid to finally make it out of the second round and push the 76ers into true contention, he needs more talent around him. Although his squad certainly isn't bad, it just isn't on the same level as other contenders. This is especially true if James Harden Jr. gets traded to the LA Clippers.
The 76ers did a whole lot of nothing this offseason causing Embiid to start getting worried, and rightfully so. Embiid saying that he just wants to win and won't be afraid to leave Philly to do so, it's clear that he is disgruntled. Although he is under contract for at least the next three seasons, we all remember what happened the last time a 76ers star was disgruntled.
#2. Portland Trail Blazers
Two words: Jerami Grant. What were the Blazers thinking? Grant is a good player in this league, but he should have been used as trade bait. That way they could have gotten more help for Damian Lillard Sr. who is preparing for his 12th season in the league. Instead they decided to pay Grant an average of $32 million a year, and are acting surprised that Lillard has finally had enough.
Year after year, Lillard begged Portland's front office to get him some legitimate help, only for Portland to disappoint him time and time again. NBA fans knew that Lillard was all about loyalty, but loyalty is pointless when the other side keeps hurting you like this.
Scoot Henderson will become a star in this league. The problem is that the Trail Blazers essentially chose him over Lillard who wanted the team to trade this pick for a proven star. This adds a lot of pressure to Henderson. Fans will undoubtedly compare him to Lillard and think of him as the direct successor. All rookies make mistakes, but Trail Blazers fans could be harsher on him than other rookies.
The only "good" move they made was resigning  Matisse Thybulle, preventing him from going to the Mavericks. Also, they still owe Jusuf Nurkić more than $55 million over the next three years. This is quite a lot for a player who has averaged 38 games a year since the 2019-2020 season.
#1. Houston Rockets
Have you ever heard of the phrase "money burning a hole in one's pocket"? That's exactly what happened to the Rockets this offseason. They made not one, not two, but three head-scratching moves that only desperate teams with closing title windows would make. These moves shouldn't be made by a rebuilding team that has won just 25 percent of their games since trading James Harden Jr. to Brooklyn.
With their signings of Fred VanVleet Sr. and Dillon Brooks, these two will combine to make an average of over $64 million a year. This is double the combined amount they earned last year. Yes, they were rewarded for shooting 39% from the field last season.
In fact, among players with 1,100+ field-goal attempts in the 2022-2023 season, Fred VanVleet Sr. had the sixth-worst true shooting percentage in the entire league, at 54%. It gets even funnier if you reduce the field goal attempt criteria to 900. This shows you that Dillon Brooks had the worst true shooting percentage among these players last season, at 49.4%.
We're not done yet. Brooks also had the worst player efficiency rating (PER) among these players, at a disgusting 9.4, which is 5.6 away from the league's average. Yet he will earn around $14 million more than the average SF next season, while VanVleet will earn $30 million more than the average PG. Also, they should have fun paying 37-year-old Jeff Green $8 million this year, which is fully guaranteed.
Download Our Free News & Alerts Mobile App
Like what you see? Download our updated fantasy basketball mobile app for
iPhone
and
Android
with 24x7 player news, injury alerts, lineup notifications & DFS articles. All free!
More Fantasy Basketball Analysis