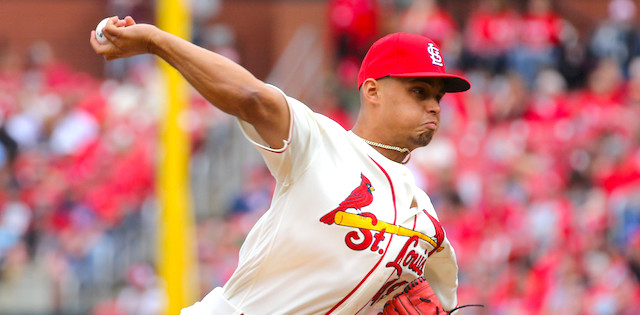 Once you reach the later rounds of drafts, you start thinking about upside fliers that can provide a great return on value. These are the rounds to take risks on more unknown commodities like prospects, forgotten-about veterans, players returning from injuries or players that have previously showed promise but haven't put it all together yet. Knowing about the deeper player pool can help you be more flexible throughout the draft, especially if you can identify someone you like and plan your earlier picks around that.
Today we are looking at some late-round potential closers who need to be considered. Do we think they are draft targets, or players to avoid? Are their ADPs undervalued? Will they make significant fantasy contributions and be one of your later-round draft sleepers? Read on to see our take.
Our editors have hand-picked these specific MLB players for your draft prep enjoyment. Normally only available to Premium subscribers, the five outlooks below are meant to give you a taste of the in-depth analysis you receive with our industry-leading 2019 Draft Guide. Be sure to subscribe today and start reading all 400+ of our 2019 player outlooks, and many other premium articles and tools, available exclusively in our 2019 Draft Guide.
Editor's Note: Get any full-season MLB Premium Pass for 50% off. Exclusive access to our Draft Kit, premium rankings, projections, player outlooks, top prospects, dynasty rankings, 15 in-season lineup tools, and over 200 days of expert DFS research.
Sign Up Now!
Tampa Bay Rays reliever Jose Alvarado has performed well enough to cement himself as the opening day closer for the team. He followed up a solid introductory year in 2017 with an even more impressive performance in 2018. Alvarado threw 64 innings, striking out 80 batters and racking up eight saves, 32 holds, and a 2.39 ERA. He has become even more impressive since using his third pitch (slider) more often and more confidently, which ultimately became his punch-out pitch with a 62.4% strikeout percentage.
Overall, Alvarado improved his strikeout rate by seven percent (30.4%); however, his walk rate also increased (11%). This isn't a major concern as he improved as the year went along. He had an 11.7% walk rate in the first half but dropped it to a 9.9% in the second half. Another positive is that Alvarado is without-a-doubt a ground-ball pitcher (55%); this is one of the primary reasons he only allowed one homer the entire season.
In 2019, Alvarado should have a solid hold on the closer's job. Once he can reduce the walks, he will move towards becoming an elite closer. Alvarado is the 32nd ranked reliever and has an ADP of 171, which means he will be available until nearly the 14th round. This is an excellent value for someone who should have the closer role and provide very good stats.
Cody Allen - RP, Los Angeles Angels
For several years now, Cody Allen has been one of the league's most reliable closers, and he's been drafted accordingly. Last season, Allen struggled and finished the season with a 4.70 ERA and 1.35 WHIP. A casual glance at Allen's career and his 2018 might convince owners it's an aberration: He still offered a 10.75 K/9 and 27 saves.
Both of those numbers are strong enough that Allen looks like a buy-low candidate. A closer look gives several reasons for concern. Since 2015, he's lost about 2.5 MPH off his fastball, and his strikeout rate and swinging-strike rates have declined accordingly. His xFIP rose all the way to 4.55, and his batted-ball profile puts him in the neighborhood of Robbie Ray and Rick Porcello rather than elite closers like Hader, Diaz, and Treinen.
Allen brings real experience and stability to the Angels' bullpen, and as long as he doesn't blow too many games, he'll keep his job as closer, even if he does have another year with an ERA over 4. It's likely though that Allen's ADP will creep up towards 150 now that he has a full-time closing gig and there is no uncertainty about how his new team will use him.
The Chicago Cubs brought relief pitcher Brandon Morrow in to be their closer in 2018 after a stellar year with the Dodgers in 2017 that saw him go 6-0 with a 2.06 ERA and solid 10.31 strikeouts per nine innings. Morrow recorded a career-high 22 saves, but his season was defined by a bone bruise in his right elbow that kept him out for all of the second half of the season.
The 34-year-old also underwent an arthroscopic debridement on his right elbow in early November, which could cause him to miss the start of the 2019 season. He had a microscopic 1.47 ERA, 1.08 WHIP and 9.10 K/9 in his first year with Chicago, but he was only able to toss 30 2/3 frames.
The hard-throwing right-hander has upside when he's healthy, but he's proven to be unreliable in the health department and is at risk of losing the job to Pedro Strop if he opens the year on the disabled list. Because of the risk, Morrow is ranked as RotoBaller's 27th fantasy closer heading into next season. You could do worse with a late-round speculation for saves, but don't expect him to start the year on time after going under the knife in the offseason.
Jordan Hicks - RP, St. Louis Cardinals
St. Louis Cardinals relief pitcher Jordan Hicks will likely enter the 2019 season as the team's expected closer. However, with the signing of free agent reliever Andrew Miller, Hicks is not going to have a long leash if he starts to struggle. 2018 was an excellent rookie year for the 22-year-old, who posted a 3-4 record with six saves in 73 games.
He ended up with a 3.59 ERA, striking out 8.11 batters per nine innings while walking 5.21 per nine. Hicks throws hard, routinely flashing 103 mph and higher on radar guns, but he doesn't feature the kind of swing-and-miss stuff of a guy like Andrew Miller. Still, the Cardinals seem very high on their young fireballer, and with a good team around him, Hicks should see plenty of save chances throughout the season.
He has potential to be a bit over-drafted due to the buzz around his velocity, but anyone who does ultimately end up with Hicks should try to add Miller toward the end of their draft if their roster allows. Hicks should end up with slightly better numbers in 2019 as his stuff develops, and he'll certainly end up with more saves as long as he retains the role.
Mychal Givens is a converted shortstop who quickly rose through the Orioles' ranks once converting to pitcher. He has a unique delivery, which could be described as something between sidearm and three-quarters. Despite this delivery, he routinely throws in the mid-90s and hits the upper 90s. One disturbing fact with Givens is his declining strikeout rate, which has gone from 11.57 K/9 in his first full season, to 10.07 in his second full season, to 9.27 in his third full season (2018).
His swinging strike rate has, unsurprisingly, declined, which explains the decreasing K/9. Part of the cause could be the change in roles. When Givens is on, as is the case with most late-inning relievers, he is dominant. He should be the Orioles' primary closer next year, although it is possible that the Orioles groom Tanner Scott for that role or choose to share the load. That risk, combined with his concerning decline in strikeout totals and the likely lack of save opportunities, makes him a risky closing option.
Our rankers put him just outside the top 200, while he is being drafted about 20-30 picks behind that. In leagues that allow you to use more than two relievers at a time, I'd follow the RotoBaller rankers lead and even reach for him ahead of 200. In leagues that only allow you to benefit from two closers, somewhere in the 200-220 range is appropriate. Expect an ERA in the 3s (lower than his 3.99 ERA last year) with slightly over a strikeout per inning, but not great saves total and a real possibility of not being the closer all season.
More Fantasy Baseball Analysis