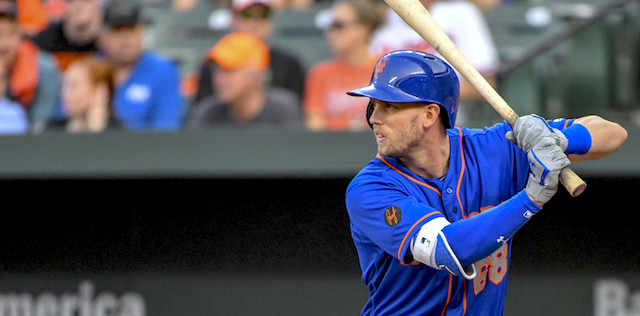 Welcome to the hitting streamers column for the week of 4/29 - 5/5. Whether you're looking to maximize the number of games played, exploit favorable matchups, or fill in for injured players, streaming hitters can be a fruitful strategy for those willing to put in a little work every week.
Keep in mind that this column highlights players owned in approximately 50% or fewer of Yahoo leagues who could present nice streaming options for the upcoming week. This applies to any league but specifically is geared toward head-to-head weekly leagues where matchups are more critical.
If the following names aren't available, don't hesitate to check our famous waiver wire pickups list to find some appealing alternatives. Let's get to it.
Editor's Note: Get any full-season MLB Premium Pass for 50% off, with exclusive access to our season-long articles, 15 in-season lineup tools and over 200 days of expert DFS research/tools.
Sign Up Now!
Bats to Stream and Start in Week 5
Seven-Game Weeks: Atlanta Braves, Boston Red Sox, Chicago White Sox, Cincinnati Reds, Colorado Rockies, Kansas City Royals, Milwaukee Brewers, Minnesota Twins, New York Mets, San Diego Padres, St. Louis Cardinals, Tampa Bay Rays, Washington Nationals
Streamer of the Week
Jeff McNeil (2B/3B/OF, NYM) – 50% Owned
McNeil has been on a tear throughout the first month, owning a .363/.440/.488 triple slash in his first 91 PA. The return of Todd Frazier hasn't affected McNeil's playing time thus far, as McNeil has gotten playing time at second base and left field over the past few days. The Mets have shown willingness to shift Brandon Nimmo to centerfield and bench Juan Lagares, and they could outright bench Nimmo for McNeil considering how bad Nimmo has been this year. Regardless of how things shake out for the other Mets players, McNeil is going to play and could be in for a big week.
The Mets have seven games, four against Cincinnati and three in Milwaukee. Luis Castillo is the only tough pitcher the Mets face all week. They also get a big ballpark upgrade later in the week in Milwaukee. McNeil doesn't have much power, but he has a 10% strikeout rate and 82% contact rate this season. That's a recipe for lots of hits, runs, and RBI over a seven-game week. Between his high contact rate and multi-position eligibility, McNeil is the stream target of the week.
Behind the Plate
Welington Castillo (C, CWS) – 39% Owned
Castillo has been a consistent streaming choice for me over the past few weeks, and while it hasn't fully worked out yet, Castillo is someone I'm willing to roll out there again this week for a couple of reasons. First, there aren't many good free agent options at catcher, to begin with. Second, Castillo has a good track record of above-average hitting for a catcher. Third, he usually hits fifth or sixth in the order. And fourth, the White Sox have faced a lot of bad pitching and have been playing in hitter-friendly ballparks over the past few weeks. That's true again this week, as the South Siders get seven home games, three against Baltimore and four against Boston. Castillo should play in at least four of those games and could play in more if the White Sox DH him. Even though he's hitting just .178 this year, Castillo is still one of the better streaming options available at catcher.
Christian Vazquez (C, BOS) – 11% Owned
With Blake Swihart out of the picture, Vazquez should get the majority of playing time behind the plate for Boston. He's hitting just .225 this season but has four home runs and a 90.2 MPH average exit velocity. Boston also has seven games this week, meaning Vazquez should be in line for 4-5 starts this week. Those games come against some weak pitching, as the Red Sox face Oakland three times at home and play four in Chicago against the White Sox. There isn't a quality arm on the opposing schedule this week for Vazquez, making him a good deeper league option.
Also Consider: Tony Wolters (C, COL) - 1% Owned
At the Corners
Hunter Dozier (1B/3B, KC) – 51% Owned
It's hard to believe that Dozier is just 51% owned after his power surge, but perhaps his recent back injury has scared owners away. Assuming he's healthy by next week, Dozier is one of the best power streaming options out there. He's got seven home runs and a .352 ISO through 86 PA, and the numbers back up his hot start. He's got a 93.8 MPH average exit velocity along with a 17-degree average launch angle and .628 xSLG. What's most encouraging is his 19.8% strikeout rate, as strikeouts have been the biggest hindrance to Dozier's success throughout his career. Kansas City gets Tampa Bay four times at home this week and then travels to Detroit for three over the weekend. The matchups aren't exactly easy, as he has to face the Tampa trio of Blake Snell, Charlie Morton, and Tyler Glasnow, but Dozier's been good enough that he's trustworthy even against starters of that caliber.
Mitch Moreland (1B, BOS) – 20% Owned
We've already been over the weak pitching Boston faces this week, but the matchups are especially good for Moreland, since Boston is slated to take on seven right-handed starters. Moreland has a .953 OPS and .393 ISO against right-handed pitching this season, and he hits third between Mookie Betts and J.D. Martinez when Boston faces a righty. This is about as good as it gets for a player like Moreland, and he's a great sneaky add for this upcoming week.
Yandy Diaz (1B/3B, TB) – 52% Owned
Personally, I've been reluctant to buy Diaz as a legitimate breakout. For the last two seasons, the narrative on Diaz has been launch angle. He absolutely pulverizes the ball, and if he could just elevate it better, he'd be a superstar. Well, he has a .265 ISO and six home runs in 101 PA thus far, so clearly he's elevating the ball more, right? Nope. Diaz's 3.2-degree average launch angle is lower than his average launch angle from a year ago. He also has a 56.7% groundball rate, which is about his career average. There is also a near 150 point difference between his SLG (.542) and xSLG (.396). Why, then, am I recommending Diaz after completely under-cutting his early season performance? Volume. The Rays get seven games this week, and Diaz plays and hits near the top of the lineup every day. He still has good plate discipline with a 0.79 BB/K ratio, and he still crushes the ball with a 90.6 MPH average exit velocity. He should be good from a volume perspective, and we can hope his 30% HR/FB rate hangs on for one more week.
Also Consider: Ji-Man Choi (1B, TB) – 5% Owned, Eric Thames (1B/OF, MIL) – 4% Owned, Todd Frazier (3B, NYM) – 2% Owned, Ryan O'Hearn (1B, KC) – 3% Owned, Michael Chavis (3B, BOS) – 11% Owned
Up the Middle
Ryan McMahon (1B/2B/3B, COL) – 45% Owned
Any time the Rockies have a seven-game week it's easy to get excited. While only three of their games are at Coors Field, they do play four in Milwaukee as well, so it'll be hitter-friendly ballparks for McMahon all week. Colorado is also only slated to face one lefty this week, Robbie Ray, meaning McMahon should be in the lineup for six or possibly all seven games. The results haven't fully been there for McMahon yet, but he's shown excellent plate skills thus far with a 0.67 BB/K ratio in 60 PA. Everything is in place for him to succeed this week, and beyond streaming him, this could be the last chance to grab McMahon before he pops.
Brian Dozier (2B, WSH) – 51% Owned
Dozier got mass dropped after a rough start to the season, but he's hit three home runs over the past week, which is hopefully indicative of a turnaround. Those familiar with Dozier know his hot streaks, as well as his cold streaks, can be the stuff of legend. Truth be told, the peripherals are pretty ugly with Dozier. He has a 53% groundball rate compared to an 8% line drive rate, his strikeout rate has risen to 28%, and his .210 xBA is the exact mark as 2018. So, why should we trust him as a streamer? His recent performance and strong track record are signs for hope, and Washington has a seven-game week ahead, including three games in hitter-friendly Philadelphia. Dozier is a high-risk, high-reward option at second this week, and for some owners, it'll be worth throwing this dart.
Also Consider: Carter Kieboom (SS, WSH) – 20% Owned, Daniel Robertson (2B/3B/SS, TB) – 1% Owned
In the Outfield
Kevin Kiermaier (OF, TB) – 25% Owned
It's rare to get a player with a decent power-speed combo as a streamer, but Kiermaier offers that very skill set and has a nice week ahead of him. The Rays start things off with four games in Kansas City, and then get three in Baltimore to finish the week. The strongest starter Kiermaier would face is Brad Keller, and the Rays only draw one lefty over the next week. Kiermaier has solid pop with a .214 ISO, and is in the 97th percentile for sprint speed, so he could be a good all-around contributor in categories leagues.
Jose Martinez (1B/OF, STL) – 41% Owned
Dexter Fowler (OF, STL) – 4% Owned
I've lumped these two together because who to stream depends on how the Cardinals use the pair over the weekend. With Harrison Bader off the IL, they can't play both Martinez and Fowler every day. Fantasy owners would prefer Martinez, as he's proven more capable with the bat over the past few years, but Martinez is an absolute butcher in the outfield. He's already been worth -3 DRS in just 101 innings in the field. It would be nice if the Cardinals overlooked that, since Martinez has a .329 xBA and 24% line drive rate this year, but that's no guarantee to happen. If Martinez gets the majority of starts over the next few days he's definitely worth streaming this week.
Fowler wouldn't be a bad streaming option in deeper leagues should the playing time go to him. Sure, he's a boring overpaid veteran that blocks younger, superior talent thanks to his albatross contract and good clubhouse presence, but he's slashing .310/.395/.423 on the year. He still has good plate discipline and would be best used in points or OBP formats. For a player owned in fewer than 5% of leagues, Fowler could provide a decent batting average and runs scored in 5x5 leagues as well.
Also Consider: Brandon Nimmo (OF, NYM) – 45% Owned, Jorge Soler (OF, KC) – 19% Owned, Avisail Garcia (OF, TB) – 16% Owned, Leury Garcia (MI/OF, CWS) – 8% Owned
More Streamers and Head-to-Head League Columns