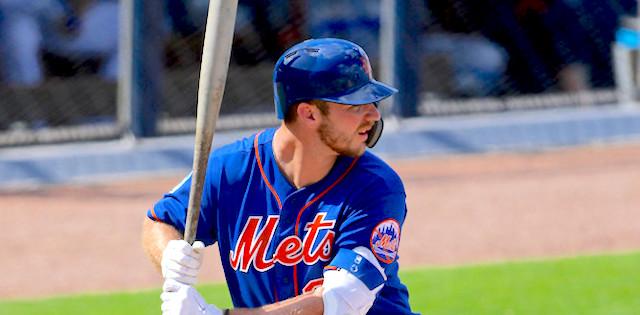 First base was once the most loaded position in fantasy baseball. All the best hitters played the position, and if you didn't have an elite one on your team, you were in trouble. That's changed a bit over the past few seasons, as younger, more athletic players have emerged at positions like shortstop, third base, and outfield. That means we can get away with waiting on the position, or taking a flier on someone late as a corner infielder.
In this article we're looking at four first baseman going late in drafts that could provide solid value as sleepers given their current ADP. A few of these guys are forgotten veterans, and a few are up-and-coming youngsters ready to take the next step.
All ADP data is taken from NFBC and is current as of 03/25/19. Let's dive in!
Editor's Note: Get any full-season MLB Premium Pass for 50% off. Exclusive access to our Draft Kit, premium rankings, projections, player outlooks, top prospects, dynasty rankings, 15 in-season lineup tools, and over 200 days of expert DFS research.
Sign Up Now!
NFBC ADP: 226
Alonso's stock has risen since the Mets announced he'd make the team. He was going at pick 235 as of 03/19, but has shot all the way up to pick 199 since 03/20 after it became clear Alonso was sticking with the big club. Still, there is a lot to like about the powerful prospect, even if he's become a hot name this spring.
Alonso tore up minor league pitching last season for a .975 OPS and 36 home runs between Double-A and Triple-A. Those numbers might be a bit inflated thanks to 67 games in the hitter-friendly Pacific Coast League, but Alonso's power has been lauded since his days as a Florida Gator. Alonso has done nothing but hit, and the power he possesses could make him a 40-homer bat someday, and perhaps soon. He mainly has to compete with Dominic Smith for playing time at first, and while Smith is a former top prospect himself, he doesn't offer much upside with the bat. Smith has a career 79 wRC+ in 332 PA in the majors, and he may have a .333 AVG this spring, but he also has just three extra-base hits in 55 PA.
With veteran bats such as Yoenis Cespedes, Jed Lowrie, and Todd Frazier all starting the season on the injured list, the Mets should prefer to give the high-upside Alonso a shot over a singles hitter like Smith. If things break right for Alonso he could provide elite power, such as what we saw from recent young power prospects like Cody Bellinger, Gary Sanchez, and Matt Olson over the last few years.
NFBC ADP: 331
Ryan Zimmerman sort of feels like he should be behind the desk at MLB Network by now, but the 34-year-old is still penciled in as the Nationals' first baseman heading into 2019. Zimmerman's big renaissance came in 2017, when he rose from the dead to put up 36 bombs and 108 RBI along with a .303 AVG for Washington, and that season made Zimmerman's 2018 a bit of a letdown.
Zimmerman found himself in a familiar place in 2018, the trainer's table. An oblique strain cost him over two months, and he played in just 85 games in 2018, hitting 13 home runs with an .824 OPS in 323 PA. Even with his injury troubles, Zimmerman was clobbering the ball when healthy. He posted a career-high 92.6 MPH average exit velocity and a monster 52.8% hard hit rate in 2018. In fact, his average exit velocity, hard hit rate, barrel rate, strikeout rate, and walk rate were all better in 2018 compared to his big 2017 season. His production suffered thanks to a slight uptick in groundballs and regression of his HR/FB ratio.
Still, Zimmerman's StatCast numbers show that there's something left in the tank, and he should be able to improve on his power numbers and batting average when healthy. Injuries will likely continue to plague Zimmerman; poor health has effectively spoiled the latter half of his career, but at pick 331 owners should be willing to take a flier on the veteran given the underlying metrics. A full repeat of 2017 is unlikely, but hitting above .275 with 25 home runs and solid RBI production is certainly possible.
NFBC ADP: 342
Usually, when a young player comes up and absolutely crushes the ball out of the gate, we in the fantasy community tend to wide-eyed and start daydreaming about that player's ceiling. That's not quite the case with Ryan O'Hearn, because his ADP is still at pick 345 despite clobbering the ball in his debut last year. In 170 PA O'Hearn smacked 12 homers and posted a .950 OPS for Kansas City, and is locked in as the Royals' first baseman with zero competition heading in 2019. With relatively good job security and an excellent first showing O'Hearn has the makes of a draft day darling, yet he's still a solid value at his current ADP.
What makes owners skeptical of O'Hearn may be the lack of minor-league track record. He wasn't exactly Babe Ruth at Triple-A, posting 11 homers and a .159 ISO in 406 PA with Omaha, and that was in the PCL where Peter Alonso literally couldn't make an out if he tried. O'Hearn has flashed power at lower levels of the minors, but considering it took him until age 25 to even reach Triple-A much less the majors could be a source of doubt. It's also easy to hate O'Hearn's situation in Kansas City. The lineup around him is terrible, and Kauffman Stadium graded as the worst ballpark for home runs for left-handed batters in 2018 (per Baseball Prospectus). Yes, it was somehow marginally worse than San Francisco (although, quality of the home team's lineup may account for the difference).
Kauffman didn't affect O'Hearn much in 2018, as he posted a .961 OPS and .303 ISO at home, although it was an admittedly small sample size of 89 PA. The ballpark shouldn't affect O'Hearn too much considering his extreme flyball-heavy approach. Sure, it would be nice if he was in Texas or Cincinnati, but with an average launch angle of 17.7 degrees and an average exit velocity of 91.4 MPH, O'Hearn is built for power regardless of ballpark. I hate to keep going back to this name, but it's hard not to think of Matt Olson when looking at O'Hearn. Both are big, powerful lefties with an extreme flyball approach in a bad hitters park. Like Olson, O'Hearn's HR/FB ratio will certainly regress in 2019, but there is decent power to be mined from this player with big upside considering the cost.
NFBC ADP: 360
After spending the first few years of his career as a sneaky source of power down in Miami, Bour's numbers took a nosedive in 2018. Not counting his 83 PA debut back in 2014, Bour posted the lowest BA (.227), ISO (.177), and OPS (.746) of his career by a significant margin.
It would be nice to say that all the peripherals suggest Bour is due for a bounce back, but his .221 xBA and .402 xSLG show that Bour earned his bad numbers. On the bright side, Bour improved upon his above average plate discipline numbers to put up a career-best 14.6% walk rate. That's partially thanks to increased passivity at the plate, as Bour's swing percentage fell to 41.4%. His tendency to take pitches also caused his strikeout rate to rise to 24.8% despite no significant changes in contact rate.
With Bour, the hope is that he rediscovers a little aggression at the plate. He's always been a patient hitter, and it's been a positive attribute for the most part, but he seems to have found a breaking point last season, and his performance suffered for it. He especially struggled against breaking balls and offspeed pitches last season after feasting on them in 2017. The fact that he wasn't swinging-and-missing at the pitches suggests he's not being outmatched as much as he's misreading the pitches.
Hopefully, with some hard work and proper coaching Bour can become the player he was with Miami, and that player would be worth far more than pick 360 in NFBC formats. He's got about 4-6 weeks before Shohei Ohtani returns, and if he outperforms Albert Pujols, Bour could find himself on the strong side of a platoon at first base and be a nice little value, especially in daily lineup leagues.
More 2019 Fantasy Baseball Advice