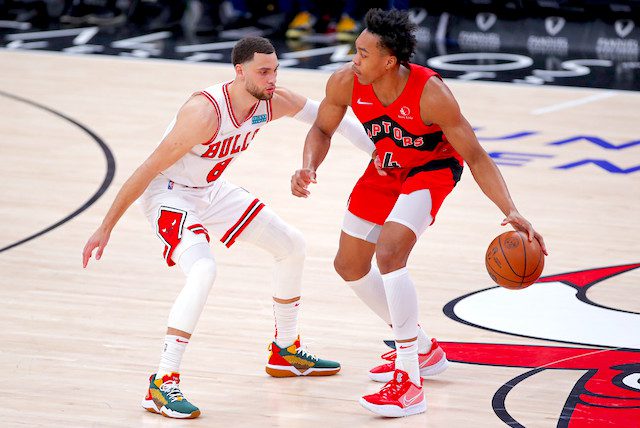 NBA training camp is set to kick off in a few days, which means draft season is officially upon us. With every new NBA season, there are a multitude of fantasy surprises and outliers. One example could be Shai Gilgeous-Alexander. Everyone knew he was a prolific scorer, but he had an injury history, and no one thought the Thunder would even be competing. Rewind to the end of last season, Shai finished in the top five in scoring and almost led the Thunder to a playoff berth.
Bold and fearless predictions are always risky, but they could be the difference in your winning or losing in your league. At the end of the day, these are just my opinions, but they aren't just crafted out of thin air. I've reviewed countless stats from this past year, looked at each team's roster construction, and taken deep dives into what each player's expectations and situations are for the upcoming season.
With that being said, conservative drafting can only help you out so much. You have to take the risks no one else is willing to take and go for the win. Ok, enough of me telling you about these predictions. Let's hop straight into my five bold predictions for the 2023–2024 NBA season. If you have any further comments or questions, you can contact me at @danieldleonard7 on Twitter.
Upgrade To VIP: Win more with our NBA and DFS Premium Pass, get expert tools and advice from proven winners! Will Priester (@ChiefJustice06) from RotoGrinders joins the RotoBaller team in 2023-24 with his exclusive DFS picks, Prop picks and more. Gain VIP access to our Lineup Optimizer, Research Station, DFS Cheat Sheets and VIP Chat Rooms.
Go Premium, Win More!
1. Chet Holmgren leads the NBA in blocks and makes an all-defensive team
Many people have thrown major caution at Chet's slender build and ability to hold up. Even though this is an understandable concern, I think Chet's intangibles, instincts, and length will be more than enough for him to be a stout defender in the NBA. Chet stands at 7'1 and has a ridiculous wingspan of 7'6. Chet is a very impressive roamer and uses his IQ to routinely block and contest shots without fouling.
This is a big skill because the less foul trouble you are in, the more time you are available to be on the court. In comparison, last year's defensive player of the year, Jaren Jackson Jr., led the NBA in fouls per game at 3.64. If he could've at least brought this number down to two fouls, who knows what type of good production we would've gotten?
Not only has Chet Holmgren displayed the IQ needed to be an effective shot blocker, but he also has the stats to back it up. Chet averaged an absurd 3.7 blocks per game at Gonzaga and 3.5 blocks per game during his summer league tenure. He also threw in a steal per game during the summer league, just in case you needed more proof of his defensive dominance. No matter how you feel about Chet, it is not out of this realm for him to be an instant-impact player from day one on defense.
With offseason headlines filled with James Harden being disgruntled, it is time for Tyrese Maxey to take the next step forward. I believe that Maxey has all of the tools to become an all-star next season based on his continuous improvement every year. Maxey will be tasked with more primary ball-handling duties due to Harden being gone and them not really having any other capable ball handlers that match up to Maxey. This means his usage will go up, and hopefully, that means his points, rebounds, and assists will go up as well.
Some indicators that show me that Maxey will blossom are his stats without Harden in the lineup last year. He averaged 24.8 points, 3.8 rebounds, and 5.8 assists. He averaged 4 more points, 1 more rebound, and 2 more assists last year without Harden, which is a great sign. I think he can take the reigns as the number 2 option for Embiid and show that he is worth the extension he has been asking for.
3. Tyus Jones finishes top five in assists
Now that Tyus Jones has the opportunity to be a full-time point guard, I have some great expectations for him next season. He's getting a chance to be the primary ball handler on a very young and rebuilding Wizards team. Now, I don't expect him to be a scoring machine, but I do expect him to be a really good playmaker. I think this team has a lot of young players who can play really well off of Jones's strengths, like Kuzma, Poole, and Advija, just to name a few.
In the 22 games where Jones was a starter last year, he averaged 16.4 points, 4.0 rebounds, and 8.1 assists. That's an increase of 6 points, 1.5 rebounds, and 3 assists from his regular stat line as a sixth man. Jones also posted these good stats while leading the league in assist-to-turnover ratio for the fifth time in a row! I think Jones is finally going to step into the territory of being an elite playmaker after this year.
4. Mark Williams becomes a top-10 fantasy center
After a disappointing first half of his rookie campaign, Williams started to showcase his true potential. Once Mason Plumlee was dealt at the trade deadline, Williams saw an 11-minute increase. In the second half of the season, he showed he could dominate on the boards. Williams also used his unusually long wingspan to clean up shots around the rim while blocking shots on the other end.
Williams averaged 11.9 points and 10.1 rebounds in the games after the all-star break. This was an increase of 4 points and 5 rebounds from the first half of the season. With Williams locking up the starting spot, we should expect to see more flashes of his potential. I think Williams could potentially be a double-double machine and easily play his way into being a top-10 fantasy center next year.
5. Scottie Barnes wins Most Improved Player of the Year
With the departure of Fred VanVleet, the Raptors are going to need Scottie to finally tap into the potential he showcased in his rookie year. I think he's going to do that and even more next season. Scottie will most likely be the Raptor's primary ball handler, which means his usage should see an increase. Scottie has flashed playmaking abilities throughout his career, but they've not been consistent. Now that he will be the lead guard, his assists should increase, and so should his scoring.
Even though I'm not very high on the Raptors off-season and roster construction, I still think Scottie is good enough to take a leap that could get him into all-star conversations. We already know that he is a disruptor on defense, and I think he's going to become a premier point forward on the offensive end. He is already one of the best-finishing forwards in the league with his silky floater. With more outside shooting reps, I think he will also see some much-needed improvement in that area. I think it's reasonable to say that by the end of next season, Scottie could average around 20 points and 8 assists and win the Most Improved Player of the Year award.
Download Our Free News & Alerts Mobile App
Like what you see? Download our updated fantasy basketball mobile app for
iPhone
and
Android
with 24x7 player news, injury alerts, lineup notifications & DFS articles. All free!
More Fantasy Basketball Analysis