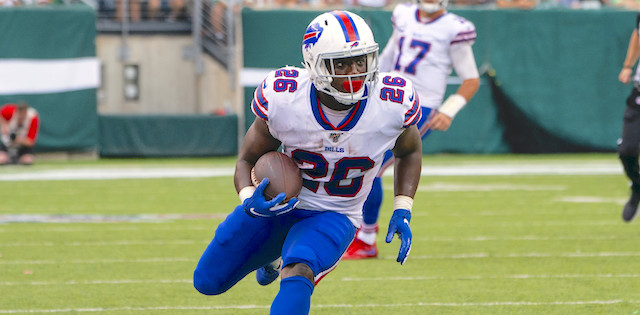 Whether due to their own play, the play of others, or injuries, players' stock increases and decreases on a weekly basis. Perhaps more than any other, the NFL is a league that experiences ups and downs at a rapid pace. With only 16 games, there's little room for error and seemingly endless opportunities for improvement. The same goes for fantasy football; managing rosters effectively is key to winning that championship.
Throughout the season, players get hot and see an increased role while others struggle and fight to stay relevant. Experienced fantasy players know this happens every year. In this weekly column, we'll showcase those who have taken important steps forward and those who have taken steps back.
These are the key risers and fallers heading into Week 9 of the NFL season.
Editor's Note: Get any rest-of-season NFL Premium Pass for 50% off. Our exclusive DFS Tools, Lineup Optimizer and Premium DFS Research through the Super Bowl.
Sign Up Now!
Week 9 Risers
Drew Brees (QB, NO)
I still don't agree with the decision to bring Drew Brees back for an easy game against the Cardinals, but...he's back. Brees showed no signs of rust throwing for 373 yards and three touchdowns. Following the bye, Brees gets the Falcons, Bucs, Panthers, and Falcons again. He is setup to absolutely smash in the stretch leading up to the fantasy playoffs. For those who held onto Brees, the reward has already begun. He's locked in as a QB1 with elite QB1 upside over the next month.
Jonnu Smith (TE, TEN)
Over the past two weeks sans Delanie Walker, Jonnu Smith has nine receptions for 142 yards and a touchdown. He is nearly an every down player and is far better than Walker at this point in Walker's career. Who knows when, or even if, Walker will be back. Smith has elevated from elite streamer to legitimate weekly TE1 option. Given the state of the position, Smith is a must own at this point.
Stefon Diggs (WR, MIN)
Remember when Stefon Diggs was barely a WR4? Seems so long ago. Over the past three weeks, Diggs has posted fantasy totals of 43.5, 21.3, and 19.3. The Vikings offense is hitting its stride and Kirk Cousins is throwing more. Week 11 against Denver is the only truly bad offense the Vikings face the rest of the season. They will have to score to keep up with their opponents. Diggs was the classic buy low after Week 5 and those who did have already enjoyed the fruits of their labor. It is only going to get better.
Devin Singletary (RB, BUF)
It appears as though Devin Singletary's diminished usage against Miami was just the Bills easing him back into action following his hamstring strain. After coming out of that game no worse for wear, Singletary was immediately thrust atop this backfield, out-snapping Frank Gore 68%-29%. Gore did receive more carries, but the playing time is what matters most. Singletary outplayed Gore and the Bills' schedule is quite favorable over the next few weeks. He is approaching every week RB2 status.
Tevin Coleman (RB, SF)
Four touchdowns! It goes without saying that Tevin Coleman probably isn't scoring four touchdowns in a game ever again, but his performance since returning from a high ankle sprain is immensely encouraging. Coleman has scored six touchdowns in just three games and the 49ers only have one tough defense remaining on the schedule Week 14 at New Orleans. With Kyle Shanahan's elite zone blocking scheme as effective as ever, even splitting time with the always banged up, but never inactive Matt Breida, Coleman is becoming one of the safer, more reliable options at running back.
Week 9 Fallers
Carson Wentz (QB, PHI)
Over his past four games, Carson Wentz has fantasy totals of 12, 21, 7, and 14. To make matters worse, the upcoming schedule is brutal. Wentz gets the Bears this week, then the bye, followed by the Patriots. After that, things will open up for him, but we're looking at three straight weeks in a very important stretch of the fantasy season where you can't use Wentz. The streaming options likely aren't great and as much as you'd like to hang onto Wentz for his playoff schedule, you may have no choice but to let him go.
Kyler Murray (QB, ARI)
Similar to Carson Wentz, Kyler Murray is also a victim of schedule. He already barely delivered a low end QB2 performance each of the past two weeks and now he has two of his next three against the 49ers' stifling defense. The 49ers have allowed fewer than 12 fantasy points to opposing quarterbacks over their past four games. That's not an average. That's a total. Add in the fact that they have an elite pass rush to go against the Cardinals' turnstile of an offensive line and Murray is going to be running for his life. Sandwiched between the two 49ers matchups is a dream spot against the Bucs. Use him there. But otherwise, you're looking at Murray being unstartable in three of the next four weeks with the bye following the second 49ers game.
Robert Woods (WR, LAR)
We are now eight weeks into the season and there is no waiting for Robert Woods to get his. It's not coming. This passing game revolves around elite WR1 Cooper Kupp and everyone else is fighting for scraps. Woods has yet to catch a touchdown pass and now has five games below 10 fantasy points. He is nothing more than an ancillary piece; a random WR3.
Odell Beckham Jr. (WR, CLE)
It is probably unfair to put Odell Beckham here because he hasn't really fallen. Beckham is the same guy he's been all season - a low floor, low ceiling WR3. Truthfully, outside of one play against the Jets back in Week 2, Beckham has done a whole lot of nothing. Beckham scored 16 fantasy points on that play alone. If not for that 89 yard touchdown, Beckham isn't even a WR3. The schedule is about to open up in Week 11, but with the way Baker Mayfield and this offense look, it's hard to get too excited. Do not fall into the name brand trap. When the pundits say, "Always start your studs," they are not talking about Beckham.
LeSean McCoy (RB, KC)
I know I put the entire Chiefs' offense here last week, but LeSean McCoy needs to be called out personally. This is now the second time he's been benched due to poor play. The first time was due to missing blocking assignments. This time it was due to fumbling. McCoy is known for carrying the ball like a loaf of bread and then covering up when he needs to. In the words of George Costanza, this time, he flew too close to the sun on the wings of pastrami. McCoy coughed it up to give the Packers an easy touchdown they would not give back. He did not play a single snap afterwards, ceding his role to Damien Williams, who had played a handful of snaps, if that many, prior to McCoy's benching. The Chiefs simply don't have much of a run game. If McCoy does retain his role, he is nothing more than a floor based RB3.
More Weekly Lineup Prep