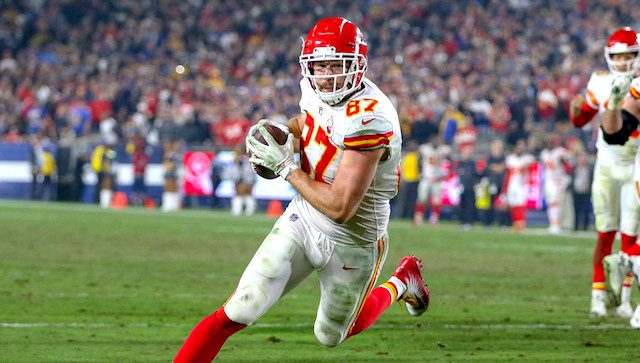 When is it way too early to worry about fantasy football rankings?  The answer is it is never too early.
The tight end rankings for PPR fantasy football leagues are likely different now than they were when the 2021 season concluded, thanks to superstar quarterbacks changing teams and a couple of tight ends taking their talents to new organizations. The upper echelon at the position has not varied much, yet offseason activity has caused a couple of tight ends' fantasy values to rise slightly or fall a tier or two.
Here are RotoBaller's Way Too Early Rankings for PPR Leagues for Tight Ends and my analysis!
Featured Promo: Our friends at Sharp App have created the ultimate tools for sports bettors. Download the FREE app to track bets, compare odds, get daily picks from the most accurate models in the industry, and identify the sharp side of any bet. Use promo code BALLER to get a month free of Sharp Pro access.
Get The App!
2022 Way Too Early PPR Rankings - Tight End
Tier 1 - Tight End Rankings
All Kelce has done is post six straight seasons of at least 83 receptions and 1,000 yards. He has also been as tough as a well-done flank steak by missing only two games over his eight-year career. While there is no doubt he is the top tight end in fantasy football, it will be interesting to see if he has a harder time getting open now that Tyreek Hill and his home run ability is no longer distracting defenses and preventing teams from constantly double covering Kelce.
Tier 2 - Tight End Rankings
Andrews proved doubters wrong who thought he had reached his fantasy ceiling with sling-shotter Lamar Jackson as his quarterback. He topped tight ends in 2021 in receptions, targets, receiving yards, and tied for first at the position in touchdowns. Unless Baltimore upgrades its receiving corps, Andrews is poised to be Jackson's top target again in 2022 and should be primed for another superb season.
Kudos to Kittle for staying relatively healthy (14 games) last season and scoring a career-high six touchdowns. Three things are holding him back from being ranked higher, however: his injury history, his quarterbacks, and the fact he has only scored 20 touchdowns in five seasons.
The upside is higher than a skyscraper for Pitts. The problem last year, though, was the supporting cast around him got so thin that decent defenses could double cover him and render him useless. The problem this year is with QB Matt Ryan traded to Indianapolis and No. 1 WR Calvin Ridley suspended, the skilled position players around him have arguably gotten worse. He is so talented that he should be able to overcome the odds and still have a 1,000-yard year.
Waller was Derek Carr's favorite target the past three years in Raiderland, but that will probably change now that Davante Adams has joined the receiving corps. It is hard to fathom Waller's fantasy value going up when Adams might be monopolizing Carr's attention and targets, but he should be able to have his third 1,000-yard campaign in four seasons as long as he remains injury-free.
Tier 3 - Tight End Rankings
Hockenson has done the best he can with his brittle body and the subpar skilled-position players around him. Detroit bringing in D.J. Chark to be its No. 1 receiver will not affect Hockenson in the least. The Lions' tight end should be able to set new career-highs in 2022 as long as he stays healthy, but that is easier done than said for him.
Schultz had a career year even with the terrific trio of Amari Cooper, CeeDee Lamb, and Michael Gallup taking tons of targets in Dallas. Now with Cooper in Cleveland and Gallup recovering from a torn ACL, Schultz should be hammered with Dak Prescott passes and could set career-bests across the board for the second year in a row. He just has to prove that 2021 was not some crazy fluke.
Goedert proved what he can do when he is the top tight end in Philly and not sharing time and targets with Zach Ertz. It is amazing the newly-minted multimillionaire is able to do so well considering he is in a run-first offense with a quarterback who does not elevate the fantasy values of his pass-catchers with his average-at-best passing.
Tier 4 - Tight End Rankings
Knox went from a touchdown-dependent plodder to a game-breaking fantasy phenom in his third pro season. He doubled his receptions and receiving yards and tripled his touchdown total during his junior year in the NFL. Knox is not going to get fantasy players 1,000 yards like other highly-ranked tight ends, but he could score double-digit touchdowns if he continues his rapid improvement.
Ertz has a lot going for him as he showed he still has gas left in his tank once he was traded to Arizona during the 2021 season. With Christian Kirk no longer on the roster, Ertz could be Kyler Murray's No. 2 option in Kliff Kingsbury's high-octane passing attack. What Ertz has going against him, however, is that he has probably lost a step and did his best work last year when DeAndre Hopkins was sidelined with hamstring troubles.
Freiermuth quickly made Eric Ebron expendable and became Pittsburgh's top tight end by midseason of his rookie campaign. The big man has a nose for the end zone (six touchdowns over a seven-game span during the season) but also gets his bell rung (two concussions last year), so hopefully he does not turn out to be another Jordan Reed in that respect.
Gesicki set career-highs in targets, receptions, and receiving yards last season, but for a tight end, he plays small inside the red zone (13 TD in four seasons). Will a new head coach, new offensive system and greyhound Tyreek Hill help turn him into the 1,000-yard tight end some people think he can be? He is definitely better in PPR leagues than standard leagues, that's for sure.
Tier 5 - Tight End Rankings
Kmet can do some damage in PPR leagues as he had seven four-catch efforts over his last dozen games of 2021. The issue is that he has a harder time finding the end zone than Guy Fieri would have finding a diner, drive-in, or dive in a desert. Kmet failed to find the end zone last season (0 TD on 61 receptions) and only has two scores in 33 career contests.
We have no idea if Gronkowski is returning, and if so, when? There is no reason to rush things when training camp is months away, so this will just be a situation fantasy managers will have to keep an eye on during the offseason.
Fant has been solid but not spectacular the first three years of his career, and it is hard to envision his breakout season happening in Seattle without Russell Wilson running the offense. The poor guy needs one year with a better-than-mediocre QB throwing to him before we can really judge him.
Njoku was surprisingly franchise tagged, so between that and Cleveland jettisoning multimillion-dollar flop Austin Hooper, maybe this finally means Njoku will get a fair shot in the Browns offense. 700 yards and five touchdowns in entirely possible if his team uses him correctly --- and we know the Browns are not always known for that.
Henry surprisingly stayed healthy and suited up for all 17 games in 2021 after being labeled as injury-prone in fantasy circles. He was also able to thrive with fellow free-agent signee Jonnu Smith in New England's two-tight-end offense and score a career-high nine touchdowns. His ceiling is not too high, however, because of Smith's presence and the conservative offense he plays in.
Thomas and Smith Jr. are coming off major season-ending injuries, so we will have to wait and see how they progress this summer before knowing for sure what they can offer when the season starts.
Tier 6 - Tight End Rankings
Is Engram going to be more productive in Jacksonville than he ever was with the New York Giants? Is Higbee going to remain a middle-of-the-road fantasy option as Sean McVay focuses his game plans more on Rams receivers? How will Tonyan be after tearing his ACL last year? Can Okwuegbunam take his fantasy value to another level with the aforementioned Wilson as his QB and with Fant out of the way? These questions are why these tight ends are on this tier and not higher.
Tier 7 - Tight End Rankings
Uzomah turned the best season of his career into a multimillion-dollar deal. Too bad it was with the New York Jets. Not only do the Jets have a history of not being the best place for tight ends to end up, but Uzomah also has to split time and targets with another newly-signed multimillionaire, former Minnesota Vikings tight end Tyler Conklin (Tier 8).
Tremble is one of the few in this tier with some upside. The former Notre Dame standout loses some snaps because tight end teammate Ian Thomas is a tremendous blocker, but he is the better pass-catcher out of the two tight ends. I would rather take a flyer on Tremble instead of drafting a veteran like Brate or Arnold with limited upside. 
Tier 8 and Lower - Tight End Rankings
When exploring these low tiers, you want to pick either a steady player who can be a nice No. 2 TE on your fantasy roster or a player you can draft in the late rounds who could have a breakout season. There are a couple of tight ends who could become the latter because they have either changed teams or the tight ends that were ahead of them on the depth chart have changed teams.
It will be intriguing to see what happens with Howard in Buffalo. He was not able to do much behind Gronk and Brate in Tampa Bay, and now he is stuck behind the emerging Knox. But if Knox got banged up, I could see Howard becoming Josh Allen's new red-zone force.
Bryant is another Browns TE whose fantasy worth will be helped now that the release of Austin Hooper has made it a tight end twosome instead of a threesome. He does not have the wideout-like skills Njoku has, but he has good hands and makes plays inside the red zone and end zone.
Download Our Free News & Alerts Mobile App
Like what you see? Download our updated fantasy football app for iPhone and Android with 24x7 player news, injury alerts, rankings, starts/sits & more. All free!


Win Big With RotoBaller
Be sure to also check out all of our other daily fantasy football articles and analysis to help you set those winning lineups, including this new RotoBaller YouTube video:


More Fantasy Football Analysis
Check out all of RotoBaller's fantasy football rankings. Staff rankings are updated regularly for all positions and include standard formats, PPR scoring, tiered rankings and dynasty leagues.