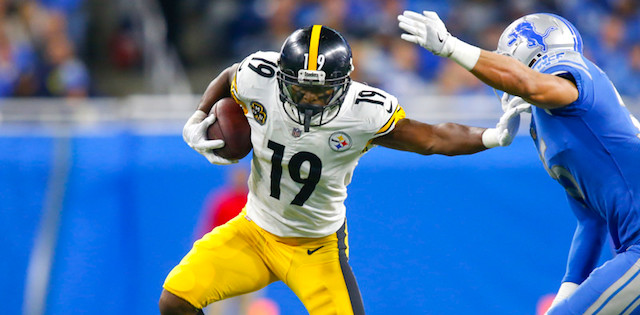 It's difficult to envision the Pittsburgh passing game being quite as prolific for fantasy purposes without Antonio Brown. Yet the Steelers have successfully moved on from top receivers before. Change is nothing new to them during the Ben Roethlisberger era.
As noted by the Pittsburgh Post-Gazette, Plaxico Burress left after Roethlisberger's rookie campaign in 2004, and a run-heavy Steelers team went from 28th to 24th in passing yardage per game and won the Super Bowl. Santonio Holmes was traded after 2009, and the 2010 passing game only dropped from ninth to 14th. But the team rose from seventh to third in passing game DVOA.  Mike Wallace was gone to Miami after 2012, and Brown exploded for 110 receptions, 1,499 yards and eight TD.
Replacing Burress, Holmes and Wallace, though, obviously was easier than moving on without Brown will be. That trio of 1,000-yard receivers was certainly viable in their prime years, but none were superstars and arguable No. 1 overall fantasy draft choices like Brown was for the past half-decade-plus. Pittsburgh was second in passing yardage per game last year and that seems to be very hard to repeat without their biggest receiving threat. So what does the near future hold for this offensive juggernaut now that they've moved on from Brown?
Editor's Note: Get any rest-of-season NFL Premium Pass for 50% off. Our exclusive DFS Tools, Lineup Optimizer and Premium DFS Research through the Super Bowl.
Sign Up Now!
Time Running Out on Big Ben
Roethlisberger finished as fantasy QB2 in 2018, and it's very difficult to see him staying on that lofty perch without Brown. While he will still be aggressive as a downfield thrower, but he is coming off a season in which he had a career-high 5,129 yards and also a career standard in TD passes with 34. Since Brown's true breakout in 2013, Roethlisberger had four 4,000 yard seasons and he had at least 28 TD passes in five of those six seasons. I see 4,500-yard and 30-TD markers being much more difficult to reach without Brown.
Roethlisberger finished only behind Patrick Mahomes in fantasy QB scoring last year, but going into 2019, I would take Andrew Luck, Deshaun Watson and Matt Ryan ahead of him for sure. Drew Brees did not play well down the stretch and the Seahawks may continue to be run heavy, so at best I might rank Roethlisberger fifth for 2019 as of now.
A New Star Emerges
The major key for the offense, obviously, will be whether JuJu Smith-Schuster can step forward and be the true No. 1 WR for the Steelers with Brown gone. As indicated by ESPN Stats and Information, his 11 career 100-yard games have tied Randy Moss for the most by any WR before the age of 23, and he can break that record before November 22 of 2019.
When you consider what elite company such a stat puts him in, plus Pittsburgh's willingness to deal Brown away, you can have considerable confidence in Smith-Schuster that he is ready for the task of facing extra safety help and increased defensive attention. The Pittsburgh front office has always been very savvy and makes the team into a consistent contender. Smart fantasy players and NFL fans should often defer to the view of a solid front office when it makes sense. The Steelers would not trade Brown, it seems, if they were not confident that Smith-Schuster could handle the demands of his increased role.
He caught 111 balls for 1,476 yards in 2018, and with the move up to the prime spot on the Pittsburgh WR ladder, Smith-Schuster has an early Expert Consensus Ranking of No. 8 at WR on FantasyPros. I believe that is fair, as I would not yet rank him over many proven WR1s yet. He still must show he is a true WR1 for the Steelers over a full season. I'm not taking him over guys like Odell Beckham Jr. and Tyreek Hill just yet. But I will take him over those who have been less reliable as WR1s in fantasy, such as A.J. Green or Mike Evans.
The Supporting Cast
The Steelers will need significant progression from James Washington in his second season. Pittsburgh may have been thinking they might have to replace Brown at some point in the near future when they drafted Washington. With increased reps and playing time, we could see more reliability, but Washington did not show enough in his first year to inspire too much hope. He has promise and natural skills as a downfield playmaker, but Washington may be suited to be an NFL WR3 at this point of his career.
If the Steelers do not feel he is quite ready to start in 2019, they could dip into free agency. Pittsburgh was bottom 10 in cap room as free agency started, but there are some still some respectable targets available. Washington looks like a shaky option, but only the Steelers themselves know for sure how ready he can be. If they don't make another offseason move, you will have to respect their outlook for Washington and at least view him as a high-end fantasy WR4 for 2019.
There is not much else to speak of in the Pittsburgh passing game, so there is a strong possibility that Pittsburgh may elect to establish more offensive balance with a heavier commitment to the running attack in 2019. Team President Art Rooney II told ESPN after the season he's like to see more of a pure mix between run and pass. James Conner fully proved he can be a premier No. 1 RB for the Steelers and fantasy players in 2018. I think he is a big winner in the Brown departure.
Saquon Barkley and Ezekiel Elliott are easy one-two choices in a Best Ball League right now or in an early 2019 Mock Draft. Where Todd Gurley goes may depend on offseason reports about his knee, and Christian McCaffrey and Alvin Kamara are in that group after the first two for me. But so is Conner. I might be willing to take him as early as fourth overall, sensing a larger overall workload and maybe I ultimately rank him only behind McCaffery among the top RBs. Roethlisberger is not going to throw the ball close to 698 times like he did last year. The Steelers need to ease pressure on him and not overburden the WRs.
More Fantasy Football Analysis