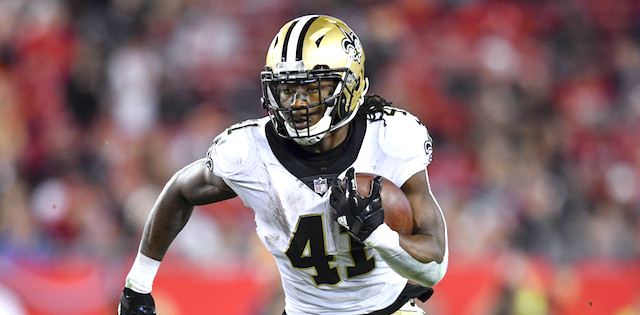 Remember a few years ago when Zero RB was a big thing? For those of you who are not sure what that is, it is a fantasy football strategy where you wait to take an running back and load up on wide receivers and other position players early on. That strategy was fun and may have worked in the fantasy landscape a few years ago, but you know what they say: the times, they are a changin'.
This strategy works as long as teams are giving the bulk of the touches to one player. If the starter gets hurt, the ZeroRB person can swoop in and grab his backup, picking up a starting RB off the waiver wire. But the RB landscape is becoming less and less predictable. In recent seasons teams have been using multiple backs, with some having a revolving door. The 49ers backs were productive last year, but it was also very frustrating guessing which one would play well in a given week.
The Niners had five different players finish as their top scoring RB in a given week last season. They weren't the only ones as many backup RBs flopped last year (Lions backs, Mike Boone, etc). This is becoming the norm around the NFL, as the workhorse back is a dying breed. In 2019 there were just nine RBs who saw 300-or-more touches. That number looks low right? I mean there are 32 teams in the league. Well, that was the most RBs to do so since the 2013 season. We may want teams to use certain RBs more, but we have to accept that this is the new NFL and adjust accordingly.
Editor's Note: Our incredible team of writers received 13 award nominations by the Fantasy Sports Writers Association including Baseball Writer of the Year, Football Writers of the Year, Golf Writer of the Year and many more! Be sure to follow their analysis, rankings and advice all year long, and win big with RotoBaller!
Read More!
Get Your Stud RB Early
While the running back position is being stretched thinner than it ever has before, the other skill positions in fantasy football (QB, WR, TE) are deeper than ever. So much of fantasy football is being able to find great values. But that too often gets broken down into specific players and not into an overall strategy. Knowing what we do about the RB landscape, I am not only throwing ZeroRB out the window, I am doing the exact opposite of what it suggests. I am going double-RB in my drafts.
I will be taking two RBs to start the bulk of my drafts, with some exceptions. I will take you through the first two rounds and state which RBs I would draft and why, as well with the exceptions you should make for the other players available. You can consider this your guideline for going double-RB in fantasy drafts this season. The one caveat to this, is this is how I would value RBs. In my first two rounds there are going to be more RBs than in a normal first two rounds of a fantasy draft. You will be able to get some of the later second round playerss in the third round of actual drafts.
RBs To Take in First 5 Picks: Christian McCaffrey, Saquon Barkley, Alvin Kamara, Ezekiel Elliott and Dalvin Cook.
QBs, WRs, TEs to consider taking over these RBs: None
If I am sitting with a top five pick in any of my drafts this year, I am going to celebrate taking one of the absolute elite RBs and then start to think what I will do in round two. As great as some of the WRs are, there is no substitute for getting one of the most talented backs in the league, who also comes with a super safe workload. That is a very rare combination in today's NFL. Of these five backs, all but Barkley and Kamara topped 300 touches, and that was because both of those two missed games.
Christian McCaffrey is the easiest no-brainer in fantasy football. Even if you like another RB more than CMC, you are taking him no later than second overall. He scored over 150 more PPR points than any other RB. He had a very rare 1,000-1,000 season and has been a fantasy stud ever since entering the league.
Saquon Barkley missed time due to a knee injury last season but still finished as the RB10 in PPR leagues. He is one of the few backs that you can trust to touch the ball 20 times per game and when healthy as a rookie he finished as the RB1. Barkley is going to be a fantasy stud for years to come, do not get too cute.
Alvin Kamara is someone I am higher on than others, but he should go no later than fifth overall in my opinion. Despite playing through a knee injury most of 2019 and missing two games, Kamara finished as the RB9. His yardage numbers were pretty close to his first two season norms, but the TDs were really what declined. He went from scoring 14 and 18 touchdowns his first two seasons, to just six last year. There will be positive TD regression coming his way, plus he should once again be at full strength. I am valuing Kamara no differently that we have been the last two years.
Ezekiel Elliott did see some efficiency fall off last season, as his 84.8 rushing yards per game and 111.1 scrimmage yards per game were both career lows. So was his 19.48 fantasy PPG in 2019. Perhaps the workload was starting to take its toll or perhaps the holdout that didn't get settled until just before Week 1 was to blame. Either way, Zeke has seen 350+ touches in every season except the one where he was suspended. He has averaged over 22 touches and over 19 fantasy points per game in every career season. He is still a stud.
Dalvin Cook is one of the best backs in the league every time he steps on the field. The only issue is – injuries often prevent him from stepping on the field. He has never played 16 games in a season but came close with 14 last year. We finally got to see Cook unleashed last season, as he averaged a career high 21.6 touches per game and 20.89 fantasy PPG. He was one of two RBs to average over 20 fantasy PPG – the other was CMC who averaged an absurd 29.45 fantasy PPG. Plus, the Vikings love to run the ball. Last year they ran on 49.1 percent of their plays last year, the third most in the NFL.
 QBs, WRs, TEs to consider taking over these RBs: None
Some of you may be thinking I am crazy for not including Michael Thomas. And if you consider him here, I can't blame you. Thomas was nearly 100 fantasy points better than any other WR last season. But I am always hesitant to buy into career seasons. Additionally, this is more about scarcity at the position. Wide receiver is the deepest position in football, and you will have a much easier time finding WRs you can trust in the middle rounds than running backs. Due to that, I will take a shot on the two backs who have the ability to finish as one of the best RBs in the league this year.
Derrick Henry is a player I have admittedly been lower on than most throughout his career. And I mean, I still am. Many have him in their top five, but he is just outside it for me due to the lack of pass game usage. Henry has never had 25 targets or 20 receptions in a season. But, he remains probably the best rusher in the NFL. He finally got the volume we have all wanted him to get and was able to finish as the RB5 in PPR formats. He should once again see a ton of volume and due to that should be one of the first six or seven names off the board in any fantasy draft.
Joe Mixon has the talent to be an elite back. And now he finally has the pieces around him to break out. The Bengals now have a franchise QB in Joe Burrow. They also have a returning A.J. Green, Tee Higgins, to go with Tyler Boyd, John Ross and Auden Tate. Add in that the Bengals 2018's first round pick, offensive lineman Jonah Williams, will also be making his NFL debut as he missed all of last season with a knee injury. There is more talent around Mixon than ever before. Additionally, from Week 8 on last year he averaged 23.8 touches per game and 18.12 fantasy PPG. He was the RB6 in that span. Mixon has the talent and now the pieces around him to have that dominant year many have been counting on.
QBs, WRs, TEs to consider taking over these RBs: Michael Thomas and Davante Adams
After the top seven RBs have gone, that is when I will start to consider taking a WR. As I said above, Thomas scored nearly 100 more fantasy points than any other WR. He finished with 149 catches, while no other wide out had more than 104. He just absolutely dominated the position. That very well may go down as his career season, but Thomas is very safe and you know will be towards the top of the leaderboard.
Adams on the other hand missed time last season but was still very effective when he was on the field. He finished as the WR6 in PPG last season. A year ago, he was also being viewed the same way we are viewing Thomas now. Add in that the Packers did nothing to add pass catchers around him and you see why he is the favorite to lead the league in targets. These are the two wide outs I can see having a difference making type of season – like Thomas did in 2019 and Adams did in 2018.
Austin Ekeler is bae this season. You can expect me to pound the table all summer for this guy. Ekeler is one of the best pass catching backs in football. He led all backs and it wasn't even close really, with 2.61 yards per route ran last year.
How good of a pass catcher is he? He averaged just 34.8 rushing yards per game and finished as the RB4. Additionally, Ekeler played over 60 percent of the snaps in each of the first five games and had 18-or-more touches in four of them. But after Melvin Gordon was back, Ekeler did not see 60 percent of snaps in another game and had more than 15 touches just twice.
That will change as I expect Ekeler to be the lead back in a Saints like committee. What do I mean by that? I think Ekeler dominates passing down duties and splits the carries with Joshua Kelley or Justin Jackson, like how the Saints have used Kamara and Mark Ingram/Latavius Murray. I expect he will match his 224 touches, if not exceed it. To me, he is a first round caliber talent that you can often get in the early part of the second round. Still, there are only seven RBs and two WRs I would consider taking over him.
Kenyan Drake is in one of the best possible scenarios for a RB. Last year it didn't matter who the starting RB was for the Cardinals, they were productive. David Johnson was averaging over 20 fantasy PPG in the first six weeks. Then Chase Edmonds balled out until he got hurt, where Drake took over and finished the season as an RB1. Last season, RBs on the Cardinals averaged 1.08 fantasy point per touch, which ranked third in the NFL behind only the Panthers (CMC) and Chargers (Ekeler/Gordon).
Not bad company to be in. They also ranked second in fantasy points per carry, at 0.75. This is more about the system in place here, but Drake benefits from being the starting back here. He should be viewed as a first round caliber talent and there's only two wide outs I'd consider taking over him.
Miles Sanders is a stud who does come with some playing time concerns due to Doug Pederson loving to utilize two RBs. Still, he finished as the RB15 last year and was the RB9 from Week 8 on. His floor is being a high-end RB2 and his upside is a lot higher than being one of the Top 12 fantasy RBs. There are only two WRs I'd take over him.
QBs, WRs, TEs to consider taking over these RBs: Julio Jones and Tyreek Hill
Nick Chubb and Josh Jacobs are similar players for me. Both are elite talents and absolute beast runners, but both also come with big passing game concerns. Chubb has to deal with Kareem Hunt, who had nearly the same amount of targets (49 for Chubb, 44 for Hunt) in half as many games.
Jacobs has Jalen Richard, who has been a staple of the Raiders passing game, as well as rookie Lynn Bowden Jr., who is already being talked up as a pass catching specialist. Both of these backs have the talent to finish as RB1s for sure, but the passing game usage, or lack thereof, keep them more as borderline RB1s. If you want to take a receiver over these two I get it, but I would still give heavy thought to these RBs.
Clyde Edwards-Helaire may be an unproven rookie, but the Chiefs went out and grabbed him for a reason. When both Andy Reid and Patrick Mahomes talks about how dynamic he makes their offense, you should listen. He is an elite pass catcher who should be involved quickly in the Chiefs offense. I do have concerns about Damien Williams, especially early on, but I do expect CEH to see 200+ touches this season.
In fact, rookie backs taken in the first two rounds the last five years have averaged 211 touches in their rookie year. I am fine using a early second round pick on his upside and have seen him go in the late first round. If that is too rich for your blood you can nab a proven WR in Julio Jones or Tyreek Hill, but after those two go, my attention would go right on the rookie back.
QBs, WRs, TEs to consider taking over these RBs: DeAndre Hopkins, Chris Godwin, Travis Kelce, George Kittle.
In the previous tiers I listed 13 RBs and four WRs, for a total of 17 players. That leaves seven players to round out the second round and above I listed six running backs, two wide receivers and two tight ends. That means some of these players will fall into the third round and that is fine. But in actuality, these receivers and tight ends are all going in the second round, plus others.
A lot of these RBs will be third round picks, but I would not want to risk losing them if I needed a RB. This is a running back heavy plan, but if the RBs discussed early fall to the late second round, you are still taking them over the RBs I will be discussing now. You take the other backs earlier because these backs do come with risk, but they still have enough upside to warrant taking over many other position players because of the scarcity. At this point, the RB well is really drying up, while WR, TE, and QB remain plenty deep. I will still be taking shots on RBs here.
Chris Carson performs like an RB1 anytime he is on the field, but you can get him as an RB2. That is because he has never played 16 games. Last year he played a career high 15 games, but his season was cut short when he suffered a severe hip injury. I would take Carson over any of those other players, except for maybe DHop. But, even Hopkins comes with volume concerns of his own now in a new system that utilizes four wide receivers.
Melvin Gordon was a fantasy beast before holding out last season. He never looked the same and now is shipped off to Denver with Phillip Lindsay and Royce Freeman. The fact that the Broncos had so much RB talent and still signed Gordon leads me to believe they were not happy splitting time between Lindsay and Freeman. I think Gordon will have a safe workload in Denver, but he certainly does come with playing time concerns given the two behind him. Gordon is where you can really start to consider those other four players. If you nab one of those four in the second, be sure to follow it up by grabbing one of these RBs that fall to the third round.
Aaron Jones may seem way too low on this list, but I have real concerns with him. First, last year he scored 36 percent of his fantasy points off of touchdowns. I already expect TD regression to hit, as he scored 19 last year. Now you have A.J. Dillon in the mix and still have Jamaal Williams, who ate into passing game work. Let's say he scores nine touchdowns this year, that is a loss of 60 fantasy points. Additionally, the possibility that Jones splits time with Williams in between the 20s and then with Dillon in the red zone is very scare to me. I do not love him, but he is an RB going in this range. I would like him a lot more in the third round.
Jonathan Taylor is one of my favorite picks this season. With the Colts o-line and Rivers being a check down machine, I think Taylor can outproduce the rushing and receiving expectations placed upon him in Week 1. The Colts traded up in round two to nab Taylor, when they already have Marlon Mack and Nyheim Hines. I think Taylor can throw Mack aside by say Week 6, and has legit league winning upside after that. He can be this years version of Miles Sanders, in my opinion. I like him more as a third round pick, but this is very much the tier he belongs in.
Both of these backs come with a wide range of outcomes. There is big concerns with both, but both also have a realistic possibility of being a top 15 RB. They have the upside to exceed that, especially Fournette. The floor is just that they bottom out.
Leonard Fournette was a top 10 RB last year despite scoring just three touchdowns. I expected to have him in my top 10 this season, but that was before the Jags brought in Jay Gruden (who has never had a back rush for 1,100 yards) and brought in his favorite Chris Thompson. Thompson is a huge threat to Fournette's passing game work, as Lenny saw 100 targets and 76 catches last year.
He won't get back to that mark now with Thompson in town. But despite the concerns, if he is on the Jags come September, he will still see a ton of carries and still some targets. His upside is Top 10 RB, but there are just way more red flags with him than the others.
Todd Gurley is my least favorite of this bunch. He goes more often in the third round, but I have seen him go in round two. After being the best back in the league for a two year stretch, Gurley finished as the RB14 last year. There is the risk that the knee causes him to miss time, but if he stays healthy I think his floor in a volume dependent RB2.
Devonta Freeman, who is further along the "declining due to knee issues" road than Gurley, finished as the RB20 with Atlanta last year. He did that because he had 59 catches, while Gurley had just 31 catches. We know Gurley has been an affective pass catcher in the past and Matt Ryan loves to throw to RBs. That is the upside here. I would be okay taking those WRs and TEs listed earlier over him, but if the RB well is this dry and you are feeling a little desperate, they are options to consider.
After these backs are gone, all the others come with some pretty big concerns. David Johnson and James Conner have not been able to stay healthy. Then you have the backfields that have multiple candidates to see work impacting the fantasy value of players such as Cam Akers, Mark Ingram, D'Andre Swift, Raheem Mostert, Devin Singletary, Ke'Shawn Vaughn and the list goes on. You do not want to be selecting your starting running backs from this tier. One thing I like doing is nabbing a third RB somewhere in rounds three through five and then ignoring the position for a bit and loading up on other positions.
To put this into perspective, the RBs going in the 10th round or later of FFPC drafts include Phillip Lindsay, Ronald Jones, Sony Michel, Jordan Howard, Tarik Cohen, Latavius Murray, Zack Moss and so on. All backs that have another back that is going to see volume as well.
Compare that to the wide receivers such as Darius Slayton, Diontae Johnson, Marvin Jones Jr., Preston Williams, Anthony Miller, Breshad Perriman, Jalen Reagor, and many other talented WRs. I would rather be trying to find breakout WRs in this range than RBs. You already know how deep QB is by now, as there are over 20 QBs you can get by with in a 12-team league. Tight end has also seen an influx of young talent in recent years, making it potentially the deepest it's been in years.
The beauty of this is in many leagues, you will have a better RB than expected fall to you in the second round. Despite the depth at WR, you will still see many fantasy players select at least one in the first two rounds. But unless you are getting an absolute elite difference maker, there are so many more WRs, especially high upside breakout candidates, that you can find in the later rounds.
There's only a finite amount of RBs that come with both the talent and volume necessary to be a difference maker. Do not let those backs fall past you.
If you have any questions, feel free to hit me up on Twitter, @MichaelFFlorio.
More Fantasy Football Analysis