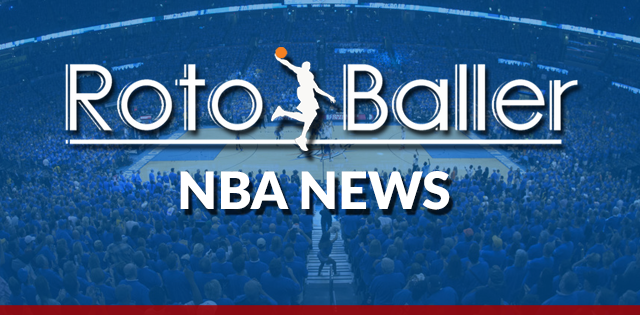 Welcome to the RotoBaller NBA Recap. In this feature, we will highlight one key fantasy basketball takeaway from each night during the past week. These viewpoints can be both positive and negative and will hopefully help to provide insight into different roster moves you should consider making.
Fantasy basketball has a lot of moving pieces with all the different scoring settings that are possible to play under, so I will always do my best to spotlight where players gain or lose value in certain game types.
Without further ado, let's get right into the 11th week of the season and try to figure out how to take advantage of what we saw transpire.
Editor's Note: Get any full-season NBA and DFS Premium Pass for 50% off. Our exclusive DFS tools, Lineup Optimizer and daily Premium DFS Research.
Sign Up Now!
Monday, December 30th
Gary Payton II Fizzles On Monday 
Gary Payton II received the start again on Monday but was only able to produce five points, three rebounds, three assists and three steals in 14 minutes of action.
All things considered, the stat line was robust with his reduced playing role, and owners that rushed and picked up Payton last week have been rewarded with averages of 11.6 points, 7.3 rebounds, 4.0 assists, 4.3 steals, 0.6 blocks and 1.7 triples in 31.6 minutes over his previous three games before Monday.
However, even though category owners might have a literal steal on their hands with the way Payton can swipe the ball away from his opposition, the Wizards feature one of the deepest and most inconsistent rotations in the NBA. The eventual return of Bradley Beal, which should come before long, will only further reduce Payton's upside, and I don't believe there is enough playing time available for him to carve out a role that can produce fantasy value. I'm fine holding onto him and seeing how he does to close the week, but I am not missing out on waiver talent if someone with more concrete value becomes available.
UPDATE: Payton provided four points and three rebounds on Wednesday night in 10 minutes. It was a fun week-long stretch from 'The Glove 2.0,' but Payton is exposable to the waiver wire once again.  
Tuesday, December 31st
Kevin Porter Jr. Continues To See Increased Role
Make that four straight games that Kevin Porter Jr. has contributed double-digit points after the rookie rendered 13 in total on Tuesday night against the Toronto Raptors. His increased role of 25.8 minutes per contest over his previous five games has allowed KPJ to add a little more substance and quality to his fantasy totals, and there is no reason to believe that we don't see the Cavaliers give the former USC product more playing time as the year progresses.
Cleveland's roster is in a state of flux currently, and other than Porter Jr. and Darius Garland, everyone seems to be expendable for the right price. KPJ's lack of defensive statistics does hurt his fantasy value somewhat, but the fact that he has added at least one three-pointer in 12 of 14 games during December does indicate that there is some hidden category league potential available.
Porter Jr. is currently only owned in six percent of Yahoo groups, but I'd consider adding him in settings as low as 12-man leagues. The Cavaliers are going to start selling off pieces shortly, so it is vital to be ahead of the market in terms of KPJ in this situation.
Wednesday, January 1st
Jonathan Isaac Goes Down With Left Knee Injury
While the news around Jonathan Isaac's left knee injury is terrible, it could have been much worse. Isaac was diagnosed with a severe sprain and bone bruise and will be re-evaluated in eight to 10 weeks.
The rising star from the Orlando Magic was putting together averages of 12.0 points, 6.9 rebounds, 1.4 assists, 1.6 steals, 2.4 blocks and 0.9 threes per game over the season, and that production loss in category leagues will be a big blow for rosters to handle.
Unfortunately, there is no direct pickup here to salvage the loss of Isaac, as players such as Khem Birch, Wes Iwundu, Terrance Ross and Amile Jefferson will all see an expanded role during his absence. Look for Aaron Gordon to also take on an enlarged position when he is able to return from injury, making this a tough situation to gauge. If you own Isaac, I believe he is droppable if you don't have an IR spot on your roster. An early-to-mid March return isn't guaranteed, and it is too long to stash the 22-year-old on the end of your bench with no real timetable currently presented.
Thursday, January 2nd
What To Do With Jordan Clarkson?
Jordan Clarkson scored 12 points on Thursday night against the Chicago Bulls, adding three rebounds and three three-pointers in 23 minutes of action.
Owners of Clarkson were put in an awkward position after the guard was traded from the Cavaliers to the Jazz just before Christmas, but he hasn't exactly given anyone a reason to drop him if they were happy with his production levels before.
There is no arguing that the Jazz's new acquisition doesn't have the same sort of upside on his new team as he did in Cleveland, but Clarkson remains a player that can provide points in bunches and three-point potential. The lack of additional statistics probably makes him someone that is best left on the waiver wire in 12-man settings, but deep-league participants that are looking to add a boost in either of those two areas might want to give him a second look.
Friday, January 3rd
Kevin Huerter Is Beginning To Regain Form
After a slow start to the month of December, Kevin Huerter has quietly put together a strong past eight games, averaging 14.1 points, 4.0 rebounds, 3.8 assists, 1.3 steals and 2.2 shots from behind the arc.
A lot of his improvement can be credited to his increased playing time, but the ability Huerter has shown to stuff the stat sheet has made him more than a one-dimensional option for points and threes.
At less than 50% ownership in Yahoo settings, Huerter is still owned in the majority of competitive leagues, but owners might want to see if they can acquire the sharpshooter for a reduced price tag.
More Fantasy Basketball Analysis