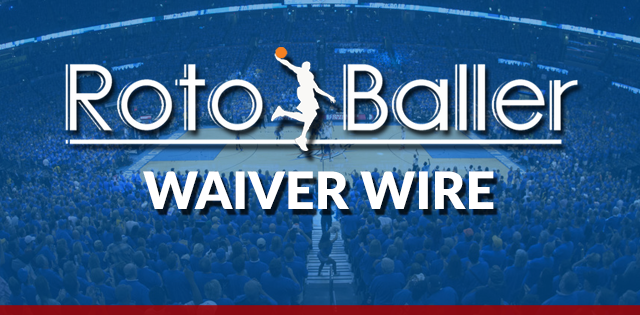 The waiver wire is where leagues are won and lost. The draft is long past and now your rosters feel completely different if you are even moderately active. Players come and go due to poor performances and/or injury all the time. Staying on top of your needs is essential to winning matchups and grinding your way to a championship.
Be mindful of some of the players on your roster as they may be off to slow starts, and it could take another week or two to see the return you expected when drafting them. Typically, you should be looking to drop those on the end of your bench who, even if productive, do not provide a real long-term outlook. Stay the course with the talent you drafted.
As a reminder for most leagues, it is crucial to plan ahead. Waiver wire adds, scheduling and player injuries are all things to consider. Make an effort to improve your team by maximizing your weekly adds and utilizing streamer spots via the waiver wire. Be wary of weekly streaming options and stay ahead of your opponents. Our staff at RotoBaller has great insight and daily columns on how to improve your squad and tips to make your team successful, so be sure to check them out! Now, let's get prepared for Week 12.
Editor's Note: Our friends at Monkey Knife Fight have the best, most fun, fastest growing DFS props game! It's super simple to play and to win real money. Just choose your NBA, NHL or PGA game, and make your picks! Get a 100% instant deposit bonus up to $50 using promo code: BALLER. That's $50 for free - don't miss out!
Play Now!
Week 12 Schedule
4 Games - Bucks, Warriors, Jazz, Wizards, Mavericks, Celtics, Spurs, Hawks, Knicks, Pelicans, Hornets, Nets, Nuggets, Bulls,
3 Games - Kings, Pacers, Lakers, Grizzlies, Suns, Pistons, Timberwolves, 76ers, Magic, Raptors, Suns, Rockets, Blazers, Cavaliers, Heat
2 Games - Clippers
Week 12 Standard Leagues - Waiver Wire Pickups
*Securing your categorical needs at this point is important, especially if you're playing in head-to-head leagues*
Columns are written based on H2H 9-category standard size leagues:
Kevin Huerter - SG - Atlanta Hawks (50% owned)
Huerter should be owned everywhere. Injuries have certainly hampered his season, however, it has not stopped him from producing fantasy-friendly stat-lines aside from the first few weeks of the season. He stuffs the stat sheet across the board and only hurts one category significantly (FG%). Huerter is the ideal glue guy on any roster.
Troy Brown - SF - Washington Wizards (27% owned)
Troy Brown is putting up some solid archetypal 3 & D wing stats this season. With a double-digit scoring average, good threes/steals/rebounds, some assists, and solid percentages, he is basically a poor man's Otto Porter Jr. Brown is coming into his own over the past month and has had several opportunities to play over 30 minutes in games. Bradley Beal's recent absence due to a leg issue has certainly helped his play-time, however, with how well he has performed, it would be hard to imagine Washington cutting back his minutes severely, given that he is their first-round pick from last season.
Jordan McRae - SG  - Washington Wizards (42% owned)
Jordan McRae has come out of nowhere and performed like a fantasy stud. While there is more cause for concern in terms of his performances, there is always the possibility that he could keep this hot streak up for a while longer. McRae's recent stretch could definitely be defined as flukey but if you need upside, he could be the guy for those in deeper leagues. He's a 28-year old journeyman who can provide some threes, scoring, and assists for owners in deeper leagues. Maybe down the stretch, if Washington shuts down Bradley Beal, or moves on from IT, McRae could be a more legitimate option.
Darius Garland - PG - Cleveland Cavaliers (34% owned)

Darius Garland is coming into his own of late. With Jordan Clarkson out of the picture in Cleveland, Garland has an avenue to more shots and overall usage. Dante Exum's arrival is not as much of a threat given his nature as a non-scoring guard but could actually play a plus complimentary role for Garland. Garland's a natural scorer with great feel who is finding his shot and playing more comfortably over the past two-to-three weeks. His shots are falling and while he is not getting to the line often, that is okay given that he is still a rookie. If he can maintain a platable FG%, continue to rack up assists and grab some steals, Garland could end up a valuable add off of the waiver wire for owners in 12-plus team leagues.
Sekou Doumbouya - SF - Detroit Pistons (21% owned)
The Pistons have finally let Sekou loose. He has scored at least 10 points per game since being inserted into the starting lineup three games ago and has one stock in each as well. Sekou is still pretty much a fantasy unknown for the most part given the small sample, however, there is lottery ticket upside here. He was their first-rounder this season and has spent plenty of time warming up in the G-League. His size and shooting combination makes his prospects appealing for the future, but for now, it is a wait and see situation. If the play-time remains consistently high, he could return major value in multiple categories.
Jarett Culver - SG - Minnesota Timberwolves (13% owned)
Culver has found a more comfortable role in Minnesota of late. With Andrew Wiggins and Jeff Teague missing a good chunk of the past few weeks, Culver's insertion into the starting lineup has allowed him to work through some of his discomforts. He is still a poor free-throw shooter, but playmaking and defense have improved given his increase in assists and stocks. His shot still is not falling consistently from the field but that could come as his minutes remain high. The Wolves traded up for him in the top-5 for a reason, they want him to be great and contribute early on. Hopefully, the past few games are a sign of things to come. Fantasy-wise his game still is not extremely friendly due to the poor percentages, but his stock upside is high along with several other counting stats. Keep an eye on Culver in shallower leagues and grab him in 14-plus teamers.
Bruce Brown Jr. - SG - Detroit Pistons (15% owned) 
Bruce Brown Jr. has carved out a nice role in Detroit as a ballhandler and defender. If he shot threes well, there would be more hype behind him but for now, we take what we can get. Brown can provide decent scoring averages with good rebounds, assists, and steal for a guard. He is painful when it comes to turnovers and FT% while only providing a league average FG%. Brown is a cheap glue guy type for rosters given that he doesn't necessarily specialize anywhere.
More Fantasy Basketball Analysis
By popular demand, RotoBaller has aggregated all of our fantasy basketball NBA waiver wire pickups into a running list of NBA waiver options, so bookmark the page and check back often for updates.