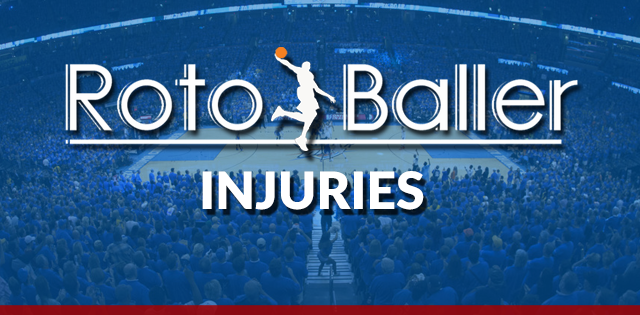 Welcome back  RotoBallers! I'm here to help you stay up to date on injury news, and how it impacts your teams in case you had a busy weekend and couldn't keep track of everything. It might have been a snoozer of an All-Star Game, but there was plenty on the injury front in the shortened week last week!
I'm doing this midday on Monday for release Tuesday morning, so any news that drops on Monday night won't be covered. I'll just cover what has changed since last week.
Drop me a follow on Twitter (@Maxadelphia) for all things fantasy basketball, and nightly NBA plays. Be sure to also bookmark our awesome free NBA injuries report tool for up-to-the-minute fantasy basketball injury updates.
Editor's Note: Our incredible team of writers received five total writing awards and 13 award nominations by the Fantasy Sports Writers Association, tops in the industry! Congrats to all the award winners and nominees including NBA Writer of the Year, Best NFL Series, MLB Series, PGA Writer and Player Notes writer of the year. Be sure to follow their analysis, rankings and advice all year long, and win big with RotoBaller!
Read More!
Short-Term Injuries for Fantasy Basketball
Tobias Harris, SF/PF, Philadelphia 76ers - Calf
Harris strained his calf in the first half of the Sixers' thrilling win in Milwaukee on Saturday night. With Harris and PJ Tucker both leaving early with injuries, the Sixers are digging deep at PF. Jalen McDaniels should see a huge uptick in minutes based on what the Sixers showed after Harris left the game in Milwaukee.
Robert Williams, C, Boston Celtics - Hamstring
Williams left early during the Celtics' loss in Brooklyn this past Friday, and yesterday (3/5) coach Joe Mazzulla said Williams is expected to miss around 7-10 days. Grant Williams saw a major uptick in minutes during the Celtics' double-overtime loss to the Knicks last night, and should be your priority if looking for a Williams replacement.
Colin Sexton, PG/SG, Utah Jazz - Hamstring 
The Jazz announced Monday (2/27) that Sexton will be re-evaluated in another week. He was missing time pre-ASB and has continued to sit. I guess I'm technically cheating by putting him in short-term considering he's already missed multiple weeks, but from this moment his injury is short-term, so cut me some slack, okay?
Update 3/6: The Jazz announced Sexton remains injured and will be reevaluated after another 7 days.
Anfernee Simons, PG/SG, Portland Trailblazers - Ankle
In the Blazers' last game before the ASB, Simons suffered a Grade 2 ankle sprain according to MRI results. The Blazers haven't made any statements about when he might return, but coach Chauncey Billups said the injury "didn't look awesome". Typically these injuries are 2-3 weeks, so I would expect Simons out until March at least. If Shaedon Sharpe is available in your league, he's worth consideration as a streamer.
Update 3/6: I said I would move this to long-term if Simons remained out, but he did suit up for a game last Wednesday (3/1), playing 20 minutes. He's missed 3 games since, but I think that appearance resets the timer for being considered "short-term".
Jusuf Nurkic, C, Portland Trailblazers - Calf
Nurkic was injured last Wednesday night, and his follow-up MRI showed that he suffered a strain, not just soreness as the team initially reported during the game. Nurkic missed a game two weeks ago after suffering a minor injury to the same calf, so the team is exerting caution and will hold him out through the All-Star Break. I expect Nurkic to return after the ASB, but in the meantime look at Drew Eubanks and Trendon Watford as replacement options.
Update 3/6: Nurkic has been ruled out for his 14th consecutive game tonight, all the while being listed as "day-to-day". My condolences to you if you've stuck by him, but I feel like Nurkic's window to be fantasy-relevant this season has closed. If he hasn't returned by next Monday, he'll be moved to long-term.
Long-Term Injuries for Fantasy Basketball
Ja Morant, PG, Memphis Grizzlies - Personal
I'm not going to write a condescending, preachy, holier-than-thou blurb about the issues Morant is dealing with. If you follow the NBA enough to play fantasy and end up here, you already know Morant is on indefinite leave from the team. Let's hope he gets the help he needs and hopefully, we can all enjoy his game next season.
Brandon Clarke, PF/C, Memphis Grizzlies - Achilles
Another Grizzlies player that's done for the year, Clarke suffered a torn left Achilles in the Grizz's 2nd game without Morant. Until Steven Adams returns, Xavier Tillman is a viable streaming option.
LeBron James, PG/SF, Los Angeles Lakers - Foot
Just when the Lakers seemed to be turning their season around, LeBron is ruled out for "an indefinite period" with a foot injury. Look at Troy Brown or Rui Hachimura as a streaming replacement.
Update 3/2: The Lakers' medical staff determined that it will be at least 3 weeks until LeBron is reevaluated. I would say it's safe to drop him in redraft formats.
Steven Adams, C, Memphis Grizzlies - Knee
Adams, who currently sits 4th in the NBA in rebounding, suffered a PCL sprain last Tuesday, and his return timetable is supposed to be 3-5 weeks. I'm going to err on the side of caution here – that the Grizzlies, who are cruising toward the playoffs, don't rush Adams back to action and his absence is closer to five weeks than three. Assuming Brandon Clarke is already rostered in your league, look at Santi Aldama to pick up Adams' vacated rebounds.
Update 2/27: Adams has returned to 5v5 work in practice, but Grizzlies coach Taylor Jenkins said he doesn't expect Adams back until after the team's upcoming 4-game road trip. That would put his first potential return date on 3/9.
Karl-Anthony Towns, PF/C, Minnesota Timberwolves - Calf
KAT strained his calf last Monday night, and his timetable for return is 4-6 weeks. Based on usage since the injury, it looks like the Wolves starters will just take on more of the load. If you're looking for streaming options, both Jaden McDaniels and Kyle Anderson are worth evaluating.
Update 2/15: The Wolves are hopeful that KAT will be able to rejoin them for their final 10-15 games this year. Depending on when your league does playoffs, this could be the green light to drop him.
Zion Williamson, PF/C, New Orleans Pelicans -  Hamstring
Zion tweaked his hammy last Monday night in Philly, and the Pelicans initially ruled him out for three weeks. We're 1/3 of the way through their initial diagnosis but given the organization's track record with their former #1 overall pick, I'd much prefer to err on the side of a long absence.
Update 2/28: The Pelicans announced that Zion's recovery is going well, and he will be reevaluated next week (which is the week you're reading this). Keep an eye out for an update, it seems we'll get one before next Monday.
Aleksej Pokusevski, SF/PF/C, Oklahoma City Thunder - Leg
Pokusevski suffered some sort of tibia fracture in his left leg, which is expected to sideline him for at least 6-8 weeks. Thunder coach Mark Daigneault, said that he doesn't think the injury is "long-long term", and expects Pokusevski to return before the end of the year. But...we know the Thunder, currently 12th in the West, love a good tank, so take that with a grain of salt.
Update 2/14: Pokusevski was seen doing "light shooting", if he's actually going to return this year, this would be a good starting point.
The Tank Corner 
The Tank Corner makes its debut, FINALLY!
Unfortunately, it's an underwhelming debut, as we don't even have full shutdowns of players yet. At this point in time, it certainly seems that the San Antonio Spurs are going to cross the finish line first. They might not have the worst record, but when you're pulling starters and going 11 men deep against fellow tankers in the Houston Rockets, it's not exactly hard to read between the lines. No doubt, Gregg Popovich knows what he's doing. The Spurs have lacked a true star since Kawhi Leonard left for Toronto, and getting one would give Pop one last run toward another title.
Download Our Free News & Alerts Mobile App
Like what you see? Download our updated fantasy basketball mobile app for
iPhone
and
Android
with 24x7 player news, injury alerts, lineup notifications & DFS articles. All free!
More Fantasy Basketball Analysis