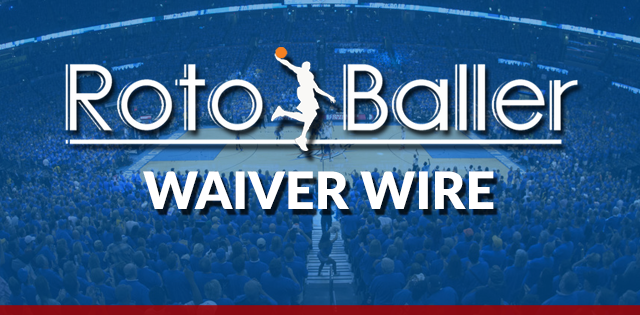 The deeper a fantasy basketball league, the harder it is to hit a winner with your last few picks. It is also harder to find decent help from the waiver wire if your late-round picks don't do you justice. If you picked up a few stinkers, don't lose hope just yet. I will try to help you pick up a winner.
Here are my deeper league fantasy basketball waiver wire pickups for your fantasy basketball teams. These NBA players should be available in most leagues and they might just help you out, whether it's a few weeks rental or a long-term fix to a problem your team is having.
If a guy on your team is frustrating you with his weak performances, give some of them a go. They might just be worth it.
Editor's Note: Our incredible team of writers received five total writing awards and 13 award nominations by the Fantasy Sports Writers Association, tops in the industry! Congrats to all the award winners and nominees including NBA Writer of the Year, Best NFL Series, MLB Series, PGA Writer and Player Notes writer of the year. Be sure to follow their analysis, rankings and advice all year long, and win big with RotoBaller!
Read More!
Fantasy Basketball Waiver Wire Targets for Week 8
Danilo Gallinari (SF/PF, ATL) - 12% rostered
Gallinari had a slow start to the season with the Hawks not playing more than 20 minutes until Nov. 6, then taking eight more days to reach 25+ on Nov. 14. Since that game (included) against Milwaukee, in which he already put up 10 pops, Gallo has been playing an average of 25 MPG in his 10 games played always coming off the Hawks pine as part of the second unit. Not that we can't complain, though, as Gallinari is one of the better reserves doing it out there.
Gallo has finished six of those last 10 games played with 10+ points, and eight of them at 9+. He's averaging 10.6 PPG and only once in that 10-game span has he missed on hitting at least one triple (his actual average from beyond the arc getting back to Nov. 14 is at a higher 1.6 3PM per game). For the low percentages he's boasting (mostly because of a little slump of late with his FG% down to 33.6 percent) the truth is that Gallinari is scoring triples in bunches and he's also contributing heavily on the boards (4.7 RPG in the past three weeks) and dishing out some steady dimes (2.1 APG) for someone playing his role/position. The free-throw percentage can't get higher (90.9 percent) and the turnovers are barely there (0.45 TOPG on the season) adding a nice bonus to his value in 9-cat formats.
Herbert Jones (SF, NOP) - 10% rostered
Herb Jones has not been that good this season, but it's not that you can ask a lot more from a rookie who got picked 35th overall just a bunch of months ago, folks. The best thing about Herb's season to date is the fact that NOLA trusted him as much as to start him in seven straight games in October, then sent him to the bench for a while, and has now shuffled the lineup in desperation mode putting Jones back in the starting unit. Herb is playing 31 MPG (!) as a starter since Nov. 24 included (six games and going) and while his role and production are limited, he's a good WW target for those in deeper formats at least until Zion is back and Jones inevitably hits the pine again.
Herb is logging low usage rates at around 12% as a starter, but the large playing time is affording him the chance to put up numbers in very scarce categories. He's averaging 2.5 SPG and almost a block per too. He's going to finish with single-digit points more often than not (he's scored 10+ in 6 of his 22 matches, mind you) but that's definitely not what you're getting from him. The rebounds aren't bad for a wing (3.2 RPG on the year, 3.8 in the past two weeks) and he doesn't turn the ball over that much either.
Malik Monk (PG/SG, LAL) - 15% rostered
Monk has played six games since Nov. 23 included and he's logged an average of 32 MPG. Remove his 22-minute outlier against Detroit in that span and that average would go all the way up to 34 MPG. That was indeed a very putrid game (2-2-2-0-1 was the line with just 1-of-5 FGM...) but other than that Monk has been able to keep up a ridiculously great 18-5-3-1 line in that span. Seriously. I know the sample is just a small five-game one, but that line is what the likes of AD, Beal, DeRozan, FVV, Morant, Harden, Bron, LaMelo, Doncic, Jokic, and a plethora more stars are doing on their seasons.
The minutes can't get higher for Monk and he's been able to put up usage rates above 22% in back-to-back games through Friday. Monk has scored 3+ triples in four of his last five games played, is shooting a fantastic 48.4% from the field in his last nine matches, and is contributing rather high rebounds and steals for his role on the team. Off-the-pine player, yes, but quite a productive one that should be rostered in almost every fantasy league these days.
Grant Williams (SF/PF, ATL) - 9% rostered
The Celtics are leaning toward Grant Williams as a starter, but that's yet to solidify through a large enough span of games as to consider it a lock to happen going forward. G-Will has started a ton of matches of late, as many as seven in his last 12 games getting back to Nov. 13 against Cleveland, and from that point on Williams has been playing a healthy 27 MPG. Al Horford is the main opposition to William's chances at starts/playing time at the PF spot, though Good Old Al is alternating between the forward and center positions nightly so that leaves the door open to Williams to keep playing as the starting PF on at least half of Beantown's games.
Focusing on actual performance, Williams has kept up a 9-4-1 line to go with 0.5 SPG and 0.8 BPG in the last three weeks of play (12 games for him). He's shot the ball at a 56.1% high clip, and although he doesn't go to the charity stripe often he's a lock to hit those freebies almost every time he attempts one (87.5 FT%). Not the largest of volumes when it comes to shooting, but enough to have G-Will hitting his customary couple of treys a day with an average close to 10 PPG on the year. It's been six games in a row for Williams hitting at least one triple, and he's gone for 2+ treys in three of those six through Saturday's night outing against the Blazers.
Cody Martin (SG/SF, CHA) -14% rostered
Ish Smith (PG, CHA) - 10% rostered
Nick Richards (C, CHA) - 0% rostered

If you had paid attention to the news wire through the weekend, you know what's popping in Charlotte. COVID-19, that's what. All of LaMelo Ball, Jalen McDaniels, Mason Plumlee, and Terry Rozier have been hit with a 10-day (with that count seemingly starting last Saturday) quarantine as they go through health and safety protocols. With that in mind, they won't be able to play at least this whole week and we'll see when they actually make their comebacks--just for context, Joel Embiid went through the same process (no pun intended) yet he missed three full weeks of play.
That has/will open the door to a bunch of second-unit players that will see an uptick in minutes and usage. Other than the obvious ones (Kelly Oubre Jr., P.J. Washington,...), it'd make sense to roster Cody Martin and Ish Smith more than any other Hornet. Both of them have been featured for the team already and they will take on heavier roles. Ish Smith, in fact, could turn into Charlotte's starting point guard or at least bounce back from his ridiculous 8 MPG in November. Cody was already playing 27 MPG in the past three weeks (8 games), but he should get more touches (USG% at a low 10.1 percent in that span).
The ultimate flier, though, might be big man Nick Richards. The center started already on Nov. 29, but other than that he's been a true afterthought of a player. He's a massive field-goal hitter as he doesn't stretch the floor just one bit, and if he gets a bulkier dose of minutes he will be putting up numbers on the points and rebounds categories easily. High risk, high reward Nick Rich, if only for a week.
Download Our Free News & Alerts Mobile App
Like what you see? Download our updated fantasy basketball mobile app for
iPhone
and
Android
with 24x7 player news, injury alerts, lineup notifications & DFS articles. All free!
More Fantasy Basketball Analysis
By popular demand, RotoBaller has aggregated all of our fantasy basketball NBA waiver wire pickups into a running list of NBA waiver options, so bookmark the page and check back often for updates.