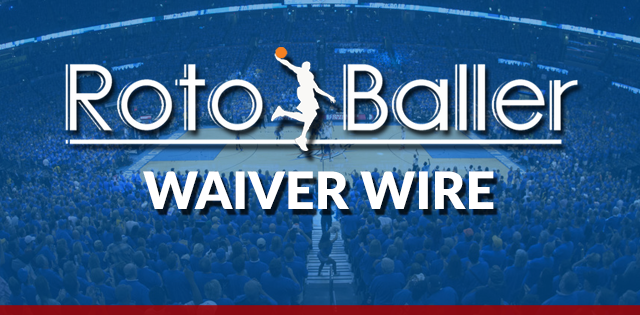 The deeper a fantasy basketball league, the harder it is to hit a winner with your last few picks. It is also harder to find decent help from the waiver wire if your late-round picks don't do you justice. If you picked up a few stinkers, don't lose hope just yet. I will try to help you pick up a winner.
Here are my deeper league fantasy basketball waiver wire pickups for the upcoming week and your fantasy basketball teams. These NBA players should be available in most leagues and they might just help you out, whether it's a few weeks rental or a long-term fix to a problem your team is having.
If a guy on your team is frustrating you with his weak performances, give some of them a go. They might just be worth it.
Editor's Note: Our incredible team of writers received five total writing awards and 13 award nominations by the Fantasy Sports Writers Association, tops in the industry! Congrats to all the award winners and nominees including NBA Writer of the Year, Best NFL Series, MLB Series, PGA Writer and Player Notes writer of the year. Be sure to follow their analysis, rankings and advice all year long, and win big with RotoBaller!
Read More!
Fantasy Basketball Waiver Wire Targets for Week 7
Tyrese Maxey and James Harden are expected to remain off the hardwood until at least Dec. 11 and Dec. 5 respectively nurturing foot injuries. The Sixers' guard rotation outside of those two comes down to Shake Milton, De'Anthony Melton, and a bunch of makeshift/unplayable guys. So you know what you have to do with the former two for the next week and change. Go smash that Add button.
Milton, the older of the M-Ton Brothers, has been around for five seasons (including this one) starting 34 games in his first four campaigns in Philly. He's now logged four starts and is just two shy of reaching his 2022 mark of six. Milton is the current starting PG of the Sixers with Harden/Maxey out.
The lead guard has absolutely lit the court on fire through his last four games. He's played 38, 37, 39, and 42 (!) minutes in his starts averaging a ridiculous 22 PPG, 7 RPG (remember, he is the point guard), 6.5 APG, and one stock per game. He's attempted a freaking 14.5 FGA a pop hitting them at a 55% clip including 3, 2, 1, and lastly 4 3-point shots made.
Milton had a couple of great outings prior to getting thrown into the starting lineup, but this is just an entirely different stratosphere. Of course, and even if Milton can keep this unsustainable level up, he is just going to be a limited, two-week fantasy wonder. That said, you're losing your time reading this instead of adding and starting him before it's too late.
Malik Monk (SG, SAC) - 9% rostered
The Sacramento Kings have arrived and are sitting pretty in the postseason run at least through the first quarter of the season. There are multiple reasons for that, of course, and that list probably doesn't start with Malik Monk at the top, but the Kings can be thankful for having signed the young veteran.
Monk is excelling in a completely different role from the one Sacto originally envisioned. He's coming off the pine (reasonably) with Kevin Huerter playing absolutely out of his mind as the starting SG. Monk, though, is still averaging a healthy 25 MPG in November (12 games) and he boasts the largest usage rate among Kings reserves (25.2%) as the leading man of the second unit.
Although Monk has not started a single game of the 18 he's played, he ranks fifth in total FP among reserves (<50% games started) with 18 or fewer games played through Saturday. Only elite players coming off the pine (Russell Westbrook, Bobby Portis, and Christian Wood) and rookie Bennedict Mathurin rank above Monk. All of those four are rostered in at least 57% of ESPN leagues at least, though.
Monk still has room to improve as he's been averaging worst shooting percentages than he's done career-wise (from the field and the charity stripe) though he's outperforming his prior 3-point shot average hitting 35.5% of his attempts beyond the three-point line. Monk is scoring 1.9 3PM per game while averaging 13+ PPG, 2+ RPG, and a career-high 4+ APG a pop.
Over the full season, Monk (22 MPG) is the only player averaging 1.9+ 3PM and 4+ APG in fewer than 25 MPG clearly benefiting from playing in a second unit instead of the starting one.
In the last six games he's played, getting back to Nov. 15, Monk has scored at least 8 points in each of them hitting double figures in three and 26+ in two. He dumped 10 treys in those five games shooting 51.4% from the floor. He put up averages of around 2-3-1 in the rest of cats.
Just in the last five games alone, Caleb Martin has played 202 minutes of basketball. That's ridiculous. That is, also, what happens when you are part of a team with a depleted rotation no matter the position in the depth chart you analyze.
Martin has been started all season at the PF position after PJ Tucker moved to Philly this summer, of course, but I don't think nobody expected him to log 33+ MPG nightly (his mark over the full season), let alone the 38 MPG he's averaged in the past three weeks.
As expected, the fantasy per-minute efficiency is ground-level bad (0.74 FP/min; league average at 0.90) but the massive runs he's getting are helping him make up for that on pure brute force.
Martin has scored at least 12 points in six of his last seven games getting back to Nov. 14 (he dumped 8 pops in the other one). He's hit 16 3-point shots in total in that span for an average of 2.2+ per game while shooting a magnificent 53% from the floor in that seven-game span on a below-average 15% usage rate.
The 4.9 rebounds per game are definitely subpar for someone starting and playing a lot at the PF spot (25 "true" PF/C have logged 500+ MP through Saturday and all but five are averaging at least 4.4 RPG).
That said, Martin provides numbers in other cats where most bigs can't quite produce: namely, he's one of eight players putting up a nightly 10-4-2-1 line (key: 1.3 SPG) while shooting 39%+ from beyond the three-point line.
France is already into the knockout stages of the World Cup, Kylian Mbappe keeps bagging goals for the French side, and--oh, yeah, this is supposed to be a fantasy basketball blurb about a wive wire target. Hmmm... what about keeping it Rouge et Bleu talking about fellow (to an extent) France international Killian Hayes?
Hayes, as much as haters will, well, hate it, seems to finally have settled in the NBA. It's taken him more than expected, but Hayes is surely getting there--and he will now enjoy at least a few weeks/months of free reign (if not the entire ROS) with Cade Cunningham pondering surgery to fix some injury issues.
The former seventh-overall pick by the Pistons in 2020, Hayes played 92 games over the last two years but he's already belted 21 of them starting eight and logging 23 MPG. Since Cade got injured on Nov. 9, though, Hayes has started all but one game (Nov. 11) averaging a much healthier 29 MPG in those eight starts.
Hayes' shooting is mediocre at best. He's gone 31-of-83 from the floor as a starter (37%) and scored more than nine points just three times out of eight attempts. That's no bueno, I know, but Hayes is contributing on all other fronts and he's shown some shooting skills at some points, so at least we know it can happen.
In the past 15 days (eight games) through Saturday, Hayes is averaging 3.3 RPG, 5.7 APG, and 1.2 SPG. He's stolen three balls in five different games through the season and in three of the last eight.
Watch out for the shooting percentages if those are heavily factored in your league scoring settings: Hayes is one of three players league-wide averaging shooting splits at 32% from the floor and 30% from beyond the arc at most while hoisting 8+ FGA per game.
On the other hand, he's one of just 13 players with averages of 2+ RPG, 4+ APG, and 1+ SPG with fewer than 2 TOPG, and one of only two doing that in fewer than 28 MPG over the full season through Saturday.
It is very hard to know what's going on around New York City with rumors flying in all directions. Those whispers have involved players such as Immanuel Quickley, who seemed to be untouchable just a few months ago when the Knicks decided to keep their youngins instead of flipping them for a superstar. Now, they're back dangling assets in the trade market.
Quickley could very well be worth the first-round pick New York is reportedly demanding in exchange for the services of the guard. IQ is stealing 1.3 possessions per game and he's the only player (min. 400 MP through Saturday) doing so while playing fewer than 25 MPG.
Of course, this being the Knicks, something good has always to be accompanied by something bad: IQ's defense has improved vastly (he's also pulling down 4.5 RPG and dishing out 3+ APG) but the shooting has gone hella down with splits at 37/32/86. Last season Quickley shot 39/34/88 on an even higher volume than this season from all three levels.
There is not enough room in the rotation for Quickley to break into the starting lineup and the franchise putting him on the market is more because of that than an actual lack of talent (one assumes) but with Jalen Brunson hitting the injury report ahead of Sunday's game and IQ's own level of play the Knicks might look into flipping other players (mainly veterans Derrick Rose and Evan Fournier) opening the door for Quickley to enjoy a bit larger role.
Quickley has totaled the ninth-most FP among players with fewer than 50% of their games played as starters. Only Bruce Brown (19%) is rostered in fewer than 49% of all ESPN leagues among those in that group, of course without mentioning Quickley and his near-universal availability (in 95% of all ESPN leagues).
Download Our Free News & Alerts Mobile App
Like what you see? Download our updated fantasy basketball mobile app for
iPhone
and
Android
with 24x7 player news, injury alerts, lineup notifications & DFS articles. All free!
More Fantasy Basketball Analysis
By popular demand, RotoBaller has aggregated all of our fantasy basketball NBA waiver wire pickups into a running list of NBA waiver options, so bookmark the page and check back often for updates.