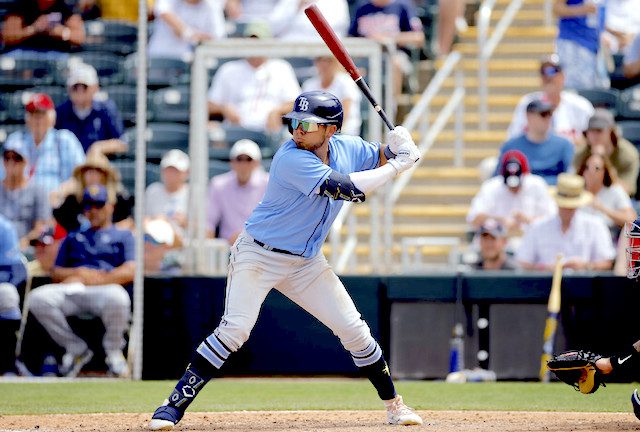 Welcome to Week 13 and another edition of RotoBaller's Recently Promoted Prospects series for fantasy baseball prospects! In this article are your recently promoted MLB prospects and their outlooks as we head into Week 13 of the fantasy baseball season.
Here I discuss some recently-promoted top MLB prospects and rookies, making note of what I think their upside could be for fantasy baseball managers, and whether they are potential risers or fallers.
We have seen a few high-impact rookies make their MLB debut in the past two weeks. Below I discuss three rookies that might work their way into fantasy relevance. I will use industry scouting reports, analytics, and RotoBaller's premium projections to predict what each recently called-up player could do if given a continued opportunity in 2022.
Featured Promo: Want a free RotoBaller Premium Pass? Check out these sports betting promo offers from the top sportsbooks! All new sign-ups get a free bonus offer on their first deposit, and a free year of RotoBaller's Premium Pass for all sports ($450 value)!
Sign Up Now!
33% Rostered on Yahoo
Situation: The Kansas City Royals cleared a spot on their roster when they traded first baseman Carlos Santana, to the Mariners. This finally allowed the Royals to promote first baseman Vinnie Pasquantino who had been having an excellent season in Triple-A Omaha. Over 250 at-bats and 69 games at Triple-A, Pasquantino slashed a .280/.372/.576 line with 18 home runs, 16 doubles, and 67 RBI. Even more impressively, Pasqauntino boasted a 37:36 BB:K ratio before his promotion. In four games since his promotion, Pasquantino is 2-for-12 with one home run, three walks, and just one strikeout against MLB pitching.
Skill: Pasquantino is a left-handed 24-year-old power and average bat with exceptional on-base skills and a low propensity to strike out. He was an 11th-round pick of the Royals in the 2019 MLB Draft who has shot up prospect rankings throughout his three-year minor league career. He is currently the Royals' third-ranked prospect and 97th-ranked prospect in all of baseball as per MLB Pipeline. Over four levels, Pasquantino has slashed .293/.382/.573 with 56 HR, 206 RBI, and 70 doubles over 898 career at-bats. He is coming off a 2021 campaign in which he hit .300/.394/.563 with 24 HR and 84 RBI over two levels. His minor league splits reveal that he hits for power much better against righties (in 2021, all but three of his homers came against righties), but he was fairly consistent in terms of average and on-base percentage against righties and southpaws in 2021.
Projection: Barring prolonged struggles at the MLB level, Pasquantino is likely up with the big league club to stay in 2022. He is an immediate add in all redraft formats. The young lefty can help managers in all offensive categories (except for steals) and is even more valuable in on-base percentage formats. He should be able to avoid any playing time/platoon concerns given his 2021 and 2022 splits in the minors. With the Santana trade, it appears that Pasquantino will be the Royals' first baseman for the duration of the season. Long term, Pasquantino may end up in a designated hitter role once top prospect Nick Pratto is promoted, but that is unlikely to happen until very late 2022 or 2023. Fantasy managers in need of help at first or in the corners should spend FAAB with confidence.
Darick Hall, Philadelphia Phillies
4% Rostered on Yahoo
Situation: With outfielder Bryce Harper (thumb) likely lost until September, the Philadelphia Phillies called up outfielder Darick Hall on June 29.  Since his promotion, Hall is 3-for-14 with all three hits being homers. Before his promotion, Hall slashed .269/.346/.548 with 20 homers and 67 RBI over 279 at-bats at Triple-A Lehigh Valley. His 2022 performance is a nice rebound off of what was a somewhat down season in 2021, his first at Triple-A. In 2021, Hall slashed just .230/.338/.403 with 14 HR and 60 RBI over 120 games in 400 at-bats.
Skill: The 26-year-old Hall is an unranked, sleeper prospect in the Phillies organization. He was a 14th-round draft pick by the Phillies back in 2016 (407th overall draft pick). He possesses above-average power and a solid on-base skill set, having posted a career .339 on-base percentage in the minors over 630 games and five levels. Similar to Pasquantino, his minor league splits do not suggest a massive difference in hitting results against righties versus southpaws, though he has had more homers against the former. While he is prone to the strikeout, he has also shown plate patience exemplified by solid walk rates throughout his minor league career.
Projection: With Harper out for an extended period, Hall will get a long look in the Philadelphia outfield and/or designated hitter role. He can immediately help managers in redraft formats who are desperate for power and RBI production. In his short time in the majors, Hall already has three homers. Despite the results, managers should not break the bank to acquire him. It is uncertain whether Hall can succeed at this level, particularly given his struggles in his first Triple-A season and a modest MiLB career. The Phillies could also choose to seek out trade help before the deadline in late July to replace Harper's bat. This would also, obviously, impact Hall's playing time. A modest FAAB bid would be appropriate, but managers should temper expectations regarding production for the remainder of the season.
0% Rostered on Yahoo
Situation: Tampa Bay Rays infield prospect Jonathan Aranda was promoted to the majors back on June 21 for a small cup of coffee after outfielder Kevin Kiermaier (hip) was placed on the 10-day injured list and outfielder Manuel Margot (knee) was potentially lost for the rest of the season. Aranda was only up for five days until June 26. In just two games, Aranda went 2-for-3 with one RBI. Aranda has had an excellent 2022 campaign at Triple-A Durham slashing .314/.391/.519 with 12 home runs, 45 RBI, 15 doubles, and four steals over 258 at-bats. In 2021, Aranda was just as impressive. He slashed .330/.418/.543 with 14 HR, 65 RBI, 22 doubles, and five steals combined over High-A and Double-A. Aranda has shot up prospect and dynasty rankings thanks to his impressive 2021 and 2022 campaigns. While Aranda's quick return to Durham was likely premised on his need to get consistent playing time, it should not be long until Aranda is promoted to the majors permanently.
Skill: Aranda is a 24-year-old, 6'0" left-handed bat who was signed in July 2015 out of Mexico. He is the Rays' 21st-ranked prospect as per MLB Pipeline. He offers position flexibility for managers in need of corner or middle infield help, where he can play first, second, and third (although first base is his best defensive position). Aranda possesses above-average power and a solid batting average and on-base skill set. He has greatly enhanced his dynasty and prospect rankings thanks to his recent successes in 2021 (Aranda was the team and Southern League MVP in 2021 at Double-A Montgomery) and 2022. He is yet another Tampa Bay developmental success story evidenced by his working his way up through eight minor league levels to the majors.  Over 1350 MiLB career at-bats, Aranda has slashed .295/.375/.444 with 31 homers, 73 doubles, and 206 RBI.
Projection: Once Aranda, already on the 40-man roster, is called up permanently by the Rays, he should be added in all redraft formats. Of course, to the extent redraft managers have room to carry Aranda, it may be worth throwing a $0-$1 bid at him now. If he is currently available in dynasty formats, he should be scooped up immediately. Though not among the more well-known and elite corner/middle infield prospects, Aranda could greatly help managers in need of ratios through the remainder of the season once he returns. Aranda can also chip in with some HR and RBI totals in the counting stat categories. While he won't post elite numbers, he should be more than useful in all formats, especially given Tampa Bay's continued success with homegrown talent and he's hitting in a potent Rays lineup.
Download Our Free News & Alerts Mobile App
Like what you see? Download our updated fantasy baseball app for iPhone and Android with 24x7 player news, injury alerts, sleepers, prospects & more. All free!


More Fantasy Baseball Advice