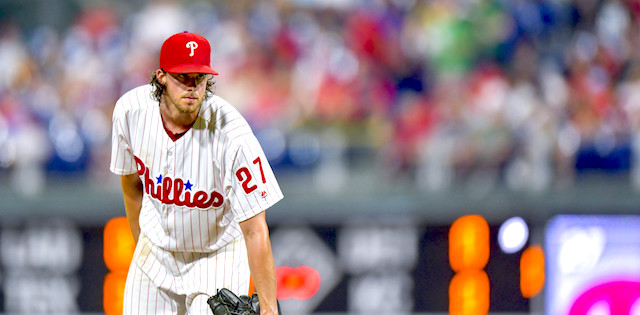 Welcome to Thursday baseball on FanDuel. We have eight games on tonight's slate, starting at 7:07 Eastern. FanDuel has gifted us a ton of fun tournaments tonight, including a $9.99 Rally and $88 Grand Slam. Both will award $20k to first, so you can get your own shot at $20k for just $9. For the high rollers, FD has the Colossus, awarding $100k to first place.
With just eight games on the board, we can't miss much. Aaron Nola is the most expensive arm on the board, but there are four aces to consider and each has an immense upside. There are another couple arms worth considering for value, and they're certainly worth considering with so many solid bats to choose from. We don't have a game in Coors Field, but the Red Sox are expected to put nearly seven runs and the Yankees aren't far behind at 6.25. Let's jump into the slate and find the top play at each position.
Be sure to also check out all the Vegas Odds for today's slate. You can also read more DFS advice and lineup picks for sites like FanDuel, and other sports too. If you have any questions or comments, feel free to hit me up on Twitter @DFSVarney
Editor's Note: Get any full-season MLB Premium Pass for 50% off, with exclusive access to our season-long articles, 15 in-season lineup tools and over 200 days of expert DFS research/tools.
Sign Up Now!
FanDuel DFS Pitchers
Aaron Nola - PHI @ SFG - $10,800
There's a whole lot to love about Aaron Nola tonight, who's the most expensive pitcher on FanDuel. He goes from one of the friendlier hitting environments in Philadelphia to a hitter's nightmare in San Francisco. That means he gets to face off with the Giants, who rank 27th in baseball with a .301 wOBA against righties. They strikeout 22% of the time and that wOBA drops to 30th at home. Aaron Nola has been one of the more consistent pitchers in the league, striking out 10.31 batters per nine with a 3.69 xFIP. He's worked deep in three straight starts and has a leash well over 100 pitches. He's the safest pitcher on the slate.
Jon Gray - COL @ SDP - $7,900
When Jon Gray is pitching outside of Coors Field, he's typically worth considering. He's a very good pitcher that gets a bad rep because of Coors Field. On the road, Gray has given up a .329 wOBA while striking out 25% of batters. He'll now move to Petco Park and face off with the Padres, who are a middle of the road team that strikes out a ton (26%) vs righties. Their best hitters are better against lefties and the park diminished a lot of their power. Gray is under $8k on FanDuel and could easily be the biggest steal of the slate. With some solid bats to pay up for, Gray is worth a look across the board if you think he can hold his own.
FanDuel DFS Infielders
C/1B - Gio Urshela - NYY @ TOR (Pannone) - $3,500
While there aren't a ton of pitchers to choose from, there are also not a ton of pitchers to stack against. One of the few gas cans of the slate is Thomas Pannone. Pannone is a lefty that hasn't been able to shut down anyone this year, but especially righties (5.40 xFIP, 4.34 BB/9). Urshela, on the other hand, has smacked lefties around with a .351 wOBA and is up to 14 home runs on the year. With the Yankees dealing with so many injuries, he's been a huge asset in stretching their playoff lead. He should be in the cleanup hole once again and is affordable on FD.
2B - Michael Chavis - BOS vs. LAA (Peters) - $3,000
When initially looking at this slate, the Red Sox are an easy choice for your cash games. Vegas has them projected for six-plus runs, and they could easily exceed that early. Dillon Peters doesn't have much major league sample size, but he hasn't profiled very good in the minors and has been terrible in the few innings he's been up. Against righties, a .364 wOBA and 4.57 BB/9. He now goes into Fenway to face off with one of the best teams in baseball. Chavis is one of the more affordable Red Sox on the board and has as much upside as any of them. He's going to come to the plate with runners on base and it'll be up to him to take advantage of the opportunity.
3B - Kris Bryant - CHC @ CIN (Wood) - $3,900
After a rough 2018 campaign, Kris Bryant is back to the hitter that strikes fear in opposing pitchers. Against lefties, Bryant has sported a .463 wOBA with eight home runs in 84 at-bats. He'll now move into Great American Ballpark, which ranks fourth in baseball for right-handed power. Wood just returned from injury and has held a 5.26 xFIP vs right-handers. He's striking out just five righties per nine innings and giving up a 45% hard contact rate. Bryant is far too cheap on FD and one of the best one-off plays of the night. The Cubs are also a phenomenal stack, adding much-needed hitting vs lefties in Castellanos.
SS - Jon Berti - MIA vs. ATL (Keuchel) - $2,800
Dallas Keuchel is purely an average pitcher at this point. Against righties, he's allowed a .326 wOBA and six homers in just 40 innings of work. The Marlins are certainly a bad offense, but they are much better against lefties and Jon Bert certainly hasn't hurt. He's been extremely impressive recently, accounting for 12 hits and 4 XBH in just nine games. He's still under $3k for some reason and I'll keep playing him against lefties until he can't hit anymore. You'll need some value on this slate and Berti is a great way to do it.
FanDuel DFS Outfielders
Mookie Betts - BOS vs. LAA (Peters) - $4,200
If you're looking to pay up for an outfielder tonight, there are a ton of options. Mike Trout is in a phenomenal spot, as is Judge and Martinez. With that said, Mookie Betts is a bit cheaper than all of them and is in a similar spot against Dillon Peters. We've already touched on the Red Sox, who are expected to bully Dillon Peters and put up 6.84 runs. Vegas doesn't have much hope for Peters, and it may have to do with the 26th ranked bullpen following him. The Red Sox are in a phenomenal spot tonight and you should be looking to get as much exposure as possible. Mookie Betts has obviously turned things on in the last month, but he's still sported a .381 wOBA vs lefties and is only speeding up.
Nick Castellanos - CHC @ CIN (Wood) - $3,400
If there's one reason the Cubs picked up Nick Castellanos, it's because they ranked 18th in baseball vs southpaws in the first half. Castellanos has raked left-handers for his entire career and has only picked things up in 2019. In just 79 plate appearances vs lefties, Castellanos has accounted for 14 XBH and a ridiculous .428 wOBA. He's boosting this Cubs squad in exactly the ways they need and has fit in perfectly this far. He's affordable on FanDuel and has a ton of upside in this hitter-friendly park. Good luck tonight and please do reach out with any questions on Twitter!
MLB DFS News and Injury Alerts