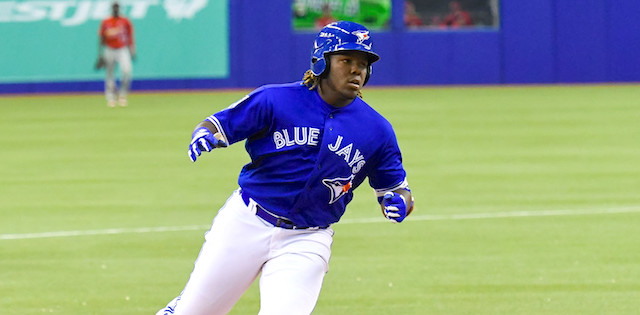 Welcome to Tuesday baseball on FanDuel! Just like every day in the summer, FanDuel has given us some huge contests. You can take home your share of $125k and a grand prize of $25k for just $9.99. For the richer blood, the Colossus gifts $100k to first place with a $1,650 entry. No matter where you fall on the spectrum, there's a large tournament made for you.
The slate is an interesting one. When you have both a game in Coors Field and a bunch of aces, things get dicey in tournaments. The field will be split into Coors and non-Coors lineups. There are a few arms to pay down for, but there's a clean tier that you're missing out on and a few of them are sure to come through. Let's dive in and take a look at the top plays at each position!
Be sure to also check out all the Vegas Odds for today's slate. You can also read more DFS advice and lineup picks for sites like FanDuel, and other sports too. If you have any questions or comments, feel free to hit me up on Twitter @DFSVarney
Editor's Note: Get any full-season MLB Premium Pass for 50% off, with exclusive access to our season-long articles, 15 in-season lineup tools and over 200 days of expert DFS research/tools.
Sign Up Now!
FanDuel DFS Pitchers
Noah Syndergaard - NYM @ CWS - $10,600
Pitching is very interesting on this slate. We have four or five guys you can call aces, but the match-ups are tough and the prices don't give you a break. The best match-up of the night comes for Noah Syndergaard, who's facing off with the lowly Chicago White Sox and their .302 wOBA against. They strikeout nearly 26% of the time and walk the third least in baseball. Syndergaard has held both lefties and righties to a sub .308 wOBA while striking out a batter per inning. The Mets are also looking to deal Syndergaard, so will be more than willing to leave him out there for 100+ pitches if cruising. Syndergaard has the best match-up of all the studs and I'm willing to deploy him in all formats.
Zac Gallen - MIA vs. MIN - $7,700
If you're looking to go a bit cheaper, Zac Gallen is still under $8k on FanDuel. I'm well aware of how good the Twins are, but they can strikeout a ton and are moving to a huge ballpark. They may still hit a couple dingers, but you'll see a couple warning track fly outs as well. As for Zac Gallen, he's one of the best young pitchers in baseball. He controls the game like an ace and has four plus pitches. He's striking out close to 11 batters per nine innings and walked just 1.5 throughout the minors. The Twins aren't a cupcake match-up by any means, but Gallen is at home and will look to make his most impressive start yet. I'll all behind him.
FanDuel DFS Infielders
C/1B - Daniel Vogelbach - SEA @ TEX (Jurado) - $3,600
There's one thing Ariel Jurado does consistently and that's give up runs. He's given up three or more runs in eight of his last 10 games and has been worse at home. Against lefties, Jurado has given up a 5.51 xFIP and strikes out just 5.40 per nine innings. Vogelbach has done most of his hitting in Safeco Field and now gets to go into one of the absolute best hitting ballparks in the entire league. He's sported a .396 wOBA against righties on the season and has hit 25 home runs against them. He's affordable on FanDuel and is one of the top plays at the position, no matter the price.
2B - Wilmer Flores - ARI @ NYY (Happ) - $2,100
There are obviously better raw options at second, but this is a very solid spot to save if you're looking for one. Wilmer Flores is back and he's not all that confusing to figure out. Against lefties, he's sported a .357 wOBA and has a ton of power. J.A. Happ is a decent pitcher, but he's allowed a .341 wOBA vs righties and has allowed 1.86 HR/9. Yankee Stadium is a hitters ballpark and Flores has hit well there in the past. He's just $2100 on FanDuel and is a great value play in both cash games and tournaments. On the higher end, Marte and Albies are great options.
3B - Vladimir Guerrero Jr. - TOR @ KC (Montgomery) - $3,300
The times to buy low on Vlad Guerrero Jr. are long gone. Over the last three games, Vlad has accounted for six hits and seven RBI on four XBH. FanDuel has failed to price Vlad Jr. correctly and he's still sitting at just $3,300. The Blue Jays get to face off with Mike Montgomery tonight, who's allowed a .344 wOBA and 5.17 xFIP vs righties. Kansas City is a spacious ballpark, but Vlad can hit it out anywhere and he's already shown that plenty with more than half of his home runs on the road. Guerrero is simply too cheap for such a favorable match-up.
Didi Gregorius - NYY vs. ARI (Clarke) - $3,300
With a swing made for Yankee Stadium, it's hard to shy away from Didi Gregorius at home against a bad righty. Taylor Clarke has allowed a .383 wOBA and 6.43 xFIP to lefties. He's also moving to one of the more unfavorable ballparks in the league for righty pitchers, ranking 3rd for left-handed power. As for Didi, he's held onto a .371 wOBA at home since last season. This Yankees lineup is going to quiet Clarke early and Gregorius should have at least two or three RBI opportunities with RISP. He's affordable and a great play in all formats.
FanDuel DFS Outfielders
A.J. Pollock - LAD @ COL (Freeland) - $3,900
If you're looking for a pricey outfielder, I can't talk you off a Bellinger or Trout. Especially with salary to spend on this slate. However, A.J. Pollock may go a bit ignored and he's a tremendous play against Kyle Freeland. He's given up a .403 wOBA and 2.16 HR/9 to righties in Coors Field. The Dodgers are projected for close to seven runs for good reason. As for Pollock, he's always hit lefties better, dating back to '16 with a .389 wOBA. He won't be very popular in Coors Field and has the upside to throw down 30 fantasy points. The Dodgers are the top stack of the night after disappointing quite a few last night.
Lourdes Gurriel Jr. - TOR @ KC (Montgomery) - $3,700
In a year where many other things came to the surface for the Blue Jays, Lourdes Gurriel Jr. turned a clear corner. He's one of the more reliable hitters in baseball, sporting a .374 combined wOBA with 18 home runs and five stolen bases. He's also devastating vs lefties, holding a .415 wOBA and 47% hard contact rate against them. We've already touched on Mike Montgomery and his troubles against righties, so feel free to deploy any of these righty Jays bats. They shouldn't be popular on the road and have as much upside as any team against Mike Montgomery.
MLB DFS News and Injury Alerts