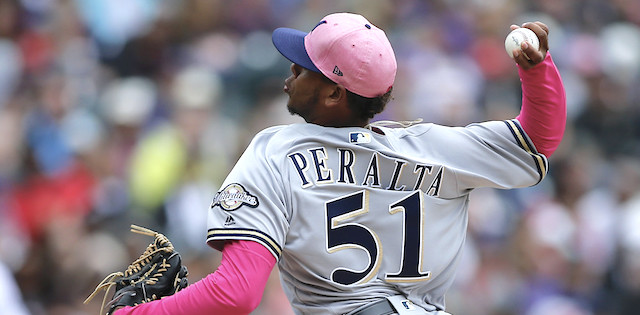 Being a guy that loves pitching a ton, I can't complain that we have a bunch of top arms going today - but damn it's tough to split hairs between some of these stable, high upside arms. Split-slate Wednesday is giving us a lot to work with in the Main slate (12 games) and no so much in the matinee. As such, this post will concentrate on the big competitions going tonight at 7:05 Eastern.
The experts in Vegas have some early lines for us as of Tuesday night. I'll do my best to update this section with any pertinent line movement before lineup lock tomorrow. As of now, the Red Sox are -325 moneyline favorites, followed by the Astros (-230), Indians (-195) and the Brewers at -160. For implied run totals, the Rockies are up top at 6.2, followed by the Red Sox (5.7), Diamondbacks (5.5), Indians (5.2), Yankees (5.2) and the Braves at 5.1 runs.
In this article, I will be providing you with my daily fantasy baseball lineup picks for FanDuel on 7/11/18. The lineup picks will range from some of the elite players to mid-priced options and value plays. You can also read more DFS lineup picks for DraftKings and other sports too. If you have any questions or comments, feel free to contact me up on Twitter @kpLuch.
Editor's Note: Our incredible team of writers received 13 award nominations by the Fantasy Sports Writers Association including Baseball Writer of the Year, Football Writers of the Year, Golf Writer of the Year and many more! Be sure to follow their analysis, rankings and advice all year long, and win big with RotoBaller!
Read More!
FanDuel DFS Pitchers
Chris Sale - SP, vs TEX ($12,600)
This may sound odd seeing as he's featured with a five-figure price tag, but I think Sale is underpriced relative to his fantasy points floor and ceiling. the big lefty has been oustanding all year and extra electric in the past month. His average fastball velocity is up, he's pitching deep into games and dominating opponents - parctiularly via the strikeout (36.8% K rate, 13.3 K/9 - both tops for this slate) and by inducing a fair number of ground balls (47% in 2018). Tonight, he faces a lineup that isn't punch-less, but does strike out a bit and is quite undisciplined at the plate. Against southpaws, they've struck out at a 24% rate and their projected lineup tonight has a wOBA split just barely at .300. Sale and the Sox are -325 favorites in Vegas (with the Rangers implied run total at 2.9) and he can be used in cash and tournament play this evening.
Freddy Peralta - SP, at MIA ($8,700)
He may need to develop a pitch or two more to sustain this "dominance" later in his career, but the kid can really pitch. Peralta has been sharp this season, beating his price implied total in three of four starts for a +/- total of 61 FanDuel points this season. The price has crept up a bit, but not to the point where he can't provide plus value for us. This is a pretty good matchup, as he gets a park upgrade and faces a pretty weak lineup. And, most importantly for tournaments, the strikeup upside is high. He comes into his fifth major league start with a 12.47 K/9 and faces a team whose projected lineup owns a collective 25% K rate against right-handed pitching this season. What adds to his allure is that he's been good at keeping people off the basepaths (.904 WHIP) and at keeping the ball in the yard (0.27 HR/9). Tonight, he and the Brewers are currently -160 moneyline favorites and the Marlins implied run total sits at just 3.6 runs.
FanDuel DFS Infielders
Chris Iannetta - C, vs ARI ($3,200)
Iannetta is priced cheap today and he's a great way to get exposure to this Rockies lineup that has the highest run projection of the night at 6.2. He's got a desireable spot in the heart of the order and is a reverse splits guy, too. This season he's posted strong numbers among catchers against right-handers, showcased by his .395 wOBA and .258 ISO.
Jose Martinez - 1B, at CWS ($2,600)
We're getting Martinez at a real discount here despite the fact he's beaten value in back-to-back nights, gets a park upgrade and a matchup he can win a few times. The last month or so hasn't been great for him, but overall, he has been really strong against lefties and his batted ball profile over the past 12 games is attractive. The highlights in those splits and the batted ball profile are in his wOBA (.438), ISO (.272), hard hit rate (45%) and line drive rate at 27%.
Jedd Gyorko - 2B, at CWS ($2,900)
Jedd, like his teammate Jose, is in a good spot to give us a nice return on investment while allowing us to afford top-end pitching. St. Louis has a strong run projection - which currently sits at 5 - and Gyorko has been especially strong this season against lefties. Both his wOBA split (.425) and his ISO (.270) are more than .130 points higher than his numbers against righties.
Jose Ramirez - 3B, vs CIN ($4,900)
This dude is pretty damn amazing huh? It's nice to see his price below 5K again, too, even if it is just slightly. Ramirez went off last night and I think this is a spot he can win big in again. He has been dominant against righty pitching this season. His .401 wOBA split creates a high floor for him (as does the lineup context) and the .286 ISO showcases the power upside he has.
Manny Machado - SS, vs NYY ($4,300)
Perhaps Manny is playing his way off this lowly Baltimore squad? He launched two home runs tonight, and he's one of my favorites to ride when he's hot as he can be a streaky hitter. He matches up well with Gray, who has surrendered a higher slugging percentage to righties, but a higher HR/9 to right-handed batters. Machado has a .243 ISO split this season and a 40% hard hit rate in his last 10 starts.
FanDuel DFS Outfielders
Carlos Gonzalez - OF, vs ARI ($3,400)
Gonzalez has started to warm up of late, beating his price implied total with increasing numbers in the past three nights. The lefty should be slotted right in the meat of this order and has good splits to go with a strong hard hit percentage of late. His wOBA split sits just below .400 and he's rolling with a .215 ISO and .532 slugging percentage.
David Peralta - OF, at COL ($3,900)
Arizona overall is in a good spot today, but most especially it's the lefties that could rake this evening. German Marquez has allowed a .485 slugging percentage split to lefty batters and has served up a 1.98 HR/9. Peralta is a great value here with the leadoff spot in the order, a major park upgrade and these splits in 2018 against right-handed pitching - .372 wOBA, .226 ISO.
MLB DFS News and Injury Alerts