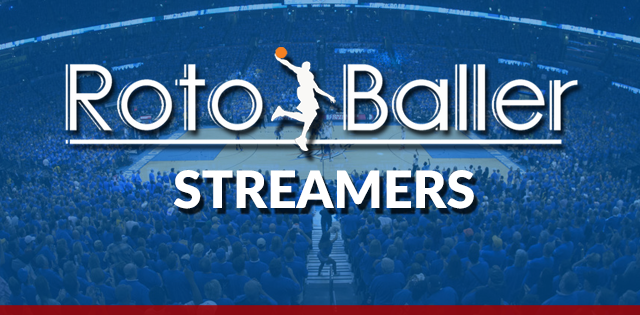 It's championship week! Most leagues around the country will wrap up this week, leaving the final week and a half (and the inevitable chaos that ensues) out of their playoff format. And if your league doesn't already do this, you should have a conversation about moving your playoffs back, honestly. Heck, I have seen a number of fantasy basketball analysts suggest moving everything back another week or two already so that we'd be done by now because these playoffs were so brutal to many owners with injuries and rest days. But if you've made it this far, it's probably been a combination of luck and a lot of skill, too, so congrats, and let's find some pickups for the first half of the week to help you bring home the hardware!
Most leagues limit how many players you can stream each week in daily leagues. If your league only allows three moves per week, you need to be very efficient with your moves and grab players who will help you maximize your games played and help you win an extra category or two of counting stats.
The goal of this article each Monday morning will be to help you plan out your roster moves for the first half of the week. Planning ahead is important and I always include which teams play on optimal days for streaming in the very first section so you can look for additional players that I don't mention as well. All the rostered percentages used in this article are from Yahoo! Let's see who can help us start the week strong!
Editor's Note: Our incredible team of writers received five total writing awards and 13 award nominations by the Fantasy Sports Writers Association, tops in the industry! Congrats to all the award winners and nominees including NBA Writer of the Year, Best NFL Series, MLB Series, PGA Writer and Player Notes writer of the year. Be sure to follow their analysis, rankings and advice all year long, and win big with RotoBaller!
Read More!
Weekly Schedule: Monday to Thursday
Teams that play only one game (AVOID): BOS, DEN, DET, LAL, MIA, MIL, POR, TOR
Teams that play three games (TARGET): NYK
Other Ideal situations to Target: SAC (B2B on Mon/Tue), BKN (Tue/Thu), CLE (Tue/Thu), LAC (Tue/Thu), OKC (Tue/Thu), ORL (Tue/Thu)
Shallow League Streaming Options
Austin Reaves - SG/SF (46%)
Reaves has been a league-winning type of add down the stretch and I am still amazed he's under 50%. What are people doing? In his last 10 games, he's averaging 18-3-5 on an incredible 55% shooting from the field. Only 1.1 threes from Austin, but also only 1.8 turnovers, too, and not many defensive stats. He's an efficiency lover's dream (I am one of those) and easily the best add under 50% this week.
He's fresh off his best game of the year when he dropped 35-6-6 on Orlando last night. Now, the Lakers don't play until Wednesday so you might be able to sneak a stream in tonight or tomorrow first, but he finishes the week with three games and he's absolutely worth HOLDING if you already have him - don't dump him for a streamer.
Xavier Tillman Sr. - PF/C (44%)
This is your weekly reminder that Tillman should be universally owned, too. There will be some games where he plays lower minutes than others, just with how Memphis runs their rotations, but you will be rewarded when he goes off, as he did against the Warriors on Saturday when he dropped 14-10-5 with two steals on 60% shooting. The schedule this week is solid as Memphis gets Dallas (weak against big men) and then Houston twice (weak against everyone).
T.J. McConnell - PG (40%)
Tyrese Haliburton is out again tonight, and I don't see Indiana rushing him back anytime soon as their playoff chances are long gone. They're officially in tank mode and have focused on developing a lot of young players. They can't help but play McConnell for at least 25-30 minutes, however, because he's just so darn tough and makes everyone around him better.
He went nuts for 19-12 in a surprising win against Milwaukee last week and then followed it up with a more typical T.J. line of 6-5-9 with two steals and two blocks against the Sixers. He's the best add for steals and assists on your wire and he should be good to go for major minutes tonight and at least Wednesday, which is all you can really ask for.
Andrew Nembhard - PG/SG (27%)
If you can't land T.J. McConnell in your league, then I'd be looking for Nembhard next. He's run off a really nice five-game stretch of production with averages of 19-2-4.6 on 52% shooting and 2.2 threes. The matchup tonight with the Hornets is excellent and then the Pacers get Toronto on Wednesday. With a four-game week in total, he could be someone you use all week long but we need more information about Tyrese Haliburton's potential return before we make that call.
Kris Dunn - PG/SG (24%)
I held onto Dunn last week despite him only playing two games, just so I could have him for his four-game week in the Finals. Ignore the minutes, he's well worth using even if those minutes stay in the low 20s as he's been super productive on a per-minute basis this year. He's coming off his worst game this season, but the schedule this week is so nice, especially early in the week as Utah plays Sacto tonight and then Portland on Wednesday.
Isaiah Hartenstein - C (21%)
At several different times this year, I thought I-Hart was going to break out and push for a bigger role in New York, but I think at this point, he is who he is and we can't keep trying to make him happen as a full-time player in the NBA. As a 20-25 minute player off the bench, however, he's quite useable in fantasy as he offers a very diverse set of stats for a center.
He didn't score a single point in two games last week, but he did pull down 11 boards twice and nine in a win against Denver on Saturday. If you need boards, assists, steals, and blocks - he's a solid target as the Knicks have the BEST early week schedule with three games between tonight and Thursday (no other team does).
Deep League Streaming Options
Jordan Nwora - SF/PF (15%)
The Nwora breakout is in full effect. He was buried on the bench in Milwaukee for a long time, but Indiana is giving this guy a chance to do his thing and he's doing it quite well. He's moved into the starting lineup as their starting PF and has been very productive across the board. He's yet another Pacer that should be strongly considered for their four-game week, or at least for the first two games of the week. He could go off tonight as the Hornets' defense stinks, especially against versatile wings like him.
Quentin Grimes - SG/SF (10%)
It's a shame the Knicks' rotation is so tight because their schedule is good to start the week. Hartenstein and Grimes are probably the only Knicks floating on your wire and both are relatively inconsistent. Grimes is worth a look if you want more guard stats and he does offer some steals and blocks from the guard positions, but keep your expectations low as he's the last option on offense when he's out there.
Joe Ingles - SF/PF (8%)
Dude, it gets awfully thin down here in the single-digit ownership range and while the Bucks play only once early in the week, they do get the Spurs on Wednesday in a game where they could score a million points and...dare I even suggest it - they could potentially rest someone like Giannis or Khris Middleton in a game they should win easily. The man we affectionately know as "JINGLES" has been solid in his bench role and offers some nice statistical diversity with points, threes, assists, rebounds, and the occasional steal.
Coby White - PG/SG (5%)
White has been up and down all season and Chicago's backcourt is crowded, especially since they brought in Patrick Beverley. But Alex Caruso can't stay healthy and White has been the most productive of any of their guards lately. He's a desperate play on Wednesday against the Sixers, but he has been scoring the ball well and making his threes (eight over the last three games), so I'm still a bit interested.
Sandro Mamukelashvili - C (4%)
Just call him "Mamu" and don't hurt yourself trying to pronounce his name. He can do a little of everything and saw 19 minutes off the bench behind Zach Collins in his last game, putting up seven points, six boards, and five assists while hitting a three. With a B2B on Tues-Wed, he's probably my favorite cheap add, and if Collins sits out one of those games, he could draw a start and see 30 minutes.
Ochai Agbaji - SG/SF (3%)
I mentioned early with Kris Dunn that Utah plays four games this week and Agbaji has been starting for them on the wing and playing significant minutes. He's scored in double-digits in five of his last six games with a couple of four-three-pointer games in there, too. But he doesn't do much else besides score, so he's just a play for points, threes, and a handful of steals.
Good luck in the Finals this week, you got this! And thanks for reading this column all season long!
Download Our Free News & Alerts Mobile App
Like what you see? Download our updated fantasy basketball mobile app for
iPhone
and
Android
with 24x7 player news, injury alerts, lineup notifications & DFS articles. All free!
More Fantasy Basketball Analysis