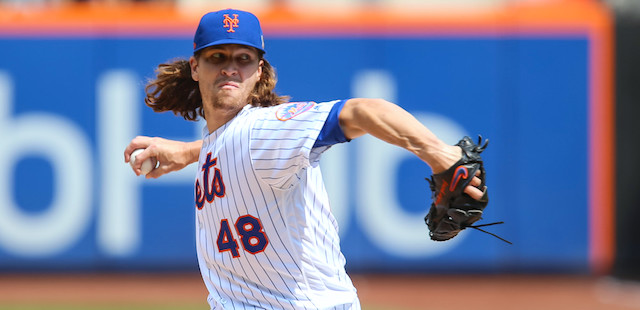 Don't tell us it's not draft season yet! Truth be told, the RotoBaller crew was already planning a mock draft days after the World Series ended. As it turns out, we decided to wait until some free agent moves were made and settled for a slow draft that began shortly after the Winter Meetings.
We gathered some of our finest fantasy baseball writers in order to conduct a 10-team, 24-round, mixed-league redraft mock. Once the draft wrapped up, I sat down (figuratively) with each participant to get their takes on some of the more interesting picks or strategies they employed.
Once you finish deciphering the color-coded graph below (it's a beaut, ain't it?), you can read about the thought processes behind the final result.
Editor's Note: Get any full-season MLB Premium Pass for 50% off. Exclusive access to our Draft Kit, premium rankings, projections, player outlooks, top prospects, dynasty rankings, 15 in-season lineup tools, and over 200 days of expert DFS research.
Sign Up Now!
Early Mock Draft Results
Click on image above for full-size view
Riley Mrack
Ronald Acuna is becoming more popular as the #1 overall pick over Mike Trout. How confident are you that he will live up to expectations and did you have any pause before that selection?
I had no hesitation when selecting Ronald Acuna Jr. with the first pick for a few reasons. He was three steals away from being the fifth player ever to join the illustrious 40/40 club at age-21 and is the only player capable of reaching these marks again in 2020. Trout is undoubtedly a superior overall hitter, but after three straight injury-shortened seasons and an 11-steal 2019 campaign, his double-digit SB streak is in jeopardy. Acuna Jr.'s speed is the difference-maker for me since they are comparable in all five roto categories except for thefts.
You were the first to take a reliever (Hader) and secured three closers in the first 12 rounds. Is this something you typically do and why?
I generally don't reach for relievers, but I felt this was a good opportunity to try this strategy. 30-save closers are becoming a rare commodity, so I locked up three players who should put up sterling ratios and maintain the ninth-inning job all season. Drafting at the turn also affected my mentality because I would rather start a reliever run than miss the boat on it completely. Judging by how my team turned out, I'd implement this strategy in some leagues so I won't have to rely on volatile arms or scavenge the waiver wire all season looking for saves.
Michael Grennell
You were the first one to draft two SP, in rounds 2 & 3. How important do you think it is to grab at least one ace early this year?
Starting pitchers and outfielders will always have the most shallow free agent pool after the draft, since most owners will be drafting five or more at those positions as opposed to drafting one or two at the infield positions. That means that after the first round most owners should prioritize either a top tier starter or outfielder in order to maximize your team's potential. It's far better to grab a Scherzer/Buehler/Flaherty/Clevinger early on, than wait until around the 10th round and have Madison Bumgarner as your best pitcher.
Aristides Aquino is a polarizing player this draft season. What are reasonable expectations for him and can we consider him an OF3 in most mixed leagues?
If there was one pick I would do over it would be Aquino; I think I would've tried waiting another round to grab him. Obviously, he had that amazing stretch in August, but that production fell off drastically in the final month of the season. But that performance in August intrigues me, and he has averaged 22 homers over his last four seasons in the minors. I think owners should look at him as a fringe OF3 in most formats but a definite OF4.
Ellis Canady
Aside from Yelich and a handful of steals from Harper, your team might be devoid of speed as you don't seem to have a true speedster on your team. Do you intentionally forego SB in order to bolster other stats or was this a matter of best player available in each round?
Speed is an important category as there are few players that sell the product you need. There are really only three ways to tackle it: speedster-heavy, spread the responsibility, and punt the category. The last one is not an option for me. Since I didn't draft a speedster in the first round (Trea Turner), I chose to spread the responsibility, which is usually my preferred method. I expect Christian Yelich, Bryce Harper, Keston Hiura, Bo Bichette, Adam Eaton, and Amed Rosario to pitch in double-digit steals. Add a dash of stolen bases from a few of the others (George Springer, J.T. Realmuto, Rafael Devers, Andrew McCutchen) and I should be comfortably competitive in the category.
With the wealth of quality shortstops around, waiting to grab Bo Bichette as your starter seems like a calculated risk. Are you expecting a full-blown breakout season?
As stated, the shortstop position is rich with talent. I'm pleased to get Bo Bichette in the 12th round with the potential. His hand was broke in April of 2019, but he still returned and provided 11 homers and four stolen bases with a .384 wOBA after a promotion to the big leagues. I'm not naïve to think 2020 will be filled with funnel cakes and lemonade. However, I'd set the floor at a 20/20 guy with a very good batting average. Just in case, I backed him up with a 15/15 guy in Amed Rosario.
Scott Engel
Was grabbing Pete Alonso in round three a case of prioritizing an upper-tier first baseman because of the lack of depth there or are you just a believer that he'll repeat last year's numbers?
At that point, I could not pass on Alonso for the power and RBI production. The combination of his average Launch Angle and Barrel rate should translate into another big power year. If his Average Exit Velocity climbs, the results could be massive.
Between Adalberto Mondesi, Tim Anderson, Oscar Mercado and Mallex Smith, you'd be a sure bet to lead the league in steals. Do you make it a point to go after potential category-winners in SB?
I am always gunning for speed. Power is easier to come by. I like to space it throughout the draft to build a good final product in that regard.
Kev Mahserejian
You were the last analyst to select a relief pitcher and all three of your RP combined for 31 saves last year. Do you believe chasing closers early is a mistake?
Unless a closer sees an egregious fall in price, I typically stray away from drafting them early on. It's a strategy I've maintained throughout the years that has won me my fair share of leagues. I do not necessarily think it is a mistake to chase closers early if you hit on them. However, the position of closer is so volatile year-to-year in enough cases that I will choose to play my cards elsewhere. Several closers always pop up on the waiver wire throughout the season and I would prefer to bank on those and the ones I draft late than any early in drafts.
Are you surprised that Vladimir Guerrero Jr. fell to you at the 85th overall pick?
Vlad Jr. dropping that far is crazy. I get it, he underwhelmed in his first taste of the show but he was the number one overall prospect for a reason; he can hit and he will this year. I probably should have taken him even earlier to be quite honest.
Mike Schwarzenbach
You took a very slugger-heavy approach by selecting Yordan Alvarez, Khris Davis, Joey Gallo, and Franmil Reyes. Are you concerned about your average and steals taking a hit?
In the most power-happy era in baseball history, I definitely wanted to prioritize players that could set the pace in power stats. Starting my team with Bregman and Story set up batting average nicely while adding more power to the sluggers drafted later. Steals, on the other hand, are definitely a concern for this squad. By the time I realized the hole I was in, it was too late to find a player capable of making a real difference in steals without dragging down every other category meaning I will certainly make steals a priority much earlier in future roto drafts this season.
Your Alex Bregman pick at #6 overall occurred before the Astros sign-stealing scandal completely unfolded and A.J. Hinch was fired. Would you reconsider that pick or do you feel it will have no effect on him?
Not at all, Bregman is one of the brightest young stars in the game and I don't believe you blast 41 homers with 122 runs and 112 RBI just by stealing signs. Furthermore, MLB's investigation noted Astros players abandoned the sign-stealing in 2018 as they believed it was losing effectiveness bringing into question if he was even cheating during last year's second-place MVP finish. We may never know for sure what occurred behind the scenes in Houston, but Bregman is a former top prospect with the batted ball data to back up his monster numbers from 2019. Bregman is still sixth in my rankings and I'll take him there in every draft if given the opportunity.
Nicklaus Gaut
You didn't take a single closer and your only two RP are setup men (Nick Anderson and Giovanny Gallegos). Is punting saves something you recommend?
While I don't totally recommend punting saves, I'm more comfortable drafting that way in a 10-person league, as there should be plenty of opportunities if I stay diligent on the waiver wire. With Gallegos and Anderson, I have two elite setup men who, if they had the closer's job currently, would see their draft stock skyrocket. Best-case scenario, Gallegos takes over as Cardinals closer with Carlos Martinez set to return to starting and Anderson collects around 10 saves as a key member of the Rays yearly closer-carousel. Worst-case, I only get a handful of saves but still get elite ratios and strikeouts, with the pair combining for 203 K in 139 innings last season, with a 2.78 ERA and 0.93 WHIP. The average winner in NFBC leagues last year drafted, on average, 1.5 closers; I think I'm over halfway there.
You chose Chris Paddack ahead of veterans like Madison Bumgarner, Trevor Bauer, and Yu Darvish. Do rumors of an innings cap or past injury worry you at all?
Even with a supposed limit on his innings, I was happy to get Paddack at #87, which was about a round after I had him valued. Especially because the pitchers that went in the next two rounds were a lot of guys I happen to be down on, like Bumgarner, Bauer, and Eduardo Rodriguez. I did consider Yu Darvish here - someone I'm really high on - but he comes packaged with even more risk than the average pitcher with his long and storied injury history. I'm seeing Paddack being projected for between 165-170 inning, which seems reasonable to me, though I do think 175 IP is on the table. Given the type of production I anticipate, I think Paddack will return more than a chunk of fantasy profit.
Pierre Camus
Nolan Arenado has already fallen out of the first round in many early drafts, including this one. How much should the ongoing feud between he and the Rockies, along with a potential trade, concern fantasy owners?
While he certainly doesn't seem happy, it's not as if we have to fear a holdout or a loss of playing time. If Arenado does stay in Colorado, that's actually the best-case scenario because he'll remain in the heart of the lineup for a strong offense in the best ballpark there is. A move to the Cardinals or Rangers still wouldn't put him below Anthony Rendon or Rafael Devers in my estimation, so at this point he could be a bargain if you can get him outside the top-15.
At starting pitcher, you took on a mix of injury risk (Luis Severino, Mike Foltynewicz, Mike Minor, Jameson Taillon) and inexperience (Tyler Glasnow, Griffin Canning, Sandy Alcantara, Josh James). What was your strategy?
Ultimately, every pitcher comes with risk. Even a "safe" player like Corey Kluber, who had thrown 200+ innings in five straight years, succumbed to serious injury last year, while a first-round pick like Chris Sale tanked many teams with uneven play before going on the shelf. I shoot for strikeouts early and then try to hedge the ratios later with guys like Taillon and Alcantara. We've seen guys like Folty and Glasnow look dominant in flashes, so if I can hit on one for a full season, it was worth it even if the other doesn't pan out.
Marc Hulet
What do you expect out of Shohei Ohtani this year and do you think he'll be worth a rotation spot in all fantasy leagues?
I felt pretty good about taking a little bit of a risk on Ohtani because I already had Cole and Syndergaard locked up. The Angels club is always going to do everything it can to win and, while it lacks pitching depth, Ohtani is the best pitcher on the staff so a healthy number of the club's wins those should end up under his name. He was likely only scratching the surface of his potential on the mound in 2018. I believe we have a pitcher here that will miss bats and generate a lot of strikeouts — but I do have some minor reservations about how well he (as a fly-ball pitcher) will fare with the home run totals if the juiced ball is still hanging around. I have a potential ace here.
You nabbed rookie starters Jesus Luzardo, Brendan McKay, and Nate Pearson. Which one do you believe represents the best draft value in redraft leagues?
Outside of MacKenzie Gore, Luzardo and Pearson probably have the highest ceilings of any pitching prospect in baseball and they're almost MLB ready so I don't expect a huge learning curve from them but I do have concerns about how many innings they'll be allowed to throw in 2020 with Luzardo coming back from a serious shoulder injury and Pearson also having his innings suppressed in recent seasons due to (less concerning) injury. So that leaves me with McKay as the best pick for 2020 because we can probably hope for around 160 innings from a guy who is still in his infancy as a full-time pitcher but has shown he's not far off from having three or four plus offerings with above-average control. He's also on a team, the Rays, that should be pretty good in 2020. If I was confident Luzardo was going to throw more than 120 innings in the Majors then I'd switch my vote, though, because he just might have the better overall fantasy results.
Bill Dubiel
You stacked your rotation early, taking Jacob deGrom in the first round, followed by Aaron Nola, Luis Castillo, and Jose Berrios within the first six rounds. Was this a matter of getting value where it fell or are you making a point of loading up on elite pitching this year?
In my pre-season analysis, I found that there were quite a few bats I knew I could get later in the draft that I would be extremely comfortable with over the course of a season. I didn't feel as strongly about starting pitching, and therefore I decided to load up on high-end starters. I was able to snag four guys who have fairly reliable floors but still enough upside where I can gain an advantage throughout the season there. Likely expect some regression with Castillo, but still that's four guys who will eat innings, approach or surpass 200 K, and likely keep their ERA under 3.75.
Now that he's signed with Atlanta, does Marcell Ozuna at 91 feel like a bargain or are there concerns about how he might fit with a new team in a crowded outfield?
Marcell Ozuna at 91 feels like a pretty good bargain to me, as he's going to occupy a prime position in what will be, in my estimation, one of the National League's best offenses. He's been a healthy everyday mainstay in whatever lineup he's been in, tallying 549 at-bats or more in each of the last four years. The depth in Atlanta's outfield doesn't concern me, as Ozuna should be prioritized as the second-best option behind Acuna. It'll be Ender Inciarte and Nick Markakis who need to battle for at-bats throughout the season.
More 2020 Fantasy Baseball Draft Strategy