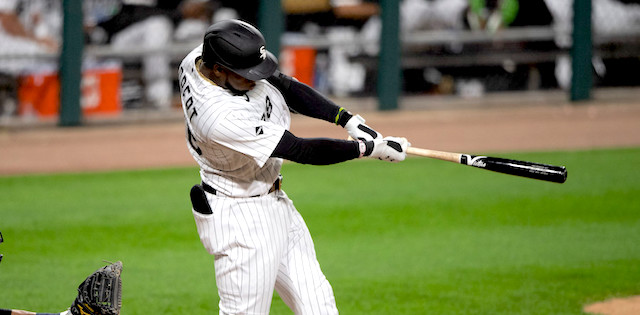 Of course, there are many changes to be made throughout the offseason. It feels as if the dust is still settling on the 2020 World Series yet baseball fans are more ready for the upcoming season than ever. We have no idea whether a full schedule can be played, what games will look like, and which rule changes might be retained. What we do know is that no matter what it looks like, we'll be watching and playing a fantasy version of it so there's no point waiting to prepare!
Some of the finest MLB analysts at RotoBaller assembled for a slow mock draft that began shortly after the final pitch of the regular season and wrapped up before the Dodgers claimed their trophy. The idea was to get an instant reaction on how players might be valued in fantasy drafts next year before free agency takes place. Although a bevy of moves are likely to be made soon, this still provides a useful snapshot.
My goal in this article isn't simply to review each round but to look at the most notable selections that were picked far earlier or later than expected. Since there is no true ADP as of yet, I will compare my colleagues' picks to the consensus ADP of the set of mock drafts that ran concurrent to ours. Those #2EarlyMocks were done by TGFBI participants and organized by Justin Mason, so they are also referred to as MasonMocks. It's hard to call anyone a true reach at this point, but the idea is to identify players that may not come at a discount or who could be overestimated based on recency bias.
Editor's Note: Our incredible team of writers received 13 award nominations by the Fantasy Sports Writers Association including Baseball Writer of the Year, Football Writers of the Year, Golf Writer of the Year and many more! Be sure to follow their analysis, rankings and advice all year long, and win big with RotoBaller!
Read More!
RotoBaller Early 2021 Mock
Gone Too Soon
Starling Marte (OF, MIA) - Pick 15
A move to Miami at the trade deadline boosted the team's chances at a playoff run and eventually led to a victory in the Wild Card series over the Cubs. Unfortunately, Marte only played one game in the postseason before fracturing his pinky on a HBP. He will be back manning center and batting second on an ever-improving ballclub and stands as one of 13 players who reached double-digit steals in 2020. Although the power ceiling isn't more than the 23 HR he hit in his last full season with Pittsburgh, he can be considered a five-category contributor.
So why is this pick too high? Ceilings abound for all five categories, making a second-round selection unreasonable. Assuming a full 162-game season in 2021, Marte is unlikely to surpass 20 HR as mentioned and while he is a base-stealing threat, his SB totals had dropped the last couple of years down to 25 in 2019. He could reach 20-20 status but won't exceed it. This isn't a roundabout way of advocating for Adalberto Mondesi over Marte. He is a safe pick but similar numbers or better could be achieved by Luis Robert or Kyle Tucker a couple of rounds later with a higher ceiling.
Kyle Lewis (OF, SEA) - Pick 67
Coming off an American League Rookie of the Year award, Lewis' ADP will maintain plenty of helium up until Opening Day. Lewis has tremendous power and showed a pleasantly strong propensity to line the ball hard all over the field rather than trying to elevate everything. Gradually, his high BABIP fell as the season went on and we got a truer sense of what he will be.
We began to see signs of regression from his blazing hot start just before game 50 as he went hitless in eight of his final 10 games with one homer. He's a promising young hitter for sure but the 2021 version of Lewis may not warrant a top-100 pick, especially if Steamer projections are correct about his .230/.308/.391 slash line.
Zach Davies (SP, SD) - Pick 102
There are few who saw Davies' success over the 60-game season coming, although he was identified by Nicklaus Gaut as someone who came out the gate strong in the first 50 games of 2019. His Statcast profile has more blue than Sad Smurf's Tumblr page, yet he somehow came through 2020 with a 2.73 ERA and 1.07 WHIP despite a 5.03 xERA.
The ratios were a nice boost to fantasy pitching staffs in the injury/COVID-ravaged season but there's no way they are anywhere close to sustainable. He jumped up to a 22.8% K% but it was the first time in his MLB career over league average. Davies doesn't appear to be the next coming of Kyle Hendricks so much as an end-of-rotation arm. His 195 ADP in the MasonMocks is far more reasonable.
Seth Lugo (SP/RP, NYM) - Pick 109
Guilty as charged. I pulled the trigger on Lugo far earlier than necessary. It could be that JB's Bullpen Method has taken over my brain when in draft mode but having that high-end reliever who can simultaneously close or spot start was invaluable last year. At least it was until the final two weeks of the season when he imploded and saw his ERA double after a pair of disastrous starts.
Some may be scared away from his late-season swoon or the lack of clarity of his role heading into 2020. Clearly I'm not but I also may have overestimated his value.
Kenley Jansen (RP, LAD) - Pick 114
We all want to believe that Jansen is still one of the best closers in the game but there was non-stop talk of who the Dodgers' closer would be in the World Series all throughout. It wasn't him, as both Blake Treinen and Julio Urias earned a save while Jansen made two appearances and allowed a run in each. With promising prospect Brusdar Gaterol and veteran Treinen available to take over the role, it wouldn't surprise anyone if Jansen's days as the primary fireman are over.
It was noticeable that his velocity was down toward the end of the season when he was struggling to get through an inning of work leading up to the postseason. This has been an ongoing trend far before September, though. Jansen just isn't worth a top-200 pick.
Tyler Mahle (SP, CIN) - Pick 130
I'm of the belief that Mahle was underappreciated in 2020 and could take a step forward in 2021. Not to the extent that I would pull the trigger 50 picks sooner than his ADP, though. His Statcast profile is impressive, particularly the .188 xBA.
The question is whether it is sustainable for a young pitcher who will be at Great American Ball Park for half his starts. The fact that Mahle went ahead of pitchers like Patrick Corbin, and Kevin Gausman is most surprising, as it's a calculated risk putting him ahead of veterans.
Matthew Boyd (SP, DET) - Pick 159
For many fantasy managers, any pick is too early for Boyd. Consider that he was taken 320 overall in the TGFBI mocks as a consensus across multiple leagues and we see that not too many analysts are in on a Boyd bounce back. He managed to toss three quality starts with an ERA of 6.71 that wasn't lower than that all season long. Boyd has never managed to hold an ERA under 4.23 over a full MLB season, so it's hard to find reasons to have faith in him when a new crop of arms in the Detroit farm system are ready to do a full takeover for a rebuilding team.
What Took So Long?
Luis Robert (OF, CHW) - Pick 56
Those who took a chance on Robert early in 2019 drafts felt pretty good as soon as they saw him launch (literally) his first bomb.
Exit velocity: 111.4 mph ?
Distance: 419 feet ?

Luis Robert absolutely crushed his first career homer. pic.twitter.com/HbgACvyeuw

— MLB Pipeline (@MLBPipeline) July 26, 2020

He later crushed a homer that traveled 487 feet and wound up with six HR at an exit velocity of 110 MPH or more. It's safe to say the power tool has been fully activated.
He also ranked among the leaders in sprint speed and was one of seven players to reach the 9-9 club in 2020. OK, it's not quite 10-10 but the point remains he has a power-speed combo that is rivaled by few.
The downside is a 41.4% Whiff rate that was third in the league and a bad finish to September where he hit .136 with just one homer in his past 81 at-bats. There will be peaks and valleys but if the final result is a Ronald Acuna-like ascension to stardom in year two, waiting past pick 50 to select him would be inexcusable.
Yordan Alvarez (DH, HOU) - Pick 141
This will be one of the most wildly variable picks throughout the offseason. First, we need to know if Alvarez is going to be healthy heading into the season. Then, we need to sort out whether his sizzling rookie season is repeatable. The fact that he now qualifies at Utility spots only in many leagues could put a dent in his ADP as well although it really shouldn't, as Nelson Cruz continues to prove decade after decade.
It's hard to tell whether the RotoBaller crew collectively felt the risk wasn't worth it or nobody wanted to be the first to grab him. He doesn't automatically need to be treated like a top-100 pick but he should be taken ahead of more volatile players like Miguel Sano or an aging J.D. Martinez.
Jose Altuve (2B, HOU) - Pick 151
I made the mistake of giving up on Altuve too soon before the 2019 season. His speed predictably took a dive but he proceeded to crush 31 HR instead while batting .298 and scoring 89 runs. Everything took a dive in 2020, including an inexplicable .219 average. No trash can jokes here, just a reminder that you're drafting him for average and runs, not speed anymore.
The plate discipline is definitely a concern, as his strikeout rate continued to rise for the fifth straight year, up to 18.6%, and he chased more than ever. I still believe he'll see an uptick in his .250 BABIP and he's not done quite yet. Pick 106, where his ADP landed in TGFBI mocks, is too rich for me but 151 is also too low.
Jorge Soler (OF, KC) - Pick 203
Chalk this up to user interface negligence. The platform we used only listed Soler as UTIL not OF, so he along with Alvarez may have been skipped over during player searches. The players were also not sorted by any rational projection or ADP ranking, so it would have been easy to overlook Soler. His fantasy value wasn't great in the short season as his average sank to .228 and he missed time on the injured list. Still, a 99% Barrel ranking says that the power is still abundant and he's in his prime at 28.
Justin Turner (3B, LAD) - Pick 284
Can't blame the COVID-filled on-field celebration for this pick because it was made before the World Series wrapped up. It could very well turn out that Turner suffers a post-championship hangover but going almost 100 picks later than the consensus is a bit puzzling. He posted his typically stellar expected stats, some of the best of his career in fact, with a .299 xBA and .553 xSLG.
His home run total did take a dive, down to four over 42 games, and age is obviously a concern. If he returns to man third base for the blue crew and is hanging around after pick 250, there is no reason to pass him by.
Andrew Benintendi (OF, BOS) - N/A
Not a single RotoBaller wanted anything to do with Benintendi. It's understandable considering how he sunk a lot of teams before landing on the IL and mercifully cutting his season short. It doesn't seem possible that a .103/.314/.128 slash line is in any way indicative of a skill decline at the age of 26. We must assume the rib cage strain that forced him off the field was nagging at him throughout his brief 39-AB stint in 2020 and thusly dismiss it accordingly. It doesn't mean we have to invest on draft day, however.
Spencer Howard (SP, PHI) - N/A
I was certain that Howard stan @Nt_BurtReynolds would snag him at some point but he didn't. Neither did anyone else for that matter. Although he had a rough debut, coughing up six homers in six starts leading to a 5.92 ERA, there's enough talent in this top prospect that I'd expect someone to take a late-round flier on him. The same goes for Casey Mize and Tarik Skubal who weren't drafted in our mock either. I can only assume prospect fever will kick in after a couple of sharp spring training outings.
As stated earlier, this draft wrapped up before the World Series was finalized. There's little doubt that this amazing rookie would have gone sooner due to recency bias.
#TBT to Randy, the record-setter, Arozarena smashing records left and right for the @RaysBaseball this postseason! #RandyRakes #RaysUp pic.twitter.com/1vMt2CYH7c

— FOX Sports Sun: Rays (@FOXSportsRays) November 19, 2020

Whether that would be a smart decision is a matter for deeper discussion, which we've already had on the WPC+ podcast about Arozarena's 2021 ADP and projected value. This will be a player that is hotly debated all offseason for sure but don't expect his draft position to come anywhere close to what you see here. He is likely to be gone inside the top 80 in most drafts and it wouldn't be a shock to see him taken within the top 50, which is already happening even in highly-competitive NFBC leagues. You've been warned.
Randy Arozarena's 2021 NFBC ADP

Overall: 54.8, OF15
Since 11/1: 51.6, OF14

RA is talented with a bright future, but no way do I want to have him as my OF1 in 2021.

What is his ADP gonna be by Feb/Mar? Top-40? Damn.#FantasyBaseball pic.twitter.com/FXrQjYiKXB

— Eric Cross (@EricCross04) November 18, 2020
Download Our Free News & Alerts Mobile App
Like what you see? Download our updated fantasy baseball app for iPhone and Android with 24x7 player news, injury alerts, sleepers, prospects & more. All free!


More 2021 Fantasy Baseball Advice