Be sure to follow me on Twitter @TeeOffSports to get more answers this week, and if you aren't doing so already, I'd love for you to consider signing up for my RotoBaller premium subscription. There are numerous tools available, including my heralded 'PGA Rankings Wizard Model.'
PGA DFS Rankings Wizard - The Memorial Tournament
We have some exciting changes that we are implementing this year over at RotoBaller. There will be multiple subscription-based tiers for our readers to enjoy, including my very own TeeOffSports VIP Package that will include the following items:
PGA Rankings Wizard Model (Pre-Tournament)
A powerful and interactive data spreadsheet that allows user inputs to create custom rankings and models for golf. If you are considering signing up, take a look at this how-to guide of everything you can find weekly inside my pre-tournament model. The sheet is loaded with sortable and weighable information to help you in all sectors of the market. 
Vegas Report (All Pre-Tournament Bets)

Top Pre-Tournament H2H Pick: (104-60-9) 63.41%
All Pre-Tournament H2Hs: (234-174-23) 57.35%
Total H2Hs Since 2017: (434-301-59) 59.05%
Outright Winners Since 2017: 36
Units: +311.229 Units
All Totals Are Entering 2023
In-Tournament Model (Updated Stats + User Configuration Ability)
Here you will find updated stats for the particular tournament – all sortable and weighable when you make a copy of your own under the file tab. The purpose of this is to provide an area where you can research the daily proceedings for DFS strategy or find outright or daily head-to-head wagers. There are over 25 weighable categories by the time round four comes around, including the ability to add back in your pre-tournament research for every day.
In-Tournament Head-To-Head Bets For Rounds 1,2,3 and 4
Lifetime Record: (200-127-36) 61.16%
First-Round Leader Article
Eight first-round leader wins in 2022.
One & Done (Deep-Dive Into Potential Options To Consider)
10+ million in earnings during two of the past three seasons while providing information for contests. We will take a comprehensive look into a handful of options to consider.
Late DraftKings Article (Condensed Player Pool)
We will build off the Monday article throughout the week and consolidate selections toward a more concrete player pool for everyone to consider by Wednesday.
Premium Discord Access
Join the community! There you will be able to talk to fellow subscribers and have real-time weekly chats with me.
Field
Field Size: 120
Cut: Top 65 & Ties
Top 20 Entrants: 15
Last Five Winners Of The Memorial

| | | |
| --- | --- | --- |
| 2022 | Billy Horschel | -13 |
| 2021 | Patrick Cantlay | -13 |
| 2020 | Jon Rahm | -9 |
| 2019 | Patrick Cantlay | -19 |
| 2018 | Bryson DeChambeau | -15 |
Expected Cut-Line
| | |
| --- | --- |
| 2022 | 3 |
| 2021 | 3 |
| 2020 | 4 |
| 2019 | 2 |
| 2018 | 1 |
Muirfield Village
7,543 Yards - Par 72 - Greens Bentgrass
A lot has been done to Muirfield Village over the past few years that has changed the course and how we should view it from a stylistic perspective. One-hundred and fifty yards got added to the venue in 2021 to increase the difficulty of the property. That came on the heels of the 2020 back-to-back stops at the facility, where week one produced a watered-down tournament before Jack Nicklaus ramped up the difficulty for the Memorial in week two and caused this dried-up and fiery conclusion to that event.
In fairness, I don't expect us to reach single-digit scores this time around since that second event in 2020 was driven to prove a point. This will still be a proper examination that pushes all players because Nicklaus has previously stated that he originally constructed this property in his home state with Augusta National in mind. However, there are some massive differences that I have noticed between Augusta and Muirfield after the 2021 yardage enhancement shifted the lay of the land to become this complete tee-to-green test versus a second-shot and short-game paradise.
Thick four-inch rough exists to stymie second shots and create challenging approaches into these fiery fast Bentgrass greens. That is one of the reasons we had a 71.3% driving accuracy total in 2022 but a 59.2% GIR percentage. Each of those metrics landed over five percent off their expected production rates on a random track on tour, which includes the GIR total dropping an astounding nine percent. That tells me a concerted effort was made to reward driving accuracy and punish wayward drives in today's distance-heavy essence of golf.
Obviously, it will still be of the utmost importance to render a quality second shot because of the problematic disposition of the course featuring a sub-60% GIR rate. Whenever you see that heavy of a decline, approach and around the green numbers start seeing a massive boost, but there is a reason I called this a "complete tee-to-green test" over a "pitch-and-scramble" of years past.
Let's Look At The Stats
| | | |
| --- | --- | --- |
| Stat | Muirfield Village | PGA Average |
| Driving Distance | 281 | 283 |
| Driving Accuracy | 68% | 61% |
| GIR Percentage | 61% | 65% |
| Scrambling Percentage | 52% | 57% |
| Average Three-Putts Per Round | 0.52 | 0.55 |
Key Stats 
Let's quickly run through how I built my model.
Weighted Tee To Green (35%)
Weighted Proximity + ATG (15%)
Weighted Strokes Gained Total - Fast Bentgrass (10%)
Strokes Gained Total Nicklaus Designs (10%)
Weighted Scoring (20%)
Total Driving + GIR Percentage (10%)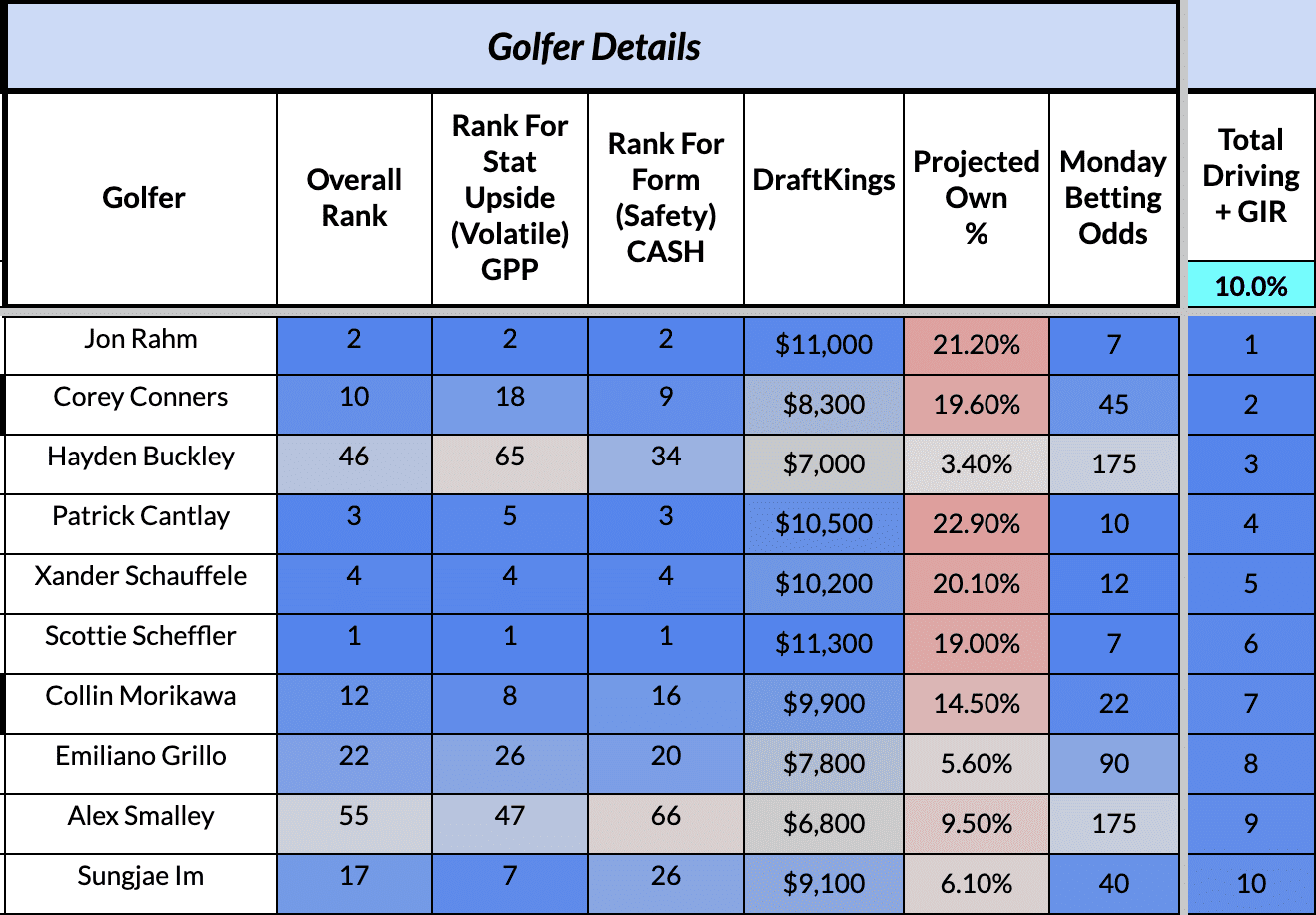 Total Number Of Top 10's Out Of The Six Categories: Two-Year Running Model


I will dive deeper into what went into these totals later in the week on my podcast. If you aren't doing so already, you can follow Bettor Golf Podcast on Twitter.
Top 50 In All Six Categories:
| | |
| --- | --- |
| Scottie Scheffler | 1 |
| Jon Rahm | 2 |
| Patrick Cantlay | 3 |
| Xander Schauffele | 4 |
| Hideki Matsuyama | 5 |
| Adam Scott | 6 |
| Rory McIlroy | 7 |
| Rickie Fowler | 8 |
| Collin Morikawa | 12 |
| Si Woo Kim | 13 |
| Sungjae Im | 17 |
| Russell Henley | 19 |
| Shane Lowry | 23 |
Fantasy Golf Lineup Picks for DraftKings (PGA DFS)
We have tons of great weekly PGA articles, DFS analysis, tools and DFS advice. Be sure to read our other fantastic articles regarding this week's event.
High-Priced DraftKings DFS Players 
***There are five players priced above $10,000. Please remember that my DFS article is always a first look at the field. Opinions might shift as the week goes on, and I am more than happy to discuss anyone further on Twitter.
These elevated tournaments have continued to generate these remarkably consistent boards near the top. Part of that stems from bookmakers and DFS platforms garnering a better understanding of value than we used to have years ago when I entered this space. Still, it has turned most of our answers into a leverage stance beyond anything else when deciphering the top names in an event.
I realize that is a boring response to give, but I don't have a massive lean one way or another as I write this article on Monday afternoon. If everyone is trending toward being 20% versus Rory McIlroy landing at a sub-10% mark, he will carry the contrarian tag that will outweigh him grading lowest of the group. However, we can look further into that as the week progresses over these next few days since there is no point in locking in a decision until we get more clarity on the market. All five targets should be considered in play, and all are strong suitors to capture this title. 
Inside Player Pool Right Now: Scottie Scheffler, Jon Rahm, Rory McIlroy, Patrick Cantlay, Xander Schauffele
***Additional cuts will come Wednesday, but I prefer being aggressive in this section and strategically bypassing in the $9,000s.
Did you know RotoBaller has a Premium DFS PGA subscription? Like what you read today? You can show your support for Spencer by using the discount code TEEOFF when purchasing a PGA Premium Pass. You get 10% off and full access to all of our Premium PGA articles, DFS tools, and Lineup Optimizer! You also get access to weekly betting picks from Spencer Aguiar, one of the top betting minds in the industry.
End of the Season Totals: @rotoballer @BettorGolfPod

2017 +54.26 Units
2018 +55.88 Units
2019 +27.743 Units
2020 + 37.015 Units
2021 + 68.846 Units
2022 +67.485 Units

Total Winnings: +311.229 Units

Total Outright Wins Since 2017: 36

H2H Totals Inside Thread… https://t.co/pNQrSK1rFE

— Spencer Aguiar (@TeeOffSports) December 12, 2022
Mid-Priced DraftKings DFS Players
$9,000 Range
A lot of the reason I am willing to stack the top of the board comes from my disapproval of this $9,000 section. I think the ownership around Collin Morikawa and Justin Thomas will be worth monitoring since any leverage might be worth looking into further, but I am okay with eliminating all names that aren't Morikawa, Thomas or Sungjae Im.
Sungjae's recent form should give us one of the better contrarian outlooks of the week, and Thomas might have the highest ceiling in this section when we dive into a weighted tee-to-green recalculation that looks perfectly made for Muirfield Village.
If markets are going to be this low on Im and Thomas, those will be the two that will make my final player pool.
Inside Player Pool Right Now: Sungjae Im, Justin Thomas 
Mid-Priced DraftKings DFS Players
$8,000 Range 
It comes down to the same answer that I keep giving of ownership being the thing to monitor over these next 48+ hours. I am not going to play all of Hideki Matsuyama, Rickie Fowler and Corey Conners if each stays in this top-five section for popularity, but I am going to trust my early math from a statistical stance before eliminating names.
If I were to power rank those three, I would grade them Matsuyama, Fowler and Conners (I expect Conners to end up missing the pool).
Inside Player Pool Right Now: Jordan Spieth, Cameron Young, Hideki Matsuyama, Rickie Fowler, Adam Scott, Corey Conners and Si Woo Kim
Low-Priced DraftKings DFS Players To Consider ($7,000+)
Check out my model for everything in this section. There, you will get individual rankings on all players and create the possibility to weigh the data to create your own model when you make a copy. Please consider signing up for this tool that I am very proud to share with the public!
These were the 10+ names that graded most favorably in either the DK difference or ownership portion of my model. All players outside the top 50 were automatically removed, and this pool will be further condensed over the next few days.
I think as a quick-turnaround answer, Tom Kim, Russell Henley, Kurt Kitayama and Keegan Bradley are my four favorite options to open this week. I see the early popularity around Tom Kim being less than ideal, but this is a prototypical course for him to find massive success during his career.
Kim's form has been better than perception, and the weighted tee-to-green of 10th landed him next to Bradley, Kitayama, Jaeger (has he played too many starts in a row?) and K.H. Lee as the only players in this $7,000 range to land within the top 20 of this field.
Sub-$6,000 Options To Consider
I don't know if I have ever uttered these words in my life, but I really like Chez Reavie in this spot. The current form is trending with five top-50 finishes in his last six starts, and the expected weighted tee-to-green is 47 spots above his expected baseline on a random course. 
Win Big With RotoBaller
Golf is back, and it's time for you to win big with RotoBaller!
Our PGA DFS Premium Package
 features several savvy analysts and proven DFS winners.
Our very own Joe Nicely recently took down a big DraftKings DFS tournament for the Travelers Championship. And as an encore, RotoBaller subscriber @tenndolly2 won $100K on FanDuel with the help of Joe and the rest of our Premium PGA team:
If you read my articles @RotoBaller or listen to @TheTurnGolfPod I've been telling y'all it was #WinningSeason when golf came back! Shoutout to the entire @RotoBallerPGA squad and all you guys that support my work for all the ❤️ pic.twitter.com/07a4ynvbSU

— Joe Nicely (@JoeNicely) June 28, 2020
Congrats @tenndolly2 ???

Thanks for being a @RotoBaller PGA DFS Premium subscriber & checking out all the amazing golf content that @JoeNicely produces every week! https://t.co/tHKZVsPbbt

— RotoBaller PGA (@RotoBallerPGA) August 10, 2020
Between all the incredible
Premium PGA DFS
content and tools we put out each week, and our Premium Slack Community where we chat with our subscribers before lineups lock, RotoBaller PGA subscribers are armed with the tools, analysis, and advice to win big.
Golf DFS News and Player Outlooks
More PGA Analysis and DFS Lineup Picks