Be sure to follow me on Twitter @TeeOffSports to get more answers this week, and if you aren't doing so already, I'd love for you to consider signing up for my RotoBaller premium subscription. There are numerous tools available, including my heralded 'PGA Rankings Wizard Model.'
PGA DFS Rankings Wizard - The Charles Schwab Challenge
We have some exciting changes that we are implementing this year over at RotoBaller. There will be multiple subscription-based tiers for our readers to enjoy, including my very own TeeOffSports VIP Package that will include the following items:
PGA Rankings Wizard Model (Pre-Tournament)
A powerful and interactive data spreadsheet that allows user inputs to create custom rankings and models for golf. If you are considering signing up, take a look at this how-to guide of everything you can find weekly inside my pre-tournament model. The sheet is loaded with sortable and weighable information to help you in all sectors of the market. 
Vegas Report (All Pre-Tournament Bets)

Top Pre-Tournament H2H Pick: (104-60-9) 63.41%
All Pre-Tournament H2Hs: (234-174-23) 57.35%
Total H2Hs Since 2017: (434-301-59) 59.05%
Outright Winners Since 2017: 36
Units: +311.229 Units
All Totals Are Entering 2023
In-Tournament Model (Updated Stats + User Configuration Ability)
Here you will find updated stats for the particular tournament – all sortable and weighable when you make a copy of your own under the file tab. The purpose of this is to provide an area where you can research the daily proceedings for DFS strategy or find outright or daily head-to-head wagers. There are over 25 weighable categories by the time round four comes around, including the ability to add back in your pre-tournament research for every day.
In-Tournament Head-To-Head Bets For Rounds 1,2,3 and 4
Lifetime Record: (200-127-36) 61.16%
First-Round Leader Article
Eight first-round leader wins in 2022.
One & Done (Deep-Dive Into Potential Options To Consider)
10+ million in earnings during two of the past three seasons while providing information for contests. We will take a comprehensive look into a handful of options to consider.
Late DraftKings Article (Condensed Player Pool)
We will build off the Monday article throughout the week and consolidate selections toward a more concrete player pool for everyone to consider by Wednesday.
Premium Discord Access
Join the community! There you will be able to talk to fellow subscribers and have real-time weekly chats with me.
Field
Field Size: 120
Cut: Top 65 & Ties
Top 20 Entrants: 9
Last Five Winners Of The Charles Schwab

| | | |
| --- | --- | --- |
| 2022 | Sam Burns | -9 |
| 2021 | Jason Kokrak | -14 |
| 2020 | Daniel Berger | -15 |
| 2019 | Kevin Na | -13 |
| 2018 | Justin Rose | -20 |
Expected Cut-Line
| | |
| --- | --- |
| 2022 | 2 |
| 2021 | 2 |
| 2020 | -1 |
| 2019 | 3 |
| 2018 | 3 |
Colonial Country Club
7,209 - Par 70 - Greens Bentgrass
At 7,209 yards, Colonial Country Club is one of the shortest courses on the PGA Tour. That factor would typically express a venue that generates a birdie fest output, especially considering the track has been known to play 200 yards less than this on any given day. However, we can quickly realize that length isn't what makes a venue problematic when you look into Colonial consistently grading as one of the more challenging stops yearly.
Tree-lined fairways and forced layups begin to stymie second shots if drives go wayward off-the-tee. I believe that is an element we can easily model since the long-term data shows a stark decrease in importance for distance. It is not as if accuracy necessarily gets a massive jump either (every off-the-tee total grades to be 3.3% less impactful here than a generic stop). Still, we are looking at a 0.25-shot correlation difference in accuracy over distance. That may not sound like a ton, but it matters when it forms a zero-impact return and rates length as a non-critical feature.
All of that points us in this direction that shows Colonial to be a venue where approach totals and putting will likely be the critical components that we need to look into to find success. Smaller-than-average greens accentuate the yearly increase that the field experiences with their flat stick. It's worth noting that 6.2% more putts get made from 10-25 feet than average, an amount that produces fewer tap-in birdies for the field. However, it adds an intriguing facet to our models when we highlight a 4.1% increase in dispersion of scoring for strokes gained approach is taking place on average.
I consider that a unique answer since irons aren't being hit as close to the pin as we usually would see weekly, rendering a belief in my model that hitting a green in regulation is worth more than any aspect we are trying to weigh for the event. When we add that to the ability to make those opportunities at a higher frequency with your putter, it starts to form this pitch-and-putt contest that will decide who will walk out of Texas 'two-stepping' their way to the winner's circle.
Let's Look At The Stats
| | | |
| --- | --- | --- |
| Stat | Colonial | PGA Average |
| Driving Distance | 278 | 283 |
| Driving Accuracy | 56% | 62% |
| GIR Percentage | 64% | 65% |
| Scrambling Percentage | 59% | 57% |
| Average Three-Putts Per Round | 0.47 | 0.55 |
Key Stats 
Let's quickly run through how I built my model.
Weighted Tee To Green (25%)
Strokes Gained Total - Short Courses (10%)
Weighted Scoring (20%)
Overall Bogey Avoidance (10%)
Weighted Approach + Weighted Putting (20%)
Total Driving + GIR Percentage (15%)
Total Number Of Top 10's Out Of The Six Categories: Two-Year Running Model


I will dive deeper into what went into these totals later in the week on my podcast. If you aren't doing so already, you can follow Bettor Golf Podcast on Twitter.
Fantasy Golf Lineup Picks for DraftKings (PGA DFS)
We have tons of great weekly PGA articles, DFS analysis, tools and DFS advice. Be sure to read our other fantastic articles regarding this week's event.
High-Priced DraftKings DFS Players 
***There are five players priced above $10,000. Please remember that my DFS article is always a first look at the field. Opinions might shift as the week goes on, and I am more than happy to discuss anyone further on Twitter.

It is hard to find too many issues when the entire group ends up grading inside the top six of either my overall or upside portion of the model. That typically suggests pricing will be challenging throughout the slate since the top of the board is landing in line for me compared to the rest of the market. That said, the ultimate decider will come down to ownership to separate these minor deviations between the group.
My early lean is that Max Homa ($10,100) will be the contrarian pivot to consider. The recent form is leaving a ton to be desired after three finishes outside the top 40 in his past four starts, but the statistical profile tells a different story that starts to push him back toward all the other names in this section. Homa graded fourth in my model for weighted tee-to-green and was the top projected player when looking at par-four holes between 450-500 yards, a territory where we will find three of the five most challenging locations at the venue.
From there, Scottie Scheffler ($11,500) and Viktor Hovland ($10,600) would be where I am moving to round out my considerations up top. The duo shared a second-place finish last week at the PGA Championship and combined to post nine top-10 finishes inside my metrics for Colonial Country Club out of 12 categories. That included Scheffler landing an impressive first in four out of six chances.
It is worth mentioning that Hovland graded above Scheffler for pure upside because of the tumultuous putter that docked Scheffler heavily when he ranked 111th out of 120 golfers in my sheet. Still, any semblance of production in that area could turn this event into a runaway win when you consider the numbers are not particularly close elsewhere when we remove the flat stick from the equation.
Did you know RotoBaller has a Premium DFS PGA subscription? Like what you read today? You can show your support for Spencer by using the discount code TEEOFF when purchasing a PGA Premium Pass. You get 10% off and full access to all of our Premium PGA articles, DFS tools, and Lineup Optimizer! You also get access to weekly betting picks from Spencer Aguiar, one of the top betting minds in the industry.
End of the Season Totals: @rotoballer @BettorGolfPod

2017 +54.26 Units
2018 +55.88 Units
2019 +27.743 Units
2020 + 37.015 Units
2021 + 68.846 Units
2022 +67.485 Units

Total Winnings: +311.229 Units

Total Outright Wins Since 2017: 36

H2H Totals Inside Thread… https://t.co/pNQrSK1rFE

— Spencer Aguiar (@TeeOffSports) December 12, 2022
Mid-Priced DraftKings DFS Players
$9,000 Range
Most of the early ownership seems to be landing on the players that my model also liked for the event. It doesn't mean we can't use some combination of Jordan Spieth ($9,900), Sungjae Im ($9,500), Justin Rose ($9,300) and Tommy Fleetwood ($9,200), but we do need to be cognizant of how popular the group is projecting before auto-locking all names into our player pools.
I likely prefer returning to Sungjae Im over anyone else after he burned the industry at Oak Hill last weekend. It will be intriguing to see where the ownership trends over the next few days, but the overall profile is highly encouraging when we remove his recent missed cut.
The same sentiment can be said when we start dismissing his past failures at this track over the last four years, which may be too negatively affecting an output that has also generated two top 15s at Colonial. I am willing to bet on that upside and typical safety over some of the one-off answers bringing down an otherwise impressive production.
And then the last player I want to mention is Si Woo Kim ($9,000), who has been the opposite of steady at this tournament throughout his career but does have the metrics you would like to see for a golfer that could succeed. Kim's upside propelled him from a floor of 45th in my sheet up to fifth when running this only from the projected statistics that I ran. That boost in expectation stemmed primarily from a weighted tee-to-green number that ranked third in this field.
I understand that the floor is undoubtedly discouraging if his popularity starts to increase, but I do like the potential if we can get Kim at sub 7.5% for the week. I can promise you that if you took this same statistical makeup from him and tossed the South Korean on any Pete Dye course in the world, he would have been 25% for this event. Consider the lack of course history to be a GPP pivot opportunity. 
Mid-Priced DraftKings DFS Players
$8,000 Range 
There is a ton of concentrated ownership in this section between Rickie Fowler ($8,900), Cameron Davis ($8,600) and Stephan Jaeger ($8,100). I'd probably rank the group Jaeger, Fowler and Davis when considering all factors, but there are two names that I will find myself trying to pivot to in a handful of spots to get different from the standard builds that the three men above will create. 
The first route is Russell Henley ($8,800), an option that is likely a better selection than Rickie Fowler when you start considering projections and ownership. Henley's 10th-place grade in my model is not creating the respect it deserves for DFS at 7.3%, and the first-place mark for weighted accuracy at this course should play well at a tree-lined venue that rewards precision. 
And then the last name that needs to be mentioned falls under the same mindset that I talked about in Si Woo Kim when we look into Kyoung-Hoon Lee's past when playing this course. Lee ($8,300) has gone missed-cut, missed-cut and 64th in his past three attempts, but the seven consecutive made weekends and statistical dominance that landed him inside the top 10 for upside is something that shouldn't be ignored. At sub-five percent, there is potential that Lee will shock gamers and makes a real run up the leaderboard.
Low-Priced DraftKings DFS Players To Consider ($7,000+)
Check out my model for everything in this section. There, you will get individual rankings on all players and create the possibility to weigh the data to create your own model when you make a copy. Please consider signing up for this tool that I am very proud to share with the public!
I eliminated anyone over 10 percent in ownership and outside the top 60 of my model. We can talk about those more popular players in another article, but it is essential to pinpoint some names that others may not be discussing. These are some of my favorite names to consider early in the week.

Weighted Tee-to-Green (Only Top-60 Options)

Strokes Gained Total - Short Courses

Weighted Scoring

Overall Bogey Avoidance

Weighted Approach + Weighted Putting

Total Driving + GIR Percentage
Top 60's Out Of The Six Categories: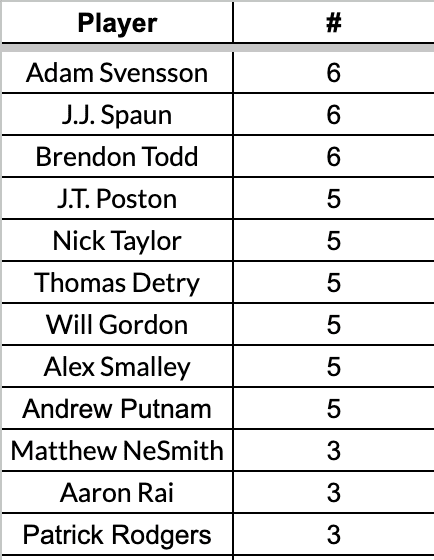 Sub-$6,000 Options To Consider
I will go with Mark Hubbard ($6,600) as the golfer I want to highlight in this $6,000 section. Hubbard has flashed recently with four consecutive made cuts, and his perfect made-cut streak at Colonial since 2020 adds more optimism to a player that doesn't have a ton of expectation at his price tag. Hubbard's top-25 grade for weighted tee-to-green in this event pairs nicely with his 17th-place mark for bogey avoidance. Don't be shocked if Hubbard surprises with a quality showing at limited ownership. 
Win Big With RotoBaller
Golf is back, and it's time for you to win big with RotoBaller!
Our PGA DFS Premium Package
 features several savvy analysts and proven DFS winners.
Our very own Joe Nicely recently took down a big DraftKings DFS tournament for the Travelers Championship. And as an encore, RotoBaller subscriber @tenndolly2 won $100K on FanDuel with the help of Joe and the rest of our Premium PGA team:
If you read my articles @RotoBaller or listen to @TheTurnGolfPod I've been telling y'all it was #WinningSeason when golf came back! Shoutout to the entire @RotoBallerPGA squad and all you guys that support my work for all the ❤️ pic.twitter.com/07a4ynvbSU

— Joe Nicely (@JoeNicely) June 28, 2020
Congrats @tenndolly2 ???

Thanks for being a @RotoBaller PGA DFS Premium subscriber & checking out all the amazing golf content that @JoeNicely produces every week! https://t.co/tHKZVsPbbt

— RotoBaller PGA (@RotoBallerPGA) August 10, 2020
Between all the incredible
Premium PGA DFS
content and tools we put out each week, and our Premium Slack Community where we chat with our subscribers before lineups lock, RotoBaller PGA subscribers are armed with the tools, analysis, and advice to win big.
Golf DFS News and Player Outlooks
More PGA Analysis and DFS Lineup Picks