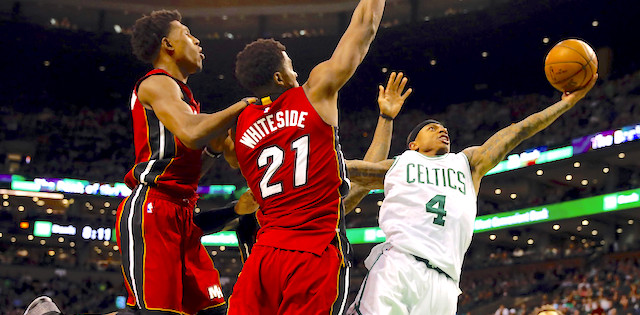 The 10th Friday of the NBA season is here and upon us. There is not a ton of great matchups despite there being 10 games on the docket. The best matchup will likely be the Bucks and Celtics. The Spurs-Timberwolves, Trail Blazers-Jazz, Grizzlies-Kings, and Pelicans-Lakers are other intriguing contests.
There were only two games on Thursday, although there were some big happenings. James Harden topped the 30-point mark for the fifth straight game as he poured in 35 points and doled out 12 assists in the Rockets 101-99 loss to the Heat. The big news of the game, however, was that Chris Paul strained his left hamstring and he is expected to be out for a while. In the other matchup, Danilo Gallinari and Luka Doncic basically traded punches as the Clippers outlasted the Mavericks 125-121.
In this article, I will be providing you with my daily fantasy basketball lineup picks for DraftKings on 12/21/18. These DFS lineup picks can vary from higher-priced players and elite options to lower-priced players and value picks on DraftKings. You can also check out today's FanDuel lineup picks. As always, don't set your lineups to early and check player statuses before the opening tip
Editor's Note: Our friends at Monkey Knife Fight have the best, most fun, fastest growing DFS props game! It's super simple to play and to win real money. Just choose your NBA, NHL or PGA game, and make your picks! Get a 100% instant deposit bonus up to $50 using promo code: BALLER. That's $50 for free - don't miss out!
Play Now!
DraftKings DFS Guards
De'Aaron Fox: PG vs. MEM ($7,200)
Fox continues to take major steps in his development and could solidify himself as a top-10 point guard in the league by the end of the year. The second-year pro has been balling in December, particularly over the past eight games where he has produced two double-doubles and topped the 20-point mark five times. He is coming off a fantastic game against the Thunder tallying 28 points, 12 assists, three rebounds, two blocks, and two steals along with four turnovers. Fox is averaging 18.2 points along with 7.4 assists, 3.2 caroms, 1.5 steals and 3.2 turnovers over the last eight games.
In terms of fantasy, the 21-year-old  is producing 38.5 DraftKings' points over the last six games and has topped the 40 fantasy points in three of the past four games. Over the last 10 contests, his fantasy floor has been 28.5 points and his ceiling was 58.75, which he accumulated against the Thunder on Wednesday.
Fox has thrived in his two previous two games against Memphis, averaging 22 points, eight assists, six rebounds, 1.5 steals, and one block. He is shooting 45.5 percent from the field, although he is just 1-for-7 from beyond the arc, against the Griz. The University of Kentucky product, who posted a double-double in his last outing against the Grizzlies (Nov. 16), is averaging 45.5 DK fantasy points against them. I also like Kemba Walker in this spot. Reggie Jackson and Malcolm Brogdon are good mid-level plays tonight. Meanwhile, Emmanuel Mudiay is a little expensive ($6,200), but he could have a field day against a Hawks' squad that is allowing the fourth-most points to opposing point guards. Fred Vanvleet could be a value play if Kyle Lowry, who is considered to be questionable for tonight, is unable to go.
Justin Holiday: SG/SF vs. ORL ($5,300)
While Victor Oladipo is the top-play here, Holiday is an excellent value play. The 29-year-old has been a model of consistency since joining the Bulls prior to last season. He is averaging over 12 points, four rebounds, two three-pointers, two assists and 1.5 steals a game during this stretch. The 6-foot-6 wing has made a three-pointer in 43 straight games.
Holiday has struggled with his shooting, as he has all season, the past three games. He is averaging just 7.3 points on 6-for-32 (18.75 percent) shooting and 5-for-23 (21.7 percent) from long distance over this stretch. However, the sixth-year pro has also compiled 13 rebounds, eight assists, five blocks as well as three steals over this three-game period.
Holiday had a solid game in his last outing against the Magic (Dec. 13) with 18 points, five rebounds, two assists, and three steals. He was 6-for-11 from the field and 4-for-5 from the three-point line. Plus, the University of Washington product has shot the ball better at home than on the road as he is shooting 46.2 percent overall and 42.2 percent from the three-point line at the United Center compared to 33.5 percent from the floor and 33.8 percent from beyond the arc on the road.
He is producing just 24.8 DraftKings fantasy points over the last five games. Holiday, who has topped 30 fantasy points five times in his last 10 outings, has a floor of 7.5 and a ceiling of 35 during this period. He is ranked as the seventh best shooting guard tonight and is projected for 27.8 points. Tim Hardaway Jr. Buddy Hield, Kent Bazemore, Reggie Bullock, and Danny Green are also solid plays.
DraftKings DFS Forwards
Robert Covington: SF/PF @SAN ($5,300)
The 28-year-old is a value play here. He is coming off his best game in December as he tossed in 22 points on 7-for-15 shooting from the floor and 5-for-11 from long range in Wednesday's loss to the Pistons. Covington also grabbed six rebounds, doled out two assists, blocked a shot and came up with a steal. It was the sixth-year vet's first 20-point outing since Nov. 28, although he has scored in double-figures in eight of last 10 games.
While Covington is struggling a little from beyond the arc, making just 33.3 percent of those shots (1.9-for-5.6) in December, he is getting to the line a little more as he is attempting four free throws a game. The Tennessee State product was excellent versus the Spurs in the teams first meeting as he totaled 21 points, nine rebounds, one assist, two blocks, and one steal. Covington has produced 28 or more Draftkings points in seven of his last 10 outings. His floor has been 15 points and ceiling 44.25 points during this 10-game stretch. Kawhi Leonard is one of the top plays at small forward. Jae Crowder, Marvin Williams, and Joe Harris are also value plays here. I also like Kyle Kuzma here but that is if Brandon Ingram (ankle) is unable to play against the Pelicans. Jonathan Isaacs and Darius Miller also could be viable plays if Jonathan Simmons is unable to go against the Magic and Julius Randle as well as Nikola Mirotic is not able to play for the Pelicans.
Derrick Favors: PF/C @POR ($4,900)
Favors' minutes have fluctuated but the 27-year-old has played well recently, compiling 13.8 points along with 6.4 rebounds and 1.2 assists while shooting 62.8 percent from the field over the past five games. He has scored in double-figures in four of last five and six of eight. The ninth-year pro has been extremely active on the boards this year as usual.
Favors is projected to accumulate 26 points against the Trail Blazers tonight. He has surpassed total in three of his last 10 games. Portland is one of the worst team's at defending power forwards, allowing 24.6 points along with 11.5 rebounds and 3.2 caroms. Opposing power forwards are shooting 48.1 percent from the field and 34.5 percent from beyond the arc against them. John Collins, Jaren Jackson Jr., and Noah Vonleh also are good plays here. Daniel Theis and Robert Williams are cheap fliers who could pay big dividends if Al Horford and Marcus Morris are unable to go against the Bucks. They both are playable regardless as Aron Baynes is out for four-to-six weeks with a broken hand.
DraftKings DFS Centers
Enes Kanter: C vs. ATL ($7,000)
Kanter, who has produced six double-doubles in December, has scored in double-figures in each of his last five games and eight of 10. He is shooting a solid 60.9 percent from the field this month. The 26-year-old has played well against the Hawks in the two games the teams have met as he has registered a double-double in both contests. Kanter is averaging 16.5 points and 11 caroms along with 36.5 DraftKings fantasy points against them. Nikola Vucevic, Andre Drummond, Marc Gasol,Jusuf Nurkic, and Willie Cauley-Stein are solid options as well. Greg Monroe could be a cheap flier if Serge Ibaka is unavailable for the Raptors tonight. Theis and Willias are also options here.
More Fantasy Basketball Analysis