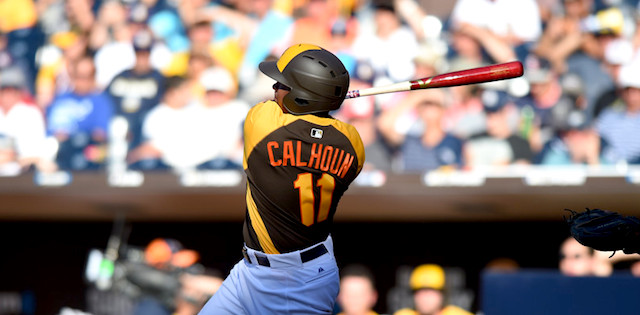 What Appears In This Article?
hide
The moves continue to trickle in. Zach Britton is heading to the Bronx, where he figures to have zero fantasy value as the team's sixth-best reliever (if he proves he's healthy). Brad Brach got the first save opportunity in Baltimore after Britton left, but the team has a bunch of arms who could receive ninth inning consideration or get traded. You probably shouldn't make a significant investment in any of them until the situation sorts itself out.
The Red Sox also acquired Nathan Eovaldi from the Tampa Bay Rays in exchange for Jalen Beeks. Eovaldi will be discussed in a future edition of this column. Beeks was already covered here. The short version is that he's turned himself into a viable fantasy streamer by adding a cutter to his arsenal. The Rays offer a better ballpark but less run support than the Sox, and might also use him in the second after an "opener" starts the game.
Below, we take a closer look at two names whose fantasy values might depend on what their clubs do at the deadline. Dereck Rodriguez is off to a hot start, but his current supporting cast hampers his already limited upside. Willie Calhoun has all of the potential in the world, but probably lacks a full-time role in Arlington unless the teams sells other assets.
Featured Promo: Get your 2023 MLB Premium Pass for 50% off. Exclusive access to our preseason Draft Kit, #1 accuracy rankings, #1 ATC projections, Team Sync platform, Live Draft Assistant, 15 in-season lineup tools, customized rankings and much more!
Sign Up Now!
The Fantasy Jury is Out
Dereck Rodriguez (SP, SF) - 29% Owned
Rodriguez has compiled an impressive 2.72 ERA in his 53 IP at the MLB level this season, but his underlying 4.29 xFIP suggests that he's not quite ace material. Still, he could be a safe patch for fantasy rosters trying to maintain a lead.
Rodriguez throws five different pitches. His fastball hovers around 93mph and has induced a lot of pop-ups this season (45.1% FB%, 30.4% IFFB%), helping "D-Rod" limit opposing batters to a .283 BABIP. It's also generated a lot of swinging strikes (11.8% SwStr%) and even an above average chase rate (35.7% O-Swing%). All of these traits are associated with high-spin fastballs, but Rodriguez's isn't special in that respect (2,072 RPM). Its 48.5% Zone% is also on the low side for a fastball, suggesting that some measure of regression is in order.
Rodriguez's second-most used pitch is a curve that primarily generates weak contact on the ground (63.2% GB%). It doesn't get called strikes (42.1% Zone%) or swinging strikes (8.2% SwStr%, 23.2% chase), so it doesn't offer much in the way of fantasy upside. It gives him a higher floor as a streamer, though.
Rodriguez is one of about a million pitcher who throws a sinker but probably shouldn't. Its 62.1% Zone% is by far the highest in his arsenal, but opposing hitters tattoo it (.348/.434/.587). It doesn't even induce that many grounders (45% GB%), making it difficult to put up with its 4.1% SwStr%.
Next up is a change that fails to stand out in any particular area. Its 48.9% Zone%, 12.2% SwStr%, and 32.8% chase rate are all fine, but nothing to write home about. Finally, his slider (called a cutter by some sources) is effectively a more traditional heater (59.8% Zone%, 7.2% SwStr%, 32.8% chase). It might be the key to succeeding at the MLB level.
Rodriguez's repertoire brings a lot of variety to the table, but he doesn't have anything with jaw-dropping upside. His MiLB career also suggests that he's more of a steady fourth SP on a big league team than a potential ace. He compiled a 3.94 ERA and 3.78 xFIP over 75 1/3 IP for Double-A Chattanooga in 2017 backed by a variety of boring peripherals (19.3% K%, 8.4% BB%, .294 BABIP, 10.5% HR/FB). Chattanooga is extremely hitter-friendly (1.223 runs factor from 2014-2016, 1.110 for HR and hits), so the season was probably a mild success.
San Francisco acquired him from the White Sox before the season and started him at Triple-A Sacramento. He was better by ERA (3.40) but worse by xFIP (4.20) over 50 1/3 IP, so it was a mixed bag. He improved his strikeout and walk numbers (25% K%, 5.2% BB%) while developing a severe case of gopheritis (17.5% HR/FB, 45% FB%). Sacramento is an extreme pitcher's park (0.756 runs factor, 0.781 for HR, 0.855 for hits), so environment can't be blamed for the homer issue.
Rodriguez's MLB numbers are more reminiscent of his Double-A work than his Triple-A stint. His 18.9% K% and 5.9% BB% are neither great nor terrible, while the long ball hasn't been an issue at all (5.5% HR/FB, 34.8% FB%). Even if his FB% starts to creep upward, San Francisco's pitcher-friendly ballpark is likely to mitigate the damage (96 runs scored factor for the last five years).
Overall, Pudge Rodriguez's son lacks the upside to catapult a mid-tier fantasy roster to the top of the standings. However, he's a safe performer in a friendly environment. He works as an injury fill-in if you're more concerned with protecting a lead than charging up the standings.
Verdict: Champ and Chump (depending on team needs)
Willie Calhoun (OF, TEX) - 17% Owned
Calhoun has been one of the more anticipated callups of the 2018 season, but he only has 19 PAs and a .167/.211/.333 line in the majors this year. He hit his first homer of the season on Tuesday night, but he can't be properly evaluated on his big league work.
That's fine, as his MiLB career clearly illustrates his strengths and flaws as a baseball player. He made his High Minor debut for the Dodgers Double-A affiliate in Tulsa back in 2016, slashing .254/.318/.469 with 27 big flies in 560 PAs. His power indicators were good (39.1% FB%, 15.7% HR/FB), suggesting that he wasn't a product of Tulsa's hitting-friendly stadium (1.166 HR factor). His 34.9% IFFB% was ridiculously high, even when you halve it to get a number on the same scale as MLB IFFB% rates. The resulting .242 BABIP limits Calhoun's batting average potential even though he seldom strikes out (11.6% K%, 8% BB%).
The Dodgers called Calhoun up to Triple-A Oklahoma City in 2017, where he did more of the same over 414 PAs. He slashed .298/.357/.574 with 23 bombs, maintaining his power indicators from Double-A (44.5% FB%, 15.9% HR/FB) despite a tougher hitting environment (0.859 HR factor). He also improved his plate discipline (11.8% K%, 8.7% BB%). Unfortunately, his batting average uptick had nothing to do with his IFFB% (30.3%).
The Rangers acquired Calhoun in the Yu Darvish trade midway through the 2017 campaign and assigned him to their Triple-A affiliate in Round Rock. Round Rock is almost perfectly neutral for power hitters (0.994 HR factor), and Calhoun still slashed .310/.345/.566 with eight homers over 120 PAs. His BB% declined to 5%, but his K% followed suit (10%). His 46.9% FB% and 17.4% HR/FB suggest that his raw power held constant, though his 37% IFFB% was even worse than his prior work. Again, the flaw wasn't apparent in his batting average.
The prospect of Calhoun's pop and K% on a rebuilding club had fantasy owners interested in him heading into the season, but 2018 has taken some shine off of the rose. He slashed .306/.360/.444 with eight homers over 408 PAs for Round Rock. His pop-up rate was still insane (36% IFFB%), so fantasy owners are likely to remain leery of Calhoun's batting average no matter how he does in the minors. Meanwhile, his HR/FB collapsed to 5.9%, causing a still-solid 40.8% FB% to amount to little. His plate discipline was fine (6.6% BB%, 9.8% K%), but where did that dependable power swing go?
Calhoun's defense is not well-regarded, so he'll have to find his power stroke if he wants to stick with the big league club. A Shin-Soo Choo trade would help immensely, but nothing is imminent on that front yet. The rush for Calhoun could be fast and furious if a regular role opens up though, so you might want to proactively claim him if you need upside.
Verdict: Champ
More 2018 Player Outlooks