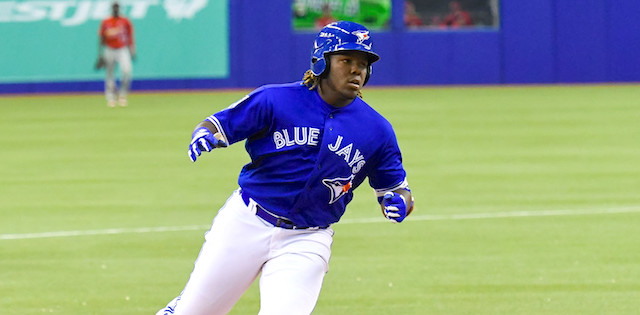 With most of the All-Star festivities in the books, it's time to get back to managing our virtual fantasy baseball teams. While some owners may be starting to tune out, that only means that you can leverage their lack of focus to your own benefit.
For example, maybe you can get a haul for "All-Star" David Dahl. It certainly sounds better than "Waiver Wire Fodder" David Dahl. Similarly, Vladimir Guerrero Jr. put on a show in the HR Derby. Most leagues don't count batting practice home runs or grade league-average production on a curve for younger players though, so you might want to leverage his recent success into something more tangible in redraft leagues.
Keep in mind, our Champ / Chump conclusions are based on whether we think a player will outperform their expectations. For example, a pitcher we view as "Tier 2" can be a Champ if they're seen as a Tier 3 pitcher, or they could be a Chump if they're perceived as a Tier 1 pitcher. All ownership rates are from Yahoo! leagues unless otherwise noted. Let's take a closer look at Dahl and Vladito, shall we?
Editor's Note: Get any full-season MLB Premium Pass for 50% off. Exclusive access to our Draft Kit, premium rankings, projections, player outlooks, top prospects, dynasty rankings, 15 in-season lineup tools, and over 200 days of expert DFS research.
Sign Up Now!
David Dahl (OF, COL)
88% Owned
On the surface, Dahl is having a reasonable campaign: .308/.352/.530 with 12 HR in 331 PAs. Unfortunately, a quick look at his home/road splits reveals that he's almost entirely a product of Coors Field. At home, he's slashing .371/.423/.616 with a 19.5 K%. On the road, he's hitting .245/.278/.444 with a 34 K%. You really shouldn't start him unless the Rockies are at home, a headache that you really shouldn't need to deal with from an All-Star.
His advanced metrics also suggest that Dahl's currently playing over his head right now. While you might expect a .300 hitter to have great bat-to-ball skills, Dahl's 26.6 K% and 15.1 SwStr% are both ugly. He chases outside of the zone too often (39.1% chase rate), but his 78.9 Z-Contact% suggest that he whiffs a lot even on hittable pitches. This profile would easily support a K% in excess of 30 percent, creating downward pressure on his batting average that owners may not be expecting.
Dahl has also benefited from a .391 BABIP that he's unlikely to sustain moving forward. Anybody in Coors Field is going to have an inflated BABIP, especially if they also have plus wheels (28 ft./sec Statcast Sprint) and a relatively low number of fly balls in their profile (33 FB%). However, his 26.1 LD% is significantly higher than his career mark of 23.8%. LD% spikes are rarely predictive of anything, so regression is likely moving forward.
His .279 BABIP on fly balls is also insane, even for a Coors guy (.199 career). His BABIP on ground balls (.225) is lower than his career mark (.255), but the decline is supported by reduced contact quality (82.3 average exit velocity on grounders vs. 84.7 mph last year). Dahl should be expected to have a BABIP in the .340-.350 range in the second half, creating more downward pressure on his average.
Losing his batting average could render Dahl unrosterable, as he has neither the speed nor power that fantasy owners covet. While Dahl is a plus runner, his 33% success rate on the bases (2-for-6) should convince the "contending" Rox to give him a red light.
Meanwhile, the lower FB% that promotes his BABIP reduces his power upside. His 94 mph average airborne exit velocity and 10.9% rate of Brls/BBE are both fine, but he doesn't tap into it often enough when only one out of every three batted balls are flies. His Pull% on fly balls is also down relative to his career norms (18.1% vs. 21%)
Baseball Savant's expected stats have Dahl down for a .263 xBA and .467 xSLG. He's likely to outperform both marks thanks to his hitter-friendly home park, but Dahl still looks like a major regression candidate moving forward. Add in the likelihood that the Rockies bench him occasionally for the Ian Desmond Experience, and Dahl's best use is as a trade chip before your rival owners notice his warts.
Verdict: Chump (based on high likelihood of regression in the second half)
96% Owned
Coming into the season as the consensus number one prospect in baseball, Vladito was a highly coveted draft asset generally taken within the first 50 picks. An oblique injury delayed his big league debut, but he hasn't yet lit the world on fire (.249/.328/.413 with eight homers in 283 PAs). Notably, the present author analyzed Vladito's MiLB resume here. He's only recorded 17 PAs at High-A and 34 at Triple-A since then, so the analysis below concentrates exclusively on his MLB performance.
One reason Guerrero hasn't hit yet is his .281 BABIP. His .227 BABIP on grounders is below the league average, but Vladito may struggle to reach the league average moving forward considering his sub-par speed (26.3 ft./sec Statcast Sprint). Likewise, he hasn't hit many liners on the year (16.2 LD%) and has endured below average results on the ones he has (.655 BABIP). Positive regression is likely in order for both of these numbers, bringing his total BABIP closer to .300 in the second half.
More concerning is Vladito's relatively low 34.6 FB%. It's only just shy of league average, but when talent evaluators give your raw power an 80 on the 20-80 scouting scale, you want to see as many fly balls as possible. His 12.9 IFFB% is also higher than most prognosticators expected, rendering a portion of his flies useless. His Statcast contact quality metrics haven't been great either (94.7 mph average airborne exit velocity, 8.4% Brls/BBE), so it's tough to forecast a significant power spike for his 12.9% HR/FB in the second half.
Expected Statistics feel that Vladito should be better than he has been thus far, but not by much. His xBA of .261 is okay, but fantasy owners were probably looking for more. Meanwhile, his .432 xSLG is nowhere near what most people think of when they hear "80-grade power."
Baseball Savant praised the 20-year old Vladito for his advanced "pitch recognition and feel for the strike zone" that "belie his age," and his plate discipline has indeed been the best part of his game thus far. He's walking 10.3% of the time against a strikeout rate of 18.6%, with reasonable underlying metrics (10.8 SwStr%, 30.1% chase rate). His value goes up in OBP and Points formats, though he still seems unlikely to live up to the hype in year one.
Vladito is still seen as an elite talent despite his lack of results to date, and his performance in the HR Derby is likely to add fuel in the fire. Vladito is incredibly gifted, but the smart money suggests that he won't put it all together in 2019. While you should obviously hold him in dynasty and keeper formats, converting him into something more immediate on the trade market is the right play in redraft formats.
Verdict: Chump (based on the hype far outpacing the production to date)
More 2019 Fantasy Baseball Advice