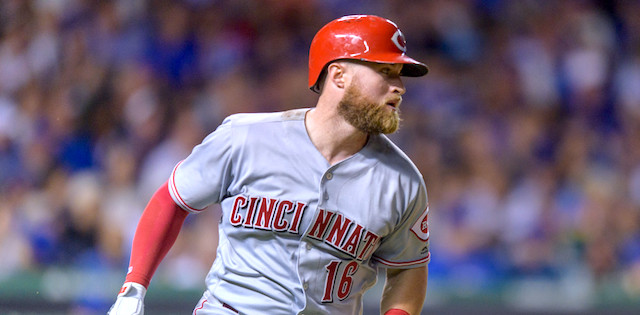 As we near the end of May, catching situations are becoming clearer and some players' numbers are starting to normalize with a larger sample size. We now have nearly two month's worth of games to better evaluate some early season cold streaks as well as some scorching-hot starts to the season.
If you're in the market for a catching upgrade this week or in the near future, we'll go through a few tiers of backstops who will fit your specific league format. Every season the waiver wire is full of potential league-winning gems and to be a successful fantasy player you need to be an active fantasy player. Some people may believe that catchers are next to worthless for your team, but if you find an unowned superior performer in your league, you'll wind up with a massive advantage over your opponents.
The catching position has the least amount of volume of any other spot on the diamond with the number of platoons utilized by teams, so understand that a part-time backstop can still be productive at the position. Whether you plan to stream this spot on your roster weekly or if you're looking to find a long term option, we'll go through a vast range of backstops who'll hopefully take you to the fantasy promise land.
Editor's Note: Get any full-season MLB Premium Pass for 50% off. Exclusive access to our Draft Kit, premium rankings, projections, player outlooks, top prospects, dynasty rankings, 15 in-season lineup tools, and over 200 days of expert DFS research.
Sign Up Now!
Top-Priority Adds
This tier is targeted towards single-catcher mixed leagues as they are likely to only be available in these formats. These backstops are also particularly serviceable and could return top-10 value in their respective lineups making it a mystery why they are unowned in the first place.
Josh Phegley (C, OAK) - 34% Owned
One of the league's most underrated catchers so far this season is Josh Phegley. He's filling up categories across the board for the Athletics this season despite batting primarily out of the ninth spot in the order. Phegley's 21 runs and seven homers rank ninth and seventh among all catchers respectively, and his 32 RBI have him tied for second. Slashing .282/.326/.524 in 42 games this year the 31-year-old is thriving in his first ever starting role behind the dish.
Phegley has battled injuries for the bulk of his playing career only eclipsing 70 games once in his previous six campaigns. As long as he stays on the field in 2019, Phegley has an excellent shot at remaining a top-12 player at the position making him an indisputable starter in all formats. HIs 27.8% line drive rate this season is a superb mark, and he has still managed to keep a strong average despite popping out in the infield a whopping 16.5% of the time. This mark is sure to regress to the 7.1% MLB average, so Phegley has room to improve on an already good-looking start. His approach at the plate and consistency to produce runs makes him an intriguing player to witness how the rest of his season unfolds.
Mitch Garver (C, MIN) - 41% Owned
When Mitch Garver landed on the injured list on May 15 with a high ankle sprain, he was undoubtedly the top catching breakout of the season. With nine homers, 20 runs, and 19 RBI, his dominant play still has him sitting as a top-10 player at the position despite having played in only 25 games. With his return to the Twins lineup coming as soon as this weekend, fantasy managers would be wise to snatch him up as quickly as possible.
Every day playing time will continue to elude Garver with Jason Castro picking it up with his bat and Willians Astudillo also getting starts behind the dish. The Twins thankfully have a flexible lineup that will allow Garver to find at-bats, and he's shown he doesn't need to play every single day to keep producing. His .329 batting average and .747 slugging percentage would lead all backstops in the majors, and his .414 on-base percentage would rank second. The 28-year-old's ability to reach base will give owners a sizeable advantage in AVG or OBP categories, and the rest of his counting stats will continue to climb considerably. Garver is a must-own in all formats.
Streamers/Players to Watch
The catchers in this group are either in waiver wire limbo as they are likely scooped up in two-catcher and league-specific formats or they are worth streaming for this week depending on your league size. They are not ideal single mixed league targets unless you have a deep bench to stash one of these backstops. These bats, however, have a shot at returning significant value if everything breaks right.
Tucker Barnhart (C, CIN) - 14% Owned
Fantasy managers looking to ride a hot hand should look at Reds backstop Tucker Barnhart. Riding a six-game hitting streak into Tuesday, he has a .381 average in this span including a pair of homers and five RBI. The Reds are also amidst a homestand this week which gives any player a fantasy boost. Great American Ballpark has a 1.045 park factor favoring hitters and a 1.205 rating for home runs making it one of the most hitter-friendly stadiums in the league. They're also slated to face two lefties this week who Barnhart has hit .041 points better than right-handers so far in 2019.
It's been a down season overall so far for the switch-hitting catcher. A career .250 batting average has spiralled down to .197 this season to go along with 16 runs and 14 RBI. Barnhart has improved on his pop, however, swatting five big flies with his Pull% (42.9%) and fly-ball percentage (26.2%) both at an all-time high. His career-best is 10 homers, so at this pace, that number will be easily eclipsed. A bit of positive regression is due for Barnhart as well with his BABIP coming in at an abnormally low .231 while his 4.8% Barrel% and 28.6% Hard Hit% sit well above his career norms. This hot streak could be the start of something big for Barnhart, and he should be at least on watch lists in single-catcher leagues.
Yan Gomes (C, WSH) - 15% Owned
So far in his first season with the Nationals, Yan Gomes has struggled to find his groove. Hitting .239 with two homers, eight runs, and 16 RBI, to say he's disappointed offensively would be an understatement. So why is he featured in a waiver wire article? With hits in six-straight games, Gomes may be turning a corner. In this span of games, he's knocked in five runs and has swatted three doubles, a sign that perhaps some fence-clearers may be upcoming. Gomes has averaged nearly 16 homers a year over his past four healthy seasons, so it's only a matter of time until we see him break out in this category.
Gomes has struggled to put the ball in the air so far in 2019. His 22.6% FB% is by far the lowest of his career, although it still sits above the major league average. Gomes' eye at the plate certainly isn't to blame for this decrease with his 9.2% walk rate sitting at a career-high and all of his plate discipline metrics in line with his career averages. Something Gomes could benefit from is swinging earlier in counts as he's a lifetime .374 batter on the first pitch and he's 6-for-12 with three doubles and a long ball this season on this delivery. Gomes' long track record of success in all roto categories shouldn't get ignored, and expect the veteran to round into form as the warm months of summer approach.
Two-Catcher League Options
This tier meshes catchers that may still be available in two-catcher leagues, as well as league specific setups. They may carry some single-catcher mixed league value at some point, but for now, they can stay on your watchlist. They aren't necessarily going to win you a category, but they won't hurt your overall production either.
Tony Wolters (C, COL) - 3% Owned
The Colorado Rockies have found something in 2019 that they haven't possessed much of over the last decade, a productive batter behind the plate. With Tony Wolters hitting .287 including a homer, 15 runs, and 16 RBI, his addition to the lineup has given the Rockies much-needed depth at the bottom of their order. Despite playing in the most home run friendly park in the league, Wolters best season power-wise has seen him hit only three dingers, so don't expect too many more this season. Where the 26-year-old's value resides is in the batting average and remaining counting stats categories other than stolen bases of course.
Batting on a team that's scoring 5.27 runs per game will give Wolters plenty of opportunities to keep driving in and scoring runs. He doesn't hurt himself by striking out with just a 15.6% K-rate, so his average has a safer floor than most backstops. The left-handed swinger has also improved vastly against southpaws this season hitting .306 off of them versus a career .227 average against these throwers. With this adjustment, Wolters will continue to shine in the high altitude of Colorado, making him a fine play in two-catcher formats. He's on the right side of a 65/35 split with teammate Chris Iannetta and is worth riding while he's producing, especially with six more games coming at Coors Field this week.
Elias Diaz (C, PIT) - 1% Owned
With Francisco Cervelli landing on the concussion IL over the weekend, the door has officially opened for Elias Diaz to seize the catching duties in Pittsburgh. Over his last six starts, he's hitting .476 with three runs and three RBI taking advantage of his increased playing time. Diaz is still looking for his first big fly of the season, but after slugging 10 in 82 games last year, he's due for an outburst. For the year, he's hitting a modest.250 with room for improvement after missing the majority of spring training and the first month of the season with a virus.
With Cervelli's health slowly deteriorating after battling concussions throughout his career the Pirates would be wise to hand over the starting catcher reigns to Diaz sooner than later. This latest injury marks his sixth concussion, so the end may be drawing near for the 33-year-old especially with free agency looming. A .193 batting average isn't helping his cause either making Diaz a strong candidate to accumulate the lion's share of games the rest of the way for the Pirates. He'll post decent numbers across the board and won't kill you in the average category, the perfect target to fill out your second catching position.
More Waiver Wire Pickups and Streamers
Check out RotoBaller's entire fantasy baseball waiver wire pickups and sleepers list, updated daily!