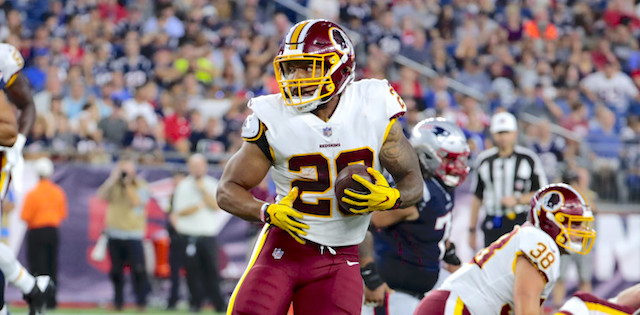 The running back position in fantasy football is historically shallow. You traditionally have your five no-brainer top running backs worthy of a first-round pick, and another 10 or so guys deserving of a top-45 pick thanks to their situation/talent/history. After that, you have a lot of gray area. That gray area is where fantasy football teams are often made and broken. That gray area is where the Washington Redskins' backfield has been hiding since Alfred Morris left town, and it's where they find themselves again in 2020.
As it stands today, Ron Rivera and company will enter camp with at least four reasonably talented runners in Derrius Guice, Antonio Gibson, Adrian Peterson, and Bryce Love. Each of these players is capable of leading the Redskins backs in snaps. Each of these players is also flawed enough to lose any starting job they win, or they could fail to separate themselves from what ends up being a four-way committee. Any time an NFL squad has four starting running backs, fantasy owners have none.
So with this crowded but intriguing backfield situation queued up for a season-long battle in Washington, it is natural for fantasy owners to have questions like, will we see anyone seize a lead role in this backfield? Could Washington go with a four-man committee? If Guice thrives, will others still provide fantasy value? Let's take a deep dive and find out the answers to these questions and more.
Featured Promo: Get any full-season NFL Premium Pass for 50% off and win big in 2023. Exclusive access to our Premium articles, 15 lineup tools, new Team Sync platform, Lineup Optimizer, Premium DFS tools and cheat sheets, and much more!
Sign Up Now!
How Will Offensive Coordinator Scott Turner Use His RBs?
The son of former NFL Head Coach and respected quarterback whisperer Norv Turner, new OC Scott Turner spent two stints in Carolina working with Ron Rivera as an offensive quality control coach and a quarterbacks coach. Turner's professional coaching experience is limited mainly to coaching the passing game (quarterbacks and wide receivers). His only experience as an offensive coordinator came in the final four games of a lost 2019 season in Carolina.
During Weeks 14 and 15 of last year, Turner coordinated in two relatively competitive contests against Atlanta and Seattle. In those games, Turner called a decidedly pass-heavy scheme, calling a pass on 65.5% of his plays. Turner's game plan skewed even more towards the pass during blowouts in Weeks 16 and 17, with Carolina passing 71.1% of the time.
During Turner's short time as offensive coordinator in Carolina, Christian McCaffrey's rushing production dipped. He averaged a mere 13 carries in those four games, which isn't surprising considering the team was passing so often. However, McCaffrey's involvement in the passing game during this time went up significantly under Turner. 33% of McCaffrey's 2019 targets came in the final four games of the season.
Now it must be said that Turner's play calls in Carolina were likely driven by the fact the Panthers were routinely playing from behind. It is also worth noting that McCaffery's passing game involvement was always substantial thanks to his talent, and it went up as Carolina's offensive line deteriorated in pass protection. However, it does not seem unreasonable to label Turner as a pass-first coordinator, even with this limited and skewed sample size. Turner has stated that he runs a 'vertical offense' in the mold of the "Air Coryell" system. He openly advocates moving players all over the field, and opening lanes in the running game by throwing past the sticks early and often.
Taking Turner's passing game history and his statements together, it seems likely that fans should expect Washington to call a 60-40 pass/run split in games which they are competitive. This split should involve a lot of intermediate/deep shots to Terry McLaurin, and 10-12 short passes to running backs and gadget players per game. This system should help the Washington running backs in PPR formats, but it could harm them in standard leagues.
What Is Ron Rivera's Impact?
Ron Rivera is a defensive coach first and foremost. When considering what his running backs could do for you in fantasy, however, it is worth taking a look at his history as a head coach on both sides of the ball.
From 2011-2014, Coach Rivera split his running back touches pretty evenly between Jonathan Stewart and DeAngelo Williams. During that time, both backs were fantasy-relevant, but neither were consistent fantasy starters. Jonathan Stewart averaged 159 rushes, 26 targets, 797 total yards (rushing plus passing), and 4.9 touchdowns per season under Rivera. Meanwhile, Williams averaged 147 rushes, 12 targets, 758 total yards, and 4.5 touchdowns during that time. This sort of timeshare was not an outlier in Rivera's Carolina scheme, either. As Head Coach in Carolina, Rivera always rotated several running backs onto the field, with one notable exception.
In 2017, the Carolina brass gifted Rivera the talents of Christian McCaffrey. As a rookie, McCaffrey quickly became an outlier in the Rivera era, netting a healthy 69% snap share before seizing the keys to the backfield during his sophomore and junior campaigns. In his second and third seasons, CMC commanded more than 90% of the team's snaps. Seeing as CMC was an outlier, however, and no one in Washington comes close to his talent, Rivera will likely return to his timeshare ways in 2020.
Since Rivera's history on offense foreshadows a 2020 timeshare in Washington, it is also worth considering how Rivera's defense could influence the backs he puts on the field and how Turner uses them.
While Rivera is renowned by many as a defensive master, his run in Carolina tells us something different. During his nine years as a head coach, Rivera's defenses have finished as a top-17 defense in terms of points allowed just three times. During that same stretch, his defenses have finished 20th or worse in points allowed five different times.
This inability to stop teams from scoring is a problem, especially if Washington wants to run the ball and control the clock.
While Rivera inherits a talented front-seven in Washington, his defensive history suggests that his offense could play from behind a lot. That means more snaps for players capable of excelling in the passing game, like Guice and Gibson, and less for ground-oriented backs like Peterson and Love.
Why Is Derrius Guice Washington's RB1?
Two years ago, Guice was a hot commodity in fantasy football. He was seen as a first-round NFL Draft talent who fell to the second round due to character concerns, landing him on a Redskins team that could and would use him often. He was viewed as the heir to Kareem Hunt's mantle as Fantasy Football Rookie Bargain of the Year, and people were projecting him to have the same kind of rookie year impact that Josh Jacobs had in Oakland a year later.
Fast forward to today, and Guice is coming off of two injury-shortened seasons to start his career. While the label "injury-prone" may not apply to Guice, or anyone if you ask some medical experts, there is a definite concern about whether this former LSU Tiger can hold up for a full 16 game season.  It is common for people coming off of knee injuries to experience soft tissue injuries and rust. With a torn left ACL that got infected, a torn right meniscus, and a sprained left MCL over the past two seasons, it is fair to worry about whether Guice might be a prime candidate for another injury (soft tissue or otherwise) in 2020. One could easily see him coming up lame again, or Coach Rivera limiting his touches for fear another injury could occur.
There is some good news to go with the bad for Leonard Fournette's old college backup, however.
The good news is that there is still a lot of love in Washington for Guice. The Redskins' Running Back Coach Randy Jordan recently told Redskins.com that the third-year back has "every tool in the toolbox." Jordan went on to state that Guice is the guy who brings "instant juice" to their offense. This love from Guice's position coach is good to hear, and it is easy to see why Jordan would be enamored with the kid, too. In just five NFL games, the LSU alum broke two separate plays for 60 and 45 yards. Guice has also displayed terrific tackle-breaking ability in his limited NFL experience, averaging 5.07 yards after contact per attempt.  For context, Ezekiel Elliott averaged 3.23 yards after contact last year, and Derrick Henry averaged 4.18.
While the sample size is supremely small, Guice's big-play potential and elite yards after contact numbers lend credence to those touting his RB2 fantasy potential if he can stay healthy.
What Is Antonio Gibson's Role?
Gibson is a hot name in the Washington backfield right now. While he is going several rounds behind Guice, fantasy owners love the former Memphis product's potential as a PPR steal in the late rounds. The love for Gibson isn't exclusive to fantasy owners, either.
Adrian Peterson has lauded Gibson as an all-around weapon, capable of taking snaps as both a running back and receiver. Ron Rivera has also labeled Gibson a 'Swiss Army Knife' that defenses must account for on every play. Such high praise from big names in the organization is a promising sign for the rookie, but those comparing him to CMC are setting themselves up for disappointment.
While Gibson's 220-pound frame is bigger and better suited for a heavy workload than CMC's is, the rookie has no experience as a primary back or receiver in Division I or the NFL. Despite Gibson having workhorse size and superior top-end speed (4.39-seconds on the 40-yard dash), the coaches at Memphis only gave him 77 total offensive touches in two years. Instead, Coach Silverfield opted to move Gibson around the formation as a gadget while using Kenneth Gainwell and Damontae Coxie as their primary back and receiver, respectively. This lack of offensive involvement is likely the reason for Gibson's limited route running, upright running style, and tendency to catch with his body. This lack of reps/touches is also a red flag for those expecting Gibson to hit the ground running as a rookie.
If Gibson wasn't good enough to be Memphis' top option in the backfield or out wide, why would things be any different during his first year in the NFL?
If Guice Is the RB1, Who Is His Handcuff?
Adrian Peterson used to be the best player in fantasy football, and he is going to be a Hall of Famer someday. He is also still a contributor in the NFL. Teams continue to value the former Sooner for his locker-room leadership and his ability to wear defenses down over four quarters.
Peterson isn't close to being who he used to be, however.
Over the past two seasons, this aging veteran has averaged 11 PPR fantasy points per game and 9.9 standard fantasy points per game. In 2019 he scored more than 10 PPR fantasy points in eight games, but he scored less than 10 PPR points in seven. While that sort of production was worth a fantasy roster spot late last season, it was also inflated by an interim coach who loved running the ball down defenses' throats and a backfield thinned by injuries to Guice, Chris Thompson, and Bryce Love.
This year Peterson turns 35 years old. He is playing with a coordinator who likes to motion backs out of the backfield and into the passing game, which was never Peterson's strength. The former Sooner also faces stiffer competition for touches than he ever has in Washington as Guice, Love, and Gibson all look to stay healthy and establish roles in this new Washington scheme. All of these factors point to Peterson's role in Washington, and his fantasy production, dipping lower than they ever have.
Expect 'All Day' to score closer to an average of five or six PPR points per game in 2020, rather than the nine or more he put up in a depleted backfield the past two years.
Does Bryce Love Have a Role At All?
At Stanford, Bryce Love had an incredibly productive junior year that saw him finish second in Heisman voting. In that exciting third year, Love displayed good top-end speed, crisp cuts, and incredible efficiency when he had good blocking. Love also showed some worrisome traits, even in his best season, however. While he was fast, it often took time for him to get to his sixth gear. While he showed good movement through open holes, he lacked the power needed to break real tackles. While he was efficient on the ground, he did little in the passing game despite having four years of opportunity.
These were only the beginning of the concerns for Love, though.
In 2018, Stanford's star runner saw his yards per carry nearly cut in half. Throughout ten games that season, he managed only 739 rushing yards, which was almost a third of what he put up in 13 games the year prior. Love's disappointing senior year didn't stop there, as he concluded it with an ACL tear that would require two separate surgeries and cost him his entire rookie year.
Today, a year and a half removed from his original injury, there are still questions about Love's durability and his place in the NFL. The Stanford product has yet to take the field since the injury, and there is little to no buzz coming out of Redskins camp, suggesting that the team is thrilled with his recovery. Remember that this is the time of year that organizations promote their players and spread good feelings, and yet all of the good feelings in Washington seem to be focused on Guice, Gibson, and Peterson. A team in need of good PR and fan engagement should be itching to talk about the recovery and return of a former Heisman finalist. Yet, they are pretty quiet on this issue.
If there were a time to buzz about Love, that time would be now, but it isn't happening.
Conclusion
From a scheme perspective, Coach Turner's history indicates Washington will have a throw to open the run mentality. That fact, along with Coach Rivera's preference for a running back committee, should give fantasy managers pause before drafting a Redskins back early in standard-scoring leagues. Of further concern is Coach Rivera's inconsistent defensive history. If the Redskins' defense (which has holes at cornerback) disappoints like more than half of Rivera's past defenses have, Washington could be throwing even more than they would like to catch up. That means fantasy managers should expect a 60-70% pass rate in Washington in 2020, with 10-20 targets going to the likes of Guice and Gibson.
From a personnel standpoint, Derrius Guice is still the best fantasy bet in Washington's backfield thanks to the edge he holds in size, age, efficiency, and talent over the others in his backfield. His current ADP of 81st overall in redrafts is reasonable, though his touches and injury history may never allow him to be anything more than an RB4 this season. Be comfortable selecting Guice in the top-90 of both dynasty and redraft leagues, but manage your expectations for him this season.
Given his ability to play the Curtis Samuel role in Coach Turner's offense, expect Gibson to receive 4-5 targets and perhaps another 4-5 carries per game. That combination of involvement and talent is worth a top-120 pick in dynasty leagues and a top-140 pick in redrafts thanks to his PPR potential. Do not expect Gibson to be a workhorse or the primary handcuff to Guice, however.
Adrian Peterson is the safest handcuff option to pair with Guice. While Gibson is the popular choice as that handcuff, Gibson's role shouldn't change too much if Guice were to go down. Peterson's power and ball security will make him the primary ball carrier if Guice were to go down to injury, and he should remain in the mix for 8-12 carries a game even if Guice is the healthy starter. Peterson is a late-round bench stash in deeper redraft leagues.
Bryce Love is a lottery ticket in 2020 fantasy redrafts, and nothing more. Though he should make the final roster in Washington as a fourth running back, he should not jump Guice, Gibson, or Peterson on the depth chart anytime soon. Love isn't the pass-catcher that Gibson is, he isn't the after contact monster that Guice is, and he doesn't provide the goal line power or leadership that Peterson does. Consider Love a deep dynasty stash and a bench option in 14 or 16-team leagues, but let him stay on waivers in traditional 12-team redrafts.
More Fantasy Football Analysis