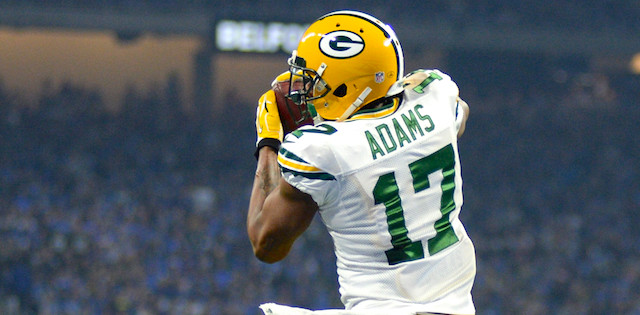 *SUNDAY MORNING UPDATE: Hi guys, I've been getting tons of questions on Twitter about the various weather situations on today's slate, so I wanted to drop some thoughts in here. I love weather from a "real football" perspective, but it sure does throw a loop in our DFS process. Check out my thoughts at each position below and good luck this week!
Hello again RotoBallers! I hope you all enjoyed a great Thanksgiving! It's been a tough week for me personally, as I've been recovering from a surgery that I had last Friday, so apologies that this week's article is running a bit behind the normal post time. We were able to lock in some huge scores last week on what was a tough slate, with Sam Darnold(!), Derrick Henry, and Zach Ertz being just a few of the highlighted players that came through big for us in Week 12. Thanks for joining me here at RotoBaller, let's dig in and find some huge scores again this week!
These DraftKings lineup recommendations are based on matchups, projected ownership, overall upside/talent levels, opportunity, and other factors such as Vegas odds, home-field advantage, and more. There are quite a few great plays available, so read on to find out which players are the best for Week 13.
Editor's Note: Get any rest-of-season NFL Premium Pass for 50% off. Our exclusive DFS Tools, Lineup Optimizer and Premium DFS Research through the Super Bowl.
Sign Up Now!
Good luck with your DraftKings DFS lineups, let's Break The Slate together!
DraftKings DFS Quarterbacks - Week 13 Picks
Lamar Jackson - SF @ BAL ($7,000)
Yes, this is a tough matchup for Lamar Jackson against a rugged Niners defense, but the Ravens electric QB is difficult to ignore, especially at this $7k price, which is the cheapest he's been since Week 9. I'm not going to dive too deep into just how good Jackson has been this season, because if you watch football at all then you already know. He obviously leads all QBs in rushing yards with 876 yards on the ground, a mark that's stands ninth in the NFL among ALL players. This San Fran defense is mean, but the Niners are 29th in the NFL in yards per carry allowed to the QB position at 5.79...so while this matchup isn't ideal, I believe it is one that Lamar can still post numbers in. The combination of his affordable price and upside makes him the top QB on the slate for me.
Ryan Tannehill - TEN @ IND ($5,700)
Similar to the aforementioned Lamar Jackson, Ryan Tannehill has a matchup that we normally wouldn't go out of our way to target, but his DFS price simply feels too cheap when compared to his recent production. Since being named the Titans starter in Week 7, Tannehill is averaging 24.78 DK points per game and is coming off an impressive 33.4-point outing against Jacksonville last week. The Colts are a middling matchup for him, as they rank 16th in yards allowed per pass, but this Indy defense that is eighth in the league in yards allowed per carry should filter some volume to the Titans passing attack. He's a great way to save salary at the QB position this week.
*SUNDAY MORNING UPDATE: I was really only personally considering four QBs this week: Lamar, Patrick Mahomes, Tannehill, and Andy Dalton. Unfortunately, it looks like three of those will be dealing with negative weather (Lamar, Mahomes, and to what appears to be a slightly lesser extent, Dalton). Tannehill is playing in a dome, but also faces a tough-ish matchup, so if you are entirely scared of the weather you can roll with him, as he's been playing very well. Lamar will be playing in some rain, but I honestly don't know how much it will impact his true strength (running the ball) in this matchup, so I'm still comfortable with him.
DraftKings DFS Running Backs - Week 13 Picks
Christian McCaffrey - WAS @ CAR ($10,500)
With his salary steadily increasing throughout the season, CMC has settled in at $10.5k over the past month. While that's wildly expensive, McCaffrey hasn't disappointed, going 40.6/29.1/33.1/34.3 since reaching the $10k threshold. He's once again an elite option this week against the Redskins. Washington is 28th in the NFL in yards allowed per carry and presents a true smash spot for the Panthers back that basically never comes off the field and is the unquestioned focal point of this offense. There's a little more value available on this slate than we saw last week, which makes spending up for CMC a legit option.
Phillip Lindsay - LAC @ DEN ($5,000)
I've been dabbling with Phillip Lindsay when building multiple lineups over the last few weeks and this is a spot that I'm willing to go heavy on the Denver back. The Broncos have paid a lot of lip service to making Lindsay "the man" in the backfield, but we haven't seen a huge change in the actual number of snaps played for Lindsay and backfield mate Royce Freeman, though Lindsay has indeed out-carried Freeman by a count of 29 to 10 over the last two weeks. I have no doubt that Lindsay is the superior back and his strong 4.8 yards per indicates just that. He gets a winnable matchup against a Chargers run defense that is 27th in DVOA. The only thing that limits his upside is Denver's questionable QB play.
*SUNDAY MORNING UPDATE: If it's possible, CMC becomes an even stronger play on this slate with all the weather concerns in other spots, not to mention the forecast of some wind in his own game. The weather in NY vs GB definitely brings both Saquon Barkley and Aaron Jones into the conversation, with me personally leaning toward Saquon rather heavily, as this was already a good matchup for him. If Le'Veon Bell wasn't already in consideration for you in a soft matchup against the Bengals, he definitely should be now with some wind expected in this matchup. Both RBs (Derrick Henry & Jonathan Williams) in the Indy vs Ten matchup are in play for sheer expected volume alone, though neither has an easy matchup. Philly's Miles Sanders has disappointed recently, but Jordan Howard has once again been ruled out which puts him in a prime position in a smash spot against the Dolphins. Though he's burned me for two-straight weeks, I'll be in on him again. Tampa's Ronald Jones gets a nice draw against a horrible Jags run D and some fairly strong wind is also expected in that matchup, which might put a dent on a game that we did expect to be pass heavy.
DraftKings DFS Wide Receivers - Week 13 Picks
Davante Adams - GB @ NYG ($7,000)
The theme of "players that feel underpriced" continues at the WR position with Green Bay's Davante Adams. Adams has battled a turf toe injury for a large portion of the year, but he's still been effective when he has been on the field by averaging 17.3 DK points per game. The volume is still there...Adams is getting right at 10 targets per game and it feels like a blowup outing is inevitable. He'll have a great chance this week against a Giants pass D that is 31st in the NFL in DK points allowed to opposing WRs and ranks 27th in pass defense DVOA. Huge production hasn't been there for Adams, but the combination of talent, volume, price, and matchup makes him a near lock for me this week.
D.J. Chark Jr. - TB @ JAX ($6,600)
33.4/39.4/27.6...those are DJ Chark Jr.'s three biggest DK games this year. The dude has upside for days, despite playing on a Jags offense that is not known for its explosiveness. If Chark were named "Beckham" or "Hill" or "Jones" we would see him near the top of the salary scale each week, but because of his lack of name recognition and the team he plays for, we've routinely been able to roster him for $6-6.5k. That is once again the case this week, as Chark comes in at just $6.6k for a matchup against one of the worst secondaries in football. Tampa Bay has been repeatedly abused by opposing wideouts and stands DEAD LAST in the NFL in DK points allowed to the WR position.
Sterling Shepard - GB @ NYG ($4,900)
Sterling Shepard should be a huge benefactor of the multiple injuries in the Giants pass-catching corps this week. Shepard has had his own injury struggles this season, but did get back on the field last week against Chicago and was targeted nine times in his return to the lineup. He isn't as explosive a receiver as I normally like to target (that honor would go to his running mate Darius Slayton who you can consider at $5.3k), but by virtue of his expected volume alone he deserves a mention here. In Tate's absence he'll slide back into the slot role in which he's been most effective throughout his career against a Packers team whose pass defense appears to be declining as the season goes along and ranks 23rd in yards allowed per pass.
*SUNDAY MORNING UPDATE: Weather always throws a wrench in pass catchers, but especially the ones I highlighted here this week, as both Davante and Shepard are expected to be faced with snow, rain, sleet, and wind. This is a tough spot, because I had intentions to basically be "all in" on Adams this week...that certainly won't be the case now, as I won't be COMPLETELY out, but will definitely scale back my exposure to hedge against the weather. I also loved Chark and all the pass catchers in this TB vs Jax game. There is some wind expected, but it should be nowhere near what players in NY will face, so I think you can remain "somewhat confident" about the prospects in Jacksonville today. Tyler Boyd immediately jumped on my radar when it was announced that Andy Dalton would return to the starting lineup for Cincy, and despite some forecasted wind, remains a strong value option (he's a target monster when Dalton plays) for me today. Tyreek Hill is perhaps the most explosive receiver in football, but his price tag is head-scratchingly high and we're looking at sustained winds in KC, so he's a large-field-GPP-take-a-stab play. Cooper Kupp has been bad lately, but I love this spot against Arizona as a bounce-back game.
DraftKings DFS Tight Ends - Week 13 Picks
Jack Doyle - TEN @ IND ($3,300)
If I'm speaking honestly, I'm never exactly fired up about rostering Jack Doyle, as he's just not a true 'slate breaker'. However, DFS is a "price considered" game, which makes Doyle a very viable option in this spot. Indy has shut down their other TE Eric Ebron and WR T.Y. Hilton will also be out in this matchup against the Titans, which should equal lots of opportunities for Doyle to post a number in this divisional clash. Tennessee isn't a matchup we would normally go out of our way to target, but it's certainly not one to shy away from either. The Titans rank 20th in the league in DK points allowed to the TE position and we can safely expect an increase in Doyle's usual 4-5 targets.
Tyler Higbee - LAR @ ARI ($2,500)
This is another "price considered" play and one that will hinge on the availability of Rams TE Gerald Everett who is listed as 'Questionable'. If Everett can't go, Tyler Higbee immediately jumps into consideration as a very intriguing salary saver. The matchup is as good as it gets. If you read this column regularly, then you know we have constantly targeted the Arizona Cardinals with TEs. Arizona is ridiculously bad against the position and ranks DEAD LAST in the NFL in DK points, receiving yards, and TDs allowed to opposing TEs. It's tough to trust any option on this Rams offense at the moment (Never thought I'd be saying that!), but Higbee got six targets when Everett left early with the injury last week, and the matchup against the Cards immediately puts him on my "cheap play" radar.
*SUNDAY MORNING UPDATE: Travis Kelce is like Tyreek Hill...he's expensive and in a questionable weather situation, but he without a doubt could win you a tournament today. Zach Ertz is active but I'm reluctant to pull the trigger. I'm really intrigued by the idea of pairing a low-owned George Kittle with Lamar Jackson in GPP builds. It probably sounds crazy, but if you are looking for a Jack Doyle pivot, I don't mind Miami's Mike Gesicki, who has been targeted at least six times in four-straight games.
DraftKings DFS Defenses - Week 13 Picks
Philadelphia Eagles Defense - PHI @ MIA ($3,600)
The Eagles have imploded offensively, but their defensive unit has been trending in the right direction as of late. In addition to keeping Philly in games by allowing an average of just 15.25 real points over their last four, the Eagles have started to flash an ability to get after opposing QBs and head into Week 13 fresh off a six-sack performance against Seattle. This week they are set to square off against a patchwork Miami O-line that has allowed 46 sacks this season, the most in the NFL. We also know that Ryan Fitzpatrick is aggressive to a fault at times, and it's not hard to envision a Philly defensive TD in this one.
Baltimore Ravens Defense - SF @ BAL ($2,800)
This is a risk/reward play, with the Ravens taking on a very good Niners team at home. While Lamar Jackson has been getting all the publicity, this Ravens defensive unit is truly coming into its own. Baltimore has only allowed 13-combined points over their last two. The addition of Marcus Peters has been a huge boost to the secondary and the Ravens have logged at least one pick in four straight games. The Niners are a well-coached offense, but Baltimore's blitz-happy unit could very well force Jimmy Garoppolo into some mistakes this week.
*SUNDAY MORNING UPDATE: D/ST is actually a spot where we might be able to take advantage of these weather concerns, as the New York Giants are dirt cheap on DK and should be helped by Mother Nature a bit. I missed the Browns in the initial write up, but they draw a matchup against Duck Hodges and a sputtering Steelers offense at just $2.6k.
More Weekly DFS Analysis