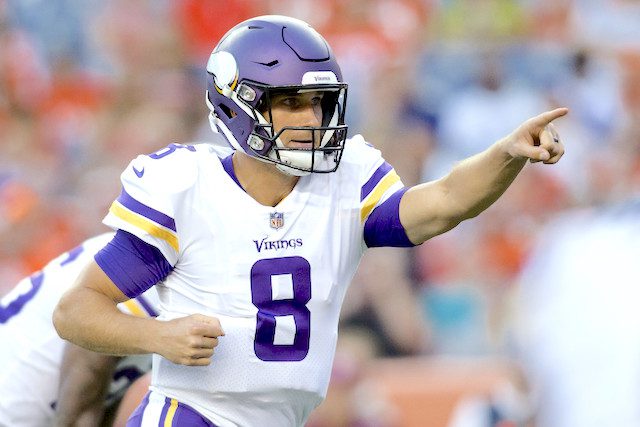 There are some players that you wish you had on your fantasy football rosters when they blow up because you just knew they had that kind of upside. But you are hesitant to pull the trigger on draft day because those same players might have 12 mediocre to bad games throughout the year among their few highlights. That doesn't cut it in most fantasy leagues but that's why we have best ball.
In a best ball league such as the Fantasy Football Players Championship (FFPC), there's no consternation about picking the right player for your weekly lineup. You always benefit from the big plays and huge games from the players on your roster. Drafting for ceiling is the name of the game. That makes certain players more valuable in this format who might normally be ignored in a redraft league. Below are some players who should be prioritized in FFPC Best Ball drafts.
Check out more FFPC draft strategy and analysis right here when you're done.
Editor's Note: Our incredible team of writers received five total writing awards and 13 award nominations by the Fantasy Sports Writers Association, tops in the industry! Congrats to all the award winners and nominees including Best NFL Series, MLB Series, NBA Writer, PGA Writer and Player Notes writer of the year. Be sure to follow their analysis, rankings and advice all year long, and win big with RotoBaller!
Read More!
This is an annual tradition of Cousins outperforming his ADP in best ball. In redraft leagues, Cousins has finished a respectable QB11 in fantasy scoring the past two seasons. Solid but not league-winning stuff. In best-ball, it's a different story. In 2021, he was the QB4 in terms of win rates (11.4% in FFPC single-QB leagues). In the 2020 season, he was the QB5.
His 2017 season placed him QB6 in fantasy scoring, but in best-ball it was epic, registering 14th among all QB seasons over the past five years.
Cousins doesn't run like Jalen Hurts or Kyler Murray. At age 34, he isn't an up-and-coming passer like Justin Herbert or Joe Burrow. And he isn't a Super Bowl champ like Matthew Stafford or Tom Brady. That's why Cousins never gets drafted like a high-end quarterback and it's exactly why he's always a great pick in best ball.
Realistically, he's a nice fallback option if you play the late-round QB strategy in redraft but that's about it. In best-ball, he becomes far more valuable because of those boom weeks. Last season, he had six 300+ yard passing games and five games with three touchdowns. Those down weeks don't cost you as much when he isn't your only QB and those big weeks help you cash in.
With Kevin O'Connell coming over from the Rams, we could see this team spread the ball around more and have a more aggressive passing game. Since joining Minnesota four years ago, he's averaged 531.7 passes per season. That number could jump closer to 600 this year. He's a solid if unexciting QB for redraft but he could be a flat-out league winner in best ball... again.
There's no reason to consider drafting Mostert in a redraft league. Even if Chase Edmonds ceased to exist, the injury risk to Mostert is high enough that he'd still be a risky pick if he were the starter.
Mostert touched the ball twice in Week 1 before suffering a season-ending knee injury last year. That was just the latest in a string of injuries over the years and now he's a running back entering his age-30 season. Here's just a sample of his injury report from PlayerProfiler.
What possible reason could we have to invest in a guy who's a walking MASH unit? None, unless you play best-ball leagues and realize that upside, not safety, wins leagues. Mostert has never been one to benefit from massive volume of touches. He's a burner who can take the edge on defenders to rip off big runs.
Think all that burst is gone because of advanced athletic age plus wear and tear? Think again.
Mike McDaniel said Raheem Mostert had the fastest timed speed at practice yesterday. Earned an unsolicited round of applause from his teammates. He bust out the biggest run I've seen all Dolphins training camp yesterday. Has some juice coming off that knee injury.

— Cameron Wolfe (@CameronWolfe) July 30, 2022
For what it's worth, that's a report from training camp without contact. Once games begin in earnest, it just takes one well-placed hit to sideline Mostert. But as long as it doesn't happen in Week 1 again, he is still worth the risk. He only needs to post a couple of big runs to appear on the box score of your best-ball league. Mike McDaniel brought him over from San Fran to Miami to do more than serve as a cheerleader on the sideline. He may only see 6-8 carries per game but that might be all he needs.
We're going with this pick based on the assumption that Deshaun Watson serves a six-game suspension as recommended and nothing drastic changes before the season based on appeals or executive orders. That would mean Cleveland receivers such as DPJ will get 11 games of Watson, who excels at the deep ball.
In his second NFL season, Peoples-Jones showed off the big-play ability he possesses even with Baker Mayfield as his quarterback. In Week 5, he stepped up with five catches for 70 yards. The next week, he blew up with 101 yards and two touchdowns, becoming a hot waiver wire add in the process. Naturally, he didn't play the next two games and was dropped everywhere just so he could go for 86 yards and a touchdown in Week 9. He'd have two more solid games sprinkled among several duds to end the year.
Peoples-Jones ran 6.7 routes per target which is not the type of volume you want to see in fantasy. Cleveland was a run-heavy team and DPJ almost solely relied on the fly route to have any impact. Frustrating to say the least but not in best-ball!
Despite only having a few shining moments, Peoples-Jones ended up with a 10% win rate. That's above the average rate of 8.6% and was higher than guys like CeeDee Lamb and Stefon Diggs. RotoViz charts player data relative to positional rankings and it shows just how boom-or-bust Peoples-Jones was in 2021.
This Browns team will be more balanced under Watson, which is why they acquired him. Peoples-Jones also jumps up the depth chart with Odell Beckham Jr., Jarvis Landry, and Rashard Higgins gone. Amari Cooper will occupy one side of the field and Peoples-Jones will start on the other as the 'Y' receiver. David Bell is there too but he's a rookie who is currently on PUP. DPJ will get more targets early and then gets his new QB for the second half of the season. If he sees even a slight target share increase coupled with the QB upgrade, we could be looking at a top-10 win rate.
Donovan Peoples Jones shows time after time that he can be a star wide receiver in the NFL.

These catches are ELITE and with consistent QB play the sky is the limit! #Browns @dpeoplesjones

Thoughts? pic.twitter.com/LJsKI2V6bh

— Offsides Sports (@OffsidesSN) July 24, 2022
The Jets offense added many weapons over the offseason in order to become competitive and boost Zach Wilson's chances of success. The ones you know and hear about are Breece Hall and Garrett Wilson but they also added three tight ends of various experience levels to give him big targets across the middle of the field. C.J. Uzomah got the biggest contract at $24 million over three years. Rookie Jeremy Ruckert has the most hype coming into Gotham as a third-round pick out of Ohio State. Then there's the man who might be most productive of the trio - Conklin, who signed a three-year deal as well.
He emerged as a receiving threat last year in Minnesota after Irv Smith Jr. went down for the season. Conklin caught 61 passes for 593 yards and wound up as the TE16 in PPR scoring but was TE6 in terms of win rates on FFPC. The reason is clear - his non-existent ADP that only rose to 285 late in the preseason. The great thing is that him heading to the Jets has served to suppress that ADP to the same level; he's currently going 282 overall in 28-round best ball leagues.
Conklin is slightly ahead of the pack as training camp is underway. Ruckert is on the NFI list with a foot injury and Uzomah was just removed from the PUP list with a minor injury as well. All three should be active by Week 1 but Conklin is the one who's been catching the most passes from Wilson this summer. The target share may not be as high as last year unless another injury occurs in the Jets' receiving corps but he's basically free, making him a great lotto ticket.
Late-Round TE Dart Throws
Look at the top-10 tight ends by win rate last year and see what they have in common:
Aside from obvious studs Travis Kelce and Mark Andrews, who finished as TE1 and TE2 in scoring, the path to success is easy - take high-upside fliers late.
There are several other tight ends I'm also drafting in the latter rounds of my FFPC Best Ball leagues as a third or fourth option at TE. With a premium scoring at the position, you should absolutely take a shot on a tight end late rather than a seventh or eighth RB who might never see the field. None of these players will or should be taken in a redraft league but in best-ball, you shoot for upside on your bench and worry about playing time later.
Here are my favorites:
Mo Alie-Cox, Indianapolis Colts - Alie-Cox hasn't done too much to be fantasy-relevant over four seasons but he stands as the starting tight end in Indianapolis. He gets a QB upgrade with Matt Ryan and no longer has veteran Jack Doyle around to steal snaps. His competition is Kylen Granson and Jelani Woods, both of who project as athletic pass-catching tight ends but both of whom are still very much diamonds in the rough. If Alie-Cox serves as a primary red-zone target, he could pay off at an ADP beyond the 200th pick.
Dan Arnold, Jacksonville Jaguars - New Jags coach Doug Pederson stated what we already know.
Doug Pederson very simply said

"I like tight ends"

Engram and Arnold Stock going up ⬆️

— Jamal St. Cyr (@JStCyrTV) July 28, 2022

While Evan Engram is the popular pick, he's still having trouble with drops in training camp despite being far away from the spotlight of New York. Arnold is a former wide receiver who is the same age as Engram and at least has some rapport with Trevor Lawrence from last year. In the eight games he was active with Jacksonville in 2021, he saw seven or more targets in half of them. Arnold isn't a great shot to score double-digit touchdowns but a league with TE premium for receptions will make him a threat for double-digit fantasy points on a near-weekly basis.
Greg Dulcich. Denver Broncos - The trendy pick is Albert Okwuegbunam, who is extremely athletic for a tight end, fits the pass-catching mold, and has a couple of years of NFL experience. Yet, we're hearing that the rookie is having a better camp and may end up starting in Week 1. Not to mention Albert O's injury past - he tore his ACL in 2020 and missed three games in 2021 with a hamstring strain. Dulcich will take some time to come along as most rookie tight ends do but even if all he delivers is a couple of strong games late in the season, he's going to reward you at an ADP of 285.
Kyle Rudolph, Tampa Bay Buccaneers - I'm honestly surprised that Cameron Brate's ADP didn't rise more immediately after Rob Gronkowski retired (again). Maybe it's because everyone half-expects him to unretire at some point during the season. Or maybe it's that it seemed obvious the Bucs would add another tight end like Rudolph. Tom Brady already knew because apparently, he was recruiting Kyle Rudolph to join Tampa before Gronk had even announced his decision.
Rudolph comes off a disappointing season with the Giants where he was targeted 39 times, catching 26 passes for 257 yards with one touchdown. He's proven to be a solid receiving option in the past and now has the chance to be a red-zone target for the GOAT, who happens to love throwing to the TE. Grabbing 5+ touchdowns doesn't seem like a stretch and he's available much later than Brate.
O.J. Howard, Buffalo Bills - If only he had stayed in Tampa, right? Howard will be behind Dawson Knox on the depth chart but there is a lot of buzz about the Bills showing '12' personnel and utilizing two tight ends more often this preseason. Howard doesn't have to do much to be of value in best ball, just catch a handful of TD passes. Seeing as how Knox scored nine times on 49 catches last year and Buffalo was third in the NFL in points scored last year, there's a better chance than you may realize of Howard becoming fantasy-relevant once more.
Download Our Free News & Alerts Mobile App
Like what you see? Download our updated fantasy football app for iPhone and Android with 24x7 player news, injury alerts, rankings, starts/sits & more. All free!


Win Big With RotoBaller
Be sure to also check out all of our other daily fantasy football articles and analysis to help you set those winning lineups, including this new RotoBaller YouTube video:


More Fantasy Football Analysis