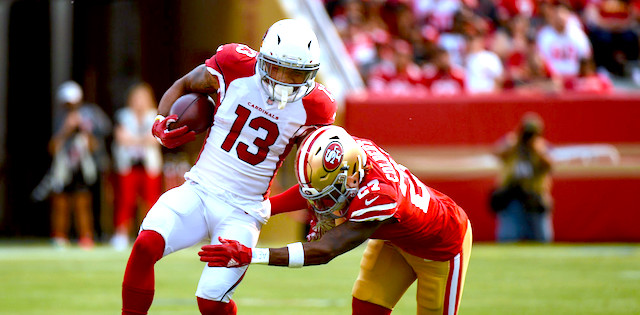 I think that there are times when we fantasy football writers need to own up to our past mistakes. I'm not talking about small things like "telling someone the wrong start/sit" or "being wrong about a sleeper pick," because those things happen. No, I mean when we get things very wrong, as I did back in 2017 when I published this article about how the Arizona Cardinals were on their way up in dynasty.
I really thought guys like Blaine Gabbert and Jaron Brown were going to be key pieces of a future Arizona offensive attack. But I've grown since then, and am ready to make amends by looking once again at the Arizona Cardinals from a dynasty perspective and actually getting things right this time.
Let's talk about why this time is the right time to buy into the Arizona Cardinals in dynasty leagues.
Editor's Note: Get any full-season NFL Premium Pass for 50% off. Our exclusive In-Season Lineup Tools, Lineup Optimizer and over 150 days of Premium DFS Research.
Sign Up Now!
Kyler Murray Will Be A Good Quarterback
The Cardinals did some unprecedented in this year's NFL Draft, taking a quarterback the year after taking a quarterback. Since the merger, that's only happened once, and there were special circumstances surrounding that one. In 1982, the Baltimore Colts took Art Schlichter with the fourth pick, but he was suspended indefinitely for gambling after one year, and the team then picked -- and traded -- John Elway in 1983.
Teams just don't pick a first-round quarterback and then come back the next year and do it all over again, but the Cardinals and new head coach Kliff Kingsbury saw in Murray the perfect player to run Kingsbury's Air Raid offense. He ran a very similar offense perfectly in his one year as a starter at Oklahoma, completing 69 percent of his passes for 4361 yards, 42 touchdowns, and just seven interceptions. Murray also made a big impact with his legs, turning 140 carries into 1001 yards and 12 touchdowns. He was the most lethal player in college football, a guy who coupled the high-tier rushing ability we'd seen from other quarterbacks with the kind of accuracy that we didn't always see from other scramblers. Despite being a first round pick in the MLB Draft, Murray decided to stick with football after that performance and here he is now, the top pick in the NFL Draft.
Murray's undersized, but that should be a huge deal since he'll be taking most of his snaps from the shotgun and he's got the ability to get out of the pocket. I would worry about a quarterback his size if he was your classic drop-back, stand in the pocket kind of guy, but Murray's skills mean that he doesn't need to be that guy.
Murray's also in the right offensive scheme. For years, Air Raid concepts were seen as something that was too tied in with college football, a gimmick that wouldn't work at the NFL level. But the NFL has become much more open to those concepts lately, and last year an Air Raid quarterback, Patrick Mahomes, won the MVP. Offenses are spreading the field, running from the gun, and emphasizing the pass game. This is an offense that should be designed to put up big numbers, and while the initial expectations should be fairly low -- the team has offensive line issues, they've got a lot of young players, Murray is a rookie -- I do expect things to solidify as the year goes on, and Murray should be one of the best fantasy quarterbacks in the league by his second or third season. He's the only quarterback who should be a first round rookie pick in non-Superflex leagues this year.
The Run Game Still Features David Johnson
Last year was a really disappointing season for David Johnson, who returned from a wrist injury that limited him to just one game during the 2017 season. He played all 16 games in 2018, but finished with just 940 rushing yards, 446 receiving yards, and 10 total touchdowns. Those are fine numbers, except Johnson was dominant back in 2016, gaining over 2000 scrimmage yards and scoring 20 total touchdowns, and many people were drafting him in fantasy because they expected a return to that level of play.
But last year, Johnson was running behind an offensive line that PFF ranked as the NFL's worst last season, and it's really hard to be an effective running back with a line that bad. Factor in that rookie quarterback Josh Rosen was ineffective when on the field and Johnson was just not in a good place. He ran against stacked fronts 31.8 percent of his carries, the seventh-highest rate among running backs, and against light fronts on 25.6 percent of his plays, 53rd among backs.
He also ran out of the shotgun less than most other backs, finishing 48th in shotgun carry rate. With Kyler Murray in tow and the Cardinals stretching the field, expect more carries against base or light fronts, more carries out of the shotgun, and an increase in Johnson's per carry efficiency. Johnson is still a strong dynasty pick, and while I haven't solidified by dynasty rankings yet, I'll probably have him somewhere around the 10th running back in them.
All Those Receivers, Y'all!
So, there's a lot to deal with here, so let's just take a look at all the Cardinals receivers who aren't named Larry Fitzgerald and are in their first or second season. (Sorry, Chad Williams and Kevin White!)
Here's my Dynasty Price Check for Kirk from before the Draft, though it's a little outdated after all these moves.
Kirk's the number-two guy right now, though he could move up on the depth chart should Larry Fitzgerald show his age this season (or end up not a member of the Cardinals by the start of the season, though that seems unlikely).
I liked a lot of Kirk's per play efficiency numbers last year, which suggested that he was a top-40 receiver in the NFL as a rookie, even if he finished outside the top 50 in fantasy. Of particular note was his ranking of 12th in true catch rate, which takes into account catchable targets. Kyler Murray may struggle with his accuracy as a rookie because rookie quarterbacks often struggle, but long term, Kirk's really good at catching passes that come near him, and Murray's ball placement in college suggests that he should figure things out by 2020. If you can buy in on Kirk, do it.
Butler is that big bodied, red zone guy who Kyler Murray is going to love when the Cardinals get close to the end zone. Should be able to make contested plays and also be a great downfield target for when Murray wants to throw it deep. My only worry in re-draft is that he probably opens the year as the fourth option among the team's receivers, which limits his immediate upside, but we're mainly talking dynasty here, so I think once he develops a little more in terms of routes, he can be a very solid piece for this team. I'd call him an early second round rookie draft pick.
For a more in-depth breakdown of Isabella, check out this piece I wrote before the Draft.
Of the three rookies, Isabella is my favorite to make an impact right away because he's so versatile. I'm probably beating a dead horse by making this comparison again, but Isabella reminds me a lot of Keke Coutee, a fast, undersized guy who can make plays out of the slot but who can also motion around the formation and be used on sweep plays. Isabella also played running back at the start of college, so I think he can be really effective if he gets the ball out in the flat or if he's motioned into the backfield. I could see him sneaking into the bottom of the top-50 in PPR scoring as a rookie and his long term outlook as this offense improves is even better. Late first round pick in rookie drafts.
While we can probably write off Johnson in terms of immediate impact just based on the numbers, he does two things really well that can help him stick in the league: he runs his routes well and he's got good hands. He can be a good second or third target in the NFL, but this receiving corps presents an uphill battle for him to get snaps. He's worth a later round rookie draft pick.
To end this, I'd like to talk about the guy who I keep thinking will break out and who keeps not breaking out, Cardinals tight end Ricky Seals-Jones. Murray's main tight end, Grant Calcaterra, had 26 catches for 396 yards and six touchdowns last year, while Texas Tech tight end...
Oh, Texas Tech just didn't use their tight ends because Kingsbury's offense was almost exclusively four receivers and a running back?
Well, that's a bit of a disheartening start to this section! But just for blocking purposes, I expect to see more tight end usage than Texas Tech used, and Seals-Jones has shown promise as a receiver in the past, though he's also got to battle Charles Clay for snaps.
Seals-Jones was targeted 69 times last year, but just four of those were inside the red zone, so it's hard to predict what he'll do this year. He's not likely to suddenly become a huge red zone threat, and he'll be fighting for touches across the rest of the field with all the new pieces in Arizona. I have Seals-Jones as a faller after all of this, and while I still believe in his skill, I'm not sure if he's going to be able to improve his numbers enough to get into the TE2 discussion.
More Fantasy Football Analysis