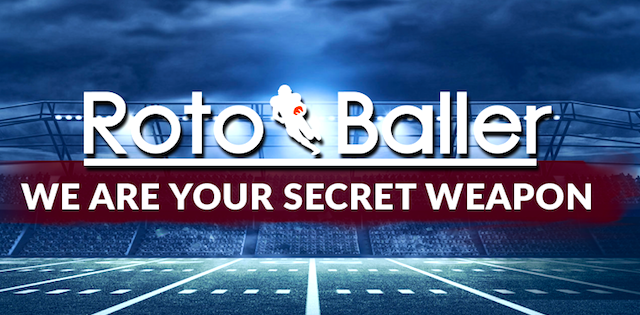 Here at RotoBaller, we want to help you make the most of your dynasty rookie drafts, so we'll be breaking down some guys who aren't the big name, first-round rookie picks that you're already hearing about. D.K. Metcalf? David Montgomery? Josh Jacobs? Yeah, we know them, but what about the guys who'll be available later in your drafts?
Today, we're talking about UMass wide receiver Andy Isabella. Isabella has become less of a sleeper since the NFL Combine, when he showed off his impressive speed and jumped into a lot of people's consciousnesses, but he's still a bit of an unknown since he played at a smaller FBS school and isn't the versatile, downfield receiver that a lot of teams are looking for.
Let's talk about Isabella's college numbers, look at some tape, and then think about where he could wind up playing next season.
Editor's Note: Get any rest-of-season NFL Premium Pass for 50% off. Our exclusive DFS Tools, Lineup Optimizer and Premium DFS Research through the Super Bowl.
Sign Up Now!
NFL Draft Sleeper: Andy Isabella
Background
Isabella's college numbers are impressive. Despite a Freshman year where he finished with just 35 total yards, Isabella leaves UMass with 231 receptions for 3526 yards and 30 touchdowns, and he's also added 342 yards and two scores in the run game.
Isabella is your modern NFL slot receiver -- he's blazing fast, as evidenced by 4.31 40-yard dash at the NFL Combine, and despite being undersized at 5'8'', he's strong for his size. Isabella's height is only in the fourth percentile of NFL receivers, but his bench press numbers were in the 26th percentile. That might not sound that great, but he packs a lot more strength in relative to his size than other receivers. He's not going to break away from a lot of tackles, but he'll hold his own as a receiver over the middle and can use his legs to get to the edge.
Game Tape
In Isabella's final college game, he caught 15 passes for 219 yards and a pair of touchdowns against Georgia. Let's tape a closer look at that game.
Here's Isabella getting some work down the field in, and also here's Chris Berman for a brief second, because he's apparently been spending a lot of time around the UMass football team and has done some coaching with them? You learn new things every day!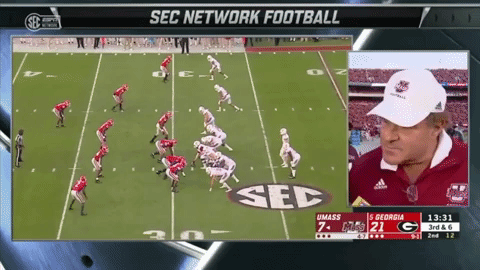 Isabella has good hands, and on this play he hangs onto the ball even as the Georgia defender is zeroing in on him. No fear! Isabella working inside is probably what we'll see the most at the NFL level, and while his catch radius isn't the largest due to his size, he should be able to bring in well-placed passes. (So, uhh, I'd really like to not see him land somewhere like Buffalo.)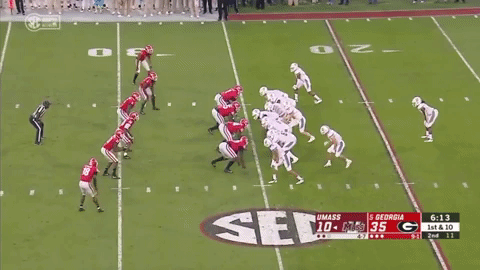 Isabella started his college career as a running back, and I think that's evident on a play like this one. He starts the play off in that slot-back spot, comes across the formation at the snap, and effectively functions as a running back dump-off option over in the right flat. Isabella is never going to be a guy who can 50/50 jump balls in the end zone or make acrobatic catches, but he's versatile in other ways and can provide a lot of help for a team on plays where he gets the ball near the line of scrimmage. That can be through jet sweep plays (we'll look at one later) or it could come from screens, but however it happens, he's got the burst to get up the field once he gets the ball.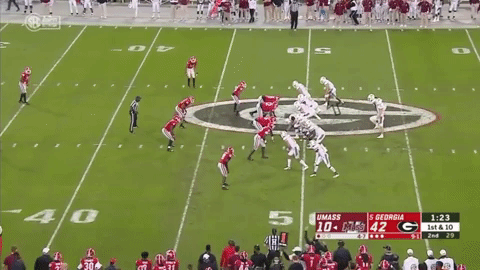 Only one small thing I want to say about the play above, which is that Isabella makes a good cut outside here to get the space to make this catch. Isabella will need to run crisp routes to find success in the NFL, and right now I trust that he can do that.
Alright, let's go ahead and look at those two touchdowns.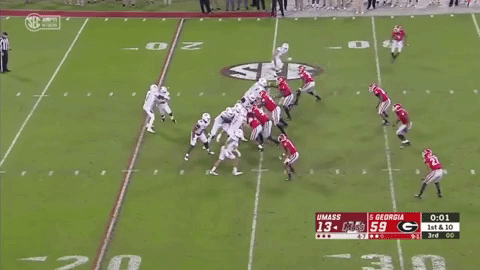 Alright, let's get this out of the way first: yes, the flea flicker drew the Georgia defense in and helped Isabella get so open down the field, but you can't just say the trick play is why this works. Isabella is blazing fast, and he gets behind the defense here. But the pass itself hits Isabella in such a way that he has to slow down for it, allowing the Georgia defense to get there. Isabella should have gone down, but he spins out of the grips of the Bulldogs, and then it's a foot race toward the end zone. The final 20 yards of this play is what really excites me; Isabella just outruns one Georgia defender, and then he makes a great cut at the end to stay inbounds and get into the end zone.
Here's his other score from that game.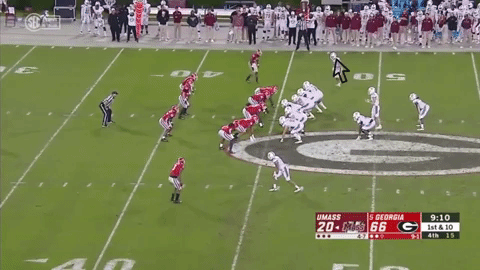 Another example of Isabella's speed. Now, I don't think we can expect this in the NFL against faster and, maybe more importantly, bigger secondaries, but that same speed can be used in other ways. There wasn't a good clip from this game of Isabella catching the ball on a crossing route, for instance, but I saw a few times where he was open on crossing routes and should have gotten the ball. That would be a great play to get him involved against NFL defenses; if Isabella can come out of the slot and get matched on a linebacker across the middle, good things can happen.
Alright, one last play.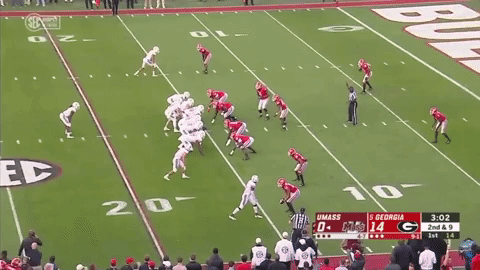 Here's Isabella getting involved in the run game. These kind of sweep plays are becoming more and more important in the NFL, and Isabella has the speed and footwork to be a problem for defenses when he's running them. UMass is playing a Georgia defense that completely overmatches them everywhere, and you can see early on in this that the blocking just isn't there. Isabella is still able to get to the edge and turn up field, though, and that bodes well for his ability to do the same in the NFL in situations where the offensive and defensive lines are a little more balanced.
(I'm not going to clip it, but they tried this same play going the other direction right after this and it didn't go well. Isabella was running into a huge crowd, Georgia seemed to anticipate the play, and he was shut down quickly, which tells me a lot about how Isabella can't beat four defenders at once! (That was a joke, by the way. Not many people can beat four defenders at once.))
NFL Outlook
I've said this multiple times on Twitter lately, but a Keke Coutee role would be great for Isabella. Find a team that needs a fast, undersized receiver who can use his speed to make plays near the line of scrimmage and can use his speed to make things happen after the catch. Isabella would be miscast if a team tried to use him on the outside (and I'm sure all 32 teams are smart enough to realize that), but on a team that has a good number-one receiver and a good secondary outside threat who can open things up underneath? To steal a basketball idea, a team that can give Isabella the spacing he needs to be successful.
Dallas is one such team. With Cole Beasley leaving town, the Cowboys could make good use of a fast, underneath guy to complement what they have on the outside with Amari Cooper and Michael Gallup. Miami just let Danny Amendola go and might be able to use a guy like Isabella, though they have larger question marks at quarterback that need to be addressed. Maybe Tampa if Adam Humphries walks?
Wherever he ends up, Isabella has the chance to be an impact player. I'd love at a mid-second cost in rookie drafts, though I know it's always good to be worried about durability with smaller receivers.
More NFL Draft Coverage