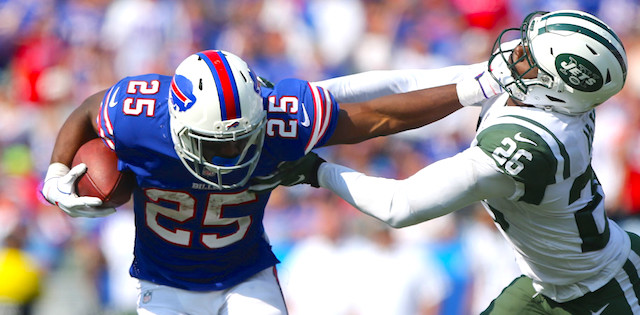 Another season, another Patriots romp over the division. Nothing new there but we still want to know who are some of the players we can look to going forward in the fantasy world.
The Bills were supposed to have the least-talented roster in the NFL and while this still may be true, because of some decent coaching and a good defense, they still did better than many expected in 2018. On the other hand, the Jets and Dolphins both had seasons which led to the coaching staffs being fired and for some reason, the entire Dolphins staff ending up in New York, which honestly seems like a worse move than bringing Jon Gruden back to coaching.
Looking back at the 2018 season in the AFC East, there were a couple of standout players but for the most part it was not a stellar division in either NFL or fantasy football terms. Nonetheless, we will look at a player from each team who came up big or dropped the torch and let their fantasy teams down to the dredges.
Editor's Note: Get any rest-of-season NFL Premium Pass for 50% off. Our exclusive DFS Tools, Lineup Optimizer and Premium DFS Research through the Super Bowl.
Sign Up Now!
Buffalo Bills
Riser - Josh Allen
Despite not kicking off the season as the starter and missing time due to a shoulder injury during the 2018 campaign, Josh Allen still proved why he was my top quarterback coming into the draft, not just with his arm strength but with his rushing ability. The accuracy issues which were prevalent in college are still a major concern with a completion percentage of only 52.8 being extremely bad, even for a rookie. His rushing ability more than made up for this, as it was a needed bonus with the decline of LeSean McCoy in full display throughout the year.
In 12 games played, including 11 starts, Allen rushed the ball for 631 yards and eight touchdowns on 89 carries; that's a 7.1 yard per carry average which made him instantly one of the top running threats from the quarterback position alongside fellow rookie Lamar Jackson in Baltimore.
A lot of this had to do with the lack of any pass catchers, leading to only 2,076 pass yards for the rookie. Hopefully, the Bills use some of their ample cap space to upgrade the receiving group this offseason. An added player like Golden Tate would do wonders for his passing numbers, not to mention his rushing stats athereir will be more people to worry about on the offense besides him.
If the team is able to acquire talented players around him and he continues to progress like he should, he could be a top-eight quarterback in this system. If the Bills don't find him help and he is forced to continue running the ball, he should still end up among the top-12 fantasy quarterbacks. Allen makes a great value with your last pick in a fantasy draft.
Faller - LeSean McCoy
While some choices for a player on the rise or on the slide are difficult, there are some which are no-brainers. LeSean McCoy was in the latter category for sure as he fell off a cliff in 2018, finishing the season as the running back 39 in PPR leagues.
On almost twice as many rushes, 161 compared to 89 for Josh Allen, McCoy garnered 117 fewer yards on the ground and also finished with five less rushing touchdowns with only three compared to the eight scored by the quarterback. This is not the backup running back or a committee back we are talking about folks. This is the lead back who was supposed to have a rejuvenated season with no other options on the team to take chances from him.
At 30 years old, Shady seems to have hit the proverbial plateau we hear about running backs hitting. It looks like a mighty decline has started for the once great player out of Pitt. If he wants to play longer it will need to be in a backfield duo,  duo which will be complicated to achieve with his $9 million salary lingering for the 2019 season.
If for some reason the Bills do not bring in competition for him in the offseason, expect McCoy to remain the lead back but not at any more fantasy value than a running back two. If they do bring in competition, such as T.J. Yeldon or Tevin Coleman, this value will drop to at best a RB3 and possibly further.
Miami Dolphins
Riser - Kenyan Drake
As I write this in January and look up statistics, I have discovered two things. Despite his mediocre numbers, Drake is not as bad as some might think and also today is his birthday, so I am going to try to be as kind as possible with this segment. The biggest boost for Drake did not come during the season but instead after the season with the firing of Adam Gase as head coach. The vendetta Gase held against Drake was not only strange but hurt the Dolphins as a team. His willingness to consistently go with Frank Gore over the younger and, at this point, more talented Drake was baffling. Dolphins fans and fantasy owners alike wondered what in the wide, wide world of sports was going on and it finally became evident after the season. Gase was purposely trying to destroy the confidence of the Dolphins and Drake in general so he could take over the Jets coaching staff and leave behind a lesser team to have to battle in-division. Maybe he isn't as bad as we thought he was as a coach. Ok, he was.
In 16 games played and only 535 rushing yards and four touchdowns accumulated, the season was for sure excruciating for those who drafted Drake as a possible starter. If you were nervous about his ability to compete in the Gase offense and he was the third running back on your roster, chances are you were just fine with his variance from week-to-week and he did not kill you.
After coming off a season in which Miami finished as the 26th-ranked offense, it should not have come as a surprise that they finished at number 27 in 2018 and now with Gase and the entire offensive staff gone, the arrow can only point up, right?
Don't draft Drake as if he will be a starter and you should be perfectly fine this season. If he is your RB2, he should bring you some value as he will be used much better under the new coaching staff than he ever was under the old regime. If you can get him in the fifth or sixth round, he should provide good return.
Faller - Ryan Tannehill
1,976 yards passing for 17 touchdowns and nine interceptions is not a stat line you like to see out of a starting quarterback. Especially in 11 games. This is barely over 1.5 touchdowns per game and only 179.6 yards per game is terrible for a running team, let alone who could not run the ball either.
In the past two seasons due to injury and bad play, Tannehill was not only replaced by the likes of a retired Jay Cutler and castoff Brock Osweiler. Embarrassingly, he was outplayed by them.
The worst thing that could have happened to Tannehill did before the season as his security blanket and best receiver Jarvis Landry was traded to the Browns in a cost-cutting move - a move which so far has backfired on both teams.
Remember when Ryan Tannehill was drafted? Those were the days. It was the Dolphins' turn on Hard Knocks in which a fan in the stands looked dead into the camera and, without laughing, said Tannehill was the quarterback to lead the Dolphins back to the playoffs. We didn't believe it then and we now know why. He may not even be on the team next season and his value has never been lower after two separate ACL injuries. He is a full avoid in drafts wherever he plays, as there are other middling quarterbacks I would much rather take a risk on. Nick Foles as a starter or even Joe Flacco if he gets a starting job. Perhaps in Miami...
New England Patriots
Riser - Sony Michel
I don't necessarily know if you can call a rookie a player on the rise, but I did it anyway. From starting the season by having to run laps for fumbling and getting hurt in training camp to where he finished the season, I think Michel is a perfect fit for this column.
Splitting time with James White, the real Super Bowl LI MVP, and Rex Burkhead, 2018 did not seem likely to be a stellar rookie season for Michel. But then Burkhead was injured and had to miss much of the season. Once his knee got healthy, nothing could stop him. He quit fumbling and in the place of Burkhead, really emerged as the goal-line back in New England as a true compliment to White as the passing down back.
This duo really led the Patriots to their 10th straight division title and eighth straight AFC Championship game. Down seasons from Rob Gronkowski and Tom Brady could have easily derailed the season if not for the play of Michel and White. This will lead to a lot more opportunities for the former in his second season with the soon to be Super Bowl champs. Guess who I think is going to win?
Michell is going to go high in fantasy drafts in 2019 and unlike some others who will be taken at such a pick, Michell could and should outperform his draft price and finish as a running back one for you. While his ceiling in New England is not that of the number one like Saquon Barkley or Todd Gurley, he will certainly remain in the conversation for a top-10 finish. Getting this in the fourth or fifth-round means you can get two elite running backs and wide receivers in the first four rounds to build a great team the rest of the way with riskier high-ceiling, low-floor players later.
Faller - Rob Gronkowski
Just as easy as it was to choose LeSean McCoy, it was just as easy for this choice. Gronkowski talked about retiring before the season if he was traded and some people kind of feel like he was retired on the field the way he played this season. After being drafted high, his TE9 finish was devastating, especially in a tight end field which was not good, let alone great enough where he should have finished anywhere near this low.
Yes, Travis Kelce, Zach Ertz and George Kittle had remarkable fantasy seasons but other than the top-three it was putrid and a top-five finish was at minimum expected from the Great Wizard of Gronk.
His 14.7 yards per catch is still incredible for a tight end but only catching 47 balls and only three of those going for touchdowns is not what we need to see out of the best tight end of the last 10 years and arguably in the history of the NFL.
Going into the 2019 season, if he does not decide to retire, Gronkowski will be 30 years of age and like many players with his history of injuries, it is an old 30. If he does come back, many people will again take him high, maybe even above one or more of the top three, but they will more than likely find disappointment. Gronkowski is no longer the game changer he once was and drafting him as an elite tight end will do damage to you fantasy hopes for the coming season. If he falls far enough to become a value, he should be snapped up accordingly, but this is not going to happen so avoid Gronkowski like the Bengals avoid a win in January and go with someone younger and with a higher floor. Target a player like Chris Herndon or David Njoku much later in your drafts.
New York Jets
Riser - Chris Herndon IV
The Jets are not known as a tight end-friendly team. Rex Ryan and Todd Bowles had a lot to do with this in recent seasons. Now that Adam Gase has arrived this may change. He made Julius Thomas look like a real tight end in Denver to get him paid and he did the same thing in Chicago for one season with Martellus Bennett.
Chris Herndon is more talented than either of the above-mentioned players and he had a solid, not great season as a rookie in 2018. The tight end position is notorious for being one of, if not the most difficult positions to achieve high levels of production as a rookie so his 39 receptions for 502 yards and four touchdowns are actually impressive. Add into the mix the not-so-stellar rookie season from Sam Darnold and his numbers become even more impressive than players whose stats may have been slightly better. Just look up to Gronkowski for an example.
Coming into the 2019 season, Herndon looks to be a player on the rise at the tight end position. Much like George Kittle in 2018, Herndon could take a major jump in his second season and also like Kittle, he will be able to be drafted extremely low if you even draft him at all. Expect him to finish as a top-10 tight end next season and with all the players you will be able to get rather than reaching for another tight end coming off a good season, like O.J. Howard or Eric Ebron, who are poised for regression, Herndon is on the ascent so get him now.
Faller - Isaiah Crowell
After four seasons in Cleveland in which he never missed a game, Isaiah Crowell finally got hit by the injury bug in 2018. Not that he was having a good season before his trip to injured reserve, but his health concerns at the end of the season and the cap space available to the Jets make it possible and likely they will go after Le'Veon Bell in free agency leaving him all but dead in fantasy leagues.
Another strike against Crowell, as discussed with Kenyan Drake, is his new head coach. While Drake is finally rid of Adam Gase, Crowell now has to deal with the offensively anemic coach in New York.
685 rushing yards and four touchdowns in 13 games is not exactly what we wanted to see behind a surprisingly solid offensive line with the Jets and despite his 4.8 yards per attempt on 141 rushes, this could be the end of the feature back role for Crowell in the NFL. There are not many teams who want to use a bell cow back in today's game as running backs have become the red-headed stepchild of the offense and Crowell does not fit this mold anyway. Can he catch the ball? Yes. But does he do it well? No. hence why both Cleveland and New York felt it needed to compliment him with backs like Duke Johnson Jr. and Elijah McGuire respectively in recent years.
If the Jets do not make a splash by getting Bell and Crowell is the starter, there could be value as a low-end RB3 next season. If he is going to be in any form of committee, it is best you stay away entirely from drafting him, as you would rather have the PPR back in McGuire.
More Fantasy Football Year-in-Review