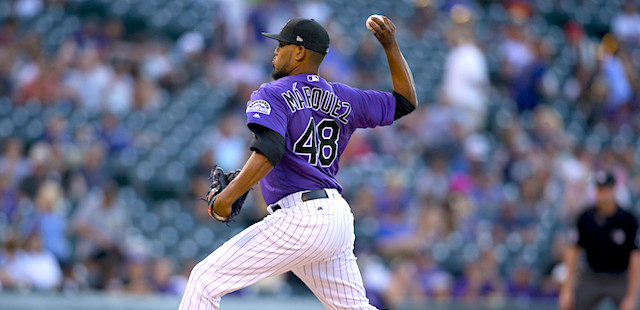 Welcome to the Monday, July 22nd edition of Daily Slivers of the Fantasy Soapbox.
Discussing baseball is as fun as the game itself. It has a way of bringing people together to share different opinions about the sport we all love. A similar action can be done with fantasy baseball where we not only discuss topics but also look to improve our teams as well as the teams of our fellow fantasy baseball enthusiasts. Everyone has their own perspectives which are not to be cast off as frivolous. They should be used as a method of expanding our own knowledge.
In this article, I review the previous day's boxscores and provide my opinion on a variety of topics. Some will be random, some will be fun, and some will be stat-driven. It's a soapbox so I may rant from time to time as well. So without any further delay, below are my thoughts on July 22nd. Enjoy them. You can even respond with your own thoughts on Twitter @EllisCan2.
Editor's Note: Get any full-season MLB Premium Pass for 50% off. Exclusive access to our Draft Kit, premium rankings, projections, player outlooks, top sleepers, dynasty and prospect rankings, 15 in-season lineup tools, and over 200 days of expert DFS research.
Sign Up Now!
Daily Musings
See, German Marquez is fine…when he's on the road(3.25ERA). Avoid at home(7.07ERA).
Age of Charlie Blackmon(33) only slowing down speed(2SB), not power(21HR).
Asher Wojciechowski had masterful 7.1IP one-hit innings w/10K vs BoSox. Angels next.
Trey Mancini doubled his enjoyment w/two trumpets out of Camden. Career-high on the horizon.
46% owned, Andrew Cashner pummeled as Red Sox starter. 9R in 11IP vs TOR/BAL. Yankees are salivating.
Carlos Martinez w/five SV in last nine games.
Yairo Munoz w/combo meal. Who?! 24-year-old 2HR, 5SB, .306AVG, but 47%Chase & 57.8%ground-ball rates. I'll pass on part-time guy.
Phillip Ervin, another part-timer, 2HR, 1SB, .347AVG..489BABIP. 154wRC+. More playing time = More interest of his speed.
Anthony DeSclafani not getting enough respect due to 4.18ERA(4.48FIP). I like the 3.89K/BB.
Blake Snell w/six shutout innings w/10K. Anyone still concerned?
Nick Castellanos w/HR(11). Two HR in five games is a huge hot streak for him this year. Second-half swing.
Lourdes Gurriel matches his brother, Yuli Gurriel's 18HR. Leads him w/5SB & .292AVG.
Shane Greene blows save. Very untimely in trade season.
The market is closed. Jose Ramirez w/3HR, 2SB, .341AVG last two weeks.
Dario Agrazal looks good again. 2.25ERA. 3% owned. But, 5.15FIP, 1.7%K-BB, 5.6%SwingStrike rates. HARD PASS!
Rogelio Armenteros gets W in first appearance. A piece of Houston staff brings some interest.
Joey Gallo w/five HR in last .194AVG in last month. Please, not the old Gallo.
Lance Lynn w/12K in loss. Mixed emotions.
Sweet-swingin' Michael Brantley w/two rockets(15). .332AVG tied for fourth in majors.
Shawn Kelley w/arm injury. Wish I had read the news before FAAB bidding. Jose Leclerc likely back in the job.
Liam Hendriks finally has rough patch. Second BS (0.2IP, 2ER).
Max Kepler back at leadoff. 24HR, 64RBI. Money-man.
Cal Quantrill might be Padres version of Ryan Yarbrough. Starter/Follower worked for a W. 5.2IP, 0ER, 6K.
Mike Yastrzemski w/ninth tater. Feel-good story with an old-school feel.
Michael Conforto gets 18th homer. We still yearn for the 26-year-old to reach the potential we have in our minds.
Brandon Woodruff to IL. Terrible news for a guy w/breakout year.
Keston Hiura looks good batting second. Double, Triple. Why only 63% owned?
Mike Trout continues to close the HR gap(32). The best!
Did you think Jordan Yamamoto was Dodgers-proof?
Walker Buehler latest to torture Marlins. 9-1.
A.J. Pollock adds combo meal to utter domination last two weeks. 4HR, 2SB, .406AVG. 65% owned. C'mon people.
Kevin Gausman's return was brilliant. 7IP, 1ER, 8K. I had him in my FAAB list, just down the line. Still too risky to trust.
Have a great Monday. Start the week off right.
No Fear, Just Fantasy.
More Fantasy Baseball Analysis