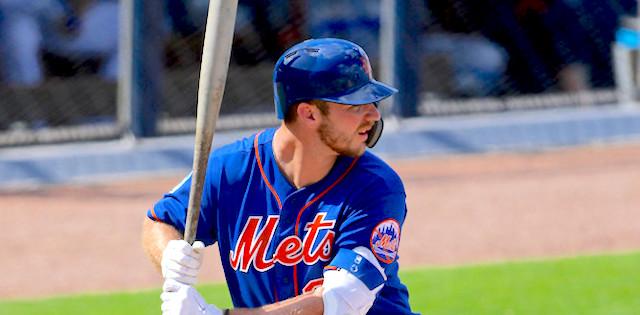 Welcome to the Thursday, July 18th edition of Daily Slivers of the Fantasy Soapbox.
Discussing baseball is as fun as the game itself. It has a way of bringing people together to share different opinions about the sport we all love. A similar action can be done with fantasy baseball where we not only discuss topics but also look to improve our teams as well as the teams of our fellow fantasy baseball enthusiasts. Everyone has their own perspectives which are not to be cast off as frivolous. They should be used as a method of expanding our own knowledge.
In this article, I review the previous day's boxscores and provide my opinion on a variety of topics. Some will be random, some will be fun, and some will be stat-driven. It's a soapbox so I may rant from time to time as well. So without any further delay, below are my thoughts on July 18th. Enjoy them. You can even respond with your own thoughts on Twitter @EllisCan2.
Editor's Note: Get any full-season MLB Premium Pass for 50% off. Exclusive access to our Draft Kit, premium rankings, projections, player outlooks, top prospects, dynasty rankings, 15 in-season lineup tools, and over 200 days of expert DFS research.
Sign Up Now!
Daily Musings
THUNDER! HR crown will not be handed out w/o input from Peter Alonso(31) who smacked a 474ft crowd-pleaser.
Hypothetical: You'd be mad if you spent $235 on a Brendan Rodgers, held him for two months (getting 0HR, 0SB, .224AVG), and then see him lost for the season. That would be frustrating, right? These hypotheticals provide such a sense of realism.
Dominic Smith doesn't like droughts. Ninth HR, .294AVG.
Mitch Garver batting leadoff, cause…why not? .379OBP. 15th HR helps too.
Four HR in five games will have Tyler O'Neill added to most wish lists. Ride while he's hot. the .489BABIP & 21.6%SwingStrike rate take its toll at some point.
Has Kris Bryant's 20HR, 47RBI, .299AVG proven that he's more than a third rd pick? Getting there.
Paul Goldschmidt dusting off the old power schematics. 18th HR.
Productivity despite 36.6%Chase rate. Starling Marte w/16HR, 13SB, .275AVG.
"Catch me I'm fallin'." Andrew Benintendi down to the seventh spot in the order.
Daniel Ponce de Leon didn't work as planned. 3.2IP, 4ER, 3K. A rematch vs. PIT would be in order if he gets another go at it.
Yes, the day had an 'r' in it so obviously, Christian Yelich hit a 431ft Monster Jam.
Yu Darvish was masterful. Six innings of two-hit ball w/seven K. The Giants at Oracle next. So sweet.
Back-to-back games. Five in the last eight games. Trevor Story whispers sweet nothings(22) that makes the crowd go wild.
31-year-old Donovan Solano getting some love. 2HR, 7RBI, .392AVG in last 15 days. I don't trust pop-ups, even when VH1 did it.
Ramon Laureano is on FIRE!!! 7HR, 15RBI, 3SB, .346AVG in last 15 days. He's hitting fifth now. Nobody move. Just let it play.
Impressive that Jurickson Profar(13) and Mark Canha(15) put up deuces in same game.
Homer Bailey w/instant gratification with Oakland. 6IP, 2ER, 6K.
Justin Turner off the bench just as good. 12th tater.
Victor Robles slow on the power/avg category(13/.250). Making up for it w/two SB(15). 20/20 club on the horizon.
Trey Mancini joins two-banger banquet(19).
1% always win. In this case, the 1% that had Teoscar Hernandez rewarded w/two long-distance tokens(11). Now cash in.
Update: Rafael Devers still leads majors w/balls hit 95+mph(153). Oh, he hit 18th homer too.
Brandon Workman seems to hold the keys in Boston. (Five SV).
Kirby Yates w/31 saves. YAHTZEE!!
Chris Paddack was dominant. 7.2IP, 1ER, 8K. Quit yellin' in my ear. I don't care if it was the Marlins. Watch out Mets!
Watch out, people. Jose Ramirez had 3 hits for only the 2nd time this year. .287 last month w/4HR, 5SB. You missed the best buying time. Maybe still a discount available.
Mike Clevinger w/W & 12K. TOR might make it 4 great starts in a row, albeit vs. weaker opponents. Who cares about that?
Finally! Nicholas Castellanos gets the memo & reaches double-digit bombs(10).
How does Eduardo Escobar keep doing it? Greedy owners just giddy over a two-HR game(21).
Danny Santana is excellent utility guy. 13HR, 11SB, .316AVG. 49% owned. CI/MI/OF eligible.
Gerrit Cole w/double-digit wins (10-5, 3.12ERA, 1.03)
Have a great Thursday. Sorry for the quickness. It's vacation time.
No Fear, Just Fantasy.
More Fantasy Baseball Analysis