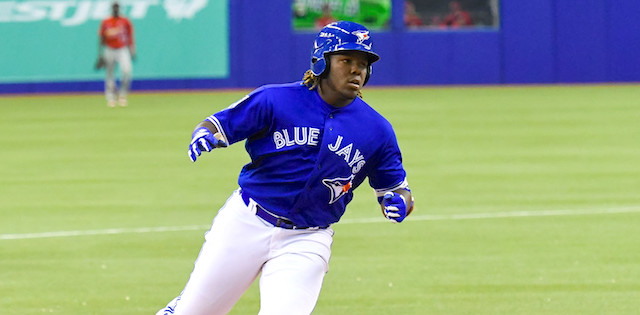 The Top 30 list continues to evolve as prospects get closer to compiling meaningful amounts of at-bats. And we're also gaining a better understanding of what big league performances are sustainable, and which ones were the result of small-sample noise.
Jonathan Loaisiga and Jon Duplantier rejoin the list after demotions from their respective Major League clubs. Cavan Biggio, Dylan Cease, Keston Hiura, Luis Robert, and Willi Castro have joined the list. The biggest existing movers trending upwards on the list were Yordan Alvarez and Carter Kieboom. Pitchers Justus Sheffield, Logan Allen, and Sean Reid-Foley all slid down as their disappointing starts continue to pile up.
Players falling off the list included Anthony Alford (due to performance), Yu Chang (performance), Alex Kirilloff (injury), and Luiz Gohara (injury). The Pirate's Cole Tucker is also now off the list after being promoted to the Majors a couple of days ago. He would have checked in at No. 17 on the list. He was promoted after a strong performance of doing what speedy players should do - get on base any way that they can. Along with hitting .340, he had seven walks in 12 games. The Pirates have some middle infield depth on the 40-man roster but Kevin Kramer, Kevin Newman, and Erik Gonzalez are all best suited to utility type roles, while Tucker has the ceiling of an above-average regular.
Editor's Note: Our incredible team of writers received 13 award nominations by the Fantasy Sports Writers Association including Baseball Writer of the Year, Football Writers of the Year, Golf Writer of the Year and many more! Be sure to follow their analysis, rankings and advice all year long, and win big with RotoBaller!
Read More!
Fantasy Baseball Prospect Rankings (The Top 10)
1. Vladimir Guerrero Jr., 3B, Blue Jays (AAA) (ETA: late April)
This might be the final week for Guerrero Jr. to show up on this list. Rumblings continue that the young third baseman will make his MLB debut during the Athletics series in Toronto next weekend. The Jays front office continues to stress that it's his glove, not his bat which is obviously ready, that will dictate his arrival. He hasn't had a lot of chances to touch the ball in the field (count it up) but he's been steady with the chances he's had. Last week, he hit a ball entirely out of a Triple-A ballpark on a home run. Overall, he's slashing .412/.500/.824 at Triple-A through five games.
2. Nick Senzel, 2B/OF, Reds (AAA) (ETA: May): The Reds' offense is hitting home runs but it's not really doing anything else. Senzel's durability has been a big question mark over the past two seasons but, if he can get healthy, he could really infuse some much-needed skill into the lineup. He's expected to play his first Triple-A game on Tuesday.
3. Bo Bichette, SS, Blue Jays (AAA)(ETA: June): It's hard to pick what was colder at the start of the 2019 season in Buffalo — the weather or Bichette's bat. But with the return of his good friend Guerrero Jr., the young shortstop has now begun to heat up. Bichette is on an eight-game hit streak and has eight hits in his last 20 at-bats. And even during his struggles, he continued to make good contact and only has nine strikeouts through 51 at-bats.
Editor's note: Bichette sustained a fracture of the second metacarpal in the left hand during the game Tuesday afternoon (22APR19).
4. Jonathan Loaisiga, RHP, Yankees (AAA)(ETA: May): Loaisiga is currently serving as the Yankees' sixth starter, which means he could ride the shuttle between Triple-A and the Majors so the foreseeable future (unless a long-term injury occurs to the big league staff). So far, he's been unfazed by the uncertainty and has produced decent numbers at both levels.
5. Nathaniel Lowe, 1B, Rays (AAA)(ETA: June): Lowe is performing well in Triple-A but the players most likely standing in his way are also producing strong numbers for the first-place team. All Lowe can do is stay ready and show a strong all-around game until either someone stumbles or an injury occurs. He's currently hitting .308/.455/.596 through 15 games.
6. Kyle Wright, RHP, Braves (AAA)(ETA: June): The Braves' pitching has been in a state of flux with injuries and disappointing performances. Wright earned a big league spot with a strong spring but stumbled out of the gate when the games started counting so he'll look to find his footing in Triple-A before getting another shot. A strong game recently by Mike Soroka and the looming return of Mike Foltynewicz could keep Wright in the minors for a while.
7. Cal Quantrill, RHP, Padres (AAA)(ETA: June): Quantrill's control has been OK with just five walks in 20.1 innings but his command has been off and he's allowed 23 hits and 13 runs for a 4.87 ERA. He's doing a nice job of keeping the ball on the ground and has to allow a home run so the signs are there to suggest he'll soon turn things around.
8. Forrest Whitley, RHP, Astros (AAA)(ETA: July): As mentioned previously, there is a risk that Whitley's low innings total from last year could keep him from having much of a big league impact in 2019 but the Astros are managing his innings carefully and he's thrown just 11 innings so far. The limited workload is taking a bit of a toll as he's been unable to get on a roll and his ERA sits at 6.55 despite a K-BB of 13-5.
9. Yordan Alvarez, 1B/OF, Astros (AAA)(ETA: May): Alvarez continues to press for a big league promotion and he has now had nine of his 17 hits clear the outfield fences. He's also sporting a BB-K of 11-10, which is impressive for a power hitter. Defensively, he's spent most of his time in left field.
10. Justus Sheffield, RHP, Mariners (AAA)(ETA: June): Sheffield's control continues to elude him. He's now walked 11 batters (with nine strikeouts) in 15.1 innings. He's also been hurt by the long ball and has turned to see the ball clear the outfield fences three times early in the season. The Mariners pitching has been pretty good so far so there is no need to rush him at this point.
Fantasy Baseball Prospect Rankings (11-20)
11. Zac Gallen, RHP, Marlins (AAA)(ETA: May): Gallen continues to dominate in near obscurity. The 23-year-old right-hander now has a 0.48 ERA through three starts. He's been nearly untouchable early on with just five hits and one walk allowed. Twenty-five batters have struck out against the former Cardinals prospect.
12. Carter Kieboom, SS, Nationals (AAA)(ETA: June): Kieboom recently enjoyed a seven-game stretch where he fired off 13 hits. He's cooled down a bit recently and is 2-for-14 in his last four games. And, while the 1.056 OPS is impressive, he's also striking out a fair bit (23.3%) and relying heavily on BABIP (.475) to drive his batting average.
13. Brendan Rodgers, SS, Rockies (AAA)(ETA: June): Ryan McMahon is back from injury and Garrett Hampson is slowly-but-surely digging himself out of an early-season slump so the cries for Rodgers to be promoted should start to quiet down for now. The young shortstop has yet to dominate at the Triple-A level so there is still some polishing that can be done. He's showing more patience at the plate, which is promising, but he's still hitting a lot of balls on the ground which will keep him from fully tapping into his raw power potential.
14. Griffin Canning, RHP, Angels (AAA)(ETA: May): The Angels have a strong bullpen but the starting rotation has been a bit of a dumpster fire (which shouldn't really surprise anyone). Canning, meanwhile, has been off to a strong start in Triple-A with a 0.56 ERA through his first three starts. He's walked just two batters and struck out 17 in 16 innings. Canning threw just 113.1 innings last year during his first pro season so he's probably only got about 150-160 innings in the tank for 2019.
15. Harold Ramirez, OF, Marlins (AAA)(ETA: May): The best batting average among the Marlins' outfielders is .222. The best OPS is .672. The performances by the outfielders are bordering on embarrassing but when the Marlins dipped down to Triple-A for help, they came back with Isaac Galloway rather than Ramirez. The former player had similar numbers but he's more athletic and has a longer tracker record with the organization. Ramirez has slipped back into some of the bad habits that he kicked in 2018, and he's back to hitting far too many balls on the ground.
16. Kyle Tucker, OF, Astros (AAA)(ETA: July): Tucker's performance last year at Triple-A shouted: "I'm ready for The Show!" Perhaps he's dealing with a nagging injury this year, or perhaps it's the letdown of still being in Triple-A, but Tucker is performing very poorly this year. The Triple-A club has four batters hitting .300 or better but Tucker is currently sporting a triple-slash line of .140/.197/.298 through 16 games. Both Yordan Alvarez and Myles Straw likely have a leg up on the younger prospect for the next recall unless he can turn things around in a hurry.
17. Jon Duplantier, RHP, Diamondbacks (AAA)(ETA: June): Duplantier performed well in his first taste of big league action with four innings of no-run baseball. For now, he'll stretch back out as a starter and look to improve his control. None of the other Triple-A pitchers are performing well (Taylor Widener, Taylor Clarke) so the organization needs Duplantier as starting pitching depth.
18. Daz Cameron, OF, Tigers (AAA)(ETA: June): The already-thin outfield depth in Detroit has gotten a lot thinner after the club jettisoned the disappointing Mikie Mahtook and saw Christin Stewart hit the disabled list. Among the remaining players, neither JaCoby Jones nor Dustin Peterson is hitting. The only reliable outfielders right now are Nick Castellanos and Nico Goodrum, who is a natural infielder. Cameron is performing well at the plate — including a nice walk rate and decreased strikeout rate - but could stand to use the whole field more so he's more difficult to defend against.
19. Sean Murphy, C, Athletics (AAA)(ETA: July): The tandem of Josh Phegley (good offense) and Nick Hundley (good defense) continues to play well, which will likely keep Murphy in the minors until things drastically change, or an injury occurs. Murphy is continuing to put pressure on the veteran catchers with a strong offensive showing (.967 OPS through 13 games).
20. Cavan Biggio, 2B, Blue Jays (AAA)(ETA: June): Biggio essentially replaced Anthony Alford on the list. Craig Biggio's son has shown the ability to make adjustments at every level and continues to improve his understanding of the strike zone while trimming his strikeout rate (down from 26.3% in 2018 to 15.7% in 2019) and maintaining a strong walk rate (17.6%). Biggio has also shown good pop and has a 1.188 OPS through 13 games. Add in his defensive versatility (1B, 2B, 3B, LF) and you have a pretty useful player here.
Fantasy Baseball Prospect Rankings (21-30)
21. Austin Hays, OF, Orioles (INJ)(ETA: July): Hays is probably best suited to playing right field rather than centerfield but the latter position may be his only clear path to the Majors once he's healthy. Trey Mancini is enjoying the breakout I've been expecting for a couple of years, and Dwight Smith Jr. is making the most of his opportunity. The weak link in the Baltimore outfield is centerfielder Cedric Mullins, who is hitting just .089 through 19 games.
22. Mitch Keller, RHP, Pirates (AAA)(ETA: June): Keller currently boasts a 2.70 ERA, which is impressive considering the issues he's had with both his command control. Through 20 innings, he's allowed a ton of base runners with 20 hits and 13 walks. He's minimized the damage by keeping the ball on the ground for the most part and avoiding the big hits (just one homer allowed).
23. Dylan Cease, RHP, White Sox (AAA)(ETA: July): Outside of Carlos Rodon and (maybe) Lucas Giolito, the Sox starting rotation features a lot of question marks. That works in Cease's favor, who jumps onto the 2019 list after allowing zero earned runs in his first two starts - although he was roughed up a bit in his third outing. The young hurler still needs to build up some stamina after sitting in the 60-70 pitch ranger through his first few starts and, after throwing 124 innings in 2018, he'll likely be limited to about 150 in 2019.
24. Keston Hiura, 2B, Brewers (AAA)(ETA: July): Hiura finally moves up from being projected as a 2020 impact rookie to 2019. He's showing a ton of power (both gap and over-the-fence). After hitting a career-high 13 homers last year in 123 games, he already has three through 17 games. And while the K-BB rate of 24-1 is absolutely horrendous — and has previously held him back from making this list — he has just two strikeouts in his last four games.
25. Sean Reid-Foley, RHP, Blue Jays (AAA)(ETA: July): Like the other struggling pitchers on this list, Reid-Foley has displayed poor command and control. After pitching poorly in an emergency big league start, his struggles have seen him post a 13.50 ERA in three minor league appearances. He has 15 strikeouts in 10.1 innings but he's also walked 10 and allowed 14 hits.
26. Logan Allen, LHP, Padres (AAA)(ETA: July): Allen had an opportunity to seize a starting gig with the Padres in the spring but he was awful. He's continued to struggle badly at the Triple-A level and opponents are hitting .284 against him. He's allowed far too many base runnings with 10 walks and 19 hits in 16 innings of work. His ERA currently sits at 7.88.
27. Will Smith, C, Dodgers (AAA)(ETA: July): Veteran catcher Russell Martin recently hit the injured list but it was minor league veteran Rocky Gale who received the call to back-up Austin Barnes, not Smith. The young catcher will continue to play every day in Triple-A but he could earn a shot later in the year if he continues to perform well. He has a 1.021 OPS through 13 games but has thrown out just three of 21 base runners attempting to steal.
28. A.J. Puk, LHP, Athletics (INJ)(ETA: July): Puk continues to work his way back from Tommy John surgery.
29. Luis Robert, OF, White Sox (A+)(ETA: August): With Kirilloff having lost almost a month's worth of at-bats to injury, Robert moves up as my pick for the "quick mover of 2019." I'm not usually a proponent of quick promotions for prospects with small-sample-size success but Robert has been overpowering the competition with 6 multi-hit games in the last nine. He's also slugged six homers in 15 games, and 12 of his 28 hits have gone for extra bases. His BB-K of 3-12 needs some attention but the truth is that he'll probably never be an overly patient hitter.
30. Willi Castro, SS, Tigers (AAA)(ETA: July): There is some middle infield depth in front of Castro, both at the MLB level and at Triple-A with him, but Castro arguably has a higher ceiling than the likes of Gordon Beckham, Brandon Dixon, and Ronny Rodriguez. Veteran infielder Josh Harrison has been terrible with the bat and the versatile Niko Goodrum has been needed in the outfield. The biggest threat to Castro is the more experienced Dawel Lugo, who is finally showing some competency at the plate.
More MLB Prospects Analysis