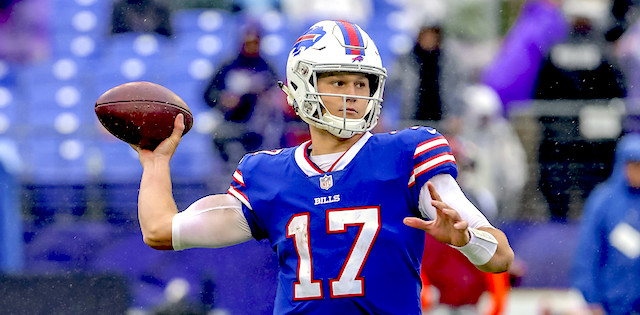 At RotoBaller, we can't stress enough the importance of keeping up with injuries and playing your best lineup week after week. Players are going to get injured, that's an unavoidable fact. What's avoidable though is making the wrong roster decisions based on the injuries surrounding your fantasy squad. If you want to dominate your leagues and win some dough in daily contests, you have to be proactive with injury research.
That's where I come in to serve you, the readers! I'm Aaron Burger, a Doctor of Physical Therapy in Pittsburgh, PA. About a year ago, I decided to combine my love, fantasy football, with what I've been learning for years now, injuries and the human body. Each week, I'll be checking in on fantasy's biggest injuries to keep you informed.
Be sure you also have RotoBaller bookmarked and follow us on social media to catch all the latest NFL news and updates.
Editor's Note: Get any full-season NFL Premium Pass for 50% off. Our exclusive In-Season Lineup Tools, Lineup Optimizer and over 150 days of Premium DFS Research.
Sign Up Now!
Inside the Tent Updates
Saquon Barkley, RB - New York Giants
Initially thought to be out anywhere from four to eight weeks with a right high ankle sprain, it appears as if Barkley actually has a shot to play in Week 5. To say this would be miraculous would be an understatement. He was seen at practice on Wednesday and Thursday doing drills on the side. Even though he's looking and feeling good, I would be surprised if he suits up on Sunday. He's the Giants' biggest asset and the face of the franchise (sorry, Daniel Jones) so they'll obviously be cautious with him. Head Coach Pat Shurmur hasn't ruled Barkley out for Week 5.
T.Y. Hilton, WR - Indianapolis Colts
Hilton re-aggravated the quadriceps strain he sustained earlier this year. We often see this with soft tissue injuries when players attempt to come back too quickly. Hilton returned to practice on Thursday in a limited fashion which is certainly a positive sign for Week 5.
Terry McLaurin, WR - Washington Redskins
McLaurin is dealing with a hamstring strain and missed Week 4 as a result. Leading up to Week 5, he has turned in two limited practices on Wednesday and Thursday which means he is trending towards playing on Sunday. Unfortunately, he is playing against the Patriots and the Redskins don't even know who the QB will be this week. Go ahead and leave McLaurin on the bench this week.
Vance McDonald, TE - Pittsburgh Steelers
McDonald's diagnosis is unknown but judging by the video and the fact he was spotted in a sling, he is likely dealing with an AC joint sprain or shoulder pathology. It was serious enough for the Steelers to go out and trade for Nick Vannett. McDonald has not practiced this week and is out for the foreseeable future.
Week 5 Injury Updates
Mitch Trubisky, QB - Chicago Bears
Injury: Trubisky had his left arm stretched overhead and had a defender land on top of him. This is certainly not the best position for your shoulder to be in. This is a common mechanism for a shoulder dislocation. Trubisky also likely suffered a minor labrum tear. The labrum is a ring of cartilage that surrounds the shoulder joint and adds stability.
News: Trubisky has not practiced this week and Chase Daniel will start for the Bears.
Outlook: With Chase Daniel now at the helm for the Bears, they obviously take a step back. Trubisky will likely only one or two games and will be back for Da Bears.
Josh Allen, QB - Buffalo Bills
Injury: Allen sustained a concussion in Week 4 against the Patriots. When an athlete suffers a concussion, the signs and symptoms that occur are a result of the chemical cascade that occurs within the brain from the blunt force trauma. Concussions are one of the more confusing pathologies within the medical community.
News: Allen is in concussion protocol and judging by the hit, he will not be suiting up in Week 5. 
Outlook: Matt Barkley is in at QB for the Bills and this obviously slightly downgrades the offense. Allen's rushing ability and his nose for the big play keeps Bills drives going and the offense on the field. John Brown should be on your bench for the Bills' matchup against the Titans.
Marlon Mack, RB - Indianapolis Colts
Injury: A lateral ankle sprain has been plaguing Marlon Mack. Also known as an inversion sprain, this is the "common" ankle sprain. This type of sprain occurs when the ankle is turned inwards beyond the limits of the ligaments on the outside of the ankle. Considering Mack was able to practice this week, this is likely a Grade I sprain which is the least severe.
News: Mack was able to practice in full on Friday which is a good sign he'll play on Sunday night against the Chiefs.
Outlook: The Colts will obviously have to put up points to hang with the Chiefs and if they're in a situation where they can punch it in, it'll be Mack doing so. He is a fine play this week against one of the league's softer run defenses.
Davante Adams, WR - Green Bay Packers
Injury: Davante Adams is dealing with turf toe in his right big toe. Turf toe is a result of the big toe being stretched too far upwards and therefore stretching the ligaments on the bottom of the toe. A.J. Green was plagued with this last season. Adams certainly won't be playing this week and he could possibly be out for three weeks. 
News: Adams did not practice this week and has been ruled out for Week 5.
Outlook: With Adams watching from the sidelines, Marquez Valdes-Scantling is likely the Packers top option in the receiving game. Also expect more looks for Geronimo Allison if he is playing in the slot on Sunday.
Christian Kirk, WR - Arizona Cardinals
Injury: The Cardinals promising wide receiver sustained a right high ankle sprain in Week 4. High ankle sprains involve the connection between the two lower leg bones and can be extremely painful when cutting or changing directions. Between the tibia and fibula, there is a connection called a syndesmosis. In high ankle sprains, this structure becomes stretched depending on severity.
News: On Tuesday, Cardinals coach Kliff Kingsbury told media members that Kirk's injury was not as serious as initially thought which is certainly positive news. He did not practice this week and will not be playing against the Bengals.
Outlook: Considering his injury is not as serious as initially thought, expect Kirk to be limited in practice next week and potentially be a game time decision in Week 6. If he does not play, he should be ready to go in Week 7.
More Fantasy Football Analysis