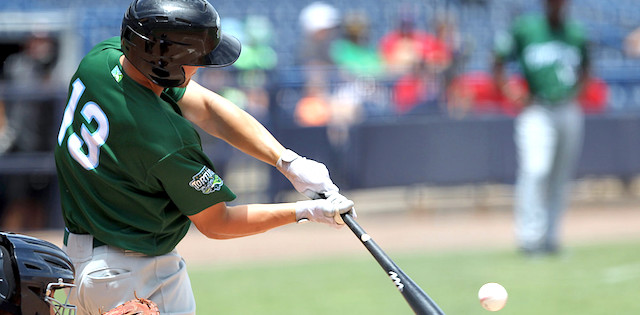 What Appears In This Article?
hide
Hello everyone, and welcome to my weekly Top-30 Fantasy Rankings for Impact Rookies! In this series, I will be going over the top prospects in baseball and discussing which ones figure to have an impact for the rest of this fantasy baseball season.
This year's draft was an interesting one. There was a switch-pitching catcher (yes, you read that right), a future starting college quarterback and a 5-foot-8 middle-infielder all taken in the first round. There also was one player — relief pitcher Nick Sandlin — who could probably aid his team in 2018, especially given the bullpen woes of the team that drafted him, the Cleveland Indians.
While there aren't many other players from the draft expected to contribute in the majors this season, there are still several high-profile prospects who could make a difference in fantasy leagues this season. Guys who should be on your radar, even while your teams are adding newer top talents to the organizations.
Editor's Note: Our incredible team of writers received 13 award nominations by the Fantasy Sports Writers Association including Baseball Writer of the Year, Football Writers of the Year, Golf Writer of the Year and many more! Be sure to follow their analysis, rankings and advice all year long, and win big with RotoBaller!
Read More!
Top MLB Prospects - Fantasy Baseball Power Rankings
To be clear, this list is not the top 30 prospects in baseball. This is a list of the top 30 prospects who are likely going to rise to the major leagues and provide fantasy baseball value this season. The qualifications are simple: a player must not be on an active roster, they must have a clear path to the majors, and while they may have played in seasons prior to 2018, they must still have rookie eligibility. If a player is moved to the active roster of their team, they will be removed from this power rankings list and replaced.
1. Vladimir Guerrero Jr. (1B/3B/OF, TOR, AA)
Stats: 229 PA, .409/.461/.677, 11 HR, 3 SB, 8.7% BB%, 9.2% K%
ETA: Late June
With Josh Donaldson on the DL, everyone was probably hoping that it was going to be Guerrero's time to shine. At least so far, it has not been. The Toronto Blue Jays have kept their top prospect in the minors. There is talk that he could be promoted to Triple-A, but so far, that has been the extent of his promotion discussions. This could be just to keep him down past the Super Two deadline, or it could be a sign that they really don't want to call him up this season. It's very difficult to justify keeping him in the minors since he might be one of the most MLB-ready 19-year-olds of all time and might already be the best hitter overall in Toronto's system (yes, that includes Donaldson). He is a risky stash because there is no guarantee Guerrero gets promoted, but there is no one in the minors more talented with a shot to reach the majors this season than Guerrero. And that counts for a lot.
2. Nick Senzel (2B/3B, CIN, AAA)
Stats: 122 PA, .267/.352/.438, 3 HR, 6 SB, 11.5% BB%, 21.3% K%
ETA: Late June
Senzel has really gotten right back to hitting well against Triple-A pitching in his first couple games back to Louisville since sitting out for a while due to vertigo. He also has stolen a pair of bases. Like Guerrero, Senzel is clearly one of his organization's top 25 players, thus making it seem likely he will get a chance in the majors sooner rather than later. If the Cincinnati Reds opt to move Scooter Gennett in a deadline deal, Senzel slides right into second base. It doesn't seem super likely they would try him out at shortstop since he hasn't played there in the minors, but that also is a possibility. Senzel would offer fantasy owners a very high floor with a decent batting average, some stolen bases and a little bit of power. It would be tough to pass up on him in any league.
3. Kyle Tucker (OF, HOU, AAA)
Stats: 242 PA, .273/.350/.464, 8 HR, 6 SB, 11.2% BB%, 19.0% K%
ETA: Late June
Myles Straw has produced at Double-A quite a bit this season and could be a candidate to be promoted even before Tucker, but he just doesn't have the same offensive upside as the Houston Astros' top prospect. Tucker has middle-of-the-order potential with the chance to hit 30-plus home runs with a high batting average. He hasn't hit for the same power this season, but that shouldn't scare off fantasy owners. Tucker is worth owning in all leagues should he receive the promotion.
4. Michael Kopech (SP, CWS, AAA)
Stats: 53.1 IP, 4.89 ERA, 3.68 FIP, 30.2% K%, 12.5% BB%, 8.2% HR/FB
ETA: Early July
Kopech had one of his worst outings of the season in his last appearance, allowing seven runs to cross the plate over just two innings with only two strikeouts and four walks. The start was his second of the season in which he allowed at least seven runs. While there is a legit argument to be made that Kopech is one of the Chicago White Sox's best pitchers — he almost certainly is — his struggles make it difficult to say with certainty he is truly ready for the majors. The strikeout upside is immense and he had been on a hot streak for a while, but there is reason for enough skepticism to not stash him in all leagues. He still might be a quality enough arm to stash in deeper leagues and would be worth in add in most leagues if he is given a promotion this summer.
5. Willy Adames (SS, TB, AAA)
Stats: 209 PA, .295/.364/.426, 4 HR, 3 SB, 10.0% BB%, 23.0% K%
ETA: Mid-July
Adames had only a short stint in the majors. While it was cut short, owners should take comfort in the fact clearly the Tampa Bay Rays believe he is ready, if not on the verge of being ready for the majors. Adames has shown himself capable of handling Triple-A pitching this season, flashing his plus bat with some pop and a little bit of speed. Though he is not the most electrifying prospect in the game, his well-rounded skillset at a key position would make him a valuable add in plenty of leagues should Tampa Bay decide to make him its everyday shortstop this season.
6. Austin Riley (3B, ATL, AAA)
Stats: 222 PA, .308/.369/.552, 10 HR, 1 SB, 8.1% BB%, 29.7% K%
ETA: Late June
Riley is not quite off to the same tear at Triple-A that he was at Double-A, having seen his slugging percentage drop from .677 at Mississippi to just .431 in Gwinnett. However, Riley has still reached base at a high clip and is the kind of impact bat a team like Atlanta would want to test before going out to make a trade. Riley would fill a need for the Braves at third base while also adding a middle-of-the-order right-handed power bat the team does not currently have. For fantasy owners, there is risk here that his strikeouts would lead to streaky performances and that he could even be sent down. But for a chance to own his power and the potential for the RBI numbers he could put up, that risk could be worth taking if he does get the promotion.
7. Alex Verdugo (OF, LAD, AAA)
Stats: 139 PA, .300/.338/.431, 4 HR, 1 SB, 5.8% BB%, 14.4% K%
ETA: Late June
The numbers Verdugo has posted since being demoted on May 12 are pretty telling. In 58 plate appearances, he is slashing .333/.379/.370. He also has just one hit without a game during that 13-game span and has a 4:6 walk-to-strikeout ratio. Though he is not exactly knocking the cover off the ball, Verdugo has shown he is more than ready for the majors. He is not known for his power and instead would project as a player ready to contribute a high batting average with occasional power numbers. Like with several players on this list, his parent club knows he is ready for the majors, it's just a matter of finding a place for him to play. Given the struggles of the Los Angeles Dodgers, it should not be too hard to find at-bats for him.
8. Jake Bauers (OF, TB, AAA)
Stats: 218 PA, .277/.350/.426, 5 HR, 9 SB, 9.6% BB%, 21.6% K%
ETA: Early July
Bauers got a little cold toward the end of May, and so far that has carried over into June. He his batting just .125 since May 29 with no homers and five strikeouts. It is a small sample size, however, and it's not a lengthy enough stretch of struggles to really concern owners just yet. His path to playing time is pretty clear if he can start to turn this stretch around after the Super Two deadline, and he offers fantasy owners plenty to like.
9. Willie Calhoun (OF, TEX, AAA)
Stats: 233 PA, .258/.309/.373, 4 HR, 0 SB, 6.0% BB%, 13.3% K%
ETA: Late June
Known to be a bat-only prospect, Calhoun has not lived up to his billing this season. He hit just one home run in the month of May and has gotten off to a freezing cold start in June. The Texas Rangers could use him in the outfield this season, but he needs to prove that he's worth promoting. So far this season, he has not done that. His bat makes him worth monitoring in fantasy leagues, but don't go to claim him off the waivers until he starts hitting again.
10. Kolby Allard (SP, ATL, AAA)
Stats: 63.0 IP, 2.00 ERA, 3.56 FIP, 16.2% K%, 6.5% BB%, 4.5% HR/FB
ETA: Early July
Allard is not missing many if any bats in the minors right now. That should not be concerning however given the fact he has still excelled on the mound. This season, he has only allowed three earned runs in a start twice and has just two other starts where he's allowed two runs out of 10 total. The southpaw does not have overpowering stuff, but he locates well and mixes above-average secondary pitches to consistently get batters out. Despite being only 20 years old, he is probably MLB ready and could aid both the Braves and fantasy owners if he were called up. It's tough to find a spot for him to pitch right now, but things like this have a way of working themselves out. If he gets the call up, he would be worth owning in 12-plus-team leagues.
11. Shane Bieber (SP, CLE, AAA)
Stats: 65.1 IP, 1.10 ERA, 2.20 FIP, 25.5% K%, 1.3% BB%, 5.7% HR/FB
ETA: Mid-June
Bieber was solid albeit unspectacular in his MLB debut. He lasted 5.2 innings and allowed four runs on eight hits including two home runs, one walk with six strikeouts. The control specialist is not considered by many to be one of the game's premier prospects due to a lack of explosive stuff, but he should have a fairly high floor for that aforementioned control. It is probable he will spend a little bit more time in the minors. However, given the Cleveland Indians' fifth starter issues and bullpen problems, they really need all the help they can get and Bieber is far and away one of their best pitchers in the organization. Expect his stay in Columbus to be short and for him to return in short order to the majors. His control makes him worth owning in most 12-plus-team leagues.
12. Christin Stewart (OF, DET, AAA)
Stats: 228 PA, .288/.373/.556, 13 HR, 0 SB, 11.4% BB%, 19.7% K%
ETA: Late June
Stewart has done all he's needed to do at Triple-A to prove he's worthy of a promotion to the majors. The slugging outfielder has trimmed his strikeout rate to below 20 percent, hit for a solid average, taken his fair share of walks and of course continues to hit for plenty of power. There's little reason for the rebuilding Detroit Tigers to keep him in the minors, and a mid-summer promotion seems about right. Owners shouldn't assume the strikeouts are fixed, but his power gives him a nice safety net for owners to fall back on.
13. Luis Urias (2B/SS, SD, AAA)
Stats: 228 PA, .264/.377/.399, 5 HR, 1 SB, 13.2% BB%, 17.5% K%
ETA: Late July
I could pretty much use the same write-up on Urias every week. The short middle infielder continues to hit at Triple-A and even though he's only 21 years old, he has little left to prove at the level. His hit tool is one of the best in the minors and provides scouts with plenty of reason to believe he will be a future .300-plus hitter in the big leagues. If the San Diego Padres start moving any players at the deadline, particularly Freddy Galvis, Urias could be one of the top replacements. Until then, he's just going to have to keep plugging along in El Paso.
14. Austin Hays (OF, BAL, AA)
Stats: 185 PA, .224/.259/.374, 6 HR, 5 SB, 4.9% BB%, 23.2% K%
ETA: Early August
Still on the DL with an ankle injury, Hays' fantasy value sits somewhat stagnant. On one hand, maybe the time off will give him a chance to sort of reset himself and start hitting again, thus forcing his way up to the big leagues where spots are ripe for the taking. On the other, it's possible this only makes things worse for a top prospect who has just not been able to find any consistency at the plate. His ceiling and proximity to the majors makes him worth keeping an eye on in plenty of leagues, but he is by no means a stashable player right now.
15. Cedric Mullins (OF, BAL, AAA)
Stats: 227 PA, .306/.357/.498, 6 HR, 9 SB, 7.0% BB%, 13.7% K%
ETA: Late July
If Hays really doesn't pan out, the Orioles could look to call up Mullins. He is a must different player than Hays in that he takes a few walks, has much more speed and much less power. Where Hays is a middle of the order bat, Mullins profiles more as a future leadoff hitter. There's a legit case to be made that Mullins is also more MLB-ready right now, especially given that he has already excelled at Double-A and now has been moved up to Triple-A. And with that right field still a major problem for the rebuilding Orioles, Mullins could be given a look later on in the year. He would offer fantasy owners plenty of speed with a serviceable average and maybe a little bit of power.
16. Myles Straw (OF, HOU, AA)
Stats: 244 PA, .355/.450/.419, 0 HR, 34 SB, 13.5% BB%, 13.5% K%
ETA: Mid-June
As mentioned earlier, Straw has been exceptional at Double-A this season and could make a real case for an earlier promotion to Houston than Tucker. He is a much different player than Tucker, flashing plus-plus speed with an above-average hit tool rather than the plus power. Straw could be a future leadoff hitter and has the chance to offer fantasy owners a ton of stolen bases and runs scored if he is able to bat high up in the order for Houston (which might not come right away). Because of Tucker, there's uncertainty what role Straw holds longterm in Houston, but if he beats the top prospect to the big leagues, he could hold value in plenty of leagues.
17. Matt Thaiss (1B, LAA, AAA)
Stats: 229 PA, .288/.354/.512, 9 HR, 2 SB, 8.7% BB%, 18.3% K%
ETA: Early August
There's been some talk of benching Albert Pujols given his immense early struggles, but that still seems somewhat unlikely. Still, if he continues to struggle and the Los Angeles Angels really feel they need a left-handed bat, they could call up Thaiss and have him platoon with Pujols at first base. Thaiss has risen quickly through the minors this season, having crushed Double-A and now producing similar if not better numbers at Triple-A. Thaiss does not have as much power as fantasy owners would like to see out of a first baseman, but if he gets a chance at MLB playing time, he should hit for a high enough average to prove valuable in deeper leagues.
18. Danny Jansen (C, TOR, AAA)
Stats: 165 PA, .321/.433/.470, 2 HR, 4 SB, 13.9% BB%, 13.3% K%
ETA: Early July
Jansen is like Guerrero in that his bat would probably make him one of the best players on Toronto's roster right now, but the glove is still a question. Jansen has development left before he's really ready to be a full-time starting catcher in the big leagues. However, with the Blue Jays slowly falling out of playoff contention, it could be a decent time to call Jansen up to the big leagues to have him learn from Russell Martin while spelling the veteran catcher who has not been very good for Toronto this season. It is far from a guarantee that Jansen will receive the call up this summer (though he seems a solid bet to receive at least a September call up). If he is given the call, he would be worth owning in plenty of two-catcher leagues for his offensive upside.
19. Sandy Alcantara (SP, MIA, AAA)
Stats: 66.1 IP, 3.53 ERA, 4.22 FIP, 17.5% K%, 8.4% BB%, 5.1% HR/FB
ETA: Early July
The Miami Marlins are no where near contention this season, and several veteran starters have been a part of the team's early struggles. Dan Straily and Wei-Yin Chen are both in the negatives in fWAR. While they have little trade value, the two could be shifted to the bullpen if the Marlins decide to take a glimpse at a young, up and coming arm in Sandy Alcantara. The flame-throwing right-hander could profile best in the bullpen, but Miami has little to gain by moving him out of the rotation now. He has three above-average pitches in his fastball, slider and changeup, but does struggle with control. However, he's limiting the walks, but hasn't missed as many bats. Alcantara has the stuff to be a high strikeout guy though, and if he gets a shot in the big leagues, fantasy owners could take a chance on him in deeper leagues.
20. Griffin Canning (SP, LAA, AA)
Stats: 44.2 IP, 1.21 ERA, 3.27 FIP, 29.5% K%, 12.1% BB%, 5.6% HR/FB
ETA: September
It was not expected Canning would even be considered for a list like this, but there have been rumblings that Canning could reach the majors by the end of the year in a similar role to Walker Buehler last season for the Dodgers. Canning has been dominant at Double-A this season and has really boosted his fantasy stock, flashing plenty of strikeout ability. He will need to tone down on the walks, but owners in need of some strikeouts come playoff time could benefit from Canning if he does end up getting the call.
21. Steven Duggar (OF, SF, AAA)
Stats: 232 PA, .275/.353/.396, 2 HR, 8 SB, 10.3% BB%, 28.9% K%
ETA: Early August
22. Nick Gordon (SS, MIN, AAA)
Stats: 235 PA, .332/.374/.505, 5 HR, 7 SB, 5.5% BB%, 16.6% K%
ETA: Early August
23. Eloy Jimenez (OF, CWS, AA)
Stats: 186 PA, .324/.366/.600, 10 HR, 0 SB, 7.0% BB%, 16.7% K%
ETA: September
24. Anthony Alford (OF, TOR, AAA)
Stats: 131 PA, .193/.267/.235, 0 HR, 5 SB, 6.9% BB%, 32.8% K%
ETA: Early August
25. Corbin Burnes (SP, MIL, AAA)
Stats: 58.0 IP, 4.97 ERA, 4.33 FIP, 22.8% K%, 9.5% BB%, 8.6% HR/FB
ETA: Early August
26. Forrest Whitley (SP, HOU, NA)
Stats: NA
ETA: September
27. Jon Duplantier (SP, ARI, AAA)
Stats: 35.2 IP, 2.52 ERA, 2.88 FIP, 28.5% K%, 7.6% BB%, 8.3% HR/FB, .220 AVG
ETA: September
28. Victor Robles (OF, WAS, AAA)
Stats: 15 PA, .385/.467/.385, 0 HR, 2 SB, 13.3% BB%, 6.7% K%
ETA: September
29. Peter Alonso (1B, NYM, AA)
Stats: 234 PA, .324/.462/.600, 14 HR, 0 SB, 17.5% BB%, 19.2% K%
ETA: September
30. Ryan Mountcastle (3B/OF, BAL, AA)
Stats: 88 PA, .278/.330/.430, 3 HR, 0 SB, 6.8% BB%, 19.3% K%
ETA: September
MLB Rookie Rankings
1. Shohei Ohtani (SP/DH, LAA)
2. Gleyber Torres (2B/SS, NYY)
3. Ronald Acuna (OF, ATL)
4. Walker Buehler (SP, LAD)
5. Juan Soto (OF, WAS)
6. Jack Flaherty (SP, STL)
7. Austin Meadows (OF, PIT)
8. Miguel Andujar (3B, NYY)
9. Colin Moran (1B/3B, PIT)
10. Josh Hader (RP, MIL)
11. Alex Reyes (SP, STL)
12. Fernando Romero (SP, MIN)
13. Tyler O'Neill (OF, STL)
14. Luiz Gohara (SP, ATL)
15. Dustin Fowler (OF, OAK)
16. Mike Soroka (SP, ATL)
17. Ryan Yarbrough (SP, TB)
18. Caleb Smith (SP, MIA)
19. Christian Villanueva (3B, SD)
20. Scott Kingery (2B/3B/SS/OF, PHI)