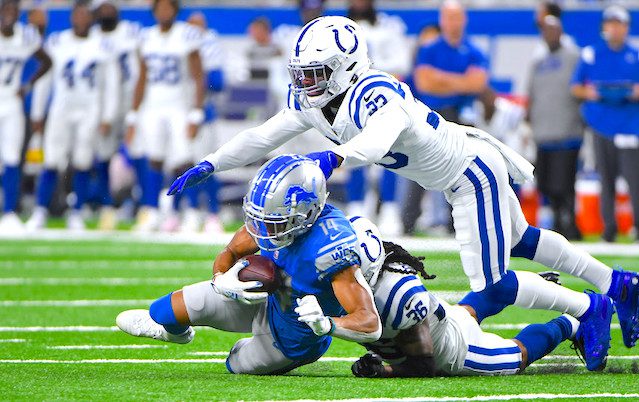 For fantasy football GMs, draft season is gearing up. Preparing for what is waiting for us in our virtual war rooms is a key part of the process, and the first thing to know is the language our leagues will speak to us in.
The first step is to know if you're going to battle your foes in Standard or PPR (Point-Per-Reception) scoring systems. The difference between those leagues comes down to a simple matter of awarding one extra point to players that catch a pass. Standard scoring was a staple in the early days of fantasy football, but PPR has become the most played system lately.
With both Standard and PPR-scoring systems in mind, it's time to discover which players are surefire bets in one system but potential duds in the other. Today, I'm highlighting some wide receivers who are primed to become studs in PPR-format leagues but not so much when used in Standard ones.
Featured Promo: Our friends at Sharp App have created the ultimate tools for sports bettors. Download the FREE app to track bets, compare odds, get daily picks from the most accurate models in the industry, and identify the sharp side of any bet. Use promo code BALLER to get a month free of Sharp Pro access.
Get The App!
Nobody is going to argue against Ja'Marr Chase when it comes to naming the 2022 ROY. The 13 touchdowns alone, although a lock to regress a lot, are more than enough to have Chase as the undisputable MVP among NFL freshmen. That said, though, Jaylen Waddle didn't make it easy for Chase to run away with that accolade. In fact, this rookie class was the first one since 2014 to feature two top-13 WRs (Mike Evans and Odell Beckham Jr.). And hey, I know every little and big detail count, but remove touchdowns from the PPR tallies of rookie receivers since 2000, and Jaylen Waddle would be the sixth-best fantasy receiver from that season on, only 17 PPR points behind Chase. Just saying.
Waddle had very impressive highs (three games above 25 PPR) but also very crumbling lows (three games below seven PPR). Over the season, though, he couldn't have been much better for a rook playing under either second-year QB Tua Tagovailoa and/or perennial bench-vet Jacoby Brissett. Of course, a lot of Waddle's production was volume-based and that will change next year whether you, he, Tua, or their mothers want it or not. The reason: a certain WR and former Chief arriving in South Florida in time for the 2022 campaign.
Anyway, Waddle is the clear-cut WR2, only behind Tyreek Hill in the pecking order. It'd be unreasonable for this Dolphins offense to operate in any other way next year. Waddle's aDOT marks steadily increased through the first 10 games of the season, though he finished with a 6.3-yard mark that shouldn't go any higher with Hill--the bonafide deep threat now--in Miami. Waddle manned the slot a lot (nearly 44% slot rate; first quartile among 700+ snap WRs) so that's another PPR-boosting trend going his way. Expect a slight bump down in targets/receptions with Hill around, but don't downgrade Waddle in the slightest way if you are managing in a PPR league.
Don't let ASB's 2022 counting stats fool you. The rookie out of USC played all 17 games for the Lions last year, yes, but he only did on a heavy diet of targets through the last six weeks of play. The snaps were never low, truth be told, but only thrice did ASB got targeted more than six times through his first 11 games as a pro compared to seeing 10+ targets in each of the last six weeks of the season. And given what St. Brown did with those opportunities, the Lions did very well in using the wideout as much as they could.
ASB scored 151.1 of his total 227.3 PPR points (66.5%) in that six-game span alone. He was the WR2 only behind Cooper Kupp and 25+ full PPR points ahead of WR3 Davante Adams in that span. That's absolutely insane and something entirely unexpected from the rook, who became a league-winning player for more than one and two GMs who acquired him for free via waivers. And in most cases, the GMs who benefited the most from adding ASB were those managing squads in PPR-format leagues.
St. Brown was automatic at catching targets, posting a 75.6% that topped the figures reached by fellow top-three rookie-WRs Waddle and Chase. The average YPR (10.1) and total TD (five) over the year weren't really that high, all things considered, and that hurt ASB's upside in standard formats a bit. But the hugely peppered targets, the phenomenal catch rate, and the total yards factoring in the fact that he "missed" half a season (because of the low volume he was receiving early) proved ASB is here to stay and a top-tier candidate to finish at the top of the PPR leaderboards next year. Oh, and I haven't even mentioned the seven carries for 61 yards and a rushing TD. I can't get enough ASB, folks.
DJ Moore, Carolina Panthers
I am a stout defender of not overcomplicating things when trying to analyze football players, their stats, and how those impact their fantasy upside. I mean, yes, the more you know the better, but there is a point when you're just introducing noise for the sake of it without adding much useful information to your studies. You can end up looking at the wrong things, or even getting completely incorrect takeaways from that approach! Good for me and those in my vein, players such as DJ Moore still exist.
If you look at Moore's player profile above this, you'll see a classic football player when it comes to the metrics he excelled at last season. The got targeted a whole lot of times, he caught pretty much every ball thrown his way, and he put up receiving yards like a madman. As simple as that. Volume + Efficiency = Fantasy PPR King. Only five WRs topped Moore's targets/receptions/yards in 2021 and all of them finished the year as top-eight players at the position. Moore, by comparison, was a "bad" play, finishing with just the 18th-most PPR points through the season even playing all 17 games.
The only thing killing Moore's season (just to a certain extent) was his super-low/bound-to-positively-regress four TDs on all of those targets and snaps played. Good for PPR GMs out there, touchdowns are not essential in this format, or at least they are not as important as they are in non-PPR leagues. Moore is a bonafide outside receiver with slot/inside-WR abilities when it comes to putting up numbers. You cannot find that player profile often, and if you're planning on building a roster in PPR formats, you can do much worse than rostering this stud whatever his ADP is on the day of your league's draft.
Download Our Free News & Alerts Mobile App
Like what you see? Download our updated fantasy football app for iPhone and Android with 24x7 player news, injury alerts, rankings, starts/sits & more. All free!


Win Big With RotoBaller
Be sure to also check out all of our other daily fantasy football articles and analysis to help you set those winning lineups, including this new RotoBaller YouTube video:


More Fantasy Football Analysis