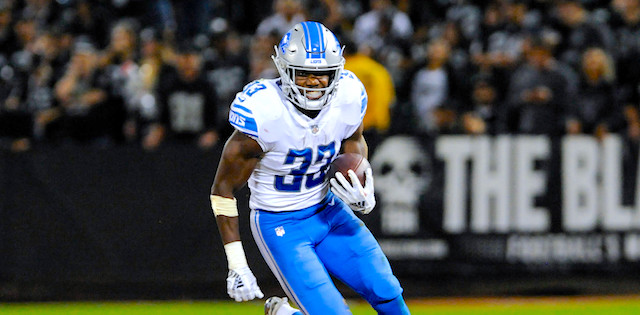 Howdy, and welcome to the weekly column that puts my rankings under the microscope and compares them against the Expert Consensus Rankings (ECR). My hope is to help you understand why I'm significantly higher or lower on players than the expert crowd. Do note that the ECR will shift!
Who am I and why should you care? I was the ninth-most accurate in-season expert on FantasyPros (out of 125) last season and sit at 20th (out of 130) so far in '18. You deserve the best and I want to objectively be among the sharpest out there. I'll be examining my own ranks against the ECR on a position-by-position basis, as the overall and flex tabs can simply get insane. I focus on QB, RB, WR, TE and this week I'm bringing in a little kicker section.
Below you will find my rankings and analysis, separated by position. If anything strikes a chord, I'm always available for questions via Twitter: @NMariano53. But enough chit-chat, let's get to it.
Editor's Note: Get any rest-of-season NFL Premium Pass for 50% off. Our exclusive DFS Tools, Lineup Optimizer and Premium DFS Research through the Super Bowl.
Sign Up Now!
Week 8 Quarterbacks - Rankings Analysis
I don't love any QBs at more than two slots beyond the ECR, but the three that do and nestle their way into my top-12 are worth mentioning. Kirk Cousins (No. 2 vs. 4), Tom Brady (5 vs. 7) and Mitch Trubisky (11 vs. 13).
The Saints pass defense has recovered from the brink of destruction but is still beatable with Adam Thielen, Stefon Diggs, and Kyle Rudolph. Meanwhile, no Dalvin Cook only enhances New Orleans' advantage as the stingiest run defense against the Vikes. Minny is favored by a point at some Vegas books with a game total of 52.5, so I'll take their QB over anyone not named Patrick Mahomes.
Brady could be missing a true run game if Sony Michel sits against Buffalo, which means a statline akin to Andrew Luck's four-TD show in Week 7 is possible, which made Luck the QB4. If he gets Rob Gronkowski back then I may have to edge him up another slot.
Brady's Week 7 opponent, Trubisky, has passed for at least 316 yards with a combined 11 pass TDs over his last three games. Not only that, but he delivered a 6-81-1 rushing line. The Bears are favored by seven over the Jets and I don't expect Jordan Howard to suddenly wake up -- the Jets have yet to allow a 100-yard rusher in '18.
On the other side of the top-12 discussion are Cam Newton and Deshaun Watson. I know Cam can turn it on and become Superman at any point, but Baltimore's defense is frightful and just held Drew Brees to a QB17 ranking. Frankly, I'm avoiding this BAL-CAR game on all fronts. The Ravens have allowed the second-lowest average fantasy score to QBs in '18 and there are simply better matchups to chase.
Watson and the Texans don't have one of those said matchups on Thursday night. Not only is the second-year QB dealing with a bruised lung and rib, but he'll be without slot man Keke Coutee. Houston is favored by 7.5 with a 44-point total and I see little reason for the Texans to put their star in harm's way when Miami's offense is in shambles. I expect a heavy dose of the run game and the defense to carry the Texans to victory, leaving those who started Watson out in the cold.
Week 8 Running Backs - Rankings Analysis
The most notable RB that I'm higher on is my outlier from that PHI-JAX tilt, as I have Wendell Smallwood at 23 compared to an ECR of 32. The Jaguars have given up rushing line of 22-87-1, 24-106-1 and 22-100-1 over the last three weeks. On the one hand, two of those were against Kareem Hunt and Ezekiel Elliott, but the third was Lamar Miller so it evens out to a league-average RB, right?
The Eagles are favored by three on the road and Smallwood looked better than Corey Clement in Week 7, posting 32 yards on nine carries compared to Clement's six yards on eight totes according to the box score. What the stats don't tell you is how a holding penalty took away a 50-yard screen pass. It is a platoon, but Smallwood has logged snap counts of 62% and 52% compared to Clement's 37% in each of their last two games.
It looks like I'm attending the Player Hater's Ball with Kerryon Johnson (18 vs. 12), Chris Carson (25 vs. 19) and Latavius Murray (26 vs. 20). Before you Kansas fans jump on me for going against Johnson after his fantastic Week 7, we need to accept Johnson's lower ceiling due to limited touches and the presence of LeGarrette Blount at the goal line.
As far as Carson goes, his snap share reached a high of 72% in Week 3 before he missed Week 4. He was then in on 58% in Week 5 and 42% in Week 6, which is when Rashaad Penny touched the ball 11 times to Carson's 14. Part of that may have been Seattle winning 27-3 over a toothless Raider squad, but Penny is a first-rounder and Mike Davis, who had seven touches in Week 6, isn't going away either. I can't put Carson in my top-20 with a realistic three-RB committee unfolding. Plus, the Lions just scooped DT Damon Harrison, perhaps the best run defender in the NFL, to shore up their ailing rush D.
And then there's Murray, who will get Minnesota's backfield to himself again with Dalvin Cook out. He's been fantastic in Cook's stead, but I'm fading him for the same reason I faded Collins in Week 6 -- the Saints run defense is terrifying. They haven't yielded more than 50 yards to a rusher since Week 1 when Peyton Barber(!) tallied 69. Mix in that Minnesota's offensive line ranks a paltry 28th per FootballOutsiders' adjusted line yards metric with 3.67 and I'm out.
Week 8 Wide Receivers - Rankings Analysis
No WR stands out to me in the top-30, but I will say that I currently have Will Fuller at 19 against an ECR of 22. The only thing holding me back is the aforementioned worry about Watson's passing volume, but I can't ignore Fuller's potential with Coutee out. DeAndre Hopkins is a monster and can rarely be pulled out of the weekly top-10 no matter what, but I'm sure most of you have seen Fuller's splits with/without Coutee in the lineup by now.
In case you haven't noticed, Fuller hasn't eclipsed 70 yards with Coutee in versus two 100+ yard performances with a touchdown in two games without. Plus, Hopkins will draw Xavien Howard so that Fuller can routinely burn the slower Bobby McCain.
On the other side of the ball, most will be drawn to Danny Amendola's safe floor on the inside against backup Houston fill-in Shareece Wright, but I'm most interested in Jakeem Grant (my WR38 against ECR WR57). Grant flashed on radars with a 2-70-2 line in Week 3 but had been pushed out by Albert Wilson in most three-wide sets. With Wilson (and Kenny Stills) out, it'll be Grant, Amendola and Devante Parker for Miami. Grant turned in a 70% snap count last week and no Houston DB can keep up with his wheels.
It's become popular to rag on Jacksonville's defense and pick on star DB Jalen Ramsey after he was sonned by DeAndre Hopkins (that helmet-slap inside move, oy), but Hopkins, one of the best WRs in the game, still only posted a 3-50-1 line on eight targets. Anyway, the point here is that Alshon Jeffery is at 31 for me against an ECR of 25.
I love what Jeffery's done so far and am very happy with drafting him in season-long leagues, but Ramsey and A.J. Bouye are big bodies on the perimeter. Jeffery's only poor game of '18 came against Minnesota when Xavier Rhodes held him to 2-39-0 on eight targets. Again, this isn't a start/sit article and most of us don't have three or four other top-30 WRs to plug in, but I don't see a top-25 setup in Week 8.
Week 8 Tight Ends - Rankings Analysis
The Tampa Bay Buccaneers defense is quickly becoming a flowchart team, which means if the answer to "Is this player going against Tampa Bay?" is "Yes!" then you play them. Uzomah has played on at least 92% of Cincinnati's snaps since Tyler Eifert went down in Week 4 with at least 40 yards or a touchdown in each of those. Mix that with how the Bucs have given up the most fantasy points to TEs in '18 -- "good" for a collective 40-538-4 across six games -- and now they've lost middle linebacker Kwon Alexander to a torn ACL
The biggest TE fade for me is Jordan Reed, who I have at 13 against an ECR of 10. This takes him out of starting territory in 12-teamers, though I recognize most won't want to sit him. I'd rather play Vance McDonald over him, for what it's worth. Washington had Chris Thompson, Jamison Crowder and Paul Richardson out in Week 7, yet Reed saw just four targets in a tight game against the Cowboys. He hasn't topped 50 yards since Week 1 and I'm trying to unhinge from those amazing top-three TE days from 2015.
Week 8 Kickers - Rankings Analysis
I'm testing this out to see if anyone cares, but those of you who utilize kickers might enjoy my being ranked fourth in K rankings per FantasyPros. I do believe it's an art form and that streaming both kickers and defenses are extremely important (where applicable).
I wish FP counted kickers and defense into the overall accuracy ratings, but oh well. Anyway, I just want to point out that I'm three slots higher on Randy Bullock (5 vs. 8), seven on Adam Vinatieri (6 vs. 13) and two on Chris Boswell (7 vs. 9). The only real sinkers are Justin Tucker (8 vs. 4) and Wil Lutz (10 vs. 6).
If this proves at all interesting to anyone then let me know and we can expand this section, or maybe kickers are just kickers and no one's here to read about it. You tell me!
More Fantasy Football Analysis
Check out all of RotoBaller's fantasy football rankings. Staff rankings are updated regularly for all positions and include standard formats, PPR scoring, tiered rankings and dynasty leagues.